20 Athletes Who Always Party Like It's Spring Break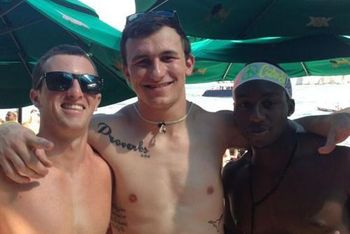 Image via BustedCoverage.com
For many college kids out there, it's Spring Break week.
What does that mean exactly? Typically a generous portion of alcohol, flesh and seemingly without any rules, a lot of bad decisions.
Just like coeds around the country, many of our athletes don't hold back their partying ways.
Whether from their own days on campus, or stepping into the spotlight as a pro, these are the players who party like it's always Spring Break.
Rex Grossman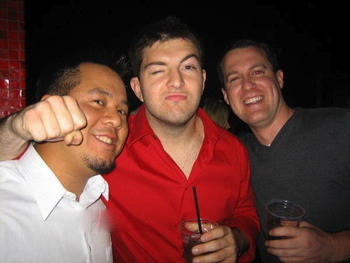 Image via DrunkAthlete.com
The former Florida Gator QB Rex Grossman has been around the scene for awhile now.
Considering he's a free agent right now, we wonder if he'll just retire from football and enjoy life as a vacation instead?
Doubt it, but who knows?
Brady Quinn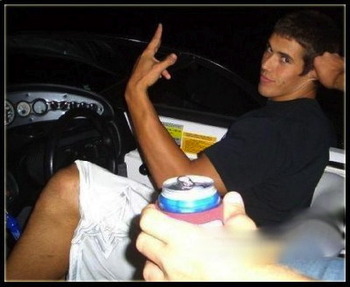 Image via DrunkAthlete.com
From firsthand experience, we know that Brady Quinn, the former Notre Dame star QB, definitely knows how to party.
How you feel about the guy when partying, well, that's a completely different story.
Stephen Curry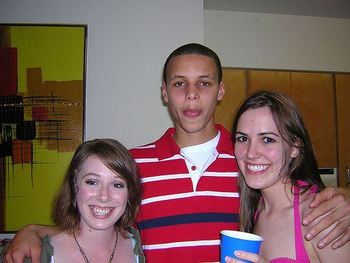 Image via DrunkAthlete.com
Steph Curry's never exactly been the oldest looking person out there, so seeing him in this picture makes us wonder if he's even old enough to drink apple juice, let alone alcohol.
Curry's a big star these days, but we have a feeling he throws down like he hoops.
Chad Henne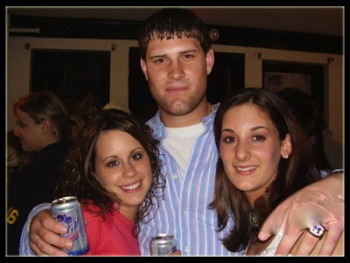 Image via DrunkAthlete.com
There are a couple things in this picture that immediately stand out to us.
1. That haircut on Chad has to go. Why did these girls even want to get in a pic with him?
2. We forgive his attire and haircut by his choice in beer. Natty Light is a must have when trying to have a good time, so Henne's killing it there.
Shabazz Muhammad (and Coach Ben Howland)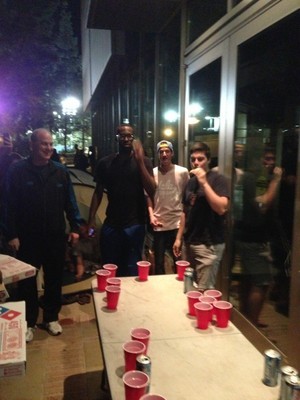 Image via DailyBruin.com
Though it was reported neither the head coach or freshman guard actually consumed any of the alchy, the fact that both stepped up and tossed it around a little bit is pretty dope.
Wonder who won, the old guy or the new kid on the block?
John Daly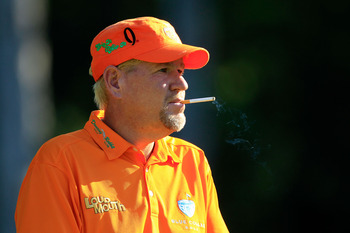 Image via Unathletic.com
Sam Greenwood/Getty Images
Daly has long been one of the biggest partiers in sports for a long time—not just among golfers.
True story—while in fifth grade, we remember our parents telling us they saw him at a casino in Mississippi tossing down hands of $5,000 or more, with at least three girls hanging on him all night.
If that doesn't sound like a typical Spring Break day, we don't know what does!
Shavlik Randolph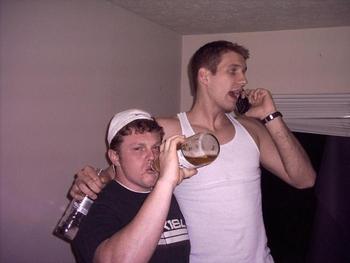 Image via DrunkAthlete.com
Remember Shavlik Randolph from back in the day?
Dude played at Duke back in the early to mid-2000s and has maintained a roster spot in the Association since then.
After recently signing with the Celts, he's definitely in the right city of Boston to throw down.
Eli Manning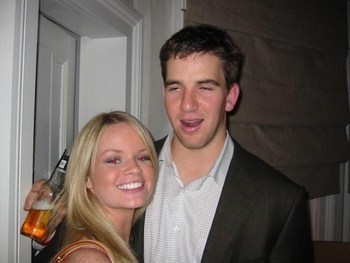 Image via DrunkAthlete.com
Taken back in his college days at Ole Miss, we're hoping this pic of the two-time Super Bowl champ was just one of those in-between moments where he was just blinking before the camera went off.
Considering he's holding a brew in his hand though, that may just be wishful thinking.
Matt Leinart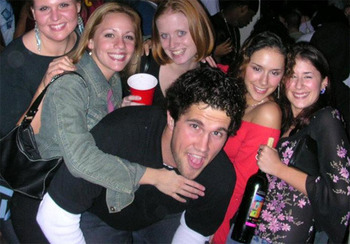 Image via DrunkAthlete.com
We've always been a huge Leinart fan, but it's becoming more clear that he just doesn't possess the necessary skills to be a big-time starting QB in the NFL—but is a killer back-up plan!
One thing he's a Hall of Famer at though is partying, which is why we think he should consider just quitting football and opening his own nightclub or something for all of his celeb friends to come to.
Brian Wilson
Of anyone on this list, we'd probably choose the former Giants closer as our No. 1 choice to party with.
Why?
Well, he looks like he just doesn't care, going balls to the wall and making sure everyone has a good time.
Considering most Spring Break's are spent in Florida or Mexico, there's a good chance Wilson would do something memorable with his tan lines, just for a good laugh.
Rory McIlroy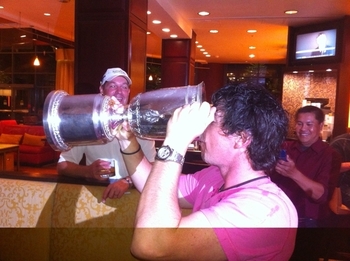 Image via Twitter.com/McIlroyRory
When you consider McIlroy's not only Irish, but also the current No. 1 ranked golfer in the world, it's easy to see why he likes to party like he does.
With St. Patty's Day just passing, we have a feeling Rory wasn't just sitting around wasting the day—but definitely sitting around and getting wasted!
Tim Tebow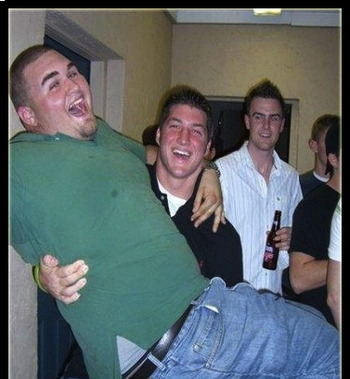 Image via EverydayShouldBeSaturday.com
Tim Tebow is the sweetheart of sports.
He won at Florida—and is considered one of the greatest players in college football history.
And we all know his outspokenness about religion.
But even Timmy Boy needs a good libation every once in awhile, as evidenced by this photo taken for posterity.
John Henson and UNC Basketball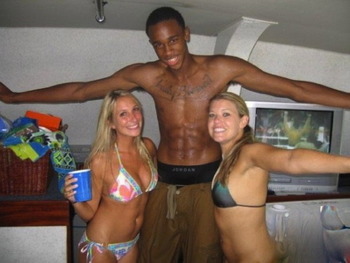 Image via CoedMagazine.com
With lanky John Henson strutting around without a shirt on, it's easy to see why so many people flock to him—because he sticks out like a sore thumb!
After finishing as runner-up in the NIT back in 2010, a number of 'mates hit Spring Break hard, enjoying a number of drunken activities.
Aaron Murray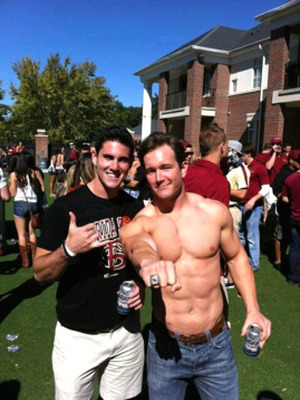 Image via SaturdayDownSouth.com
There's so much wrong with this picture; UGA quarterback Aaron Murray has no idea.
First off, he's rocking that Florida State swag during the bye week of his Bulldogs.
Second, the bro with his shirt off is a former Georgia Tech walk-on wideout, flashing his ACC ring to the camera.
Bold move for a guy to pull while still in-season.
Mike Dunleavy Jr.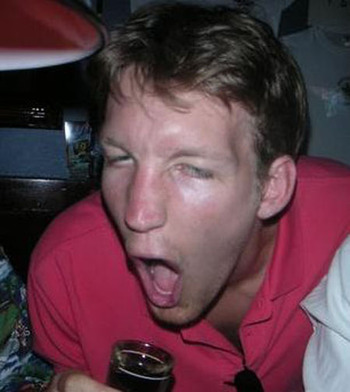 Image via DrunkAthlete.com
Classic pic of the former Duke standout and current forward for the Bucks.
It's not the most flattering of faces to be making, but damn, we'd probably all make that face after slamming a straight shot of some booze.
Stephen Garcia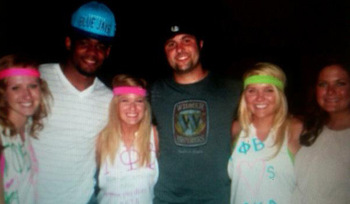 Image via BustedCoverage.com
It's too bad that former South Carolina QB Stephen Garcia enjoyed tossing the booze back more than he liked tossing the pigskin. Otherwise, he may have never been kicked off the Gamecocks' team.
He had some good moments for The Ol' Ball Coach, so who knows what he could have become?
Instead, Garcia liked day-glow parties more.
Matthew Stafford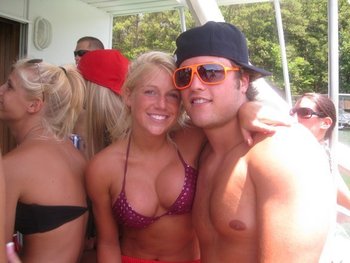 Image via BustedCoverage.com
If Stafford isn't the biggest bro in all of sports, he's definitely towards the top of the list.
Here he is hanging out on a boat having a good time with some lovely ladies if we must say ourselves.
Some may say he's getting a little bit rounder, but if he's able to throw the football around the yard like he did back in 2011, we're not sure too many Lions fans will care how he looks.
Rob Gronkowski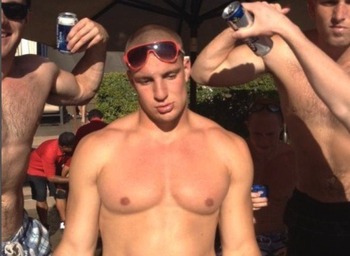 Image via NESN.com
One guy who doesn't hold back on living his life like a Spring Break is Rob Gronkowski.
Over the past couple years, we've seen Gronk do it all.
From going ham after the Super Bowl loss last year to wrestling shirtless in a Vegas nightclub, the Pats TE isn't bashful about having a good time.
Johnny Manziel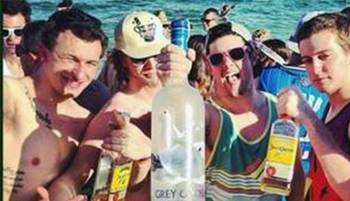 Image via Instagram@unclenatefitch
To be completely honest, we may have legit been able to put together an entire article of the current Heisman trophy winning QB.
In his most recent "I'm having the time of my life" trip, Johnny Manziel is sipping on that tequila and vodka down in Cancun.
Oh, how we miss college.
Keep Reading