Nebraska Football: Week 2 Spring Practice Stock Report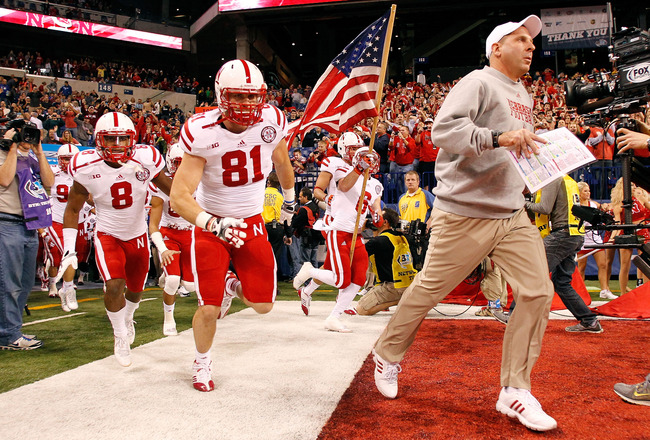 Gregory Shamus/Getty Images
Nebraska football is getting a breather with spring break, taking the time off practice before returning to work in preparation for the April 6 Spring Game at Memorial Stadium. So now is as good a time as any to take stock of how spring practice has been going. Who is up? Who is down? Let's find out.
Stock Up: Imani Cross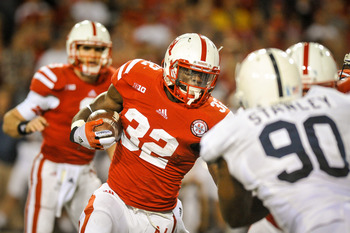 Eric Francis/Getty Images
Sometimes, injuries in football provide opportunities. Ask Ameer Abdullah, who took the reins last season when Rex Burkhead was hurt, and established himself as the odds-on starting I-Back for Nebraska in 2013.
Now Abdullah is on the other side of that equation, with a knee injury that, according to the CBSSports.com, could keep him out of spring practice. In steps sophomore Imani Cross, who now looks to be Nebraska's top-line I-Back. Cross has, according to the Omaha World-Herald, slimmed down to 221 pounds in an attempt to shed his perception as a short-yardage back and make himself more versatile.
It appears the door is wide open for him this spring to show the coaches that versatility.
Stock Down: Andrew Green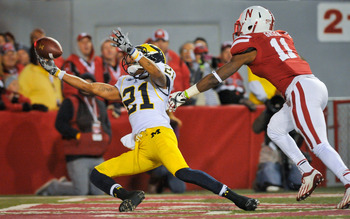 Eric Francis/Getty Images
The problem for Nebraska coaches in the secondary isn't a lack of players, it's a lack of experience and picking the right players for each position. Senior Andrew Green certainly has the experience, more than just about anyone else on the roster. But he's also had his ups and downs, earning and losing his starting spot at corner.
So with all the competition shaping up at corner, Green's shoulder injury (as reported by the Lincoln Journal-Star) is a huge setback for him. While he looks able to return for fall camp, Green will not get the benefit of this spring to hone his skills and strengthen his grasp on a starting position.
Stock Up: Brent Qvale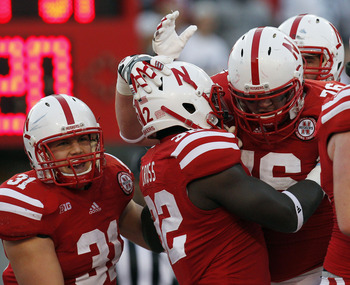 Bruce Thorson-USA TODAY Sports
Offensive line has not been the source of strength Nebraska fans have been used to in the past few years. And with the graduation of Justin Jackson, the offensive line will be looking for a leader coming into 2013.
Spencer Long is probably the most talented lineman on Nebraska's roster. But, according to the Lincoln Journal-Star, Long isn't a vocal type of leader. It appears that senior tackle Brent Qvale is stepping into that role this spring, speaking up and helping to ensure the rest of the line is accountable. Not only will that help the line performance as a whole, but it should help keep Qvale in the starting lineup.
Stock Down: Ryne Reeves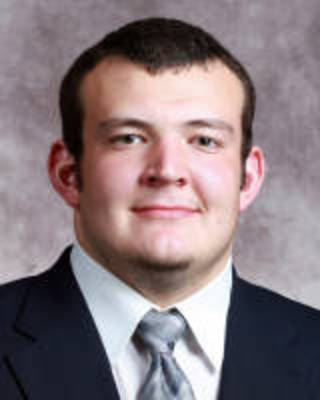 Image originally located at http://bit.ly/11oFoVl
According to the Lincoln Journal-Star, sophomore offensive guard Ryne Reeves will be missing the remainder of spring practice with an ankle injury. Unfortunately for Reeves, Nebraska has a number of guards already on the roster (such as Spencer Long, Jake Cotton, and Mike Moudy) as well as junior-college transfer Chongo Kondolo arriving this fall. Missing the spring will mean Reeves loses a critical opportunity to establish himself on the depth chart.
Stock Up: Sam Foltz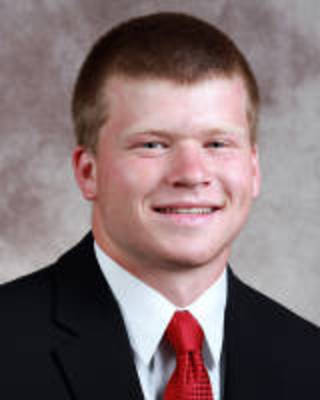 Image originally located at http://bit.ly/11lpGXn
For the last four years, Nebraska fans have been spoiled with a do-it-all kicker. First Alex Henery, then Brett Maher handled both punting and place-kicking duties (although Adi Kunalic was Nebraska's kickoff specialist). With Maher's graduation, Nebraska will be breaking in a new crop of kickers.
And it appears that the Swiss Army Knife kicker program may be shelved. Nebraska only has one scholarship kicker, Mauro Bondi, on the roster. According to HailVarsity.com, while Bondi is working on punting, his focus is on placekicking. That opens the door for redshirt freshman walk-on Sam Foltz, listed as a wide receiver on the roster but who has been trying his hand (or foot) at punting.
And succeeding, apparently. According to special teams coach Ross Els, Foltz is getting so much hang time on his punts that the coaches are having difficulty gauging his progress – because the punts keep hitting the ceiling of the Hawks Championship Center.
Combine a strong leg with the athleticism of a wide receiver, and Foltz could end up as a nice secret weapon for Nebraska coming into 2013.
Stock Down: Brodrick Nickens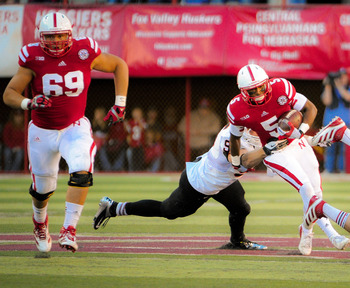 Eric Francis/Getty Images
It's always tough to predict the effect of a player switching positions. Sometimes you get a Stanley Jean-Baptiste, who is able to quickly settle in to a new role and work his way up the depth chart. And sometimes you get a Braylon Heard, who moved back and forth from running back to defensive back based on the depth chart. Ultimately, Heard was never able to establish himself at either position, and it's hard not to conclude that unsettling was a significant factor in Heard leaving the program.
So it is with some trepidation that I include Brodrick Nickens on the stock down list after his move from offensive line to defensive line (as reported by the Lincoln Journal-Star). While the offensive line (particularly tackle) has a number of openings, there are also a number of new players coming in to compete for those spots. I would worry that, with the move, Nickens opens himself up to having a Heard-like experience rather than a Baptiste-like one.
Hopefully, for both Nickens and Nebraska, those worries are unfounded.
If you'd like to contact Patrick to schedule an interview, provide feedback or get advice on which type of chocolate goes best with fresh fruit (spoiler alert: dark), send an email to patrickrunge@gmail.com.
Or, you could always...Follow @patrickrunge.
Keep Reading

Nebraska Huskers Football: Like this team?