Gonzaga Bulldogs Survive Southern Jaguars in Second-Round Thriller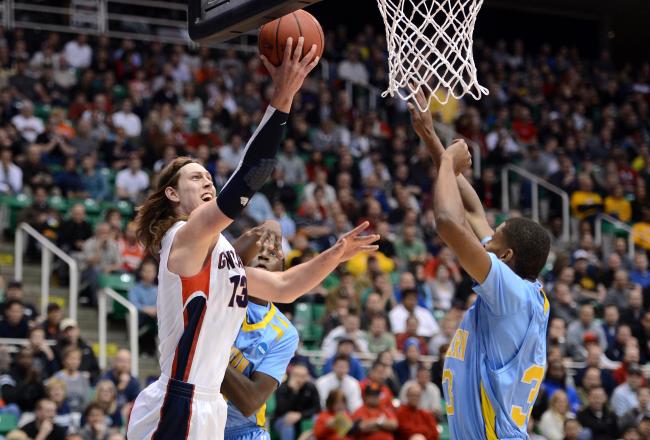 Harry How/Getty Images
Top-seeded Gonzaga breathes a sigh of relief after escaping from the Southern Jaguars by a 64-58 margin. The 16th seeds were in it right up to the final minute, but couldn't quite hit enough three-pointers to close the deal.
Kelly Olynyk had a phenomenal second half to finish with 21 points and 10 rebounds, but it was Kevin Pangos who hit the biggest shots down the stretch for the favorites. Gonzaga's biggest advantage turned out to be on the glass, where it outrebounded the Jaguars by a commanding 36-20 margin.
Southern got a terrific second-half effort of its own from senior scoring leader Derick Beltran, who finished with 21 points himself (including 4-for-8 three-point shooting). Credit goes as well to big Brandon Moore, whose four blocks highlighted a valiant defensive effort by the Jaguars.
Olynyk and the Zags move on to face Wichita State, which beat the daylights out of Pittsburgh earlier today. If the Shockers' defense gives Gonzaga as much trouble as Southern's did, that game is going to be a classic.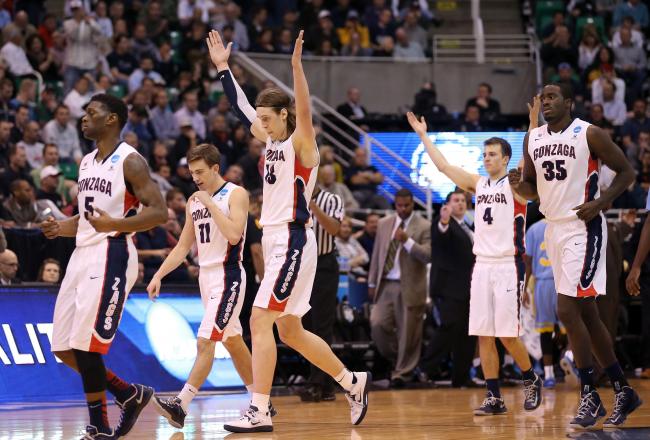 Gonzaga 64, Southern 58 (FINAL)
Few No. 16 seeds in history have ever come as close to pulling off the upset as Southern did in this game. It's got to be tough to accept a loss after playing so well, but the Jaguar players can hold their heads high, because they turned in an outstanding game.
Brandon Moore and Javan Mitchell combined for seven of Southern's eight blocks on the day. If Malcolm Miller had shot any better than 3-for-12 from the field, this could have been a very different ballgame.
Kelly Olynyk did a terrific job bouncing back after a crummy first half, finishing with 21 points and 10 boards. Don't overlook the contributions of Gary Bell Jr., who hit some big three-pointers and also grabbed two of Gonzaga's six steals.
The Zags will need to play a lot better on defense on Saturday, when they take on ninth-seeded Wichita State. The Shockers are riding high on offense after thrashing Pitt, and if Gonzaga comes out flat defensively it's going to fall behind very quickly.
Between this game being so close and Wichita State looking so overpowering against the Panthers, their game is starting to look like one of the potential highlights of the third round of this tournament.
Gonzaga 64, Southern 58 (FINAL)
And that'll do it. A couple more missed threes for Southern, but it really wouldn't have mattered at that point. Hats off to the Jaguars for a terrific fight.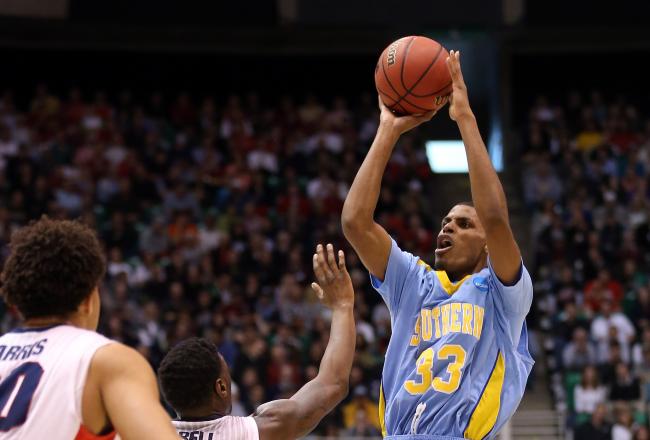 Gonzaga 63, Southern 58 (0:14 second half)
Malcolm Miller the miss and now Southern has to foul. That's probably Southern's last chance.
Gonzaga 62, Southern 58 (0:34 second half)
Two near-turnovers by Southern, but they keep the ball out of bounds. Can they find some way to score on this possession?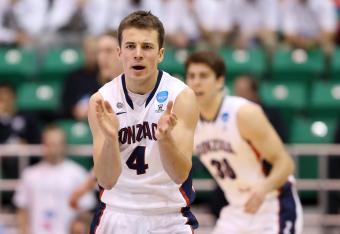 Gonzaga 62, Southern 58 (1:37 second half)
Devastating three from Kevin Pangos. Southern has worked so hard on its interior defense, and now they're getting beaten from the outside when they have to have stops.
Gonzaga 59, Southern 56 (2:28 second half)
Very late call ends Derick Beltran to the line for three free throws. Not much contact, but the refs thought it was enough.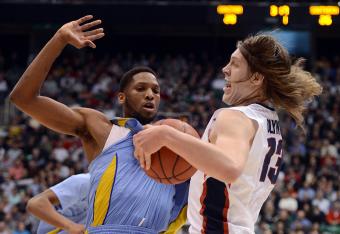 Gonzaga 59, Southern 56 (3:03 second half)
Kelly Olynyk whistled for the offensive foul on a very close call. That's four personals on Olynyk. Whole different ballgame if he leaves. He's got 21 of Gonzaga's 59 so far.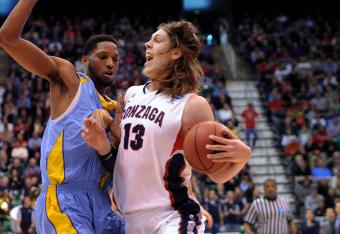 Gonzaga 54, Southern 52 (4:08 second half)
Brandon Moore gets the block on Olynyk on defense, then draws the foul on the other end. Chance to tie from the charity stripe.
Gonzaga 54, Southern 52 (5:12 second half)
Beltran nails a three-pointer, and he's scored the Jaguars' last seven points. That's what seniors are supposed to do: come through in the clutch.
Gonzaga 54, Southern 49 (5:34 second half)
Derick Beltran comes through from the foul line to keep it close, and Southern draws another turnover (nine for Zags) on the other end. This is getting interesting.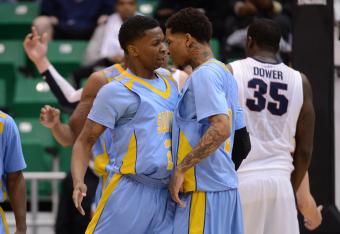 Gonzaga 52, Southern 45 (7:27 second half)
Fumbled rebound by Gonzaga keeps the ball with Southern, but Jaguars have to be worried about another miss by Derick Beltran. Southern's leading scorer now shooting 3-for-10 from the field.
Gonzaga 52, Southern 45 (7:45 second half)
YonDarius Johnson a clutch three-ball to keep Southern in it. He's got their last four points.
Gonzaga 50, Southern 41 (10:13 second half)
Rare piece of sloppy Southern defense as Olynyk gets behind the big men. Somebody's got to find a way to score for the Jaguars, and with Jameel Grace (1-for-8) being left open to provide help on everyone else, that's not going to be easy.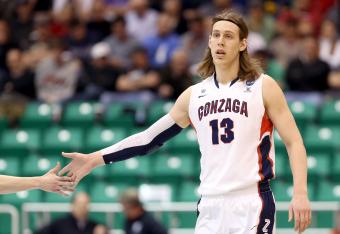 Gonzaga 47, Southern 41 (10:55 second half)
Olynyk somehow has a dunk rattle out on him, but he gets to the free throw line again anyway. Chance to make it a three-possession game, which would be a welcome cushion for Gonzaga now that they've finally started playing defense again.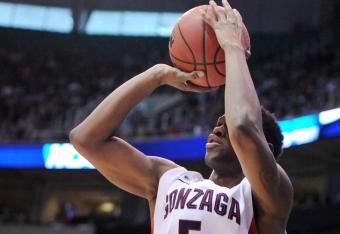 Gonzaga 47, Southern 41 (11:45 second half)
Jameel Grace misses an open jumper, and Gary Bell Jr. answers with a three-ball. Huge five-point swing there.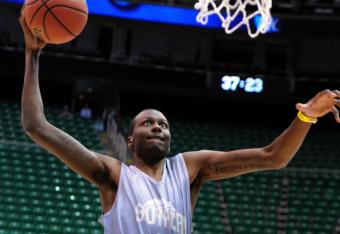 Gonzaga 39, Southern 37 (14:59 second half)
Madut Bol (son of the late NBA center Manute) obviously got some of his dad's game. The 6'9" Madut drains a three-pointer to cut the lead to two.
Gonzaga 37, Southern 34 (15:44 second half)
Olynyk draws another foul. Here's where it becomes so important that he didn't manage to get the Jaguars in foul trouble at all before halftime.
Gonzaga getting a lot of mileage out of the pick-and-roll with Olynyk in this second half. It'll be interesting to see if Southern can make the adjustment.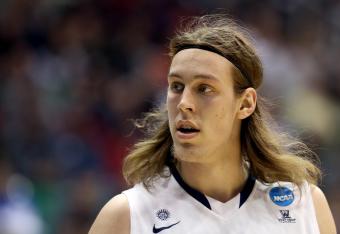 Gonzaga 37, Southern 34 (16:30 second half)
Kelly Olynyk splits a pair of free throws, and he's only 3-for-9 from the floor. Somebody else is going to have to start hitting shots for Gonzaga.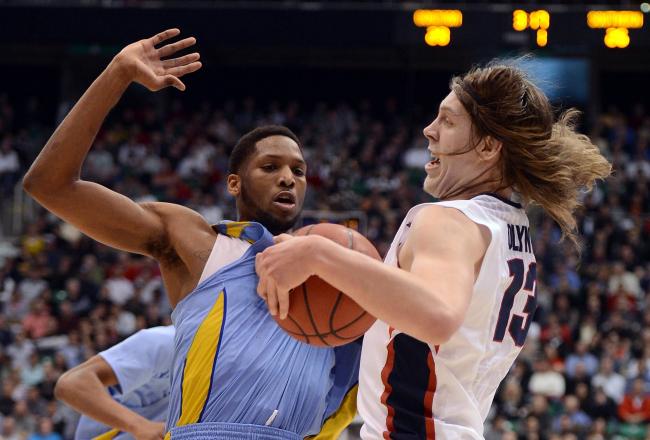 Gonzaga 36, Southern 31 (17:48 second half)
Olynyk trying to establish himself in the post, but Southern has four blocks in the first two minutes of the half. This is why Southern is a top-20 defensive team.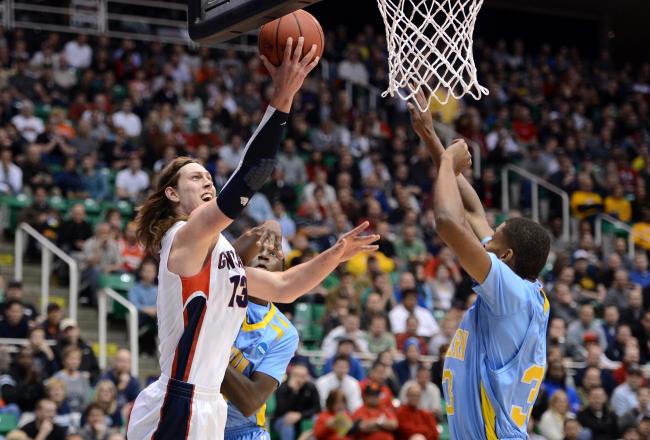 Gonzaga 34, Southern 31 (Halftime)
Southern's defense has proven that it can make plays against the Gonzaga scorers, especially in the paint. The Zags have responded by taking a dozen three-pointers in the first half, hitting five of them.
If the Bulldogs hit a dry spell from beyond the arc, though, they may find themselves in the very unfamiliar position of struggling for points. The fact that so few opponents have really tested Gonzaga as an offensive team would really start to work in Southern's favor at that point.
In a related story, the best news of the first half for Southern is that no Jaguar has more than one personal foul. Neither Kelly Olynyk nor any of Gonzaga's other weapons has been able to attack the rim to any noticeable effect.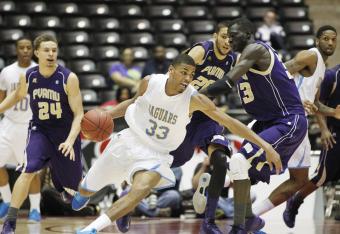 Gonzaga 34, Southern 31 (Halftime)
For Southern to be keeping this game close while Gonzaga shoots over 40 percent from the field is astonishing. The Jaguars aren't known as an elite offensive team, but they've hit 11 of 23 field-goal tries so far to offset the Zags' point production.
If Gonzaga wants to put this game away, somebody's got to make some plays on the defensive end. Five steals at halftime are a decent start, but Southern is not a team that should be able to shoot 47 percent from the field, least of all against the top-ranked team in the country.
Gonzaga 34, Southern 31 (Halftime)
More good defense to close the first half, and Southern unable to get a shot off. Huge, huge win for Southern to be within one possession at halftime.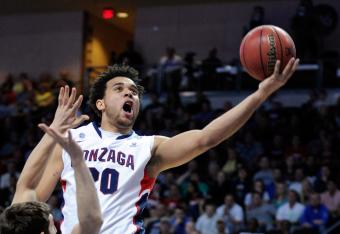 Gonzaga 34, Southern 31 (0:38 first half)
Elias Harris hits just one of two free throws after almost getting his shot blocked again. Harris is supposed to be a serious NBA prospect, but he sure hasn't looked like it in this game.
Gonzaga 33, Southern 31 (1:09 first half)
A little offensive flow, finally. The defenses are playing so well that we haven't seen points on consecutive possessions very often.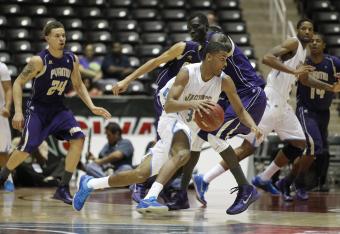 Gonzaga 28, Southern 26 (2:46 first half)
Malcolm Miller an amazing block in transition! Southern now with three blocked shots in the first half.
This article is
What is the duplicate article?
Why is this article offensive?
Where is this article plagiarized from?
Why is this article poorly edited?