NJ Devils: Top 5 Deadline Acquisitions in Franchise History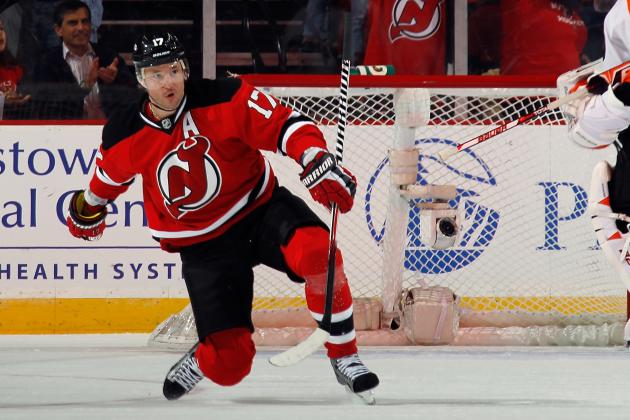 Bruce Bennett/Getty Images
Kovalchuk was aquired on February 5th, 2010.
The NHL trade deadline is just under two weeks away and the New Jersey Devils are a flawed team. Their need for a top-six forward is no secret and it is a void that has not been filled after Zach Parise left.
New Jersey has a surplus of capable defenseman. Rich Chere of The Star-Ledger reported that scouts had been watching Henrik Tallinder before he went down with an injury. Tallinder is expected back soon. The Devils have a few good defensive prospects down the pipeline and a defense-for-offense swap might be worth it.
On the other hand, could they possibly be sellers? ESPN's Craig Custance hinted they may want to shop David Clarkson, considering they may not resign the free-agent-to-be.
That sounds a little wacky. The Devils have been in the playoff mix virtually every year in the past two decades, and as a result are typically looking to add talent at the deadline. General manager Lou Lamoriello knows how to make the most out of the small deals as well as land the big fish. Last year, he added Marek Zidlicky and the defenseman was a key part of the playoff run.
'Tis the season. Let's look at Lamoriello's best deadline deals, or deals that were close to the deadline. The criteria here is not just the best player acquired, but the guy with the most impact to success and the timeliness of the deal.
If you think of some other great ones, drop a comment.
Begin Slideshow

»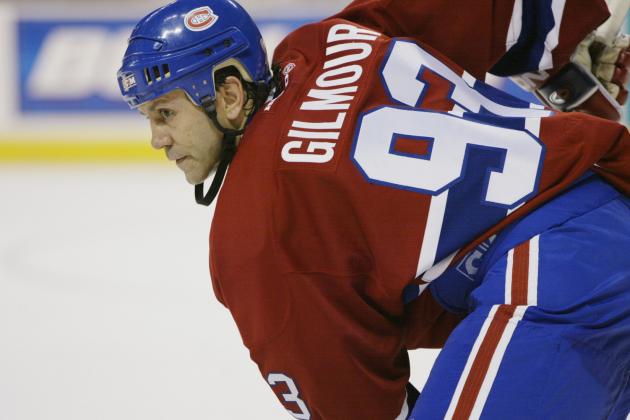 Jeff Gross/Getty Images
Doug Gilmour
Phil Housley and Doug Gilmour were acquired in consecutive seasons—Housley in 1996 as New Jersey geared up for its title defense and Gilmore in 1997.
Somehow things just never came together, and New Jersey missed the playoffs the year after winning it all. Housley turned out to be a 22-game rental and signed elsewhere after the season. After 22 points in the last 20 games of the the 1996-1997 season, Doug Gilmour had 53 points in his only full season with the Devils the following year.
These were great trades that Lou Lamoriello would definitely make again. Both players are Hall of Famers. When he retired Phil Housley had the most points all time among American-born players.
They are honorable mentions because they didn't stick around and won one playoff series between them.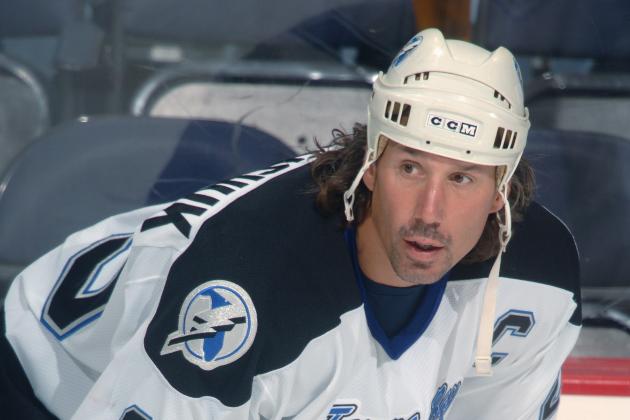 Mitchell Layton/Getty Images
Here on the Lighting, Andreychuk played on the Devils during the years between their first two Cups.
It was strange when the New Jersey Devils failed to make the payoffs in 1996. The year before they had won the Stanley cup, and they acquired two household names midseason—one being Housley and the other Dave Andreychuk.
While Housley was a rental, Andreychuk had some solid years with the Devils. In 224 games with New Jersey between 1996-1999, he recorded 150 points. Unfortunately he has the inauspicious legacy of wearing a Devils sweater during the years in between Stanley Cups.
Really, this trade is in a similar vein of the Housley and Gilmour moves. It is a no-brainer when you can acquire a player like Dave Andreychuk. He has over 600 career goals and should be in the Hall of Fame soon. Although he didn't win anything, the fact that he hung around for three-and-a-half seasons makes his acquisition more worthwhile.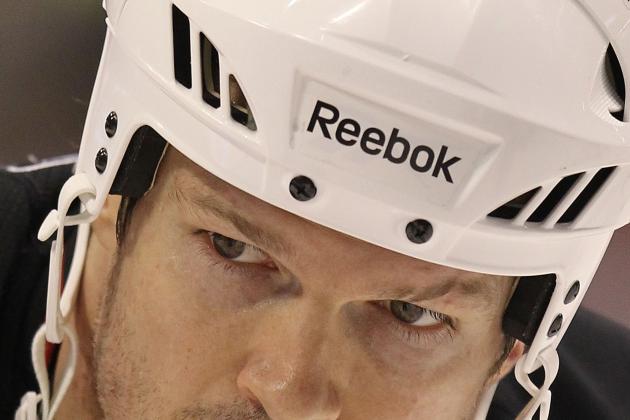 Ronald Martinez/Getty Images
Arnott during his brief second stint in New Jersey in 2010-11.
You knew this was coming.
I could stop the slide right here. Jason Arnott is the author of the greatest moment in franchise history. A moment so iconic that it is among the most memorable NHL plays in the last quarter century.
The Devils acquired Arnott during the 1997-98 season for Bill Guerin and Valerie Zelepukin. His production was always solid, but never mind blowing. His best offensive seasons came after the Devils, with Dallas and Nashville.
But we can't forget he centered the "A" line with Patrik Elias and Petr Sykora on his flanks. He was the first line center of the second-best offense in the league in 2000 (Yes, the Devils used to score goals). A huge presence with all the intangibles to boot, Arnott will always be a fan favorite.
His role in this slideshow is not quite done yet...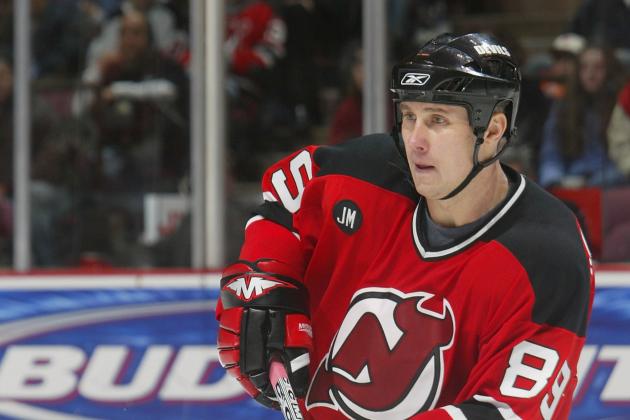 Andy Marlin/Getty Images
Mogilny may have pushed the Devils over the top in 2000.
Mogilny is another guy who didn't stick with the Devils long after he was acquired. He did return for a second stint in 2005, but that's irrelevant to this topic.
The Devils already had a lot to work with offensively in 2000. There was the "A" line, Claude Lemieux, Bobby Holik, Rookie of the Year Scott Gomez and other offensive contributors. Brian Rafalski and Scott Niedermayer were defenseman who put up a lot of points as well. Overall, the attack was extremely deep and balanced.
Still Lou Lamoriello traded two of their best young players in Brendan Morrison and Dennis Pederson to acquire Mogilny. The Russian star pushed the Devils over the edge from contenders to favorites, and it paid off.
Again, these deadline deals are all about results. And 2000 certainly produced the results New Jersey was looking for.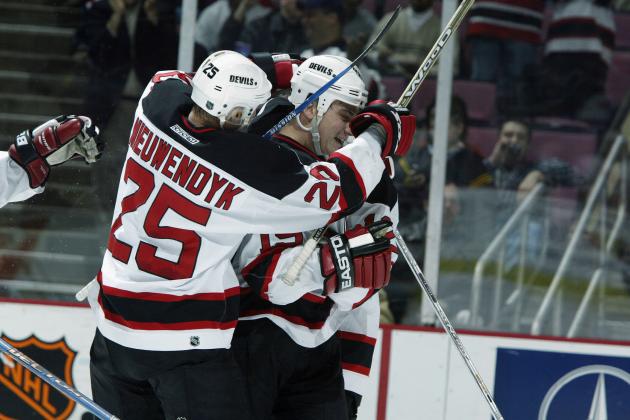 Al Bello/Getty Images
These two were big parts of the 2003 championship team.
In March 2002, Arnott and Randy McKay were sent to the Dallas Stars in exchange for Jamie Langenbrunner and Joe Nieuwendyk. It was shocking to send two fan favorites packing, but Lou Lamoriello's decisiveness paid off. Although the Devils were bounced in the first round that year, the next year Langenbrunner and Nieuwendyk played big roles, and the team won the Stanley cup.
2002-2003 would be Nieuwendyk's only full year on the team, but his veteran leadership and faceoff prowess can't be undervalued. Unfortunately, a hip injury kept him out of the Stanley Cup Finals.
During those playoffs, Jamie Langenbrunner earned his horns forever. He led all forwards in goals and points, according to Hockey-Reference. Famously, Jean-Sebastien Giguere won the Conn Smythe for playoff MVP.
Langenbrunner would go on to have his best years with the Devils and was named Captain in 2007, a position he held until being traded in 2011.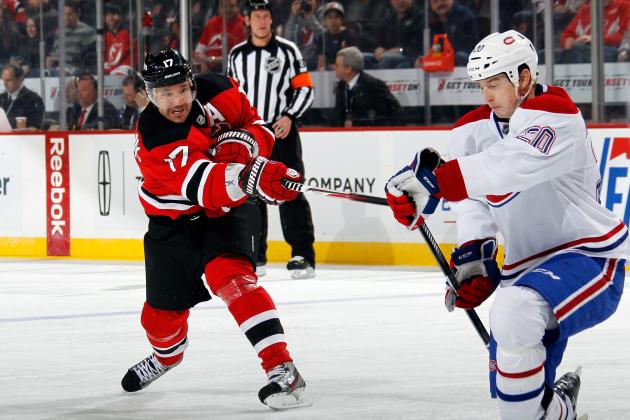 Bruce Bennett/Getty Images
Will it eventually pay off?
No, Ilya Kovalchuk has not rewarded Lou Lamoriello with a Stanley Cup yet. But he came pretty darn close last year.
llya Kovalchuk holds the top spot for two reasons. First off: the Devils stole him. New Jersey sent a first-round pick, Johnny Oduya, Niclas Bergfors and Patrice Cormier. The latter two aren't even in the NHL right now. In addition to Kovalchuk, the Devils swapped second-round picks with Atlanta, allowing them to draft John Merrill, who may be their top prospect. (Breakdown of the trade here.)
We also need to consider that Kovalchuk was a bona fide superstar in his prime when the Devils acquired him, unlike Andreychuk, Gilmour and Mogilny, who had their best days behind them. The Russian sniper showed maturation last postseason, playing through injury with passion. This year, he has clearly bought into the Devils team-oriented philosophy. He may not score 50 goals anymore, but he is doing the little things.
He will most likely retire before his contract expires, and Devils fans can expect some taunting when Kovalchuk costs the team $6.67 million dollars in 2025. But he has plenty of time before then to prove his worth and win a few championships.
Then maybe, in 2025 he will remain on top of this list.