Projecting the Final 2013 Payroll for Every MLB Team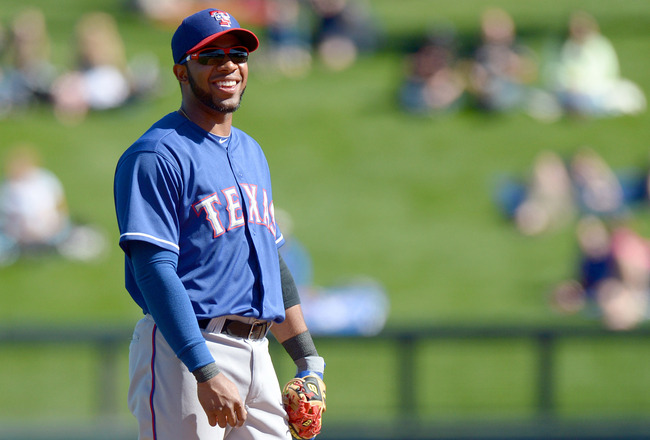 Don't count on Elvis Andrus ending the 2013 season with the Texas Rangers.
Jake Roth-USA TODAY Sports
Predicting which major league teams will be buyers and which will be sellers by the end of 2013 is an extremely difficult task—especially since Opening Day isn't even here yet.
But I'm up for the challenge.
Following is an in-depth look at each team and predictions of where teams will be to start the season, at the July 31 trading deadline and right before the postseason starts. I will analyze who will be making moves and who will not, whether it is a blockbuster deal, signing a free agent or calling up a top prospect.
For the purpose of this article, I'm the general manager of each team and will call all of the shots and determine who is on the roster and who isn't. I anticipate many reading this will want me fired by the end of the season so feel free to express your opinions in the comments section below.
So which teams are going to add a player with the hopes of locking up a playoff spot and which teams are going to dump some payroll in order to get the rebuilding process going? Here's how I see things shaking out in 2013.
*All statistics were obtained via Baseball-Reference unless otherwise noted. All contract and payroll information was obtained via Cot's Baseball Contracts. All end-year payroll predictions are rough estimates, not exact figures. All injury information was obtained via Baseball Prospectus.
Baltimore Orioles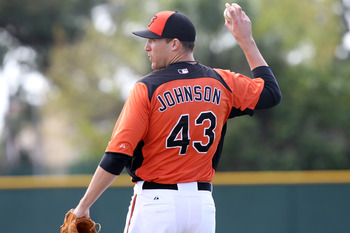 Kim Klement-USA TODAY Sports
Projected 2013 Opening Day Payroll: $87.2 million
Season Prediction
The Baltimore Orioles won more games than they were supposed to in 2012, according to their Pythagorean expectation, and that helped them clinch a postseason berth. I don't believe that they'll be as lucky in 2013 as they were a year ago.
Baltimore has a talented team that should be able to compete for the division crown, but it will need to make some moves in order to play in October for a second straight year. The Orioles must add another starting pitcher that they can rely on, so I see them trading a package of prospects to the Detroit Tigers in exchange for Rick Porcello early on in the year.
The Orioles have to be impressed with how well Pedro Strop pitched in the World Baseball Classic and that could lead to changes down the line in their bullpen. At the trade deadline, I foresee Baltimore dumping some salary by trading Jim Johnson to the Los Angeles Angels for prospects and cash considerations. This will allow Strop to be the regular closer.
Lastly, since Baltimore has a handful of young pitchers who still have potential, but might not have gotten off on the right foot, the Orioles will end up dealing at least one of them.
In order to give them a power bat toward the end of the season, I think Baltimore will work out a deal that sends Zach Britton and company to the Minnesota Twins for Justin Morneau. He can play first base or be their regular designated hitter down the stretch.
Projected 2013 Final Payroll: $100.8 million
Boston Red Sox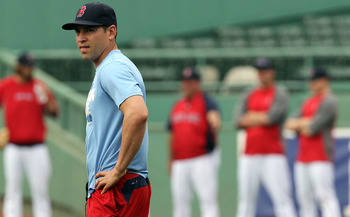 Jim Rogash/Getty Images
Projected 2013 Opening Day Payroll: $154.4 million
Season Prediction
After another disappointing season for the Boston Red Sox, general manager Ben Cherington made a bunch of moves with the hopes of improving for the upcoming 2013 season.
It appears that the Red Sox will have a couple of injuries to start the year, but overall, they aren't in terrible shape. There is a good mix of young and veteran talent that has the potential to make some unexpected noise.
The Red Sox completed the blockbuster deal last season that sent Adrian Gonzalez, Carl Crawford and Josh Beckett to the Los Angeles Dodgers and I don't think we'll see another move that big from Boston this season.
But I do expect a deal to go through that has been talked about in the past. With Jacoby Ellsbury in his walk year, I think Boston decides to move him toward the trade deadline. I still don't think that Boston has found the right shortstop for this year—and Xander Bogaerts isn't going to stay at shortstop. So what happens?
I think Boston trades Ellsbury to the Texas Rangers for Elvis Andrus, who is currently blocking top prospect Jurickson Profar. It helps Texas, especially if the Rangers can sign Ellsbury to an extension, and it helps Boston with its future shortstop predicament. There may be other smaller pieces involved in the deal, but Ellsbury and Andrus are the centerpieces.
Projected 2013 Final Payroll: $150.45 million
New York Yankees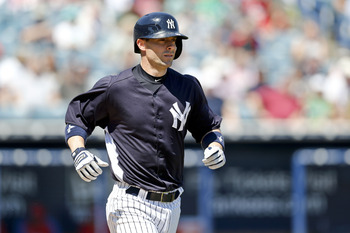 Derick Hingle-USA TODAY Sports
Projected 2013 Opening Day Payroll: $209.2 million
Season Prediction
The New York Yankees didn't do much over the offseason since the team's goal is to get under the $189 million luxury tax threshold for next season. That has left manager Joe Girardi with an aged roster full of injured-plagued stars.
But since the current list of injuries keeps getting longer, I think the Yankees are eventually going to have to forget about the luxury tax and make a move that will send them to the postseason.
To get the season started, New York will end up signing Chien-Ming Wang to an expensive deal to pitch in the rotation.
My assumption is that Alex Rodriguez is going to miss most of the year, if not all of it. Kevin Youkilis should be fine at first base while Mark Teixeira is sidelined, but if Teixeira is out for even longer than expected, New York is in serious trouble. The Yankees don't really have another person who can play third base, or at least play it well.
Because of the injuries and uncertainty going forward, I see the Bronx Bombers pulling the trigger and acquiring Chase Headley from the San Diego Padres at some point during the season. Headley is injured at the moment, but should be fine after a couple of weeks on the disabled list. The Yankees will have to fork up a couple of big-name prospects, but it will be worth it.
Also, I think that Austin Romine will progress enough early in the season so that New York can ship one of their catchers. At the trade deadline, the Yankees will send Chris Stewart to the Arizona Diamondbacks for cash consideration, where he'll backup Miguel Montero. Romine will be New York's starter and Francisco Cervelli will be the backup.
Projected 2013 Final Payroll: $219.8 million
Tampa Bay Rays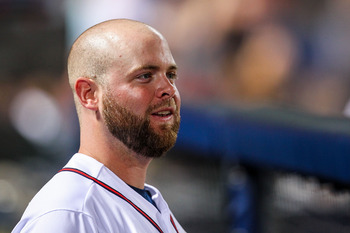 Daniel Shirey-USA TODAY Sports
Projected 2013 Opening Day Payroll: $57.5 million
Season Prediction
The Tampa Bay Rays made a bold move this offseason, trading James Shields and Wade Davis to the Kansas City Royals in exchange for top prospect Wil Myers. Although Myers won't break camp with the Rays, he'll make a big impact whenever they decide to promote him.
Myers won't be the answers to all of Tampa Bay's problems. The lineup still isn't very threatening as the bottom half features players that are average at best. The starting rotation should still be very good and the bullpen should be above average as well.
That won't stop general manager Andrew Friedman from making mid-season moves, though. Tampa Bay hasn't been known as a team that spends a lot of money, Currently projected to have one of the lowest Opening Day payrolls, the Rays will be forced to spend in 2013.
Tampa Bay will send prospects and cash considerations to the Atlanta Braves and the Chicago White Sox in order to land Brian McCann and Matt Thornton. McCann can be the starting catcher over projected starter Jose Molina or the designated hitter when Luke Scott plays the field.
The Rays have a solid back-end to their bullpen with Fernando Rodney at the helm as the closer, but Thornton will be a great addition. He's a very reliable reliever and it's always good to have another lefty in the pen. He'll complement Jake McGee very nicely.
Projected 2013 Final Payroll: $75.0 million
Toronto Blue Jays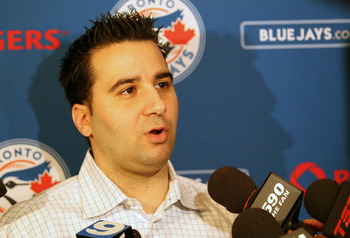 Matthew Emmons-USA TODAY Sports
Projected 2013 Opening Day Payroll: $113.8 million
Season Prediction
The Toronto Blue Jays were the big spenders this past winter, making a slew of deals to bring top talent to Canada. Heading into the 2013 season, the Blue Jays are the clear-cut favorites to win the American League East and also have a good chance at winning the World Series.
The Blue Jays have all of the pieces necessary to win, so I don't see them making many moves, if any, during the year. Toronto could decide to add an arm for the bullpen or someone off the bench, but nothing that will shock anyone. General manager Alex Anthopoulos did enough over the offseason. During the year, he can relax.
Projected 2013 Final Payroll: $113.8 million
Chicago White Sox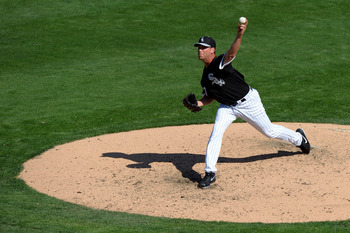 Jake Roth-USA TODAY Sports
Projected 2013 Opening Day Payroll: $113.9 million
Season Prediction
The Chicago White Sox are no longer the team to beat in the American League Central as the Detroit Tigers hold that title handedly. Chicago will have a tough time making the postseason with an aging roster and in 2013, expect it to dump a bunch of salary.
The Tyler Flowers experiment behind the plate isn't going to work out. The White Sox should've replaced A.J. Pierzynski during the offseason, but they went with their in-house option instead. Once Chicago realizes that Flowers can't get the job done, expect a trade.
One interesting swap that I came up with was Gavin Floyd going to the Seattle Mariners in exchange for Jesus Montero. Seattle could use a veteran starter behind Felix Hernandez, and with Mike Zunino on the rise, Montero will soon be out of a job. That is, unless he moves to another position.
Chicago gets a catcher with a lot of potential for the future that it can insert in the middle of the lineup to solve the underachieving Flowers problem. It also relieves the White Sox of Floyd's contract, which is one of the highest on the club.
The other deal I have the White Sox making, as mentioned previously, is Matt Thornton going to the Tampa Bay Rays. While Thornton is nice to have in the bullpen, he's making too much money and the White Sox don't really need him. In fact, they'll probably be better off without him.
Projected 2013 Final Payroll: $98.9 million
Cleveland Indians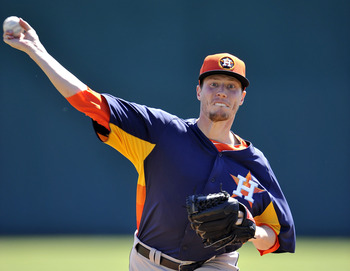 Brad Barr-USA TODAY Sports
Projected 2013 Opening Day Payroll: $72.9 million
Season Prediction
The Cleveland Indians made a couple of nice moves over the offseason to improve their offense and pitching with the acquisitions of Michael Bourn, Nick Swisher and Trevor Bauer, among others.
While Cleveland should be competitive within the American League Central, it may need one more boost. The starting rotation still isn't quite what it should be with Ubaldo Jimenez and Justin Masterson not pitching well over the last couple of seasons. The rest of the rotation isn't exactly secure either.
It would be wise of the Indians to try and land an inexpensive option to throw into the middle of the rotation. If you ask me, I'd say to aim for Lucas Harrell, currently with the Houston Astros. He's a young arm who would give Cleveland a bit more depth down the stretch.
The best part about acquiring Harrell, though, is that it probably won't cost much to get him. Jayson Stark of ESPN reported that as long as Houston gets at least two players in return, they'll trade anyone. How about Harrell for a pair of mid-level minor leaguers? Sounds like a done deal to me.
Projected 2013 Final Payroll: $72.9 million
Detroit Tigers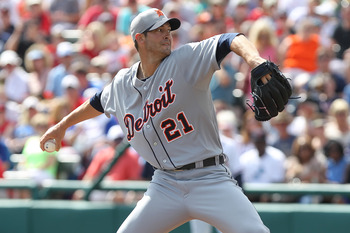 Kim Klement-USA TODAY Sports
Projected 2013 Opening Day Payroll: $143.5 million
Season Prediction
As long as the Detroit Tigers have Justin Verlander and Miguel Cabrera on the roster—and they will for a very, very long time—they'll be World Series contenders. Yes, two players can turn a team into title contenders, especially if they're the best pitcher and batter in the game.
The Tigers can afford to give up one of their starting pitchers, and if it's going to be anyone, it will be Rick Porcello. As I've already explained, I think that the Baltimore Orioles will make a push to acquire the right-hander. Although Ken Rosenthal of Fox Sports reported that Baltimore isn't likely to make a big move, I tend to think they will.
Detroit probably wouldn't get much back in return, but it would at least get a couple of prospects—I'd say around two. It's certainly better than nothing, though.
Bruce Rondon seems shaky so far and whether he'll make it the entire year as Detroit's closer is up for debate. In order to add some insurance just in case Rondon struggles throughout the season, the Tigers should sign Brian Wilson to an inexpensive, incentive-based contract.
Wilson is coming off of Tommy John surgery that kept him out for the entire 2012 season. Before the surgery, though, he was a top closer. He remains a free agent as Opening Day approaches so a couple million dollars with some incentives for appearances should do the trick.
Projected 2013 Final Payroll: $139.65 million
Kansas City Royals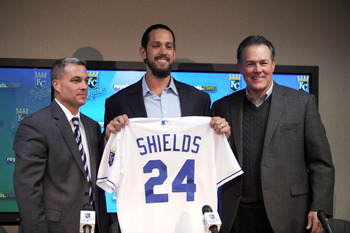 USA TODAY Sports
Projected 2013 Opening Day Payroll: $78.5 million
Season Prediction
The Kansas City Royals had one of the riskier offseasons, trading away their top prospect in exchange for pitching help. That move, however, wasn't a smart one and in due time, the Royals will find that out.
Even with the additions of James Shields and Wade Davis, there's no way that the Royals are going to make the postseason. The problem, though, is that Shields is only under contract for this season, but the Royals do have an option for 2014 worth $12 million, with a $2 million buyout.
I can't foresee Shields wanting to stay with Kansas City since he really won't be pitching in many meaningful games. It may be in the Royals' best interest to trade Shields at the trade deadline, once postseason contention is well out of reach, and Kansas City can still get good return for him.
The Philadelphia Phillies would be an obvious trade partner for Kansas City. The Phillies have two great starters in Cole Hamels and Cliff Lee, one regressing starter in Roy Halladay and then two average starters on the mound. Trying to land a top-of-the-rotation starter should be a no-brainer for Philadelphia, as it tries to keep up with the Atlanta Braves and Washington Nationals.
By dealing Shields after just acquiring him, the Royals would dump some salary and likely pry a couple of good prospects from the Phillies. In theory, getting Shields was a decent move. But that doesn't mean that Kansas City can't flip him mid-year to get prospects back.
Projected 2013 Final Payroll: $68.25 million
Minnesota Twins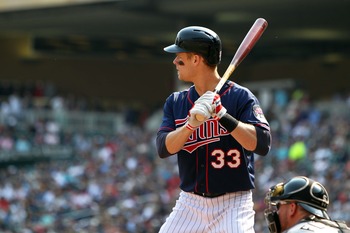 Brace Hemmelgarn-USA TODAY Sports
Projected 2013 Opening Day Payroll: $77.3 million
Season Prediction
No matter what moves the Minnesota Twins do or don't make during the season, they're still going to finish in the cellar of the division. There's no way that Minnesota makes the playoffs and it's hard to see the Twins finishing any higher than fourth in the AL Central. Maybe fourth is even a stretch.
Minnesota's offense is weak and the pitching isn't very good either. To aid the rebuilding process, the Twins should trade one of their top-paid players at some point during the season. Joe Mauer looks to be a keeper, but the Twins should absolutely ponder dealing Justin Morneau.
Morneau is the second-highest player on Minnesota, behind Mauer, but does have enough value where the Twins could get solid return for him. As I've stated earlier, the Baltimore Orioles would be a good landing spot for the slugger and they might even be willing to take on the majority of his contract.
Minnesota could get a handful of prospects in return for Morneau, a player who's expected to hit the open market after the 2013 season. The Twins might as well capitalize on the opportunity to get something for him and the Orioles should be interested.
Early on this season, the Twins should sign Jim Thome to an inexpensive deal to come off the bench late in games. He provides some power, something the Twins absolutely lack.
Projected 2013 Final Payroll: $63.3 million
Houston Astros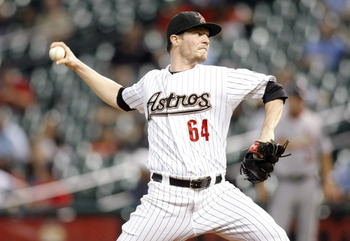 Brett Davis-USA TODAY Sports
Projected 2013 Opening Day Payroll: $14.6 million
Season Prediction
Moving from the National League Central to the American League West, the Houston Astros are still going to have a tough time competing against any team that faces them. They only have a handful of players that have major league deals, which speaks to the talent on the roster.
Houston can't expect to win many games this year as it continues its rebuilding process. That being said, the Astros probably won't be selling the farm to land a big name during the year either. Houston could look to boost its farm system and increase the amount of talent in the lower levels, but that really isn't expected.
The one move I think Houston will make, though, regards Lucas Harrell. As I've mentioned, I think the Astros should trade Harrell to the Cleveland Indians for either prospects or cash considerations.
Harrell isn't going to be a top-notch pitcher and for the time being, he probably won't have much success with little-to-no run support each time he takes the mound for the Astros. Trading him makes complete sense. Houston won't be competitive and it gives Harrell the chance to play for a team that at least has a chance at making the postseason.
Projected 2013 Final Payroll: $14.6 million
Los Angeles Angels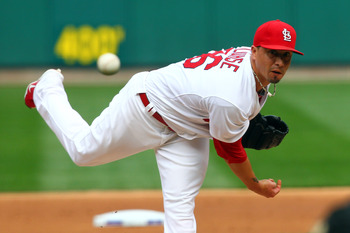 Pool Photo-USA TODAY Sports
Projected 2013 Opening Day Payroll: $145.2 million
Season Prediction
The Los Angeles Angels made a big splash over the winter, signing the top free agent on the market in Josh Hamilton. With the addition of Hamilton, Los Angeles now has one of the most feared trios in baseball that includes their newest addition, Albert Pujols, and 2012 AL MVP runner-up Mike Trout.
The Angels also made a couple of changes to their pitching staff, adding three new starters to the rotation. Although on paper, the starting five look good enough to compete for the division crown and have the potential to go deep in the playoffs, it's missing something.
Kyle Lohse is that something. Lohse would be a massive improvement over Joe Blanton, who's slated for the middle of the Halos' rotation.
Lohse, still a free agent since apparently qualifying offers are huge detractors for teams, needs a home. He can't have huge contract demands and with an averaged-sized, one-year deal, the Angels should sign the right-hander. He isn't in position to be turning down offers since spring training is nearly over and he has yet to sign on the dotted line.
The Angels also have a solid bullpen, adding a great lefty in Sean Burnett over the offseason. Although he and Ernesto Frieri are good arms, Los Angeles could really use another reliable reliever.
As I've talked about earlier, the Angels should send a package of prospects to Baltimore in exchange for Jim Johnson. He could close and Frieri could be the everyday setup man, a role where he might be better suited for. Johnson would really put Los Angeles over the top.
Projected 2013 Final Payroll: $158.7 million
Oakland Athletics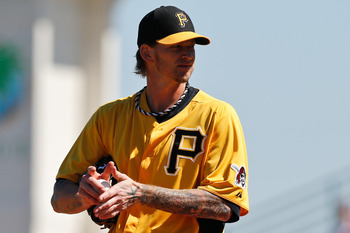 Derick Hingle-USA TODAY Sports
Projected 2013 Opening Day Payroll: $55.0 million
Season Prediction
The Oakland Athletics are a fun team. They're arguably one of the most likable teams in baseball. Their run down the stretch last year into the playoffs was one of the more unexpected things the game has seen in a while. But what can we expect from Oakland in 2013?
Oakland made some complimentary moves over the offseason like acquiring Jed Lowrie and Chris Young, but didn't make any over-the-top decisions. The A's did, however, lose their top starting pitcher, Brandon McCarthy, who signed with the Arizona Diamondbacks.
The A's still have a solid starting rotation with a bunch of young talent. They all have the potential to be top-of-the-rotation arms in the future, but McCarthy will certainly be missed. Around the trade deadline, general manager Billy Beane is going to realize that.
Beane will acknowledge that the A's need another solid starting pitcher in order to try and recreate the magic from last season. A veteran starter that should catch his eye is A.J. Burnett of the Pittsburgh Pirates. If the Pirates get off to a rough start and Oakland is willing to pay a chunk of Burnett's contract, I think a deal gets done.
Oakland shouldn't have to give up very much in order to acquire Burnett, who's one of the most overpaid players in baseball. He had a great year in 2012 and would be a good fit with the A's. If Pittsburgh wants to get rid of the righty, Oakland should be the one to make the call.
Projected 2013 Final Payroll: $61.0 million
Seattle Mariners
Jake Roth-USA TODAY Sports
Projected 2013 Opening Day Payroll: $76 million
Season Prediction
The Seattle Mariners are going to have a tough time keeping up with the Oakland Athletics, Texas Rangers and Los Angeles Angels in 2013 despite the moves they made over the winter. There shouldn't be a problem handling the Houston Astros, but that isn't saying much.
Seattle still needs more talent and that's exactly what it'll try to acquire throughout the upcoming year. First, as I've said, the Mariners need to get rid of Jesus Montero. Montero is a good young player, but Mike Zunino is going to be even better and he needs to be the catcher by the time the All-Star Break rolls around.
The Chicago White Sox should be interested in trading Gavin Floyd to the Mariners in exchange for the young catcher. Floyd would really improve Seattle's starting rotation, pitching second behind Felix Hernandez.
But as the season goes on, Seattle still won't be in the playoff hunt. Plenty of teams will be calling the Mariners' front office to try to pry Brendan Ryan from them. The Mariners should give in when the St. Louis Cardinals make the call.
Rafael Furcal continues to battle injuries and if he's not healthy or back to normal by the trade deadline, Ryan will be on his way to the Cardinals. Ryan is somewhat valuable, but Seattle won't get a ton of return for him. Robert Andino will be the likely short-term answer once Ryan gets dealt.
Projected 2013 Final Payroll: $82.3 million
Texas Rangers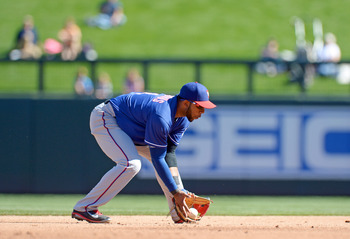 Jake Roth-USA TODAY Sports
Projected 2013 Opening Day Payroll: $121.4 million
Season Prediction
The Texas Rangers had some talented players leave over the winter, but they'll still be a very competitive team in 2013. Texas may not make the postseason as the American League West champions, but they'll certainly be in the conversation as a wild-card team.
The biggest problem the Rangers are going to have this upcoming season is finding a way to play Ian Kinsler, Elvis Andrus and Jurickson Profar all at one time. All three play middle-infield positions where, as we all know, there's only room for two. As of now, those two are Andrus and Kinsler.
That's the wrong decision. Profar is ready for the majors and needs to be in the everyday lineup for the Rangers. So if you've already read what I said about the Red Sox, you should know what's coming. Texas should trade Andrus to Boston in exchange for Jacoby Ellsbury.
Ellsbury is an All-Star-caliber outfielder who will help make up for the loss of Josh Hamilton. He's a good defender and has great speed. He'll also take Andrus' spot in the lineup. Texas will have to do its best to ensure that Ellsbury will sign an extension since he's in the last year of his contract, but the Rangers have a lot of money to spend so that shouldn't be very difficult.
Projected 2013 Final Payroll: $125.4 million
Atlanta Braves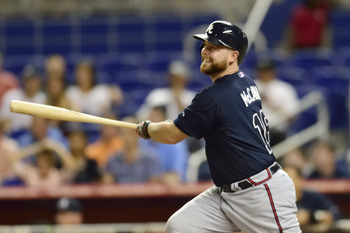 Steve Mitchell-USA TODAY Sports
Projected 2013 Opening Day Payroll: $82.8 million
Season Prediction
The Atlanta Braves have one of the better rosters heading into the 2013 season after a winter full of good and interesting moves. Atlanta finally took the plunge and acquired Justin Upton and even before that, the Braves signed his brother, B.J.
Chipper Jones is a pretty big loss offensively, defensively and in the clubhouse, but the Braves should be all right without him. The lineup is still very dangerous and Atlanta has one of the best pitching staffs in baseball.
Although it appears that third base will be an early weakness that will likely result in a platoon situation to start the year, I wouldn't expect the Braves to look to acquire a better option. Instead, I think that Atlanta will look at its roster and the rest of the organization and decide to move one of its veterans, Brian McCann.
McCann is expected to miss the start of the season after undergoing shoulder surgery, but once he comes back, the Braves might have already found a solution behind the plate. Christian Bethancourt is one of the team's top prospects and once he comes up, McCann will be out of the job.
If this is the case, I think McCann will end up getting dealt to the Tampa Bay Rays, most likely around the trade deadline. The Rays desperately could use a starting catcher and it wouldn't hurt if the Braves took McCann off the payroll. For a couple of decent prospects, the Rays could make it worth Atlanta's while.
Projected 2013 Final Payroll: $70.8 million
Miami Marlins
Jake Roth-USA TODAY Sports
Projected 2013 Opening Day Payroll: $38.8 million
Season Prediction
What's stopping owner Jeffrey Loria from selling everyone else on the roster of the Miami Marlins? It didn't seem like he was too concerned about trading some of the team's top talent over the offseason, mainly all to the Toronto Blue Jays.
The Marlins aren't going to be a competitive team for quite some time and they might not be done dealing yet. Miami probably won't make the types of moves it made over the winter, but trades are definitely coming in the future.
Giancarlo Stanton, however, won't be dealt. He's much too valuable for the team to get rid of him, even if he does decide to request a trade. It will be extremely tough to play for such a horrible team, that's for sure. But Miami has to do whatever it takes to keep their slugger happy.
Instead of trading away major league talent like the Marlins have recently done, I think they trade for some major league talent during the upcoming season. One name that comes to mind that seems like the type of player the Marlins look to have on the team in Carlos Marmol of the Chicago Cubs.
Marmol is an above-average reliever who would make the Marlins slightly better. The bullpen is actually one of the brighter spots on the team, believe it or not. The Cubs will likely look to dump Marmol the first chance they get so it wouldn't take much to land him. A couple of minor leaguers go to Chicago and Miami gets a right-hander to put in the pen.
Projected 2013 Final Payroll: $45.8 million
New York Mets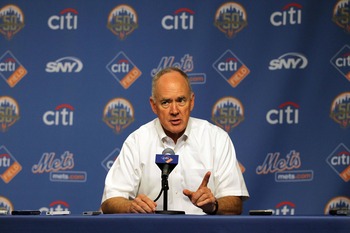 Brad Penner-USA TODAY Sports
Projected 2013 Opening Day Payroll: $83.2 million
Season Prediction
The New York Mets are in a very interesting spot. They don't really have the talent to compete in the National League East, but they can't give up the prospects necessary to start competing. It seems as if the Mets will just wait for their prospects to be ready and then put the pedal to the metal.
While there are many weak links in New York's offense and pitching staff, there isn't much that can be done. I don't think the Mets make any sort of big move at any point during the year. Matt Harvey and Zach Wheeler will be in the rotation together at some point and that'll be the biggest news for the Mets all year long.
Projected 2013 Final Payroll: $83.2 million
Philadelphia Phillies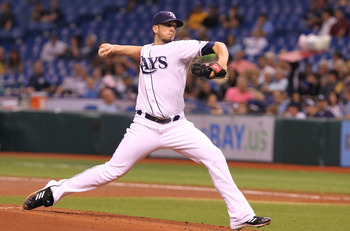 Kim Klement-USA TODAY Sports
Projected 2013 Opening Day Payroll: $154.2 million
Season Prediction
With an aging team, the Philadelphia Phillies are doing their best to get a little bit younger. Adding Ben Revere over the offseason was definitely a step in the right direction, but Philadelphia still needs more youth.
It appears that Domonic Brown is finally finding his stroke at the plate which will help the Phillies' offense for sure in 2013. While the offense is injury-prone, especially with Chase Utley and Ryan Howard, my main concern for the Phillies is the starting rotation.
Yes, Philadelphia has three very good pitchers. Cole Hamels is growing into an ace and Cliff Lee still has fantastic stuff. But Roy Halladay has had a questionable spring and has been losing his touch. After that trio, there's John Lannan and Kyle Kendrick, two pitchers who you don't necessarily know what you're going to get out of when they take the mound.
If Halladay struggles early on and the Phillies don't feel like they can contend, look for them to a make a move toward the trade deadline. As you already know, or should know, I think the Kansas City Royals should trade James Shields to Philadelphia. He'd provide an instant boost to the rotation and would most likely sign an extension for the next several years.
Philadelphia has a handful of prospects that it can send to Kansas City in return for the right-hander, and in the end, both sides should be happy.
Projected 2013 Final Payroll: $164.5 million
Washington Nationals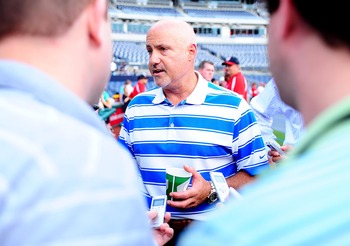 Evan Habeeb-USA TODAY Sports
Projected 2013 Opening Day Payroll: $112.0 million
Season Prediction
The way that the Washington Nationals' roster looks right now, they should be the team to beat in the National League—not the San Francisco Giants, the Atlanta Braves nor anyone else. It's the Nationals' pennant to lose in 2013, whether you like it or not.
Washington has a stacked team without a hole in sight. If you think you've found a hole, you're wrong. The Nationals have an extremely talented collection of stars who are going to turn all of the heads that didn't turn last season when Washington was one of the league's best teams. The Nationals don't need to make any moves during the year in order to impress. They're about as good as they're going to get.
Projected 2013 Final Payroll: $112.0 million
Chicago Cubs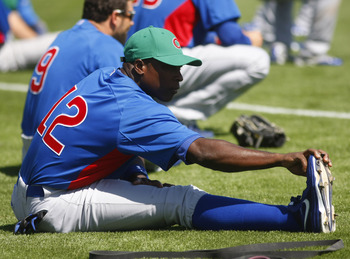 Rick Scuteri-USA TODAY Sports
Projected 2013 Opening Day Payroll: $103.1 million
Season Prediction
The Chicago Cubs are basically in the same spot they were at the end of last season. Chicago managed to add a couple of players over the offseason, but with the Houston Astros switching leagues, it's clear that the Cubs are the worst team in the National League Central.
The pitching staff isn't in shambles, but the offense is fairly weak. There is some upside for some players such as Starlin Castro and Anthony Rizzo, among others. Chicago should have a lot of talent soon, though, as several prospects are about ready to make their debuts.
As you've seen, I think the Cubs take up the Miami Marlins on an offer where Carlos Marmol gets dealt to South Beach. Marmol is a solid reliever, but the Cubs don't really need him. They have several other relievers that are capable of shutting the door in the ninth, something that probably won't happen much in 2013.
The other big move I have the Cubs making involves Alfonso Soriano. The Cubs have yet to pull the trigger on letting their left fielder go in the past, but this year will be the year. There's absolutely no point in keeping him if another team is interested. He's owed way too much money and if Chicago should get rid of him, even it if has to eat some of his contract.
This is going to sound a little crazy, but I see Soriano getting traded to the Los Angeles Dodgers. They have the money required to pay Soriano's salary. Granted, the Cubs are paying most of it, and the Dodgers might end up needing a left fielder. Carl Crawford is working his way back from elbow issues and these days, you never know what's going to wrong with the former star.
Projected 2013 Final Payroll: $96.3 million
Cincinnati Reds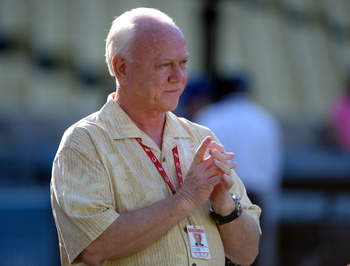 Kirby Lee-USA TODAY Sports
Projected 2013 Opening Day Payroll: $98.8 million
Season Prediction
The Cincinnati Reds improved over the winter with the addition of Shin-Soo Choo to the team's outfield. He'll replace Drew Stubbs, who was productive, but Choo is expected to be a surefire upgrade offensively. The rest of the offense, which is basically the same as last year, looks ready to win a pennant and, potentially, a World Series.
The pitching staff is still going to be very good whether the Reds decide to keep Aroldis Chapman in the bullpen or to actually move him into the starting rotation. Cincinnati shouldn't have much trouble making the postseason, so I don't think it's necessary to make any major moves. The Reds should be content with what they have at the moment.
Projected 2013 Final Payroll: $98.8 million
Milwaukee Brewers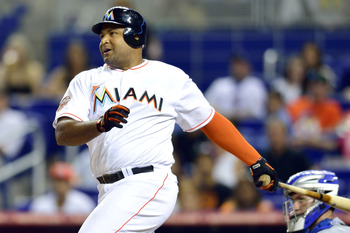 Steve Mitchell-USA TODAY Sports
Projected 2013 Opening Day Payroll: $71.0 million
Season Prediction
The Milwaukee Brewers could find themselves in a bit of trouble if Major League Baseball finds evidence that links Ryan Braun to performance-enhancing drugs. That would leave the Brew Crew without the best player in the organization and would also create a major hole in the lineup.
But let's assume that Braun doesn't face any sort of suspension for the upcoming season. The Brewers still need a bit of help offensively with Corey Hart expected to start the season on the disabled list. He may be old and well out of his prime, but Carlos Lee would be a good addition for Milwaukee.
Lee still has solid power and rarely strikes out. He can be play a little first base and can come off the bench if that's what the Brewers need from him. He's a low-risk, low-cost option who could turn into a brilliant move made by Milwaukee. For a couple of million dollars, he's worth it.
Projected 2013 Final Payroll: $72.5 million
Pittsburgh Pirates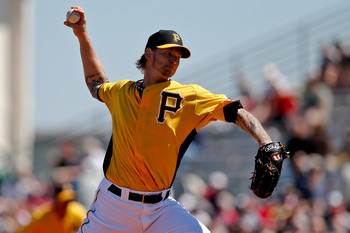 Derick Hingle-USA TODAY Sports
Projected 2013 Opening Day Payroll: $56.7 million
Season Prediction
It would've been interesting if the Pittsburgh Pirates would've shown up for the second half of the 2012 season. Pittsburgh went 48-37 in the first half of the season and just 31-46 thereafter. That didn't cut it as the Pirates missed the postseason for the 20th straight season.
The Pirates did do some work over the offseason, bringing in Russell Martin to catch, Wandy Rodriguez to start on the mound and a couple of other role players. Pittsburgh will still have a hard time competing with the St. Louis Cardinals and Cincinnati Reds, but should be a little better than last season.
It's still highly unlikely that Pittsburgh makes the postseason, though, and that should be obvious around mid-season. Once the Pirates figure out that they need to rebuild just a little bit, they'll decide to trade A.J. Burnett. To where, though? Why not the Oakland Athletics?
The A's have prospects that could interest the Pirates and might end up needing another starting pitcher down the stretch. Getting Burnett out of the rotation would also open up a much-needed spot for Gerrit Cole, who has looked ready for the majors this spring. Pittsburgh will likely eat most of Burnett's contract, but it's still a deal worth making.
Projected 2013 Final Payroll: $46.2 million
St. Louis Cardinals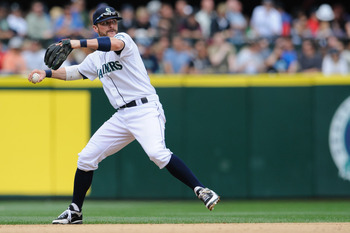 Steven Bisig-USA TODAY Sports
Projected 2013 Opening Day Payroll: $111.2 million
Season Prediction
The St. Louis Cardinals have the talent necessary to make the postseason again in 2012. But do they have enough to advance any further this time around? That answer is yet to be determined, but it's definitely going to be close.
The starting rotation is going to draw a lot of attention in the upcoming season. Chris Carpenter is going to be out for a long time due to numbness in his arm and the Cardinals have yet to re-sign current free agent Kyle Lohse, their best pitcher from a year ago.
But the rotation still has Adam Wainwright and Jaime Garcia, and it appears that top prospect Shelby Miller is finally going to get a good opportunity in 2013, rounding out the starting five. The bullpen is still one of the best, which will aid the starters should they struggle.
Another problem that the Cardinals could have in 2013 involves the shortstop position. Rafael Furcal is going to miss the entire season after undergoing Tommy John surgery and who knows what Pete Kozma is really capable of doing? If Kozma struggles, the Cardinals will have to find another shortstop who can hand the pressure.
Although Brendan Ryan hasn't played in many important games, he seems like an obvious target for St. Louis. He's a defensive mastermind and although he doesn't hit particularly well, he makes up for it in the field. The Seattle Mariners' asking price shouldn't be ridiculous and Ryan would be a great addition heading into the postseason.
Projected 2013 Final Payroll: $114.45 million
Arizona Diamondbacks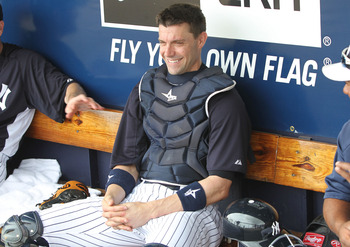 Kim Klement-USA TODAY Sports
Projected 2013 Opening Day Payroll: $82.7 million
Season Prediction
The Arizona Diamondbacks finally have the team they feel is good enough to compete in the highly contested National League West. Justin Upton is gone and Adam Eaton is expected to be an everyday outfielder. Cody Ross is there to play alongside of him as is Jason Kubel, both great power hitters.
Arizona's pitching staff looks very promising and could end up being one of the best in baseball. With Brandon McCarthy, Wade Miley, Ian Kennedy, Trevor Cahill and potentially Tyler Skaggs, the Diamondbacks have quite the advantage on the mound.
The only thing that Arizona should do is add a little bit of catching depth. Miguel Montero is easily the starter, but Wil Nieves and Rod Barajas aren't the best backups. If the Diamondbacks send a little cash the New York Yankees' way, I'm sure they'll send Chris Stewart back in return.
Projected 2013 Final Payroll: $82.7 million
Colorado Rockies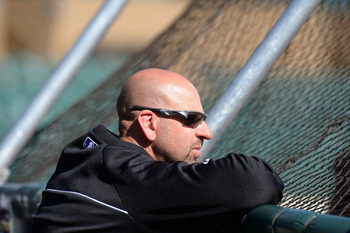 Jake Roth-USA TODAY Sports
Projected 2013 Opening Day Payroll: $68.5 million
Season Prediction
I'm not too sure what to make of the Colorado Rockies. They have a couple of very good stars, but not nearly enough to win many games this season. The starting pitching and bullpen aren't very impressive and they don't have many great prospects rising through the system.
The Rockies are kind of stuck in neutral. Colorado could be one of the teams near the trade deadline that trades for a reliever or a bench player, but not one that's going to be the team talked about the most in trade rumors. For the time being, I don't have the Rockies doing anything in regard to player movement over the course of the season. That could change, but I think it's unlikely.
Projected 2013 Final Payroll: $68.5 million
Los Angeles Dodgers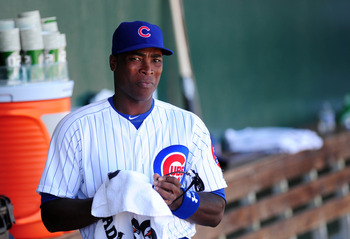 Jennifer Hilderbrand-USA TODAY Sports
Projected 2013 Opening Day Payroll: $213.0 million
Season Prediction
The Los Angeles Dodgers are all-in. They've spent a ton of money and are hoping that the money spent brings home a World Series title in 2013 and for many more years to come. That's not always the case, though, but we'll see if the Dodgers can make it happen.
Los Angeles has a remarkable top of the rotation with Clayton Kershaw and Zack Greinke leading the way. After that dynamic duo, it's a toss-up as to how the remaining three starters will pitch, but they should be above-average at least. The bullpen should be very strong, as well, especially after adding Brandon League over the winter.
The offense looks great on paper, even with Hanley Ramirez expected to miss considerable time after injuring himself during the World Baseball Classic. The player I'm keeping an eye on, however, is Carl Crawford, who finally looks healthy enough to play on a regular basis.
But what happens if Crawford doesn't return to form and gets injured again? Well, then I expect the Dodgers to make a bold move and acquire Alfonso Soriano from the Chicago Cubs. Chicago will pay most of his salary and the Dodgers have more than enough money to pay whatever the Cubs don't want to.
Soriano is probably an upgrade over Crawford and he would fit very nicely into the lineup that's already full of stars. The Dodgers are playoff contenders no matter who the left fielder is, but Soriano would be a good pickup should Crawford fail to meet expectations.
Projected 2013 Final Payroll: $228.0 million
San Diego Padres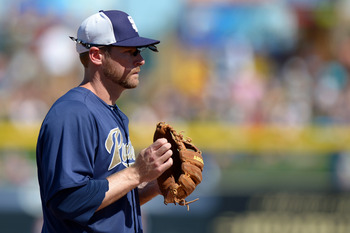 Jake Roth-USA TODAY Sports
Projected 2013 Opening Day Payroll: $60.4 million
Season Prediction
The San Diego Padres are once again going to be in trouble in 2013. They don't have a great offense or a great pitching staff and that's going to put them toward the bottom of the National League West with the Colorado Rockies. It's about time San Diego officially started to rebuild.
The problem is that all of San Diego's top prospects close to making the roster are all injured. Rymer Liriano is going to have Tommy John surgery which will keep him out all year long. Casey Kelly could end up having the same surgery as well. Outside of those two, the immediate future doesn't look so bright.
Over time, the offense will improve. I can't say that the pitching will as well, though. There aren't many good pitching prospects within the organization at the moment, or else it will be a long time before they make it to San Diego. In order to revamp the system, the Padres should deal one of their better players for some help.
Chase Headley seems like a perfect candidate to get dealt. Despite the fact that he's expected to miss around a month with a fractured thumb, he's still great trade bait. As I stated toward the beginning of this article, the New York Yankees need a third baseman because of injuries.
The Yankees have a couple of pitchers in the minors who could be of interest to the Padres. This is the perfect opportunity for San Diego to make a move. The team will be way out of contention and it'll have the chance to make a positive out of a negative.
Projected 2013 Final Payroll: $69.0 million
San Francisco Giants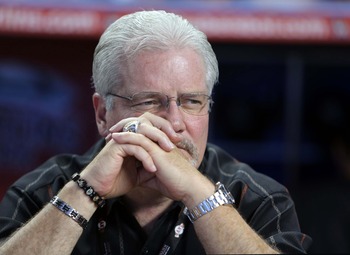 Robert Mayer-USA TODAY Sports
Projected 2013 Opening Day Payroll: $135.8 million
Season Prediction
The defending champions have a little more to worry about within the division than they did last season or in seasons' past. The San Francisco Giants have to watch out for a very improved Los Angeles Dodgers club and the Arizona Diamondbacks could give them a scare as well.
The Giants have one of the best lineups and pitching staffs in baseball and there really aren't any holes that need to be filled. General manager Brian Sabean is a bit of a wizard so you never know what he might pull off during the season, but I don't think he'll do much this year. He has a good team that he knows can win the World Series. Not many general managers can say they know that for sure.
Projected 2013 Final Payroll: $135.8 million
Keep Reading