What if the very essence of why Nick Saban is wildly successful as a college football coach also fuels the argument for why he could never be as accomplished in the NFL?
Indeed, what if the inherent differences between the collegiate and professional levels of college football mean that Saban's mastery of one level predestines his lack of relative success at the other?
To test this theory, it's important first to understand the "Saban System" and how it has been so effective at pumping out championship-caliber college football teams.
Next, it's key to compare and contrast the major elements of "the system" with the inner workings of the NFL to get a feel for the potential effectiveness of Saban's strengths in the pros.
Of course, in the case of Saban, we also have the actual results from his two-year run with the NFL's Miami Dolphins—he went 15-17 from 2005-2006. But, to be fair, this was before his wildly successful tenure at Alabama.
And you could argue that it has been with the Crimson Tide that Saban has mastered his craft and honed the finer points of the "system."
So, first things first, what exactly is the "Saban System?"
From a very broad perspective, the "system" or "process" involves a carefully scripted path that begins with assessing incoming talent and ends with the NFL draft or commencement.
Potential Saban recruits are evaluated based not only on their athletic gifts, size and speed, but they are also measured in non-football related categories such as intellect and attitude—traits which the "system" considers just as important as who runs the fastest time in the 40.
Once kids are signed, they are trained, coached up and supported by a dizzying number of staff members, from sports psychologists, nutritionists and strength and conditioning coaches to academic counselors and even motivational speakers.
Simply put, no expense is spared as the "system" easily outpaces the rest of the FBS ranks in player care.
Beyond all this, and perhaps the key to the "system" itself, is the mental approach Saban takes which dictates that the road to success is navigated by focusing on each individual footstep rather than wasting time ogling the crystal football at the end of the horizon.
Basically, it's focusing on the backbreaking work of the trees rather than fantasizing about the dream of conquering the forest.
And this approach applies to every single minute detail of the football program.
Now that we know, again in very general terms, what it is, let's see how the strengths of the "system" fare in the NFL.
Recruiting vs. Drafting
The truth of the matter is, and despite how great Saban is as a college football coach, he wouldn't own four BCS titles and four SEC crowns without the help of a long stream of some of the most talented athletes in the history of the game.
And this influx of ability all begins with effective evaluation and deal-sealing recruiting, two Saban strengths.
Mike Ehrmann/Getty Images
In fact, the Saban "system" is so successful at recruiting that the Tide have hauled in the No. 1-rated class in each of the past three years.
In terms of how this translates to the NFL ranks, well, it doesn't.
Being effective at acquiring talent through an ultra-structured draft system where you pick not when you want but when your number comes up has very little to do with being able to successfully lure whomever you target.
Saban understands the difference between the two processes, a point he explained this past January when the rumor mill spun up, again, about him taking an NFL job.
From a SunSentinel.com article dated Jan. 8 that discussed Saban's "frustration" with his time at the Dolphins, he said:
You can draft a player that is there when you pick. It may not be the player you need. It might not be the player you want. You have salary cap issues.
Building vs. Managing
Once Saban and Co. find and sign the best athletes in the country, the "system" has been second to none in taking this talent and cranking out championship football teams.
And it's important to point out that bringing in the best of the best athletes doesn't necessarily guarantee results.
Case in point, Alabama hauled in No. 5-, No. 1- and No. 1-ranked recruiting classes from 2010-12 while Texas brought in No. 3-, No. 3- and No. 2-rated groups during the same time period.
Proving that the "system" is indeed a special set-up that works very effectively, the comparative results speak for themselves; the Crimson Tide went 35-5 from 2010-12, including winning the BCS title twice, while Texas went 22-16, never finishing better than tied for third in the Big 12 race.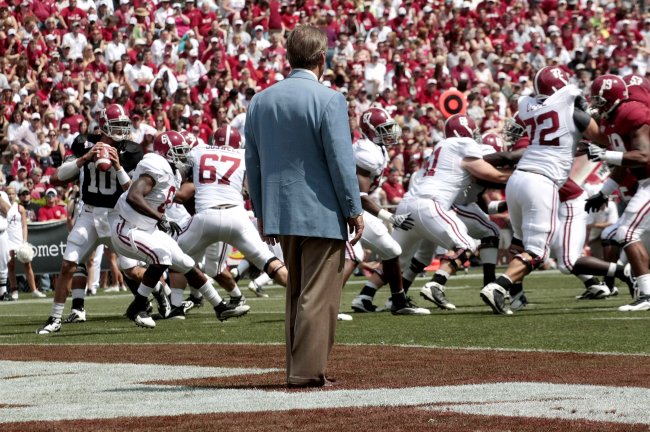 Dave Martin/Getty Images
Taking a young group of talented athletes in college and coaching them up into a winning team couldn't be more different from taking an established, fractured group of adult professional athletes and trying to pump out wins.
One is a building task. The other is the act of managing.
It's an age and ego thing. On one hand, guys are making a living in a profession. While on the other hand, guys are trying to get themselves in a position to make a living.
Saban and his proven "system" is crazily successful (again, look at results) at building players and sending them off as opposed to receiving them and managing them for the long term.
And again, this is something Saban understands due to his two seasons in the NFL.
In a USAToday.com piece discussing Saban's take on Oregon's Chip Kelly taking the job at Philadelphia, Saban drew the lines clearly between the NFL and college.
The way you bring players to your team is different, how you manage your squad is a little different than the way you motivate younger players. But to be able to do that, to be able to make those transitions and still develop your players, I think is a real key to being successful.
Controlling vs. Out of Control
The truth is, college coaches have the advantage of an element of control that only a scholarship situation can generate.
While NFL coaches can't dictate where their athletes live, how they eat outside of their "team" time and their activities other than football (i.e. academics are in reality a controlling feature), college coaches have a huge degree of jurisdiction over these areas and more.
This all plays effectively into a scenario such as Saban's "system," which is, by nature, ultra-structured and scripted.
Basically, Saban can use the intrinsic uniqueness of the college student-athlete situation and make it work for him and his process on a number of levels.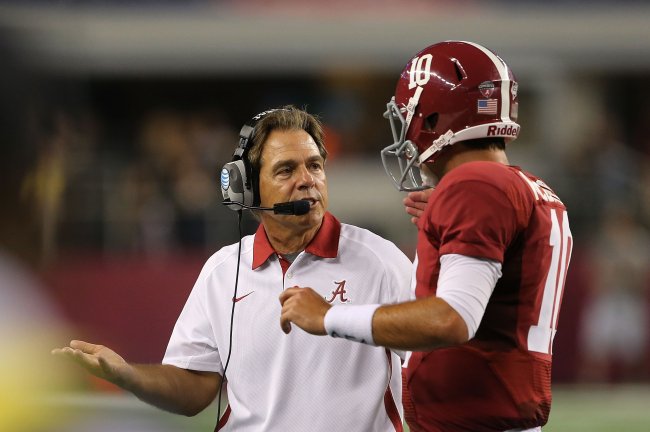 Leon Halip/Getty Images
And this is something that simply can't be replicated in the NFL ranks.
Even the concept of limited eligibility and the rules associated with transfers work to Saban's advantage in what is a culture of total control.
Think about how big of a wrench basic NFL parameters such as free agency, the salary cap and trades could throw into the "system."
The more you consider the differences between the two levels, the more easily you understand why Saban owns one and may need to stay clear of the other.
Happy Wife vs. Unhappy Wife
Finally, and perhaps most importantly, we come to what may be the biggest reason why not only Saban can't be successful in the NFL, but the reason he's not likely to leave Alabama.
Yes, Saban won't be successful in the NFL because his wife of 40-plus years, Terry Saban, is happy in Tuscaloosa.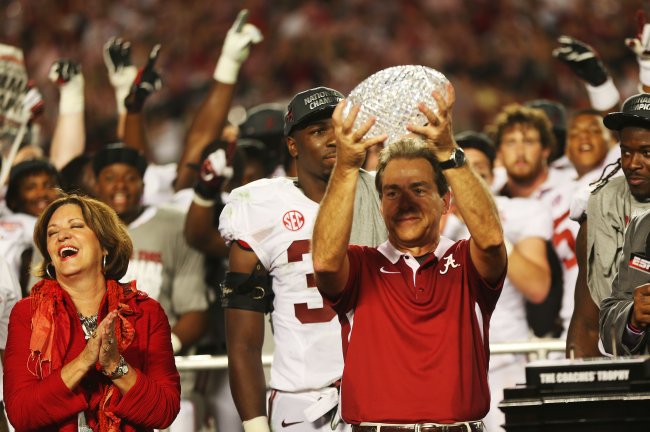 Mike Ehrmann/Getty Images
And remember that this is a woman who's been drug across the country since her husband took a GA position at Kent State from 1972-74 while she finished up her degree.
In an article posted this last December on AL.com that transcribed a radio interview after the SEC title game, Terry Saban commented on the likelihood that her husband would take another collegiate job or migrate back to the NFL.
To answer your question and to get right to the point, no…We're very comfortable here. We love it here. It's a great fit for our family. It's a good fit for me. As far as we're concerned, this is where we'll retire someday…As far as jobs go, this is it for us. I don't mean to be presumptuous. I would have to talk this over with Nick, but as far as I'm concerned, this is it.
The bottom line is that the ultra-successful, battle-tested Saban system is built on a collegiate foundation and it works because of how the game is set up at the institutional level.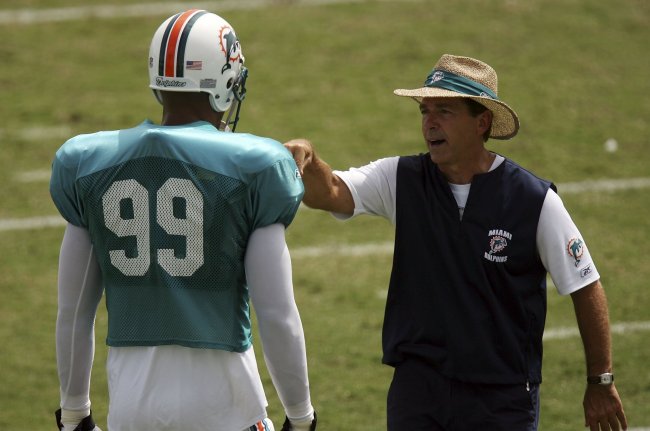 Doug Benc/Getty Images
This means that Saban can't be as successful at the NFL level not because he's not good enough for the pros or because he's not one of the greatest coaches of our generation.
No, instead Saban can't replicate his collegiate achievements in the NFL because the two games are naturally dissimilar from one another, making the Saban "system" not applicable, at least in terms of winning multiple championships, in the pros.
And this is something that even Saban understands, something he tried to explain via NFL.com this past January when the whole world waited for him to jump to Cleveland to coach the Browns.
I came to the Miami Dolphins, what, eight years ago for the best owner, the best person I've ever had the opportunity to work for. And in the two years that I was (with the team, from 2005 to 2006), had a very, very difficult time thinking I could impact the organization in the way I wanted to or the way I was able to in college, and it was very difficult for me.