The Best Tennis Players Who Will Retire Without a Grand Slam Title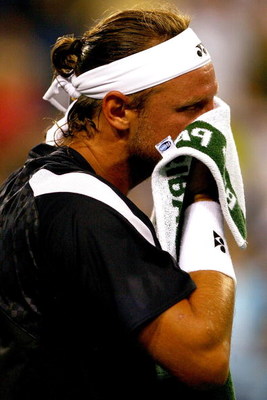 The last two decades of tennis have certainly been monopolized by two men, albeit separately, i.e. a certain Pete Sampras and his successor Roger Federer. Sampras dominated the hard courts and grass courts during the 1990s, with Andre Agassi giving him close competition on a consistent basis.
And the 2000s have been dominated by a man with probably the largest fan-following in tennis history, i.e. Roger Federer.
However, in between the building of these two dynasties there was a window of opportunity for a few pretenders to the throne to gain their share of the spoils.
This was well-utilized by the likes of Lleyton Hewitt, Andy Roddick, Marat Safin, and even Goran Ivanisevic towards the end of his love affair with Wimbledon.
This is a look at the tried-to-be's, the want-to-be's, and the should-have-been's of men's tennis, who are likely to retire without a Grand Slam title to their names. This slide show is in no particular ranking order.
David Nalbandian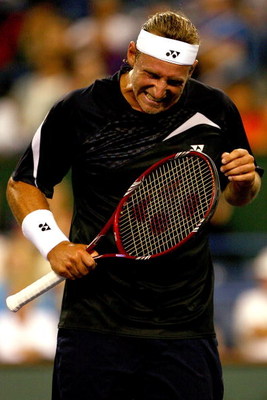 One of the most talented tennis players to emerge from Argentina, Nalbandian has mostly flattered to deceive since his arrival into the big-time with a Wimbledon final appearance in 2002 against Lleyton Hewitt.
He lost in straight sets at the time to a supremely in-form Hewitt.
Since then, he outplayed Roger Federer in the 2003 US Open only to lose to Andy Roddick in the American's singular Grand Slam winning run. His own countryman Gaston Gaudio, not being fancied as much, managed a maiden Slam at the French Open where Nalbandian was a loser in their semifinal match.
2005 was probably the highlight of his career when he won the Tennis Masters Cup, beating Roger Federer. Since then, his slide down the rankings has been baffling.
He has produced scintillating one-off displays against the likes of Federer and Nadal, but is likely to retire as one of the best players of his generation without a Grand Slam title.
Marcos Baghdatis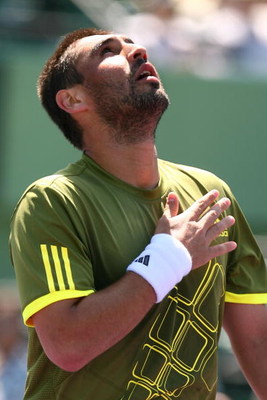 The Cypriot, a former World Junior Champion, has been one of the most colorful characters on the ATP Tour since turning professional in 2003.
His baseline game is much-suited to the hard courts, and he has lost twice to Roger Federer at the Australian Open. A quarterfinal appearance in 2005 and a loss in the final in 2006.
He is also a Wimbledon semi-finalist from 2006, losing to Rafael Nadal in straight sets. He lost to Novak Djokovic in a five-hour marathon at the quarter-final stage in Wimbledon the next year.
His slide down the rankings has been immense, and despite his talent he is now firmly outside the top 50.
Nikolay Davydenko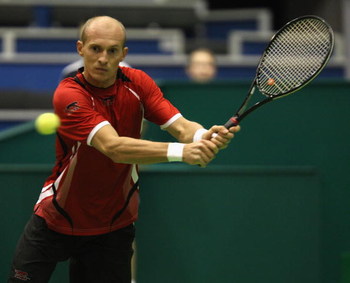 Nikolay Davydenko, along with Marat Safin, was expected to herald in a new era for Russia in mens' tennis. However, fate has not been kind to him either, despite his perennial presence in the top five for three years running.
Davydenko has one of the most efficient baseline games, but unfortunately it has not been good enough to succeed against the best, i.e. Federer and Nadal. Davydenko's reputation also took a hit in 2007 when he was accused of conspiring to fix tennis matches.
On the court, however, he has been consistent with 14 ATP Tour titles to his name, of which two are Masters 1000 titles.
He is a two-time semifinalist at the French Open (2005 and 2007) and the US Open (2006 and 2007), while also playing in the Tennis Masters Cup final in 2008. Unfortunately it looks as if his best years may be behind him.
Tommy Haas
A former World No. 2 from 2001, Haas was at the peak of his game and ready to claim his fame in the window of opportunity afforded by Pete's slide.
However, a car accident that nearly took his parents' lives put paid to his best years as a tennis player, and he gave tennis a break for some time. The break was extended due to a career-threatening shoulder injury.
Haas has won 11 titles on the ATP Tour during his career. He has reached the semi finals of the Australian Open three times. He has also won an Olympic silver medal in 2000.
Haas was supposed to be the next great German player following the retirement of Boris Becker, however, his potential has remained unfulfilled due to life's tragedies.
Ivan Ljubicic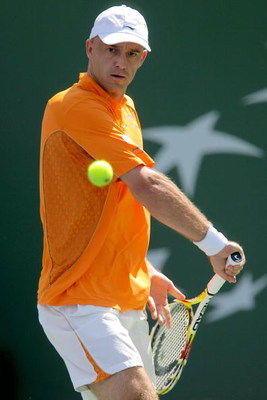 Ljubicic is one of the most intelligent all-court players. He reached the pinnacle of his game in 2006, when he was ranked No. 3 in the world and was consistently challenging the other more well-known names on a regular basis at the time.
Of his eight ATP Tour titles, six came within a span of 15 months from October 2005 to January 2007. He has been a semi-finalist at the French Open in 2006, and was a quarter-finalist at the Aussie Open in the same year.
He never quite translated his good form in 2006 into the grand slams, but he still continues to be a threat to the top-ranked players. He has never won an ATP Masters Series title, but his run of form in 2006 may have been his last hurrah.
James Blake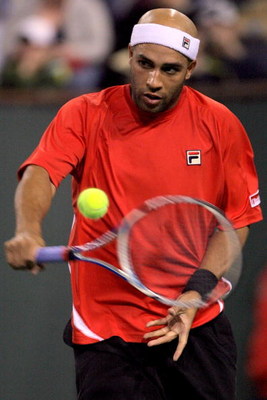 An American hard-court specialist, with a strong baseline game, James Blake has seen his fortunes plummet since he reached his highest-ever ATP ranking of No. 4 in 2006.
If not for Roger Federer, he would have won at least one ATP Masters 1000 title or even the Tennis Masters Cup in 2006.
At age 29, his best years are definitely behind him. He has twice been a quarter-finalist at the US Open in 2005 and 2006, while also reaching the same stage at the Australian Open in 2008.
At one point in time, he looked to be the best hope the US had of having another Grand Slam champion, as he was the top-ranked American ahead of Andy Roddick.
However, now the roles are reversed once again as Andy Roddick tries to prise another Grand Slam in the window of opportunity afforded by Federer's wavering form.
Nicolas Kiefer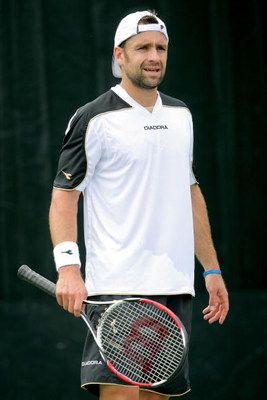 An old-timer in the current day and age, Nicolas Kiefer was at the top of his game in 2000, when he achieved his highest ranking of No. 4.
He has won six ATP Tour titles, with his best performance in a Grand Slam being a semifinal appearance at the 2006 Australian Open. He is also a former semi-finalist in the Tennis Masters Cup in 2000.
The Toronto Masters has been his best ATP Masters 1000 tournament where he has reached the semi-final twice (1999 and 2004) and was most recently a surprise finalist in 2008.
Kiefer's temperament has also gotten in the way of his development as a threat during that 'window of opportunity' in 2000-2002 in terms of achieving his Grand Slam potential. He is now well past his prime, destined to retire without a Grand Slam title.
Rainer Schuttler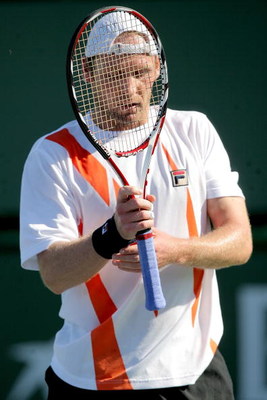 Another German, and yet more unfulfilled potential on the Grand Slam front. Rainer Schuttler has won only four ATP Tour titles, however his performance in the Grand Slams has not been too shabby.
He has been a finalist at the Aussie Open in 2003, while also reaching the Wimbledon semifinal in 2008. He won the ATP's most improved player award for 2003, and has a highest ATP ranking of No. 5 achieved in 2004.
Keep Reading