MLB Prospect for Prospect Swaps that Would Make the Most Sense for Both Sides
Use your ← → (arrow) keys to browse more stories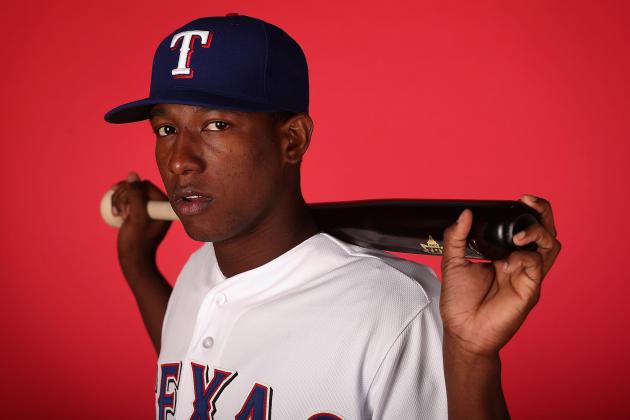 Christian Petersen/Getty Images
Was a Jurickson Profar for Oscar Taveras trade actually discussed? We may never know.
Due to the St. Louis Cardinals and Texas Rangers need for a shortstop and outfielder, respectively, it was only a matter of time until the idea of a Jurickson Profar for Oscar Taveras swap worked its way into the baseball rumor mill.
Although the origin of the rumor is still a mystery, ESPN.com's Peter Gammons apparently heard enough about the proposed deal to shoot it down via Twitter.
While such a trade is certainly intriguing, it's also highly unlikely regardless of each team's needs for the upcoming season.
However, it did get me thinking about the idea of straight-up, one-for-one prospect swaps. More specifically, which organizations might benefit from that particular type of trade.
Here's a look at three prospect swaps that would make the most sense for both teams.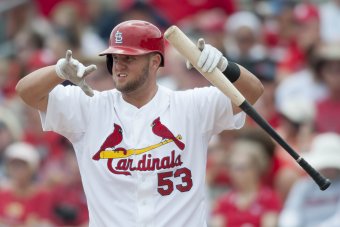 Steve Mitchell-USA TODAY Sports
Trade: Matt Adams, 1B for Jose Campos, RHP

Explanation: With Mark Teixeira sidelined with a wrist injury for anywhere from 10 weeks to potentially the entire 2013 season if surgery is required, the Yankees temporary solution is seemingly some combination of Juan Rivera and Dan Johnson. Not exactly ideal. However, by trading for Adams, the organization receives a 24-year-old left-handed hitter with a strong minor league track record and 27 games of experience in the majors.
After signing Allen Craig to a five-year extension this spring, the chances of Adams contributing in the majors as a first baseman this season are slim. While he does, in theory, serve as insurance in the event of an injury to Craig—which happens relatively often—he also represents intriguing trade bait given his experience in the major leagues. And considering that the organization's top pitching prospects are all at Double-A or above, trading for Campos, 20, could be practical towards re-stocking the lower levels of their system.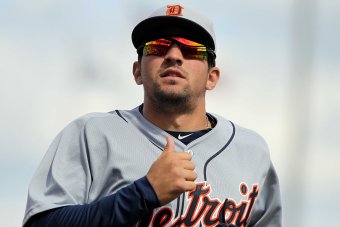 Kim Klement-USA TODAY Sports
Trade: Nick Castellanos, OF for Francisco Lindor, SS
Explanation: By now it's no secret that the Tigers tend to accelerate the development of their prospects; they push players up the organizational ladder to the high minors or major leagues before trading them to strengthen the 25-man roster. Well, this hypothetical trade might serve as the exception.
With current shortstop Jhonny Peralta set to become a free agent following the 2013 season, the Tigers are in desperate need of a shortstop within striking distance of the majors. Therefore, by trading Castellanos to the Indians for Lindor, they acquire arguably the top defensive shortstop in the minor leagues, who could be big-league ready at some point in 2014.

While it's typically a terrible idea to trade a young shortstop who projects to have a long, successful career in the major leagues, the Tribe's depth at the position could make such a deal a legitimate possibility. Beyond Lindor, the team's system features up-the-middle prospects like Dorssys Paulino, Ronny Rodriguez and Tony Wolters, though none of them have as high a ceiling as Lindor. In Castellanos the Indians add a much-needed outfield prospect, as one who should be capable of contributing in the major leagues by the end of the 2013 season.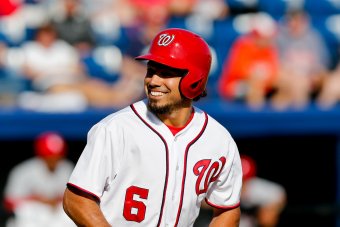 Derick Hingle-USA TODAY Sports
Trade: Anthony Rendon, 3B for Javier Baez, SS
Explanation: Although he has already been reassigned to minor league camp, Anthony Rendon reaffirmed that his bat is near-big-league ready with a monster spring. Unfortunately for Rendon, the Nationals' 25-man roster is stacked with talent, and he's blocked at third base by Ryan Zimmerman. Therefore, no matter how well he hits this season, the 22-year-old is likely to spend most of the year in the minor leagues.
However, by trading him to the Cubs for Javier Baez, the Nats can add a premium bat to an otherwise pitching-heavy system. More importantly, with current shortstop Ian Desmond set to hit free agency following the 2015 system, the addition of Baez could make the 27-year-old enticing trade bait in future seasons.
While I know that excitement over Baez is at an all-time high following his beastly performance last week, it's important to remember that Starlin Castro is signed to a potentially team-friendly contract through the 2019 season. So, unless the Cubs shift Baez to the hot corner, his path to the major leagues is blocked for the foreseeable future.
But by dealing Baez to the Nationals for Rendon, the Cubs will be able to fill their glaring void at third base with one of the best pure hitters in the minors, not to mention one who could complement Anthony Rizzo in the heart of the order almost immediately.