Slideshow: The 'Greatest' Question in Tennis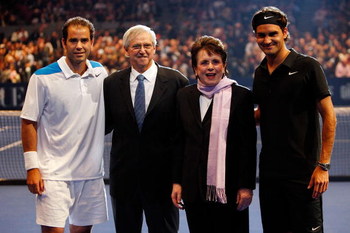 Do you believe in GOAT?
It's a question tennis only has to wrestle with whenever there's a player on the verge of shattering the game's oldest records. However, it now seems to be a question we have to deal with "only" once a generation.
It's only been nine years since Pete Sampras broke the record for Grand Slam titles set by Roy Emerson (second from left) in 1967. Though Emerson held that distinction for 33 years, Sampras' own grasp may be far shorter, as Roger Federer is already just one shy.
If Federer eclipses Sampras' mark, will that make him the best ever?
Well, when discussing the competition for the greatest male tennis player of all time, there are four names mentioned more frequently than all others. This slideshow will break down the cases for and against their claims.
Rod Laver-The Most Accomplished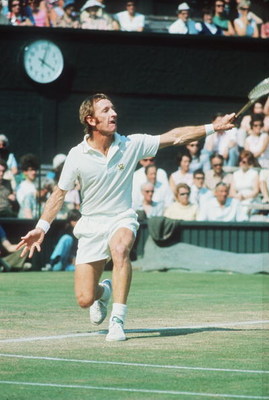 Why He's the Greatest: Though he "only" has 11 Grand Slam titles to his name, it'd be pretty hard to match the achievements of any other player on this list with Rod Laver's and come out with a favorable comparison.
Laver won his first major as an amateur at the Australian championships in 1960, his first Wimbledon in '61, and then captured the complete Grand Slam in '62. As these were amateur events and Laver, like all of us, needed money for food, he would not play in them again until 1969.
When professionals were again allowed to play in the Grand Slams, Laver duplicated his feat, winning the complete Grand Slam for the second time, something never done before nor since.
While he was winnning his majors, he also played doubles, unheard of in today's game. All told, he won 54 singles titles as an amateur, 69 as a professional before the Open Era, and 75 after the OE began: 198 total.
In 2006, Bud Collins, the unparalleled historian of the game, called Laver "in my eyes, the greatest player ever."
Why He Isn't: There will always be the argument, usually brought up by today's fans, that the game of tennis has evolved far beyond what it was in the late '60s, and that a man of Laver's stature (5'8") simply could not dominate now as he did then.
It's not just today's players who doubt Laver's GOAT status, though; many prior to the Open Era also were unconvinced. Despite Collins' above statement, he left room for the possibility that "Big" Bill Tilden was the greatest of them all, and said that Pancho Gonzalez would be the one player he'd want to "play for my life."
Some other greats didn't even consider Laver the greatest Australian: The American Don Budge admired Laver but gave the nod to Jack Kramer. Gonzalez considered Lew Hoad the best.
Kramer, interestingly enough, thought the best was either Budge or Ellsworth Vines.
As these players come from eras when the Grand Slam events did not provide the barometer as they do today, their claims are difficult to either prove or dismiss.
Bjorn Borg-The Biggest Star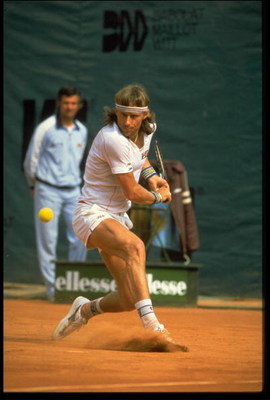 Why He's the Greatest: Of all the players on this list, the most innovative may have been the man from Stockholm. Hard as it may be to believe now, the two-handed backhand was once an unorthodox shot, but Bjorn Borg made it his signature.
Thanks to unmatched consistency and stamina, he easily adapted to the French Open, first winning in 1974, the second time he'd played there. As a great athlete with even greater determination, he made it his goal to win Wimbledon—then the complete opposite of Paris in terms of surface speed—and succeeded in 1976.
After five straight wins in London, it took the second of two monumental efforts by John McEnroe to wrest the Wimbledon crown from Borg. No one really figured out how to stop him in Paris, as Borg won there six times, including the last four he played.
Ultimately, he won 11 majors—one shy of Emerson's record—but there seems little doubt he could have won more. After all, he won his last 28 matches in Paris and never played the Australian Open after 1974.
While he played, though, he was a star, and his presence multiplied the game's popularity many times over.
Why He Isn't: His decision to walk away from game at age 26, less than a year after McEnroe defeated him, is often used to symbolize his potential greatness. As McEnroe later said, he was at worst the No. 2 player in the world at the time, and the odds-on favorite at the French Open.
The decision to walk away from one's chances at the record books, however, is not something to be commended, and shouldn't count in his favor. Borg was well-known for mental strength on the court, but this choice betrayed a lack of fortitude when facing setbacks.
Furthermore, though known as the coolest head in the game, his failure to win the U.S. Open (on either hard or clay) in boisterous New York indicated that his low-key personality wasn't always advantageous.
Pete Sampras-The Most Clutch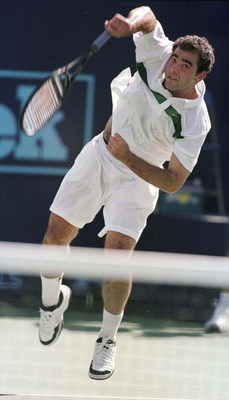 Why He's the Greatest: With his booming serve, smothering net coverage and laser-like groundstrokes, Pete Sampras was the one player in the modern game that Gonzalez considered on par with Hoad.
While most players today rally, hoping to finish with a better winners-to-errors ratio than the opponent, Sampras' game was built for offense, and to hit winners.
It's true that his clay court game was far below the standard he set on hard and grass, but on the other two surfaces he was more accomplished than Borg, and his game seemed an updated, 21st-century approved version of Laver's.
At times his competition appeared weak; that's because by 1997 he had destroyed his competitors. Defeats from the Pistol had caused Jim Courier to lose heart, Andre Agassi to lose interest, and Michael Chang to resort to quixotic attempts at more power.
After his third Wimbledon defeat from Sampras, three-time champion Boris Becker quit playing in majors.
But perhaps his greatest attribute wasn't physical. In the game's biggest stages, the finals of Grand Slams, his win-loss record was 14-4; better than Laver at 11-6 and better than Borg at 11-5.
Between 1998-2002, when he was no longer dominating, Sampras' heart carried him past Emerson's mark and into the history books.
Why He Isn't: Clay, for Sampras, is certainly a bigger problem for him than any single surface is for the others on this list. Borg never won the U.S. Open, but at least he consistently reached finals.
At the end of us career, most of those who didn't consider Sampras the best tended to cite his clay court struggles as the reason why.
Roger Federer: The Most Glorious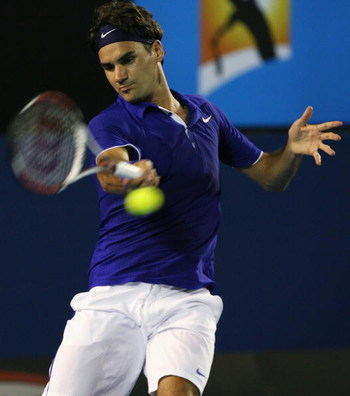 Why He's the Greatest: But perhaps the greatest problem with Sampras' GOAT candidacy now is Roger Federer, the man who succeeded him at the top. Both men were dominant at the USO and Wimbledon, but Sampras never won either event five times in a row.
Both played relatively worse on clay, but Sampras didn't reach three finals in Paris. Both had silky smooth games in which great power was generated with minimal effort, but aside from the serve Federer outclasses Sampras from nearly every part of the court.
By the end of 2007, when Federer won three majors in a single year for the third time -- three more times than Sampras did—this fan of the Pistol was ready to admit that Federer had surpassed him.
The other men on this list, for the record, don't deny his greatness: Laver has said it would be an "honor" even to be compared to Federer; Sampras admits that Federer is more dominant and has more shots than he ever did.
Why He Isn't: In a recent television interview, seven-time Grand Slam winner Mats Wilander said that Federer has the best game he's ever seen and that he "deserves" to hold the all-time Grand Slam record.
Wilander would not use the term "greatest" to describe him, though; he indicated that this question was beside the point, equating it to calling today's cars "greater" than the ones people drove 30 years ago.
That's the main argument against Federer: The game is ever evolving, and greatness cannot be measured between eras.
Rafael Nadal is helping to illustrate this: With six majors to his name, Nadal is not (yet) a candidate for GOAT.
Each of those six has, however, come at Federer's expense, keeping him from the all-time record and raising significant doubt about whether Federer is the greatest today, much less ever.
Were Federer in his 30s and clearly diminished, his unfavorable 6-13 record against Nadal would be easily dismissed. Federer, however, is 27 and has still made the finals of the last four majors he's played. The problem is that he's lost three of them to the same person.
If he can overcome Nadal's challenge and clearly assert himself as No. 1 again while breaking the Sampras record, his case will be much stronger.
In Conclusion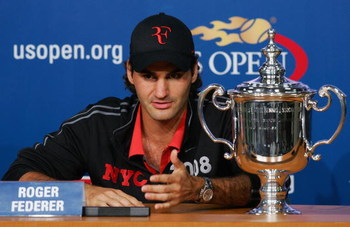 If Federer regains dominance in the near future, he may have a legitimate claim to the title of best ever.
If not, Nadal's legacy may be more than just his own titles; he may be the one who ultimately proved how futile it is to try and pick one player who stands above the rest. After all, it's probably a debate we'll have to have again in 15 years, maybe less.
Still, if while breaking Sampras' record Federer gets back to No. 1 (or wins Roland Garros, as improbable as it may sound) his case will be a strong one.
Until he does those things, call me a GOAT agnostic.
Keep Reading