Ten Reasons Why Brewers Fans Need Not Worry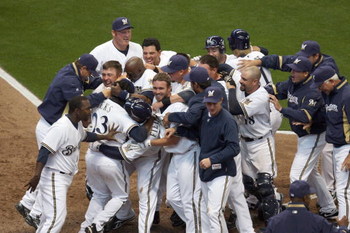 With the first week and a half of the 2009 season in the books, fans are starting to get an idea of how things will shake up for the duration of the season. While it is true that, in the long run, April games matter just as much as September games, it is a long season.
Like all else in life, each team's season will see its fair share of ups and downs. The key is limiting the lows and sustaining the highs. The difference between an 82-win season and a 100-win season is just three wins a month—less than a win each week. Yet, 82 wins is the benchmark for good teams while 100 wins is the sign of a great team.
The Brewers currently sit at 3-6 through the first nine games and head to Citi Field to kick off an important nine-game road trip by taking on the New York Mets. While it is entirely possible for the Brewers to return to Milwaukee still three or four games below .500, here are ten reasons why Brewers fans need not worry.
10: Weeks? We've Been Waiting Years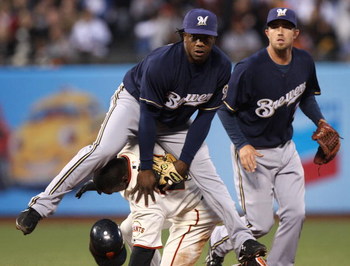 It is hard to not be at least a little encouraged by the progress Rickie Weeks has made in the last couple months. The disappearance of that ridiculous bat wag seems to have coincided with an upgraded sense of confidence. Credit is not only due to Dale Sveum and Willie Randolph but also Weeks himself as he is finally putting it all together. It's easy to see how much effort he has put in both at the plate and in the field.
9: In A Pinch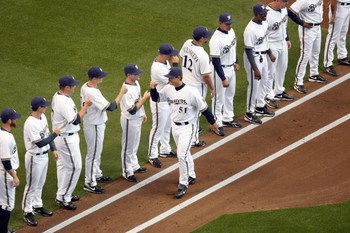 Gone are the days of filling the final roster spots with default utility players. In 2009, each bench player on the team actually had to earn a spot during spring training. The 2009 Brewers saw non-roster invites and career minor leaguers beating out MLB veterans for the final spots on the team. The added benefit of this is that the depth doesn't end with the 25-man roster. Should anything happen to any of the every day players, the AAA roster has plenty of players who can come in and contribute as needed.
8: First Line Of Di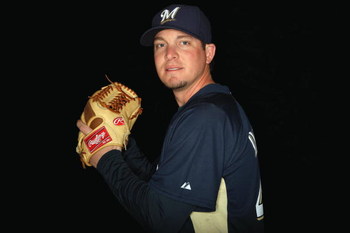 When your pitchers lead the league in walks allowed and your starting pitchers are struggling to throw deep into games, you need relievers who can come in and pound the strike zone.
Enter Mike DiFelice. Young pitchers should take note. DiFelice spent what must have seemed like forever in the minor leagues but kept at it and, most importantly, kept throwing strikes. There's always a spot in a major league pitching staff for savvy pitchers who pound the strike zone.
7: Manny More Innings
It's no secret that Manny Parra ran out of gas in 2008. The positive you can take from it is that the Brewers made the postseason in spite of this, so Parra got to experience a playoff race and also built up some much needed arm strength.
Parra flew through the Brewers system after he returned from Tommy John surgery, even throwing a perfect game in his first start for AAA Nashville along the way. The drawback however was the young pitcher was never able to throw a full season worth of pitches before the Brewers required his services. So while he struggled down the stretch last season, at least he was getting in some throwing. Look for him to remain fresh deeper into the season in 2009.
6: Patiently Waiting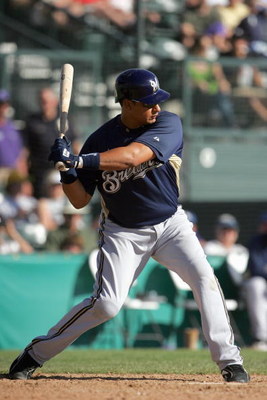 Not too many catchers in the league would remain as professional as Mike Rivera was last year as he backed up starter Jason Kendall but only got a handful of starts despite hitting over .300. It appears as though Rivera will finally get rewarded for his efforts as he will be the personal catcher for Brewers starter Dave Bush. It's hard to improve on a lineup that returns all eight every-day starters from a year ago, but with Rivera filling in every five days, the Brewers should be able to do just that.
5: I'm Healthy, Yo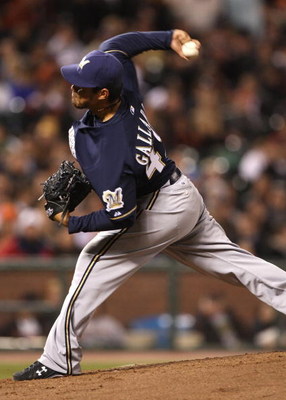 Brewers fans have been keen on Yovani Gallardo for years and after his remarkable rehab last summer from a serious knee injury which he returned from to start Game One in the National League Divisional Series, they hope to see what kind of numbers he can put up over the course of an entire season.
Picked by some as a sleeper pick to win the NL Cy Young, Gallardo has shown signs of stardom in his short time in the league. In his first start of 2009, he out-dueled future Hall of Famer, Randy Johnson and even hit a home run—the first Johnson had ever given up to an opposing pitcher and the third of Gallardo's short career.
4: Lefty-Lefty Matchup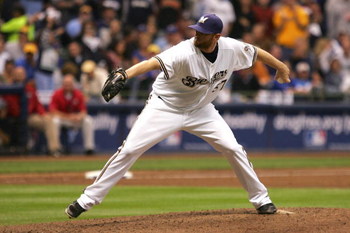 This may be a bit of a stretch since one hasn't thrown a pitch in a Major League game yet, but the Brewers actually have two lefties in the bullpen and it seems like a lifetime ago since one could make that statement. While Mitch Stetter and R.J. Swindle are both young and will take their lumps, they give Ken Macha multiple options in key late inning situations.
3: One-Two Punch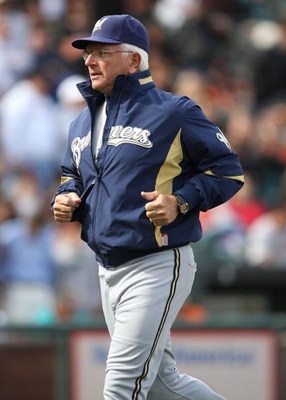 It's hard to ignore the track record and experience of the new dugout staff. Ken Macha is a 90-win per year manager with playoff experience and Willie Randolph comes with New York Yankees and New York Mets experience. For those who felt Yost just had to go and were sick of the '82 Brewers nostalgia going on in the dugout the last few years, the new pedigree has to warm your heart at least a little.
2: Smokin' Aces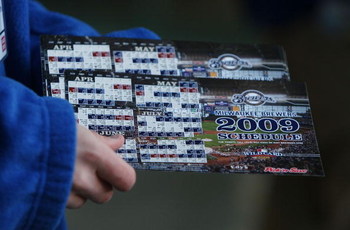 Name a team out there who faced better starting pitching than the Brewers. The first eight opposing starters were Tim Lincecum, Randy Johnson, Matt Cain, Rich Harden, Carlos Zambrano, Ryan Dempster, Edinson Volquez, and Bronson Arroyo. Are you kidding me? That's multiple Cy Young Awards, All-Stars, and some of the better young pitchers in the game.
The last couple years, it seemed like the Brewers were always catching a team as they were getting to the bottom of the rotation. The powers that be made the Brewers pay to start the 2009 season. Things will even out however, as evidenced by game nine versus a Reds' Micah Owings making his first start since before his acquisition by the Reds last fall.
1: Decaf Or Regular?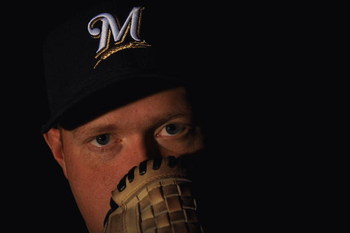 How can you not love Todd Coffey? From the moment he steps on the field, you can tell he means business (see: Bullpen-to-Mound Sprint). The guy has been a Brewer for about four weeks worth of regular season games and still hasn't given up a run. Keep this up and maybe we'll be rocking out to "Hell's Bells" in the eighth inning.
If Not, Then...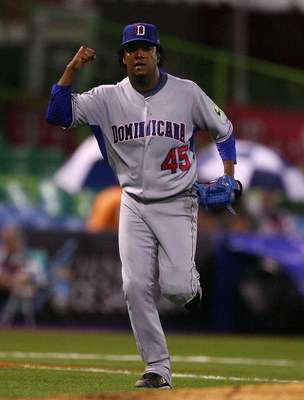 If things for some reason do not turn around, maybe the front office will actually pull the string on a deal with Pedro Martinez. At some point, it's got to be hard to justify the five guys in your rotation when the future Hall-of-Famer is out there knocking on doors.
Should that not happen, at least there are 75 more Sausage Races in which something Brewers-related should find a way to get the almighty 'W'.
Keep Reading

Milwaukee Brewers: Like this team?