NCAA Tournament 2013: Winners, Losers, Heroes and Goats of the First Four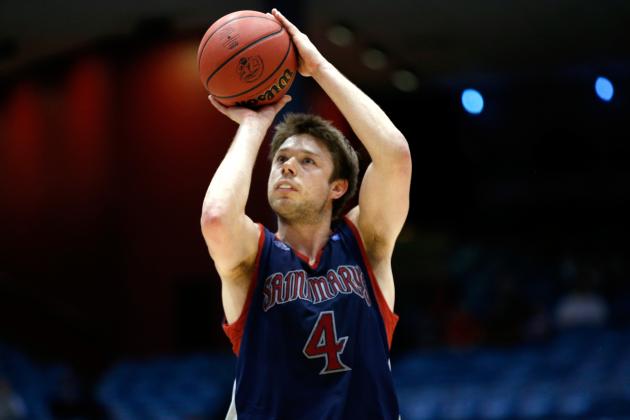 Gregory Shamus/Getty Images

Like all good appetizers, the NCAA tournament's first four games temporarily wet our palates while leaving us excited and wanting more.
The first four games of the 2013 NCAA tournament were no different. North Carolina A&T, Saint Mary's, James Madison and La Salle all get to add a postseason victory to their all-time resumes thanks to impressive efforts in Dayton.
As with every contest, there were winners, losers, heroes and goats in the First Four. Read on to see who they were.
Begin Slideshow

»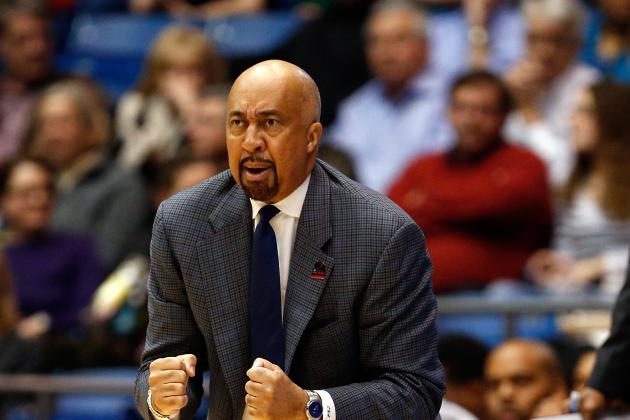 Gregory Shamus/Getty Images

Despite hideous free-throw shooting down the stretch that almost cost North Carolina A&T what appeared to be a sure-fire victory, the Aggies and head coach Cy Alexander picked up the program's first NCAA tournament win in approximately forever.
As for Alexander, this is his first year at the helm of North Carolina A&T, but he is a veteran in the coaching business. Tuesday night marked his first NCAA tournament win, something he will undoubtedly cherish regardless of how the next game against Louisville goes.
It was the exclamation point for an impressive late-season turnaround effort from the Aggies. They stood at 15-16 a mere two weeks ago but got hot through the MEAC tournament and played their way into the dance by beating Morgan State in the conference championship.
Now, thanks to a narrow win over Liberty, they get to keep dancing for another round.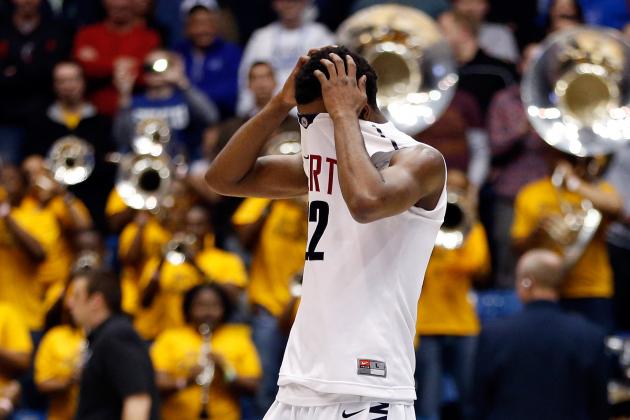 Gregory Shamus/Getty Images

For as exciting as the NCAA tournament is, it is still difficult to see the disappointment on the faces of 18- to 22-year-old kids after a heartbreaking loss. That is exactly what fans were treated to if they paid attention to Liberty after the final horn instead of the triumphant North Carolina A&T.
John Caleb Sanders had a chance to win it with a last-second layup, but an impressive defensive play in transition from the Aggies thwarted Liberty's comeback. Considering the Flames were the punch line to many a joke before the tournament started because of their 20 losses, it was a gutsy effort.
Had Liberty's bench bothered to show up, it would probably be preparing for a showdown with Louisville right now. The starters scored 71 of the team's 72 points, despite the combined 36 minutes of action for the benchwarmers.
An 0-of-3 effort from the field pretty much summed up the contributions the Flames got from their reserves.
While Liberty's bench was atrocious on Tuesday, one of North Carolina A&T's reserves made a significant impact on the outcome of the game.
Jeremy Underwood, who only averaged 6.5 points and less than two made field goals a contest during the regular season, poured in a crucial 19 points to lead the Aggies in scoring. He made all six of his shots from the floor, including two three-pointers, and made five of his six free throws.
Had Underwood's teammates doubled his efforts from the charity stripe, the end of the game would not have been as nerve-racking for the Aggies' fanbase.
An honorable mention prize in the hero category goes to Austin Witter, who made the contest's marquee defensive play at the final buzzer. Liberty's Sanders had a chance to win it at the end but Witter used his lengthy frame to alter the shot, which ultimately fell short.
Witter swatted four shots in total to go along with his eight points and was instrumental in North Carolina A&T's victory.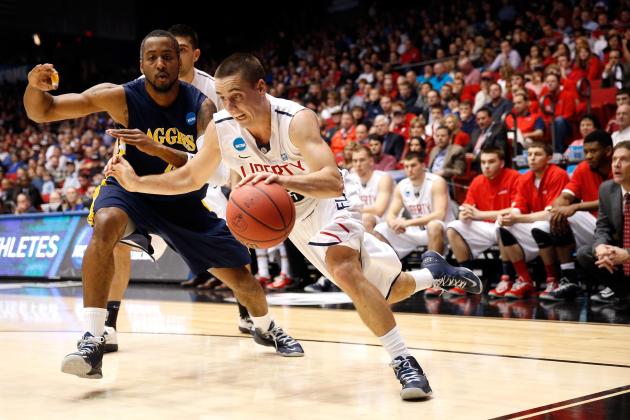 Gregory Shamus/Getty Images

Liberty put up a valiant effort for a team that lost 20 games during the regular season, but the majority of the production came from the starting trio of guards.
Davon Marshall, Tavares Speaks and Sanders combined for 60 of the team's 72 total points and made all 10 of the Flames' converted three-pointers. Liberty's offense is admittedly built around the slashing and shooting of its backcourt, but a bit more effort from the frontcourt and bench would have carried it over the top on Tuesday night.
Starting forwards Andrew Smith and JR Coronado combined for a mere five field-goal attempts, while reserve center Joel Vander Pol and forward Tomasz Gielo each missed their only attempted shots.
If Liberty would have gotten even a slightly better contribution from anyone outside of the starting guards, Louisville would be the next team on the schedule.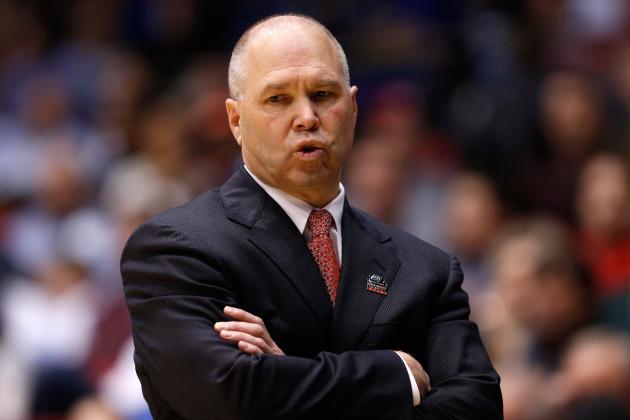 Gregory Shamus/Getty Images

Middle Tennessee wanted to create havoc Tuesday night by speeding up the game and forcing Saint Mary's into mistakes that would lead to easy baskets the other way.
Credit to the Gaels' head coach Randy Bennett and the steady hand of point guard Matthew Dellavedova for not letting that happen. Whenever the Blue Raiders would switch to a new defensive look or implement a full-court press, Saint Mary's was ready for it and exploited the various weaknesses it was up against.
Thanks to the impressive in-game adjustments and the 40 combined points of Dellavedova and Stephen Holt, the Gaels are still dancing and pose a serious threat to Memphis in the next round. For anyone who thought the West Coast Conference was just Gonzaga and a group of scrubs, think again.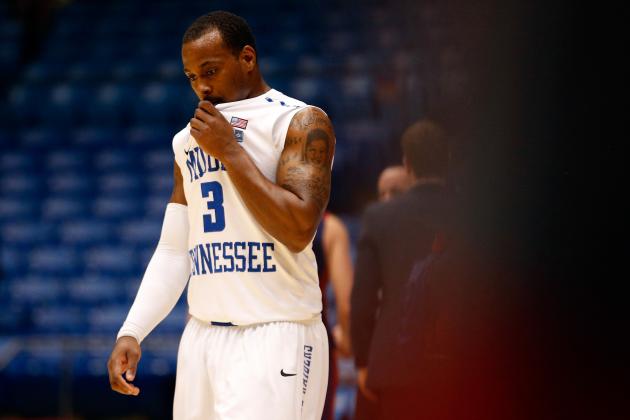 Gregory Shamus/Getty Images

Middle Tennessee dominated the Sun Belt Conference during the regular season but fell short in the conference tournament's championship game. Despite the fact that the Sun Belt is typically considered a one-bid league, the Blue Raiders were awarded a controversial at-large spot in the NCAA tournament.
Just because Middle Tennessee lost its first game does not mean it necessarily didn't deserve to be in the tournament, but there will undoubtedly be people who feel that way. After all, fellow bubble candidates that are considered more traditional like Kentucky and Florida State embarrassed themselves in the first round of the NIT.
Middle Tennessee simply picked a bad time to have an off night on both ends of the floor. The NCAA tournament is a cruel mistress, and the Blue Raiders will have to turn their attention to next season.
Dellavedova spent the offseason lacing it up for the Australian national team in the 2012 London Olympics, and it clearly paid off.
He was an excellent floor general for Saint Mary's all season long and posted nightly averages of 16 points, 6.4 assists, 3.4 rebounds and 1.1 steals. He was also automatic from the free-throw stripe and accurate enough from behind the three-point line.
Tuesday night was no different. Dellavedova scored 22 points, grabbed six boards, dished out four assists and hit a critical five shots from downtown. He also limited his turnovers to a mere two, which is particularly impressive considering the pressure defense Middle Tennessee frequently implemented.
If the Gaels are going to continue to advance in the NCAA tournament, they will do so behind the excellence of their Australian point guard.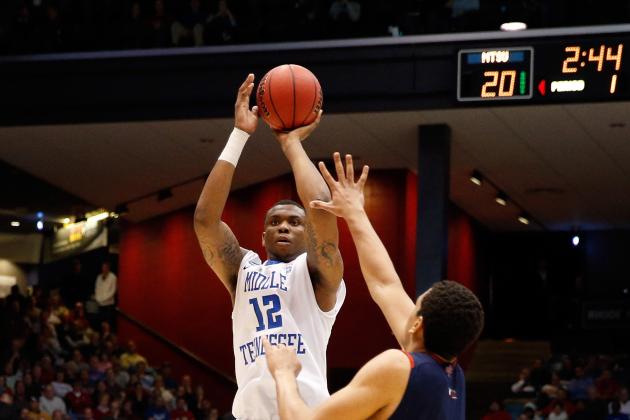 Gregory Shamus/Getty Images

Middle Tennessee lost by 13 in the final box score, but there were certainly multiple points in the game where it could have seized control had one or two possessions gone differently.
Frankly speaking, the Blue Raiders did not do enough on offense to deserve a postseason victory. They ended up with a measly 54 points, turned the ball over at critical times and struggled from behind the three-point line all night.
Starting forwards JT Sulton and Shawn Jones were particularly disappointing and finished with a combined eight points on 3-of-11 shooting. The guards played a bit better than the frontcourt, but it still wasn't enough.
Middle Tennessee was the first at-large team sent home from the 2013 NCAA tournament and it has nobody to blame but its own failure to put the ball in the basket.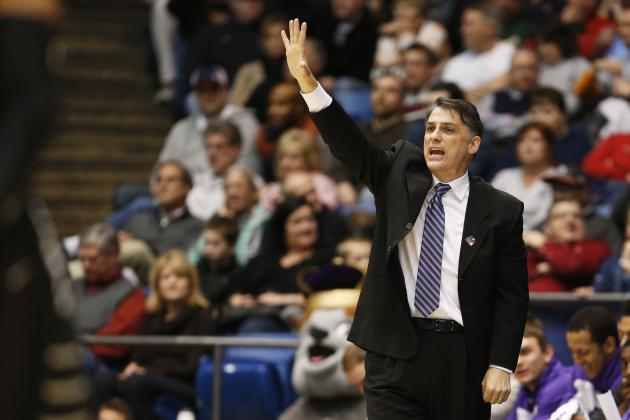 Gregory Shamus/Getty Images

Credit to James Madison's head coach Matt Brady for not only winning an NCAA tournament game against Long Island Brooklyn, but doing so by game-planning around the suspension of his best player.
Rayshawn Goins was held out of the first half of the contest for legal issues, but the Dukes were still able to prevail by double digits. A.J. Davis poured in 20 points, while Charles Cooke added 15 and Andre Nation chipped in 14.
Brady implemented a number of solid defensive looks to frustrate the Blackbird guards all night, holding them to 3-of-16 from behind the three-point line and forcing 11 turnovers. Throw in the Dukes' 10 blocks, and it was clear Brady had his defense ready to go Wednesday night.
James Madison may not have a chance in the next round, but it overcame adversity against LIU Brooklyn and gets to celebrate for a night.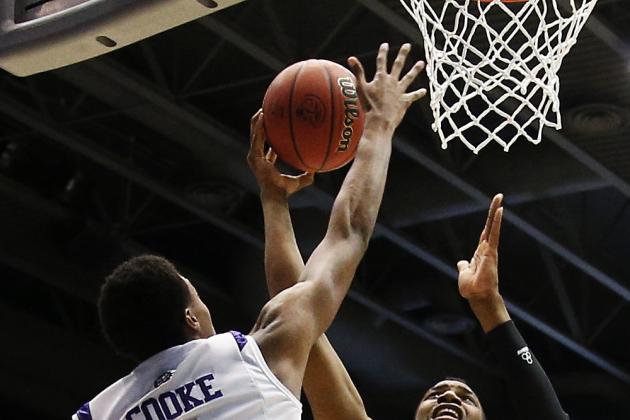 Gregory Shamus/Getty Images

LIU Brooklyn seized the momentum of Wednesday night's game going into intermission with pressure defense, timely shots and a number of forced turnovers. It appeared to those who were watching that the crowd would be treated to more of the same in the second half.
Not so much.
James Madison, who was back at full strength after the one-half suspension of star player Goins, steamrolled the Blackbirds in the second half by 12 points. The end of the game lacked the drama that last night's first game held because LIU Brooklyn was unable to stay close.
The Blackbirds seemed ill-prepared to not only contain Goins in the second half (he grabbed an impressive eight boards in only 13 minutes of action, including five of the offensive variety), but his replacement A.J. Davis as well. Davis led all scorers with 20 points and facilitated much of the offense.
The Blackbirds should have at least been prepared for one of Goins or Davis. They are going home because they were not ready for either.
Tongue in cheek or not, it's impressive that a bird was not only able to get inside the arena unharmed, but also interrupt play. You would think that would have been an omen suggesting an eventual LIU Blackbirds victory, but clearly no bird was getting in the way of James Madison.
On a more serious note, Davis led the Dukes with 20 points and played an impressive overall game (five rebounds, three assists, two steals and a block). His partner in crime, Nation, helped out with 14 points, seven rebounds, five blocks, four assists and a steal.
The combined efforts of Nation and Davis were critical to the James Madison victory because the Dukes had to play without star player Goins for such an extended period of time. Davis even stepped into the starting lineup solely because of the suspension.
Credit both for overcoming the Blackbirds (both the team and the actual one in the arena) to earn themselves another game in the NCAA tournament.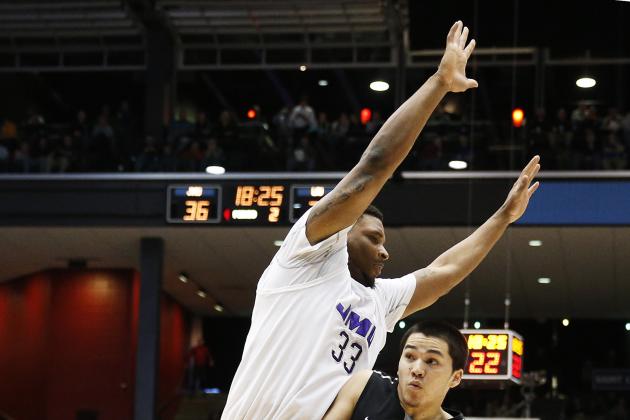 Gregory Shamus/Getty Images

Ball movement is key in NCAA tournament games, and frankly speaking, Long Island Brooklyn didn't have any outside of the passes initiated by guard Jason Brickman.
Brickman tallied nine assists, which was an impressive individual effort, but the rest of the Blackbird team only added two. The lack of crisp ball movement on LIU Brooklyn's part allowed James Madison's defense to sit back, get comfortable and shut down the Blackbirds.
What's more, Brickman shot 2-of-4 from downtown but the rest of his team combined to go 1-of-12. With no ball movement or effective outside shooting, the Blackbirds didn't have much of a chance.
If someone outside of Brickman had shown up for LIU Brooklyn, chances are the outcome of Wednesday night's game would have been much different.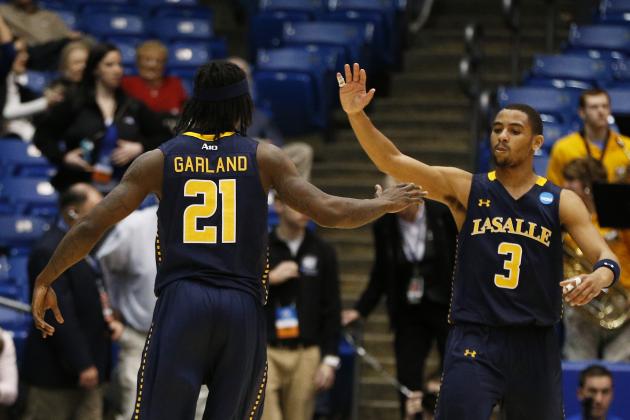 Gregory Shamus/Getty Images

The final score ended up being somewhat close (80-71), but La Salle controlled the majority of its victory against Boise State on Wednesday night.
The primary reason the Explorers were able to walk away victoriously was their long-range shooting. They drained better than 50 percent of their three-point attempts (ironically a better clip than their free-throw shooting percentage) and ended up with 11 makes in all.
Boise State didn't have an answer for the shooting of Ramon Galloway and Sam Mills, or even the two-point shots from Tyrone Garland and Jerrell Wright. Ultimately, it's difficult to lose a game in which you shoot better than 60 percent from the field and 50 percent from downtown.
That is why La Salle will continue to dance and controversial at-large bid Boise State will be going home early.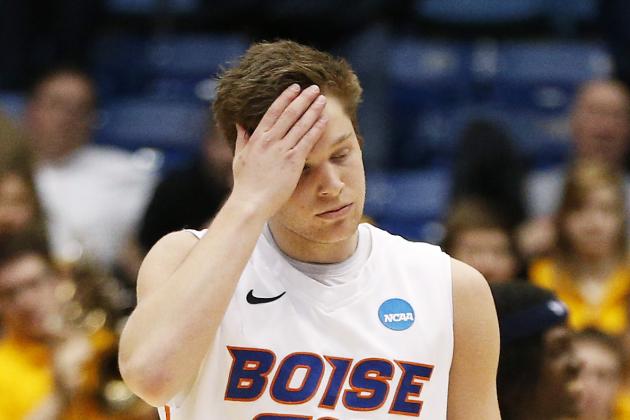 Gregory Shamus/Getty Images

While Boise State's perimeter defense on the shooters has already been discussed, its defense as a whole was the primary reason the Broncos came up short.
Boise State only tallied three steals and one block, didn't apply enough pressure on La Salle's ball-handlers and couldn't stop the Explorers from finding the basket regardless of where the shots came from. In fact, Boise's best defense may have been fouling La Salle, considering the 5-of-10 clip the Explorers posted from the line.
La Salle got whatever looks it wanted throughout the game and was able to counter every Bronco run with easy baskets and open threes. Two Explorers scored better than 20 points, while another two were in double figures.
At least spring football is underway, Boise State fans.
Galloway is one of the most underrated players in the country and would receive much more exposure if he didn't play for La Salle. In fact, if he was lacing it up for a more high-profile Atlantic 10 team like Butler, Xavier or Temple, he might be a household name among college basketball fans.
He took a big first step in his first 2013 NCAA tournament game Wednesday night against Boise State. Galloway poured in 21 points, grabbed four rebounds, dished out four assists and tallied one steal and a block. He played one of his best overall games of the year considering the circumstances.
His partner in crime, Garland, came to play as well. Garland hit a blistering 9-of-11 shots (he did not miss a two-point attempt) and ended up with 22 points, three assists and a steal. While it wasn't the overall game Galloway had, it was nevertheless an impressive performance.
The Explorers could make some noise in later rounds if Garland and Galloway continue to play at such a high level.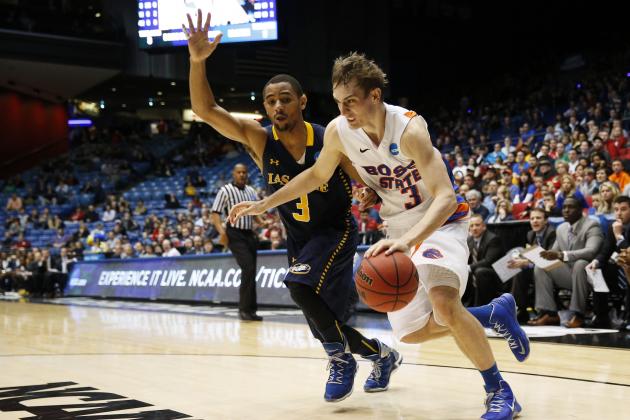 Gregory Shamus/Getty Images

It is almost unfair to declare a goat for this game outside of Boise State's defense, but that is the cruel nature of the NCAA tournament. The Broncos are going home and someone has to take the fall.
Boise State played fine on offense, shooting 50 percent from the field and 39 percent from downtown. Defense was clearly the problem, but the Broncos might still be playing if someone outside of Anthony Drmic had brought their scoring shoes to the dance.
Drmic tallied an incredible 28 points, which was good for nearly 40 percent of the team's total. Only two other Broncos ended up in double figures, and Ryan Watkins just made the cut at 10 points.
Ultimately, Boise State simply needs to tip its cap and accept that La Salle was the better team on Wednesday. The Explorers were absolutely on fire and deserve to move on to the bracket of 64.
But more scoring contributions from players outside of Drmic wouldn't have hurt.