Texas A&M Football: Week 2 Spring Practice Stock Reports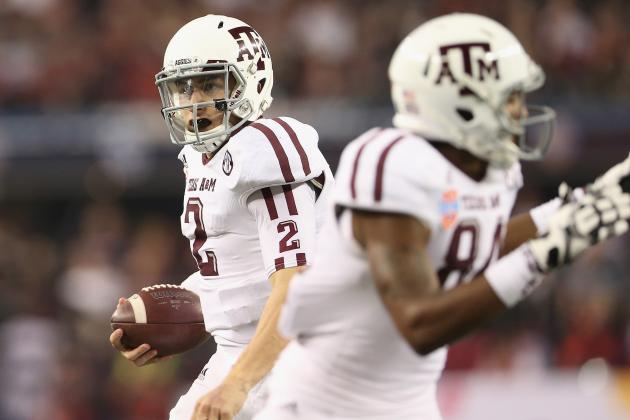 Ronald Martinez/Getty Images

The Texas A&M Football team is participating in their second week of spring practice this week. The Aggies practiced for a week before spring break, and will now practice until the culmination of the spring season on April 13th when they play the spring game.
The Aggies are coming off an 11-2 season and a Top Five national ranking in 2012. They need to replace six starters on defense and six starters on offense.
Spring practice is a time for coaches to evaluate the younger players on the team while they determine who will help the team in the fall. It is a particularly important time for quarterbacks Matt Joeckel and Matt Davis, who are competing for the backup quarterback spot.
Spring allows the Texas A&M coaches the chance to experiment with players at different positions. It represents an opportunity for players to climb up the depth chart.
This is a look at whose stock is up and whose stock is down during the second week of spring practice.
Begin Slideshow

»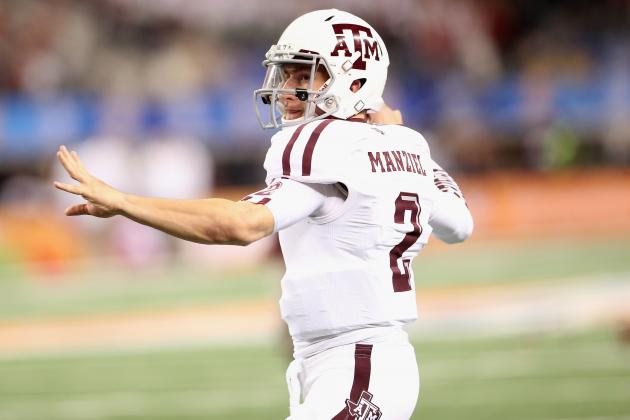 Ronald Martinez/Getty Images
Johnny Manziel throws a pass vs. Oklahoma
Johnny Manziel picked up right where he left off during the Cotton Bowl. The rising sophomore has more zip on his passes after spending the winter in Larry Jackson's strength program.
He has been slicing and dicing the Aggie secondary with pinpoint passes. Senior quarterback Matt Joeckel has a very strong arm, but in video highlights from the practices, Manziel has more zip on the ball than even Joeckel.
Manziel is performing like the top player in college football would be expected to perform.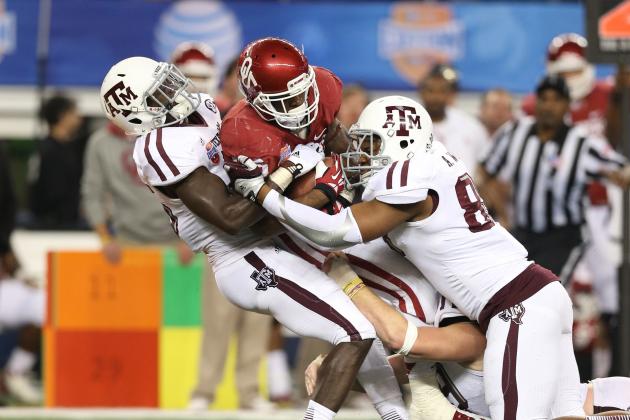 USA TODAY Sports
Alonzo Williams makes a tackle in the Cotton Bowl
The defensive line is very thin due to injuries to the two returning starters on the line. With both Julien Obioha and Kirby Ennis out for the spring, the starting four consists of Tyrone Taylor, Alonzo Williams, Polo Manukainiu and Gavin Stansbury.
According to Billy Liucci from TexAgs Radio, the Aggie running backs have been ripping off long gains against the defense. With an offensive line and running backs as talented as the Aggies have, you would expect some long runs.
However, the first team defensive linemen this spring, are going to see action in the Fall as either starters or backups. They need to show the coaches that they can consistently stop the run now, before a group of talented freshmen arrive in June.
Ronald Martinez/Getty Images

The Texas A&M running backs are the deepest group in the nation. Ben Malena, Trey Williams, Brandon Williams and Tra Carson could all start for other FBS teams.
They will form one of the best and deepest backfields in the nation with Johnny Manziel in the fall. While Trey Williams sits out the start of spring practice while recovering from a sports hernia, Brandon Williams, Malena and Carson have taken turns torturing the Aggie defense.
Carson has drawn praise for his quick feet and ability to catch the ball out of the backfield. Malena and Brandon Williams have consistently broken long runs against the defense.
Aggie fans needs to enjoy this group during the 2013 season, because they are not going to see a group this talented in the backfield very often.
Cameron Clear is a 6'6", 275-pound blocking machine at tight end. He has drawn rave reviews from the coaches for his blocking and receiving. Clear's issue right now is that he is simply not in shape.
In order to play on offense for Texas A&M, you have to be in tremendous aerobic shape. This is especially true if you are a skill position player. The Ags run a play every 20 seconds on offense and sometimes faster.
You have to be able to get back to the line of scrimmage, line up properly and then run your next route. Clear is not in good enough condition to run this offense yet. This may be a self-correcting problem that is solved simply by Clear being forced to run plays until he is in shape.
If not, Clear has the entire summer to spend with Larry Jackson in order to get in good enough shape to be a difference maker for the Aggies at tight end.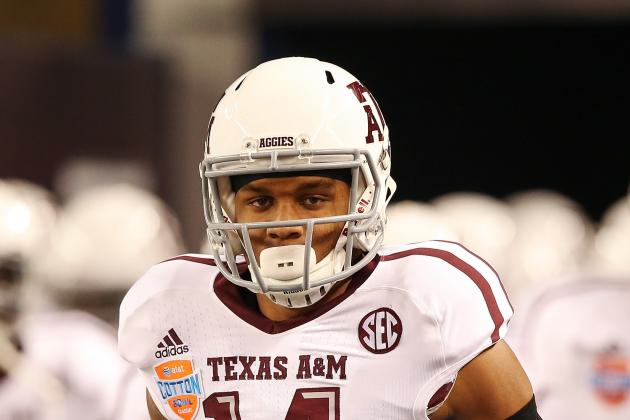 USA TODAY Sports

Floyd Raven is a 6'2", 190-pound junior defensive back who is as physically gifted as any athlete on the Texas A&M football team. He has the size and speed of an NFL defensive back.
Raven's problem is that he has not wanted to play within the scheme of Mark Snyder's defense. He has been a backup corner and standout on special teams for the past two seasons.
Raven switched from corner to free safety for this spring, and all reports are that he is excelling at his new position. He has always played a physical brand of football and been very solid against the run.Those skills should bode well for him at the safety position.
If Raven can use his God-given gifts while playing within the Aggies' defensive system, then he could be an All-Conference level player at safety for A&M.