Wisconsin Football: Week 2 Spring Practice Stock Report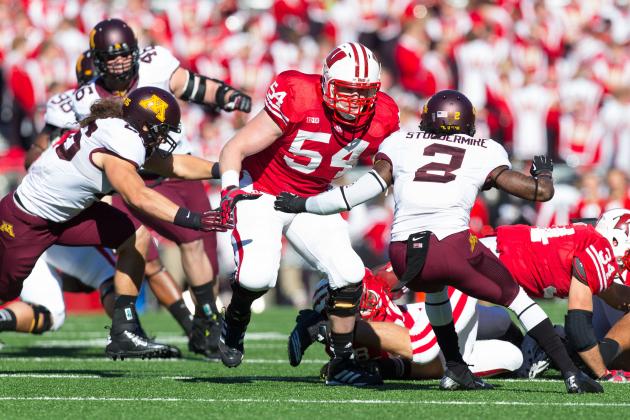 Jeff Hanisch-USA TODAY Sports

Wisconsin football head coach Gary Andersen has been pretty mum about how position battles are shaking out as we enter spring break in Madison.
That's just the way Andersen goes about his business, and he understands that there is a big learning curve for his players considering the new schemes and strategies his staff is implementing. It's a lot to grasp in a short period of time, and naturally, plenty of mistakes have been made through the first few weeks of spring practice.
The quarterback position has the biggest microscope over it, but another storyline has been depth, especially on the offensive line and in the secondary due to injury and departed players. Injuries in the front seven have also delayed progress Andersen would like to make this spring.
Hopefully for the Badgers, injured bodies soon become able because there is plenty yet to learn. In the meantime, we'll look at which players are making a move or falling out of favor in Madison following the team's first intersquad scrimmage.
Begin Slideshow

»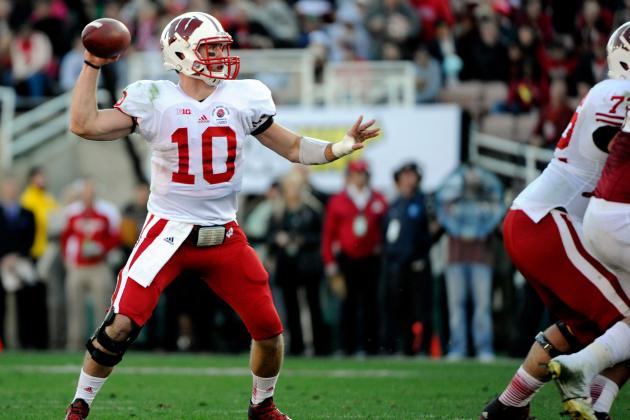 Robert Laberge/Getty Images

On March 16, Curt Phillips received the first-team reps at quarterback, and that might have surprised some people. Last season, he entered the year as the third-string signal-caller—a fifth-year senior coming off multiple knee surgeries.
But at the end of the season, it was Phillips starting at quarterback, and until someone does enough to take away that starting distinction, he will be the No. 1 quarterback at Wisconsin.
Phillips has impressed under Andersen's regime, and in the squad's first full-pad practice, he threw two touchdowns on the first two series. He also showed some nice mobility on a rollout touchdown pass and impressively led the offense to multiple scores (via Tom Mulhern of the Wisconsin State Journal).
Later in the week at the Badgers' first scrimmage, Phillips threw a 44-yard completion on a wheel route (via Mulhern). We saw flashes of what Phillips could do with his feet last season, and if it wasn't for his three ACL surgeries, he would be even more effective when on the move.
For now, it's promising for Wisconsin to see Phillips have success throwing the football and staying healthy, even though he played the Rose Bowl with a torn meniscus. Andersen won't separate any of the quarterbacks this early in the process, but things currently look good for Phillips.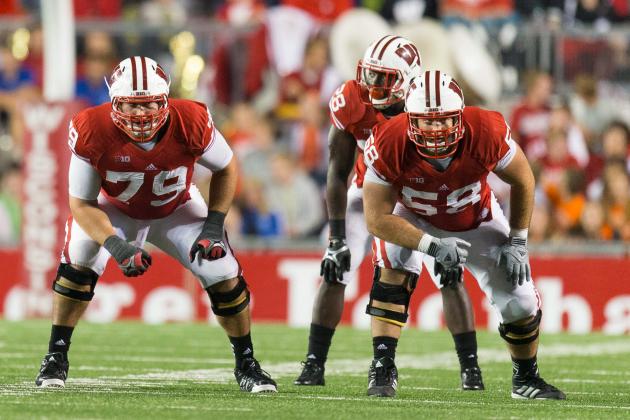 Jeff Hanisch-USA TODAY Sports

This slide isn't exactly devoted to a player or even one group of players, but rather the team as a whole when it comes to the depth issues Wisconsin is currently suffering from.
Injuries on the offensive line and at the linebacker position, as well as three players moving on from the secondary, has left the Badgers short on bodies at all three of these positions. On the offensive line, junior Kyle Costigan, redshirt freshman Jake Meador and redshirt freshman Walker Williams are out, forcing Andersen to shift some defensive linemen to the other side.
At linebacker, seniors Ethan Armstrong and David Gilbert required or require surgery, and senior Chris Borland was held out of the scrimmage for precautionary reasons. Finally, due to Marcus Cromartie, Devin Smith and Shelton Johnson graduating, the secondary is extremely thin as well, leading to some offensive players being moved to safety.
What doesn't help is how Andersen would like at least two more scholarship players on the O-line. Trying to teach a new brand of football on both sides of the line of scrimmage isn't made any easier with so many players missing, and it could set Wisconsin back in terms of where it wants to be come the start of the season.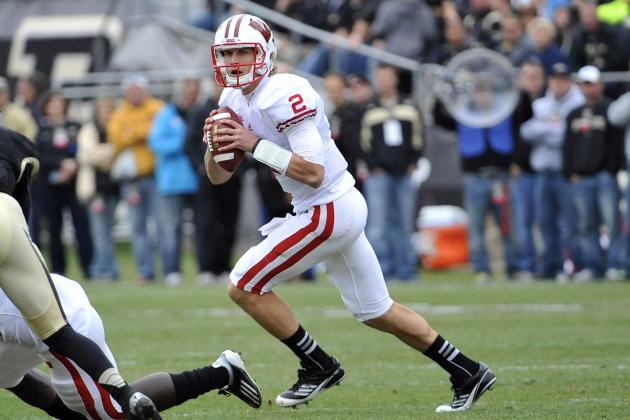 Sandra Dukes-USA TODAY Sports

Can two quarterbacks be on the rise at the same time? They sure can. So far, Joel Stave isn't making the starting quarterback decision easy on Andersen thanks to the way he has performed this spring.
Yes, last week we said Stave's stock was down, but that was more in part to what happened last season—he suffered a broken collarbone after firmly grasping the starting job. Whether it's fair or not, Stave must earn the No. 1 slot on the quarterback depth chart all over again, and so far, he's putting his best foot forward.
The biggest concern with Stave was his mobility considering how Andersen wants to move the quarterback around—but, according to the head man, he isn't worried about how well Stave can move (via Mulhern).
Just hearing that alone improves Stave's stock, but the fact that he has thrown the football effectively in the first few weeks of spring practice doesn't hurt, either. Obviously, the competition will become even more intense after the arrival of Tanner McEvoy this summer, but Stave is hanging right with Phillips coming off his injury.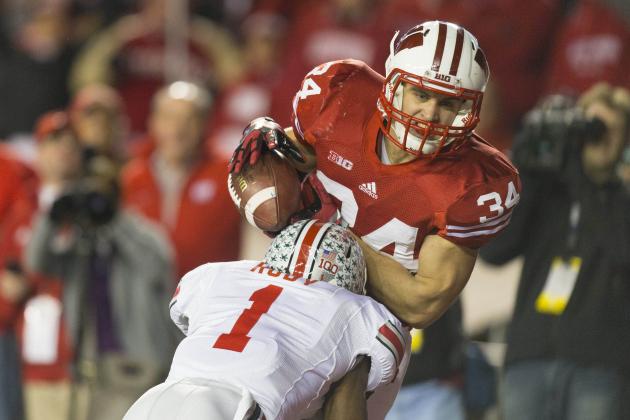 Jeff Hanisch-USA TODAY Sports

The Badgers' first scrimmage of the spring wasn't a memorable one for sophomore fullback Derek Watt.
Watt did manage to haul in a nice pass from Phillips, but he also was involved in two turnovers after being stripped by safety Nate Hammon and botching a handoff with Danny O'Brien.
There really isn't much competition at fullback considering the move of Sherard Cadogan to linebacker—junior Kevin MacCudden is the only other fullback listed on the roster—but Andersen won't be afraid to throw some more bodies in the backfield and give them a shot at Watt's job should he continue to cough up the football.
Running a spread option or even the pistol still means Watt will be involved, whether it means receiving a quick handoff or blocking for the running back or quarterback. Basic power running looks will also remain, and Watt should continue to see chances to catch the football out of the backfield.
It's important for Watt to learn all the intricacies that go with these new looks on offense, but that doesn't mean mistakes will be tolerated. Watt needs to take better care of the pigskin.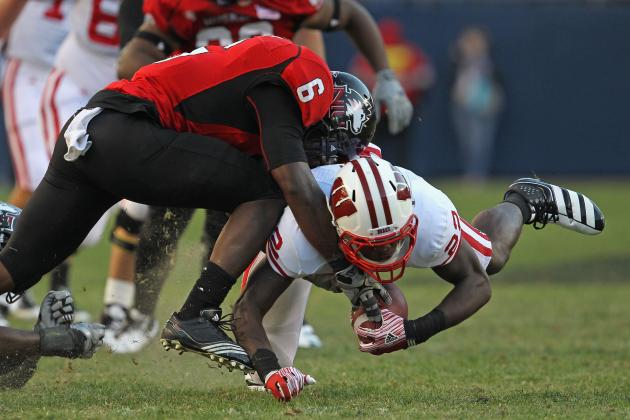 Jonathan Daniel/Getty Images

It's hard to say if running back, like fullback, has much of a position battle this spring, but even though James White and Melvin Gordon have a leg up on the competition, Jeff Lewis is making some noise.
With the Badgers still waiting for Vonte Jackson to return from injury, Lewis will get more opportunities in the backfield, and he put together the most stellar runs despite limited chances during the recent scrimmage (via Mulhern).
Lewis is a junior, and with Jackson and Gordon appearing to be ahead of him on the depth chart despite having less experience at Wisconsin, Andersen has approached Lewis about playing a different position. Considering Lewis' athleticism, you could understand why Andersen would want to find a spot on the field for Lewis to play instead of wasting him on the bench.
But Lewis wants to stay at running back and believes he has a chance to contribute there during his final two years in Madsion. Maybe we'll eventually see Lewis move out of the backfield, but if he continues to look like the best option, don't count on it.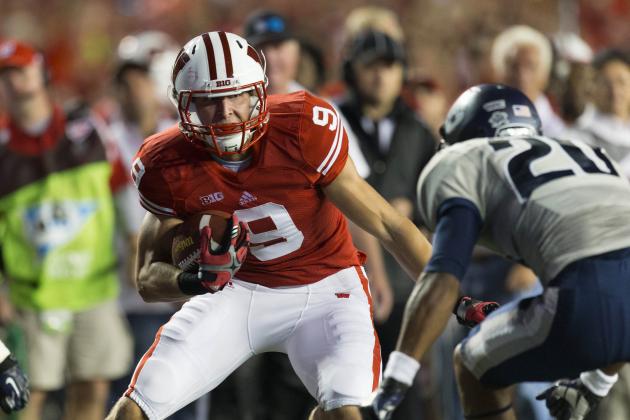 Jeff Hanisch-USA TODAY Sports

The March 20 scrimmage was largely used to evaluate the crowded quarterback corps, but that didn't hide the fact that the Badgers' receivers were having trouble catching the football (via Mulhern).
It shouldn't come as much of a surprise that these struggles didn't involve Jared Abbrederis, who sat out for precautionary reasons like Borland. He's unquestionably the team's No. 1 receiver, but the real issue here is what comes after the all-conference performer.
This comes just a few days after Andersen noted how he liked the direction his receivers were headed. Players like A.J. Jordan, Reggie Love and last year's No. 2 receiver Jordan Fredrick were getting more snaps and making plays while running crisp routes (via Mulhern).
Last week, wide receiver Marquis Mason made some noise in practice, but his work ethic has been an issue in the past. It could also be difficult for coaches to evaluate the talent at wide receiver due to the inexperience in the secondary.
Andersen's recent displeasure shows this could be a roller coaster spring for his wideouts. Someone has to emerge as the No. 2 eventually—right?