Utah Jazz vs. Houston Rockets: Live Score, Results and Game Highlights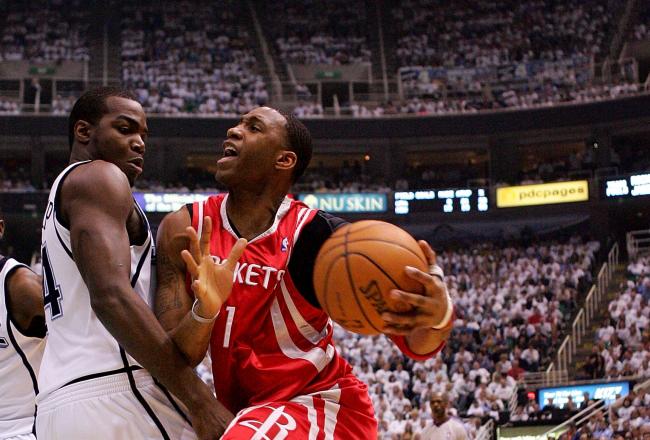 Jonathan Ferrey/Getty Images
Commentary on the Houston Rockets 100-93 victory over the Utah Jazz from Energy Solution Arena in Salt Lake City, UT on March 20, 2013.
3 Keys to the Rockets' win:
1) Backcourt Firepower: James Harden and Jeremy Lin shot a combined 14-of-27 and scored 49 pionts.
2) Battle of the Boards: Out-rebounded Utah 44-35
3) Getting to the Line: The Rockets attempted 32 free throws, led by James Harden's 18 attempts and 17 makes.
ROCKETS 100, JAZZ 93 — FINAL
James Harden and Chandler Parsons' strip of Al Jefferson prevent the Jazz from closing in within five as the game reached the one minute mark. It was a defensive play that was the dagger in this one, in a game in which the Rockets played so little defense in the second half.
ROCKETS 95, JAZZ 88 — 23.6 seconds 4th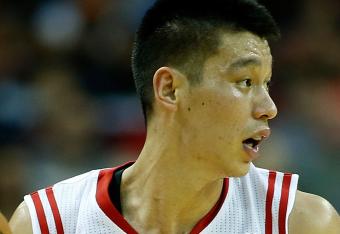 Jeremy Lin's bounce pass hit Chandler Parsons in-stride for an easy flush in the paint, and that put the Rockets back up double-digits. Houston's defense has really broken down in the second half, but part of it is just that the Jazz couldn't find the range in the first half.
ROCKETS 93, JAZZ 83 — 2:18 4th
It seems like even a young and inexperienced squad like Houston would realize there is a time to slow it down and work some clock. This lead is getting frittered away because they are running when they don't have to.
ROCKETS 91, JAZZ 81 — 3:00 4th
Jeremy Lin has gone silent in garbage time, but still leads #Rockets offense with 18 pts (7-8 FG), 4 assists and a trey.

— Nick Ivanovic (@RocketsRedux) March 21, 2013
Long period of garbage time, but a small Houston run may be needed to prevent this from becoming meaningful minutes again.
ROCKETS 87, JAZZ 74 — 6:16 4th
The Jazz have opened the fourth quarter on an 11-4 run.
Rebounds: HOU 40, UTA 30
Al Jefferson, 10 rebounds
Omer Asik, 10 rebounds
ROCKETS 84, JAZZ 72 — 6:42 4th, HOU Timeout
There's 12 games on the schedule tonight, and this one is offering about as little excitement as any of them will.
ROCKETS 84, JAZZ 67 — 8:35 4th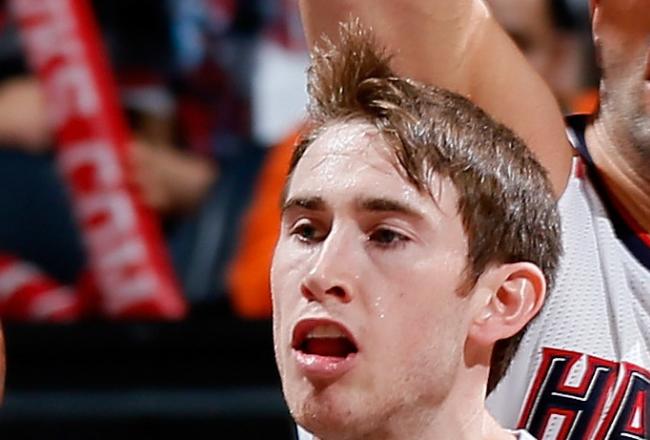 The Jazz have got 43 points from their starting frontcourt of Gordon Hayward, Paul Millsap and Al Jefferson. The rest of the team is shooting 7-of-23 from the floor.
ROCKETS 80, JAZZ 61 — End of 3rd
The Pick-and-Pop: 10 things worth remembering about the 2007-08 Rockets' 22-game win streak dlvr.it/35r5nr #TBJ

— J.E. Skeets (@jeskeets) March 18, 2013
The good times, the great times.
Check out my official bracket compared to @chandlerparsons fantasy bracket #GoDucks csnhouston.com/rockets/parson…

— Aaron Brooks (@Thirty2zero) March 20, 2013
Aaron Brooks and Chandler Parsons are ready for March Madness. They're also ready to go watch some March Madness, up by 20 against a Jazz team that is playing with little life.
ROCKETS 74, JAZZ 54 — 2:47 3rd, UTA Timeout
The Rockets starting backcourt of James Harden and Jeremy Lin is 12-of-18 (66 percent) from the floor, while the rest of the Houston team is 14-of-32 (43 percent).
ROCKETS 71, JAZZ 52 — 3:30 3rd
Do-Mo's wing three put the Rockets up 24 again, and Motiejunas has four points and four boards on the evening. He's continuing to get better each game and while it's still unclear who the starting 4-man of the future is in Utah, Motiejunas and Thomas Robinson are providing reasons to believe that one of them will be a very good NBA starter.
ROCKETS 67, JAZZ 45 — 6:12 3rd, UTA Timeout
One thing Kevin McHale's squad is very good with is "selective energy usage." While in theory it is praiseworthy to run back on every possession, there's some plays you just can't make a difference on. McHale's guys seem to have more energy because they expend and waste energy less than the average run and gun team.
ROCKETS 64, JAZZ 41 — 7:25 3rd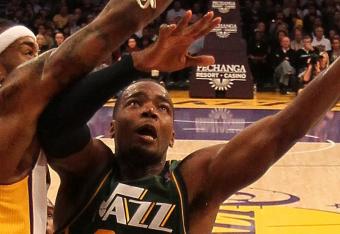 Paul Millsap's layup gave him his sixth field goal of the night and a Utah team high 14 points on the affair. But No. 24 is really the only Jazz man doing his thing, though Al Jefferson is heating up and now has 10.
ROCKETS 61, JAZZ 41 — 9:15 3rd
Randy Foye scored his first bucket on a triple from the top of the arc. Foye is shooting 40.3 percent from three-point range this season. Even shooting a career high, Foye averages just 10 points per game, and he's nowhere nearly eclipsed the hopes set for him when he was taken No. 7 overall in 2006.
The Rockets are playing well, but it's not like 52 points is that impressive of a first-half scoring output. 33 is just that awful.

— Bill Oram (@tribjazz) March 21, 2013
The Jazz have one of the worst backcourt rotations of the last decade, and tonight Foye and starting point guard Mo Williams are a combined 3-of-12 from the floor. Comparatively, Houston's backcourt of James Harden and Jeremy Lin is 9-of-13 from the floor and has 28 points combined.
ROCKETS 52, JAZZ 33 — Halftime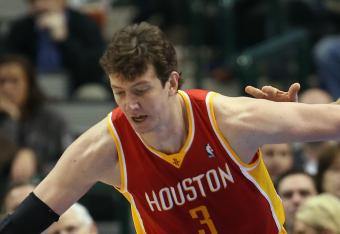 The Rockets are out-rebounding Ty Corbin's Jazz 20-11 as halftime approaches. Omer Asik has a game high six boards.
ROCKETS 52, JAZZ 30 — 2:28 2nd, UTA Timeout
Gotta love what the #Rockets are doing right now! 46-26 dominating.

— Hiren Joshi (@htown747) March 21, 2013
James Harden is continuing his assault. He has 20 points on 5-of-8 field goal shooting and has hit all eight of his free throws. The Rockets have outscored Utah 23-11 in the second quarter.
ROCKETS 48, JAZZ 30 — 3:21 2nd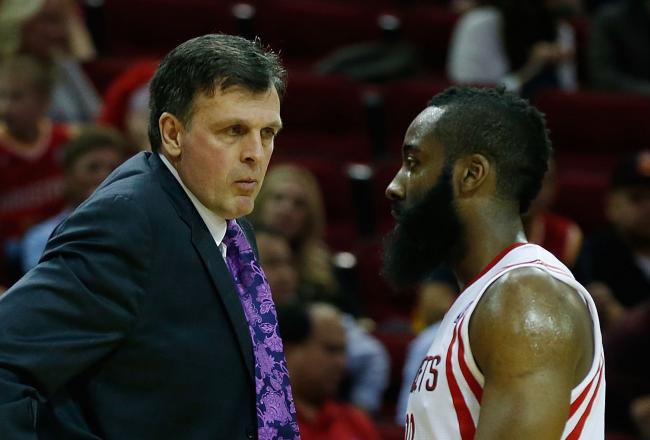 HARDEN 17, JAZZ 24
James Harden is doing work.
ROCKETS 41, JAZZ 24 — 5:55 2nd, HOU Timeout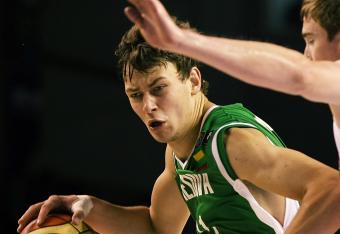 One very positive elements to the Rockets 4-spot is that Donatas Motiejunas and Thomas Robinson bring very different things to the table. Robinson is an explosive athlete and great rebounder, and Motiejunas has a great skill set and ability to stretch the floor with his jumper.
If a team is going to run a time share, having players with two different skill sets works a lot better than matching two guys who play similar games, like Markieff Morris and Patrick Patterson, prior to the trade deadline.
Motiejunas and Robinson have combined for two points and six rebounds thus far.
ROCKETS 37, JAZZ 22 — 7:36 2nd
The only starter on either team that did not score yet in the game is 2-guard Randy Foye of Utah. James Harden has a game high nine points, and has yet to miss a shot (3-of-3 FG, 2-of-2 FT).
ROCKETS 31, JAZZ 22 — 8:52 2nd
What do you think, Rockets fans?
McGrady says Rockets 22 game win streak was harder than Heat's dlvr.it/35v5qf

— Kurt Helin (@basketballtalk) March 18, 2013
ROCKETS 27, JAZZ 19 — 10:56 2nd
Patrick Beverley's corner three put the Rockets up eight. Bev shoots 39 percent from behind the arc, and he's provided a lot of energy, hustle and defense off the bench. Beverley has been good enough that newly acquired Aaron Brooks has been seldom used.
Chandler Parsons' corner three at the horn was the fifth attempt from behind the arc for Houston, and they've knocked two down.
ROCKETS 25, JAZZ 17 — End of 1st
This article is
What is the duplicate article?
Why is this article offensive?
Where is this article plagiarized from?
Why is this article poorly edited?