Winnipeg Jets: Revisiting the Blake Wheeler Trade with Boston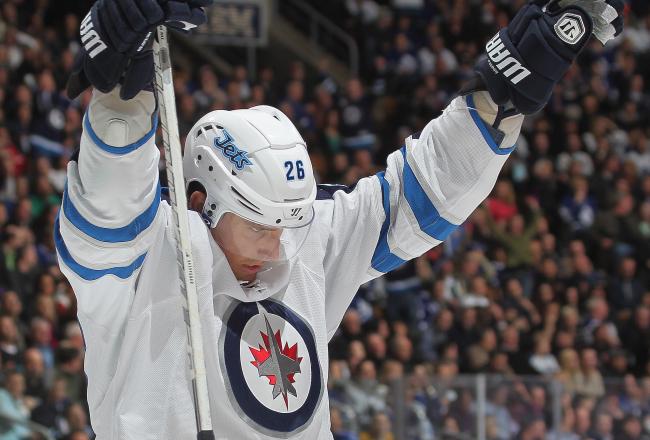 Claus Andersen/Getty Images
After the game between the Winnipeg Jets and Boston Bruins on Tuesday night, it got me thinking about a deal that was struck between the two franchises not too long ago. Both teams were involved in a crucial trade that sent key pieces each way.
Let's go back in time and revisit the move.
In February of 2011, the Atlanta Thrashers made a trade that sent Rich Peverley to the Boston Bruins along with Boris Valabik. In return, the Thrashers received Blake Wheeler and Mark Stuart. It was a pretty even deal.
Peverley was a waiver wire claim by the Thrashers. Valabik was a former 10th overall draft pick in 2004 that played in 80 career NHL games. Since then, Valabik has fallen out of the NHL and probably goes down as one of the biggest busts in Thrashers history.
Essentially, the trade was Peverley for Wheeler and Stuart—no disrespect to Valabik.
Peverley was an unexpected waiver wire gem. No one in the Thrashers organization could have predicted or expected Peverley to come on the way he did. He provided the Thrashers with prime scoring and also set up others with playmaking ability. He was a three-zone player.
With Nashville, Peverley was just a guy they relied on to fill a defensive role, but there was more to be explored with the young forward. He got an opportunity and extended ice time with the Thrashers and made the most of it. Peverley developed into a skilled forward.
As for the players that the Bruins sent over to Atlanta; Stuart was and still is a stay-at-home physical defenseman while Wheeler was a kid with potential. But the key player in the deal was Wheeler.
Wheeler was still just a kid trying to find a home in the NHL. He was drafted fifth overall by the Phoenix Coyotes in 2004. He didn't play a single game with the Phoenix franchise due to a contractual dispute. He spent two and a half seasons in Boston before the trade occurred.
At the time of the trade, the better player in the entire deal was probably Peverley. But when revisiting the trade, Wheeler is surely the best player in the deal especially after his breakout season in 2011-12.
Still it was a win-win for both teams. The Thrashers were a rebuilding team and received a very nice piece to the puzzle in Wheeler. The Bruins got additional depth for their Stanley Cup run. And hey, they even won the Cup that year with Peverley being a key piece.
It all worked out nicely for everyone. Peverley helped the Bruins get a Cup and Wheeler found a true home in Winnipeg.
But when you analyze the trade and look at the individual talent going both ways, it looks like the Thrashers may have won this one.
Wheeler has all the tools of a dominant NHL forward and has finally put them all to use consistently. He's tall, strong, fast and physical. He works great in all three zones and brings high amounts of energy each night. As such, he rarely takes a shift off.
Wheeler has developed into a leader and a productive forward in Winnipeg. He's a player that the Jets can rely on to score goals and create chances. He's playing top line minutes on one of the most underrated lines in hockey that consist of himself, Andrew Ladd, and Bryan Little.
The line is leading the Jets to a playoff run.
Since the trade, Peverley played in 108 games with the Bruins. He has recorded 19 goals and 58 points in his time there. Wheeler has played in 133 games with the Atlanta/Winnipeg franchise. He has scored 38 times and recorded 107 points in that span.
The Bruins gave up on a very talented forward a bit too soon.
Is the Bruins organization sobbing over the deal? No, they got their Cup. I'm sure they wouldn't mind having Wheeler back though, especially after seeing him score twice against them on Tuesday. After two and a half years, it looks like the Thrashers actually did something right after all.
Blake Wheeler is one of the brightest young stars in the NHL. He may even be the best non-talked about player in the game. He truly found a home in Winnipeg.
This article is
What is the duplicate article?
Why is this article offensive?
Where is this article plagiarized from?
Why is this article poorly edited?

Winnipeg Jets: Like this team?