Orlando Magic vs. New York Knicks: Live Score, Results and Game Highlights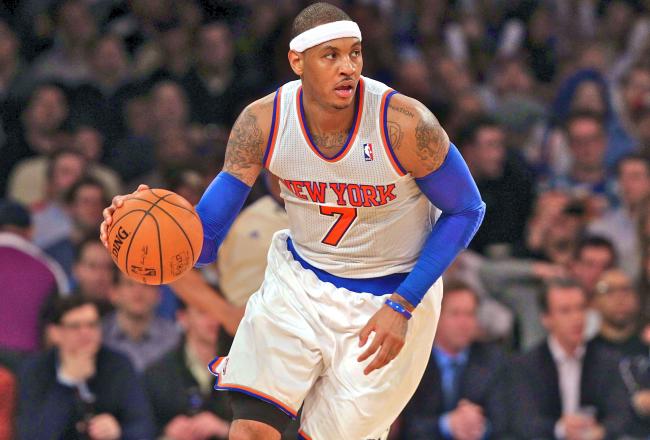 Carmelo Anthony's return to the floor after missing three straight games was a successful one.
Anthony scored 21 points as the New York Knicks defeated the Orlando Magic 106-94 on Wednesday night, completing their first four-game sweep of the Magic since the 1997-98 season. Anthony played 32-and-a-half minutes and shot 7-of-14 from the floor.
J.R. Smith led all scorers with 22, and Tobias Harris and Andrew Nicholson led Orlando with 14. Magic big man Kyle O'Quinn put in a double-double, recording 12 points and 14 rebounds.
New York jumped out to a 15-point lead in the first quarter and fought off numerous runs by Orlando throughout the game before going ahead comfortably at the end of the third. The Knicks were ahead by double-digits for most of the second half until the Magic cut it to nine late in the fourth, but it was too little, too late for Jacque Vaughn's club.
Let's examine how New York was able to get a much-needed win in this one.
1. Three-point shooting
Isn't this always the case with the Knicks?
New York used some very good perimeters hooting to down Orlando, hitting on 15 of their 34 long range attempts. Anthony and Steve Novak both canned three from beyond the arc, and Smith and Pablo Prigioni both knocked down two. Nine different Knicks hit trifectas overall.
It seemed like every time the Magic would make a run, someone would hit a big trey, whether it was Anthony, Novak, or one of the other seven Knicks who connected from downtown.
The three-pointer can get New York in trouble at times, as they tend to rely on it, but when it's working, it's working.
2. Outstanding perimeter defense
Raymond Felton and Prigioni were up in the faces of Orlando's guards right from the get-go, and it clearly had a lasting effects. The Magic's top two scorers, Arron Afflalo and Jameer Nelson, combined to go 3-of-16 for 10 points. It's a miracle Orlando was able to remain as close as they were with their two best offensive players being held in check.
Felton and Prigioni were both unrelenting on the perimeter, with Prigioni applying his usual pressure in the backcourt on inbounds passes.
3. Balance
Nine different Knicks players scored in the first quarter alone. By the end of the game, 10 members of the team had gotten on the board. With all of the injuries this team has suffered, getting a balanced offensive attack like that is absolutely huge. It also helped ease the tension on Anthony, as he didn't have to work so hard to get his team a win.
4. Ball movement
Those 15 three-pointers didn't come out of nowhere, you know. The Knicks' ball movement was extraordinary against Orlando, as they consistently found open shooters all over the floor. The Magic's defense was scrambling all night, and New York made them pay. When the Knicks are moving the rock like that, they are incredibly difficult to beat.

Once again, the Knicks topped the Magic tonight. Postgame coverage is on the way.
KNICKS 106, MAGIC 94 - FINAL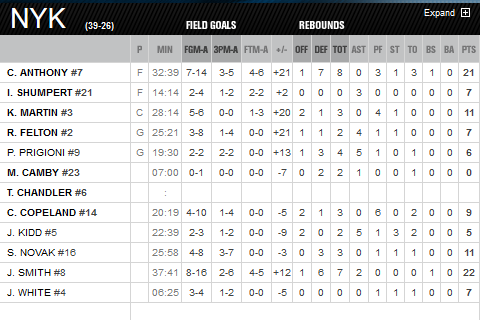 Knicks final box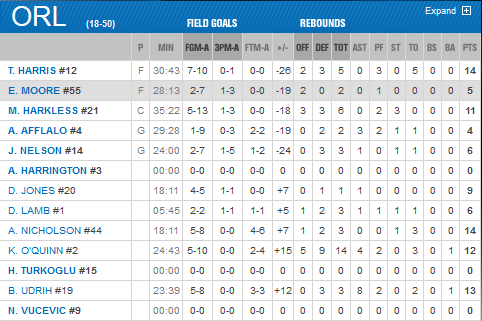 Magic final box
And that'll do it. The Knicks get a win over the Magic and sweep the season series.
KNICKS 106, MAGIC 94 - FINAL
Beautiful block by Smith on a dunk attempt by O'Quinn. Pinned it against the glass.
KNICKS 103, MAGIC 90 - 48.9 SECONDS REMAINING IN 4TH QUARTER
Shumpert appears to be okay.
Looks like Shumpert will not return, with Knicks leading comfortably. Knicks say strictly precautionary. Knee seems OK.

— Howard Beck (@HowardBeckNYT) March 21, 2013
James White puts the exclamation point on this one with a stylish dunk on a fast break.
KNICKS 103, MAGIC 88 - 1:43 REMAINING IN 4TH QUARTER
Novak hits a three off a screen, and that should be the dagger.
KNICKS 101, MAGIC 88 - 1:57 REMAINING IN 4TH QUARTER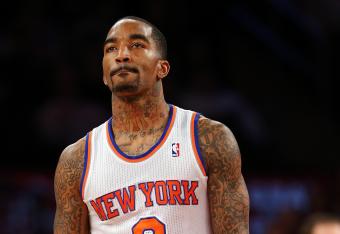 Some sloppy play from both teams here. Bad passes on both sides. Not sure if the Magic have enough to really steal this one. Haven't been able to get much closer than this most of the way.
KNICKS 98, MAGIC 88 - 2:41 REMAINING IN 4TH QUARTER
Nicholson puts in two FTs, and the lead is now down to single digits. Knicks need a couple of buckets here to put this thing away.
KNICKS 95, MAGIC 86 - 3:38 REMAINING IN 4TH QUARTER
Don't look now, but it's an 11-point game after a 3-point play by Doron Lamb.
KNICKS 95, MAGIC 84 - 4:17 REMAINING IN 4TH QUARTER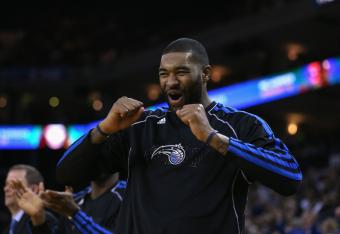 O'Quinn really having himself a heck of a game. 10 points, 13 rebounds, 4 assists. He must really love March.
Kidd has done an excellent job on providing help on doubling guys in the post. Has two steals from that and has impacted a couple of other attempts in the paint.
KNICKS 95, MAGIC 81 - 5:07 REMAINING IN 4TH QUARTER
Teams must have been very wary of his "attitude problems."
Amazing it took this long for Kenyon Martin to find an NBA roster. His impact is all over the court. #Knicks

— Jared Zwerling (@JaredZwerling) March 21, 2013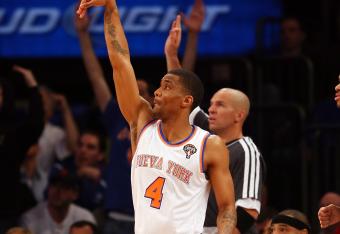 James White has now checked in. That probably signals the end of Carmelo's night. White immediately hits a layup.
KNICKS 95, MAGIC 78 - 6:06 REMAINING IN 4TH QUARTER
Oh and DeQuan Jones with a tomahawk slam. Kidd responds with a two on the other end.
KNICKS 91, MAGIC 76 - 7:03 REMAINING IN 4TH QUARTER
Remember when I said barring a miracle, Cleveland looked like they were going to end Miami's winning streak? Well, their lead has now been trimmed to 10.
All the more reason why NY shouldn't fall asleep here. Put the Magic away now to preserve Melo.
Once again, if the score stays like this and Melo comes back with James White getting a DNP fans should storm the court in anger.

— Steve Popper (@StevePopper) March 21, 2013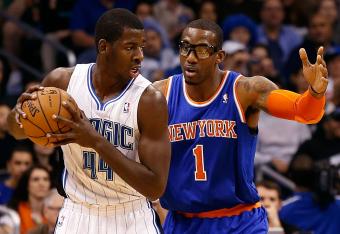 Knicks have to be careful not to fall asleep here. DeQuan Jones drains a three, and after Smith wastes a possession on the other end by missing Copeland in the post and instead chucking up a wild shot, Nicholson comes down and gets a bucket and a foul. Will shoot the FT when they get back from the timeout.
KNICKS 89, MAGIC 74 - 8:09 REMAINING IN 4TH QUARTER
Mike Woodson should probably sit him the rest of the way.
Melo has 21 points and is +21 in 32:39.

— Alan Hahn (@alanhahn) March 21, 2013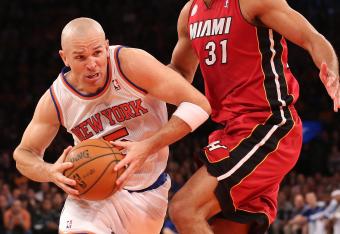 A little flashback there. Jason Kidd with an alley-oop to Kenyon Martin. Makes you feel a little nostalgic, doesn't it?
KNICKS 87, MAGIC 69 - 10:34 REMAINING IN 4TH QUARTER
Smith starts out the fourth with a jumper, and NY now leads by 20.
KNICKS 85, MAGIC 65 - 11:25 REMAINING IN 4TH QUARTER
This is the game right here, and so typical of a big NY lead.
The #Knicks are shooting 12 of 22 from 3-point range.

— Josh Robbins (@JoshuaBRobbins) March 21, 2013
Melo with a huge three to put a stop to a little spurt by Orlando. Typical of the way is going tonight.
Copeland, meanwhile, continues to utilize his rare size advantage in the low post. Showing some nice skills down low.
Knicks shoot 12-of-19 in the third quarter. Looks like they have this one well in hand.
KNICKS 83, MAGIC 65 - END OF 3RD QUARTER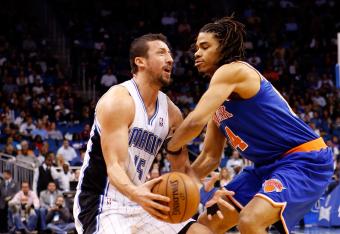 Copeland with four fouls in eight minutes, however. He has to realize that this isn't like usual when he only plays during garbage time. The Knicks need his services with all of the injuries.
KNICKS 78, MAGIC 63 - 1:19 REMAINING IN 3RD QUARTER
This article is
What is the duplicate article?
Why is this article offensive?
Where is this article plagiarized from?
Why is this article poorly edited?

New York Knicks: Like this team?