Major League Baseball: Players on Their Last Chance with Their Current Team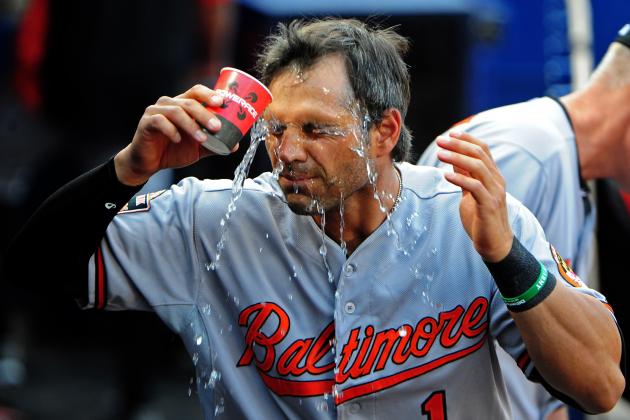 Scott Cunningham/Getty Images
Brian Roberts needs to prove his worth this season to earn an extension.
Major League Baseball is undergoing an integration of a younger generation of ballplayers.
The Mike Trouts and Bryce Harpers of the world are proving that age is essentially just a number, and that these young guys are capable of keeping pace with the savviest of veterans.
As we usher in a new era of baseball players, it's appropriate to note the careers that may be coming to an end. Baseball is a business. In most cases, loyalty is dead and consistent production remains the only thing keeping players with their organizations.
Here's a list of some players whose days in the majors could be coming to an end.
Begin Slideshow

»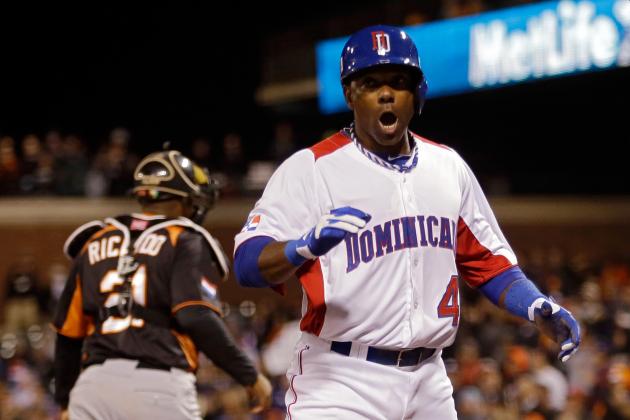 Ezra Shaw/Getty Images
Royals shortstop Miguel Tejada.
The Kansas City Royals signed shortstop Miguel Tejada to a one-year/ $1.1 million deal in January.
Tejada, who spent all of 2012 in Triple-A for the Orioles, could be entering the final year of his 15-year major league career. The five time All-Star batted just .259 with no home runs and 18 RBI in Triple-A last season.
His last major league appearance came in 2011 for the Giants, where he batted a dismal .239. Tejada's days as a starter are likely over. He'll be taking up more of a mentoring and utility role behind Royals' shortstop Alcides Escobar and third baseman Mike Moustakas this season.
Tejada, 38, needs a strong performance in 2013 to merit a contract extension and to keep playing on the major league level.
Prediction: Tejada will struggle early and be overshadowed by all the young talent in Kansas City. This will be his final year as a major leaguer. (.189/ 3 HR/ 14 RBI)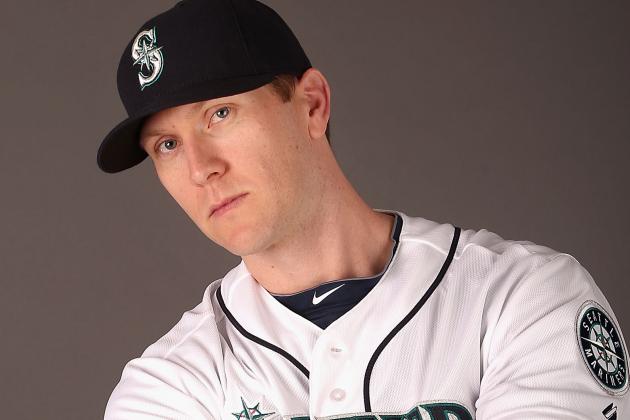 Christian Petersen/Getty Images
Mariners' outfielder Jason Bay.
It's been a rough couple of years for Seattle Mariners outfielder Jason Bay.
Bay, an ex-Rookie of the Year and three time All-Star, was released by the Mets after signing a four-year/ $66 million deal in 2009.
The bright lights of New York proved to be too much for the now 34-year-old outfielder. Bay batted just .234 with 26 home runs and 124 RBI in his three seasons with the Mets.
In December, the Mariners decided it was in their best interest to take a gamble on the washed up outfielder and signed him to a one-year/ $1 million contract. Bay will go from the media magnified New York City to a more comfortable environment, just seven hours from where he grew up in British Columbia and four hours from Gonzaga University, his alma mater.
Prediction: Bay, who's batting .323 in spring training, will relieve Franklin Gutierrez of his starting role a month into the season and earn a contract extension from the Mariners. (.260/ 20 HR/ 68 RBI)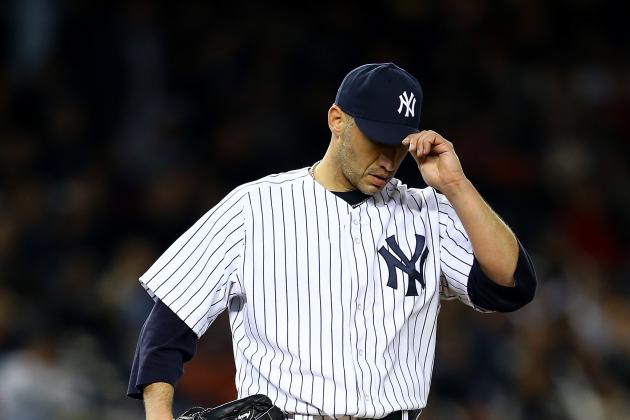 Al Bello/Getty Images
Yankees' starter Andy Pettitte.
Long time New York Yankees starter Andy Pettitte's Hall of Fame worthy career could be coming to an end this season.
If he struggles in 2013, there's a good chance the 40-year-old southpaw will be out of work, thus ending his 17-year career.
Pettitte started 12 games for the Yankees last season and posted an impressive five wins with a 2.87 ERA and 69 strikeouts. While the numbers were good, Pettitte spent last season struggling to stay healthy.
With a roster defined by injury this spring, the Yankees are relying on Pettitte to transcend age and produce in 2013.
Prediction: Injuries to the offense will deny Pettitte of much needed run support out of the gate. The 40-year-old will struggle to stay healthy over the second half and end up retiring at season's end. (4-7/ 5.04 ERA/ 70 K's)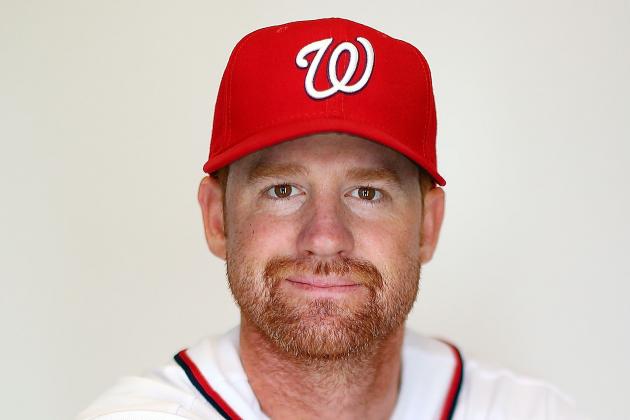 Mike Ehrmann/Getty Images
Nationals' first baseman Chad Tracy.
The Washington Nationals have one of the deepest rosters in Major League Baseball entering the regular season. Chad Tracy, 32, was used primary as a pinch hitter last season.
Last August, the Nationals decided to extend Tracy's contract through the 2013 season.
Tracy's small contract is low risk and a practical move by the Nats. Tracy batted .269 with three home runs and 14 RBI in 93 at-bats last season. If he can post proportionally similar numbers in more at-bats in 2013, Tracy could earn a spot on another team's roster next season. But, if not, Tracy will find himself quickly out of a job.
Prediction: Tracy will be used strictly in the pinch-hitting role this season and be outplayed by the young Tyler Moore. The Nationals won't resign him at season's end and Tracy will find himself in the minors in 2014. (.230/ 5 HR/ 23 RBI)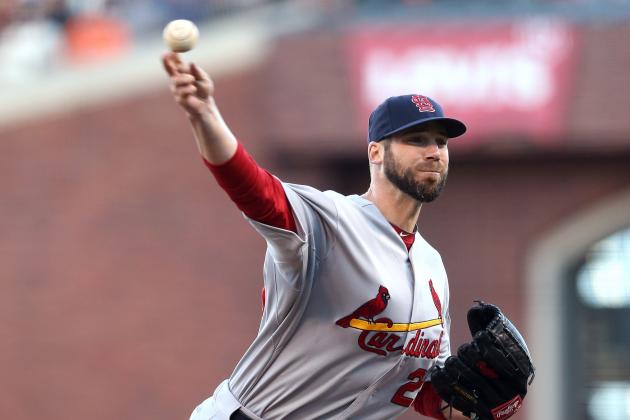 Ezra Shaw/Getty Images
Cardinals' starting pitcher Chris Carpenter.
Chris Carpenter is certainly one of the most dominate pitchers in baseball over the last 15 years, that is, when healthy.
Carpenter will be spending most, if not all, of the 2013 on the disabled list suffering from shoulder, neck and arm problems.
The 37-year-old right-hander started just three games last season, posting a 0-2 record with a 3.71 ERA. He also went 0-2 with a 4.50 ERA in the postseason.
If we've learned anything over the last decade about Carpenter, it's that you can't count him out until, well, he's out.
Prediction: Carpenter won't throw a pitch in 2013 and end up announcing his retirement halfway through the season.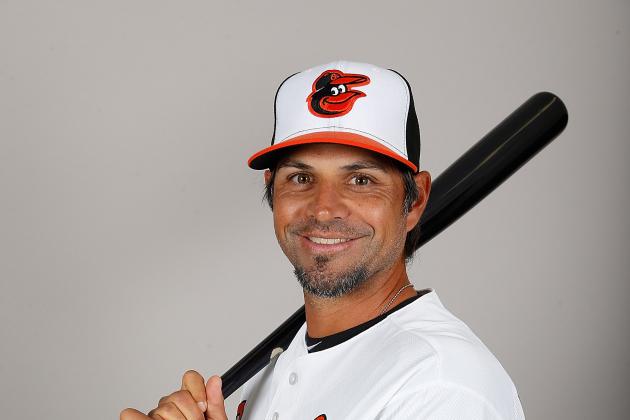 J. Meric/Getty Images
Orioles' second baseman Brian Roberts.
Brian Roberts was once the face of a struggling franchise. Now, Roberts is an injury-prone veteran trying to revive his career with a rejuvenated Baltimore Orioles team.
Roberts played in just 115 games over the last three seasons, posting a .244 average with seven home runs and 39 RBI over that span. The 35-year-old second baseman will be entering the final year of a four-year deal.
Roberts' major league future relies simply on whether or not he can stay healthy throughout the 2013 season. If he's unable to, there isn't a team in baseball that would be foolish enough to take a chance on a washed up, 35-year-old second baseman susceptible to injury.
Prediction: This prediction is a bold one, but Brian Roberts will play 150 games for the Orioles this season. He will also earn a spot on the AL All-Star team and receive a contract extension. (.303/ 14 HR/ 70 RBI)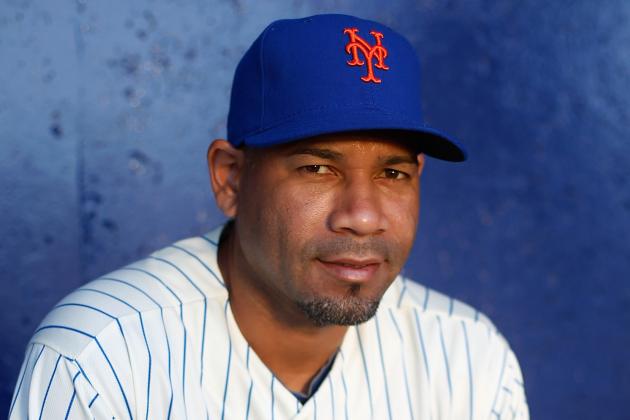 Chris Trotman/Getty Images
Mets' reliever Pedro Feliciano.
Pedro Feliciano has spent his entire major league career with the New York Mets, but hasn't pitched since 2010.
This season, Feliciano is looking to extend his career and be an asset out of the Mets' bullpen. The 26-year-old righty has given up three hits, one being a home run, and three strikeouts in spring training, thus far.
With Bobby Parnell likely moving to the closer's role, the Mets will turn to Feliciano to shut down opposing teams late in games.
Prediction: Feliciano will stay healthy throughout 2013, but put up below-average numbers. This will be his final season in the majors. (4-3/ 5.44 ERA/ 20 K's)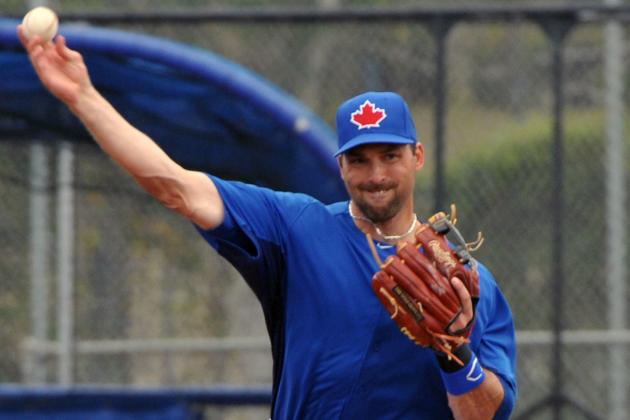 Al Messerschmidt/Getty Images
Blue Jays' second baseman Mark DeRosa.
Mark DeRosa has assumed a utility role over his last three seasons with the Giants and Nationals, and that's exactly why the Toronto Blue Jays signed him in January.
DeRosa battled sporadic injuries for most of last season and posted just a .188 average with no homers and six RBI.
DeRosa is now 37 years old and his days in the majors are undoubtedly numbered. Like the Nationals, the Blue Jays have an incredibly deep roster. The depth will take a lot of the pressure off DeRosa and allow him revitalize his career in a comfortable environment.
DeRosa is batting .462 with two homers and seven RBI in 31 at-bats in spring training thus far.
Prediction: DeRosa's hot spring will be stifled due to a lack of playing time once the regular season begins. He'll be demoted to Triple-A by June and be unable to find work after the season. (.210/ 1 HR/ 13 RBI)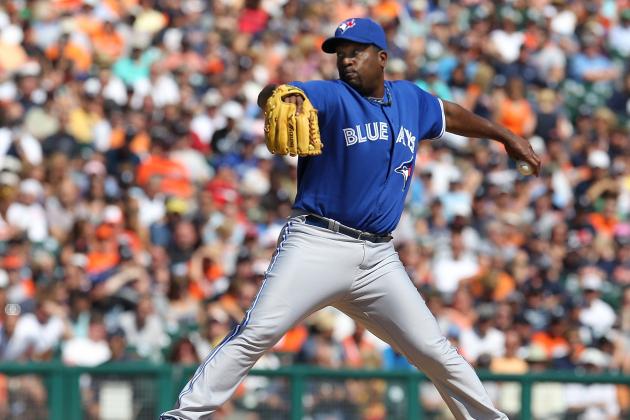 Dave Reginek/Getty Images
Blue Jays reliever Darren Oliver.
Darren Oliver has had a career unlike any other current major leaguer. The 42-year-old has 19 seasons under his belt and has only gotten better with age.
That being said, a poor campaign in combination with his age and 2013 being the final year of his contract could force him out of baseball at season's end.
In 56.2 innings last season, Oliver posted a 2.06 ERA with 52 strikeouts. He's recorded a sub-three ERA in each of his last five seasons. The aging southpaw has defied all odds.
Oliver's age gives him no room for error. He needs continued success to stay in the majors.
Prediction: Oliver's career will come to an end after the 2013 season. He will struggle and eventually announce his retirement by August. (1-6/ 4.98 ERA/ 31 K's)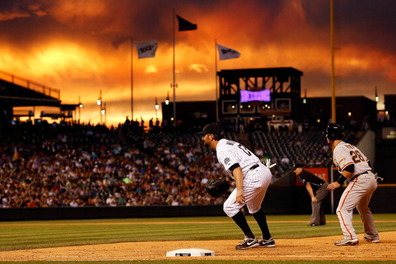 Doug Pensinger/Getty Images
Rockies' first baseman Todd Helton.
Todd Helton is certainly in the twilight of his borderline Hall of Fame career.
Looking over his career stats over the last decade, one thing is clear: if Helton is healthy, he will produce. After an injury-filled season in 2008, he came back the following year and batted .325 with 15 home runs and 86 RBI. He experienced a similar phenomenon in 2010 when he played in just 118 games. The following year Helton batted .302 with 14 home runs and 69 RBI.
Last season, Helton spent most of the season battling hip problems, posting a career-low .238 average with seven home runs and 37 RBI.
Luckily for the Rockies, Tyler Colvin had a phenomenal season filling in for the injured veteran. Colvin offers a viable option at first if Helton's spring training struggles carry into the regular season.
Prediction: The face of the Rockies franchise for the last decade and a half will announce his retirement by August. The 39-year-old will have a mediocre season at the dish. (.265/ 14 HR/ 56 RBI)