Predicting the New Orleans Saints' Starting Lineup Post Week 1 of Free Agency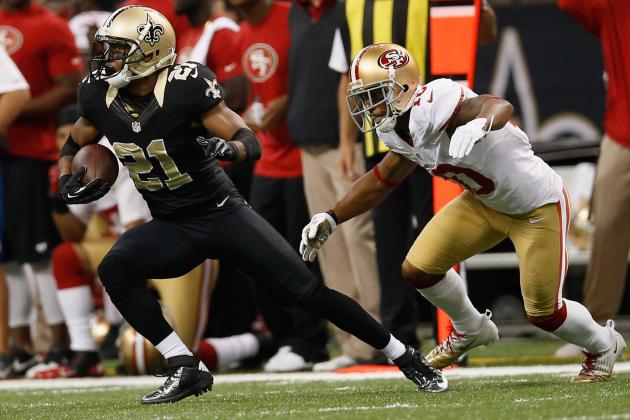 Chris Graythen/Getty Images

The New Orleans Saints have been remarkably quiet in the first week-and-a-half of NFL free agency, aside from restructuring their own players' deals and adding two newcomers—Keenan Lewis and Benjamin Watson.
The result is stability on a roster that needed less an infusion of talent and more cohesion in the locker room, which it will gain with the reinstatement of head coach Sean Payton.
As such, the 2013 Saints' starting lineup doesn't figure to look tremendously different from that of 2012. The change to a 3-4 scheme opens a spot for a rotational player from 2012, but at this time, it is that spot which remains open and is the biggest question mark on the depth chart.
Left tackle is a spot that seemed to be vacant, but Charles Brown has been confirmed as the presumed starter. But as Mickey Loomis said on Kristian Garic's show on Tuesday night, "It is highly likely to bring in competition at left tackle with Charles Brown."
In other words, two or three spots are still open on the starting depth chart. Here is how it looks after a week-and-a-half of free agency.
Begin Slideshow

»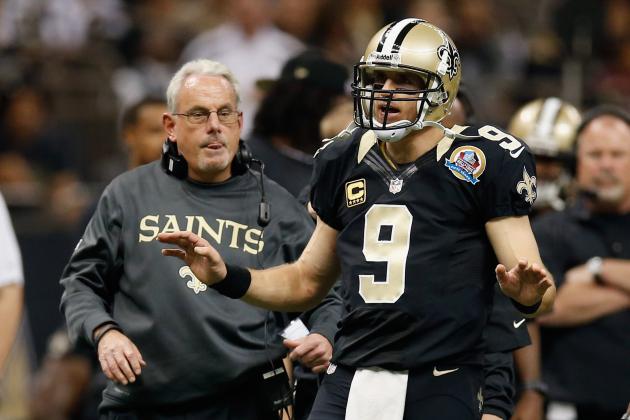 Chris Graythen/Getty Images
It's ironic that Drew Brees is seen here trying to calm his team down. He was the one who lost poise at times in 2012.
Obviously Drew Brees struggled for chunks of the 2012 campaign. He has admitted he pressed and tried to do too much for the team.
How a player backs off trying to do too much, I know not. But I trust Brees will find some way to relax and get back to playing more solid football in 2013. Having Sean Payton in his ear should help toward that end.
The likelihood of a more solid and opportunistic defense, as well as what fans can hope is a renewed commitment to the running game, should do just the trick to get Brees back to being Brees.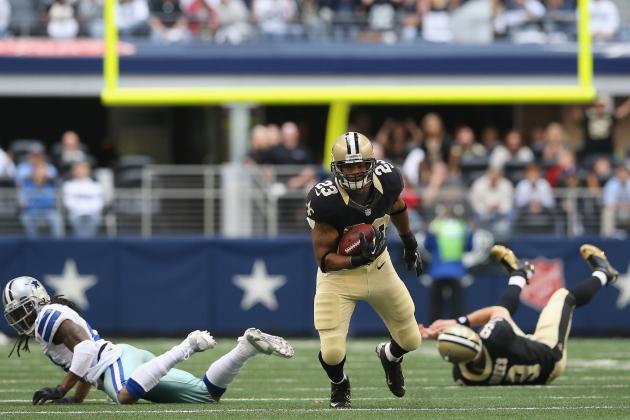 Ronald Martinez/Getty Images

RB Pierre Thomas
Thomas is the best overall running back on the Saints roster. No one denies that. Sadly, he does gets neither the hype nor the carries he deserves.
He will continue to be one of the best screen backs in the league—especially if the team is able to acquire good swing tackles to play outside and block for him in space. And he'll be a tough inside runner who never stops moving his feet.
And he'll continue to be the emotional charge that makes the Saints backfield productive. He may once again do it averaging in the vicinity of 10 touches per game. No matter, as Thomas sparks everything the Saints do offensively.
RB Mark Ingram
Mark Ingram changed his jersey number from 28 back to his college number of 22 this week. Plenty of tweets made fun of this move, saying this more accurately depicts his yards per carry.
Despite the jokes, Ingram will remain the other starter at running back for the New Orleans Saints in 2013. He was a first-round pick whom Sean Payton loves. In other words, he's going to get every opportunity to prove himself.
Ingram actually stayed healthy a season ago and had a few encouraging stretches of football. On film, Ingram still exhibits tremendous vision and burst. It remains a mystery to all as to why his yards per carry is so low.
With a few others, I theorized last season that Ingram's presence in the game was a dead giveaway that he was receiving a handoff—thus the defense was prepared to stop him. As the season went on, Pete Carmichael Jr. mixed things up a bit, and the result was a more efficient Ingram.
Still, he finished 2012 with 3.9 yards per carry. The Saints hope that Ingram's change back to his college number kicks him into gear and brings about college-type production.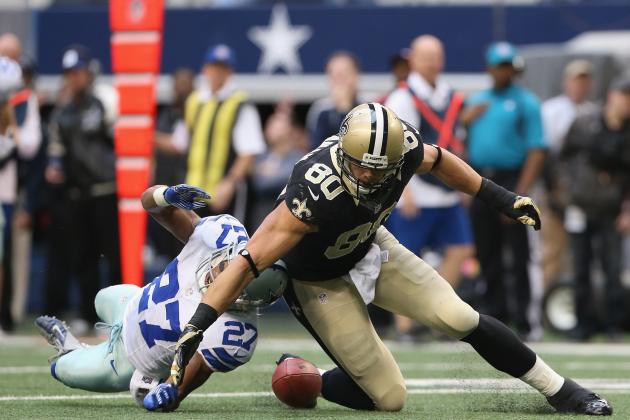 Ronald Martinez/Getty Images

The biggest news surrounding Jimmy Graham is the question of his future contract. His rookie deal concludes at the end of the 2013 season. Already many are wondering what kind of terms and money Graham is going to command.
The fear is that the perennially cash-strapped Saints will be unable to match what another team may offer, unless the team extends a lucrative offer prior to him entering free agency.
The other big news is that Graham battled through a hand injury for much of 2012, which seemed to be the primary cause of him joining the "a drop a week" club, also inhabited by Marques Colston and Lance Moore.
Despite the drops, Graham did show improvement as a blocker in 2012. And his run-after-the-catch ability—which was his biggest detractor in 2011—improved as 2012 progressed. In other words, Graham is just now becoming the complete player he is capable of being.
If healthy, Graham could put up historic numbers, as he'll be looking for a monumental payday. Most players reaching for a prominent payday ball to no end in their contract season. Again, that could be good news for the Saints in 2013—and bad news for opposing defenses.
Ronald Martinez/Getty Images

WR Marques Colston
Few players have been as integral to the success of the New Orleans Saints over the past seven years as Marques Colston. Despite being recognized as one of the most physically imposing and difficult covers in the league, "The Quiet Storm" is yet to make an NFC Pro Bowl team. Of course, you'll never hear a complaint from Colston.
Though Colston will be over the hump of 30 years old in the 2013 season (as will fellow starter Lance Moore), there is no end in sight for Colston. As long as Brees is slinging passes Colston's way, No. 12 will continue to extend franchise records in just about every receiving category.
Let's just hope Colston doesn't almost die again as he did against San Francisco in Week 12, courtesy of a hit by new Tampa Bay Buccaneer Dashon Goldson.
WR Lance Moore
Much has been made by fans and analysts alike of the need for the Saints to acquire another "deep threat" to the receiving corps for 2013. The thinking, of course, goes that without Devery Henderson, Joseph Morgan is the only deep threat on the roster.
In some small sense that is true.
Moore appears to be the ultimate slot receiver. But a closer look at the numbers reveals the same thing as the game film. Moore actually became the Saints' secondary deep threat in 2012. His yards per catch was nearly four yards higher than any other season in his career.
His 16 yards per catch was second on the team to only Morgan. In other words, if the Saints are looking for a secondary deep threat, they have to look no further than 'ole Mr. Reliable, Lance Moore.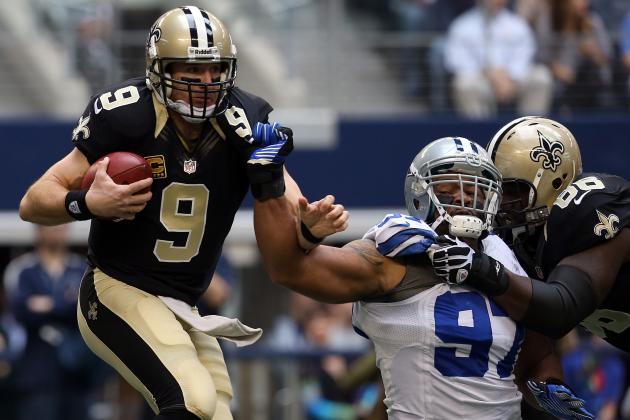 Tom Pennington/Getty Images

LT Charles Brown
Pro Football Focus posted an interesting advanced metric on Wednesday. It said that in Brown's lone start of 2012, he posted a plus-1.8 pass-blocking score. According to their metrics, Jermon Bushrod did better only twice all season.
Granted, Brown's sample size is beyond small. To assume he'll match his play for a full season is an unwise assumption. But if he can simply match Bushrod's play from 2012, the decision to let Bushrod leave will be considered a wise one.
LG Ben Grubbs
No advanced metric is needed to assess Ben Grubbs. Simply watching his play in 2012 tells us that he was the best lineman the Saints had.
The best thing the Saints can hope is that Grubbs continues to push Jahri Evans to play better, provides necessary help for Brown next to him and can cover center Brian de la Puente when he gaffes.
That's not too much to ask, is it?
C Brian de la Puente
Brian de la Puente was rated favorably both by Pro Football Focus in their review of offensive linemen and by Bleacher Report's Matt Miller in his NFL 1000 series—in which he came in ninth of 35 ranked centers. Here is Miller's scouting evaluation for de la Puente.
In other words, some of the talk from analysts (myself included) of "upgrading" the center position may have been off-base a bit. The Saints are satisfied with de la Puente for now.
After re-signing him to a restricted free-agent contract for one year at $2.02 million, the Saints plan to move forward with de la Puente snapping the ball to Brees for at least one more year.
RG Jahri Evans
Much like with Grubbs, little is needed to evaluate Evans accurately. Film says that Evans is the second best lineman the team has, after Grubbs. And much like Grubbs, Evans is essentially being asked to mask any screw-ups from de la Puente and Zach Strief at the right tackle spot.
The Saints are asking their two guards to do a lot. Good thing each is up for the challenge.
RT Zach Strief
Zach Strief was awful a season ago. It seemed every time we looked up, Strief was being beaten off the edge. The Saints were better when William Robinson, Charles Brown or Bryce Harris occupied the right tackle spot.
But the Saints are loyal to their guys, and Strief is one of them. It is his right tackle spot to lose. Someone is going to have to snatch it from him.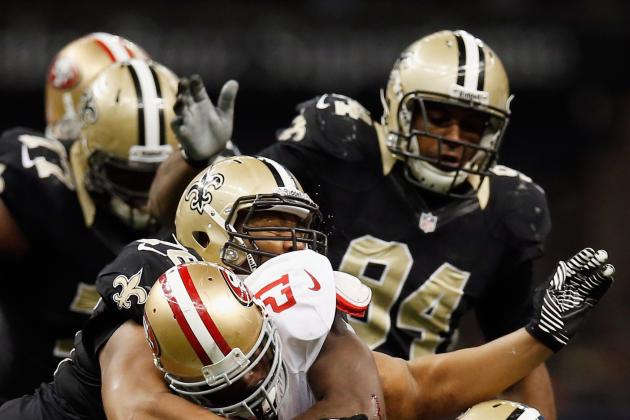 Chris Graythen/Getty Images

DE Will Smith
By agreeing to restructure his contract this offseason from a $9 million base salary to $3 million, he guaranteed himself at least one more opportunity to start in the NFL. Despite not being of typical "five-technique" size, Smith's skill set matches the position perfectly.
The past few years Smith has actually shown more aptitude as a run defender than as a pass-rusher, anyway. His ability to fight to hold the point of attack will be a key to overcoming what promises to be some of the lightest outside linebackers Rob Ryan has ever employed in his 3-4 scheme.
Smith is going to have to man up to help this defense improve from its 32nd ranking in run defense in 2012. But he's not the only one.
NT Brodrick Bunkley
Bunkley is undersized by traditional 3-4 defense nose tackle standards. Pro-football-reference.com has him listed at 6'2" and 295 pounds. In reality, Bunkley's height is not an issue. It is his weight that doesn't figure to work too well.
But the Dallas Cowboys played this defense effectively, at times, a year ago with undersized men in the middle. And the Houston Texans started Shaun Cody at the spot—he of a 292-pound frame. The Texans had a top-10 defense in the league. In other words, it can be done.
In 2011, Bunkley was ranked as one of the best run defenders in the league by PFF. It's possible this scheme will help him retain that title in 2013.
DE Cameron Jordan
Of the three players who figure to line up on the defensive line in Game 1 of the 2013 season, none figures to be a better fit for this defense than Jordan. As it relates to Jordan, the timing of the switch to a 3-4 was an odd one. Jordan was just appearing to pick up the intricacies of it in 2012, after playing in a 3-4 scheme at Cal-Berkeley.
Jordan will be allowed to go back to what he knows best in 2013. His ability to set the edge, chase down a ball-carrier from behind and push the pocket as a pass-rusher will make him one of the game's best five-technique defensive ends for a decade-plus, if the team stays with the defense and he stays healthy.
The sky is the limit for Jordan in this defense. The Saints would be wise to let him line up and play. He will dominate for certain. And the team might want to already begin considering making a major long-term investment in him financially. It will prove well worth it.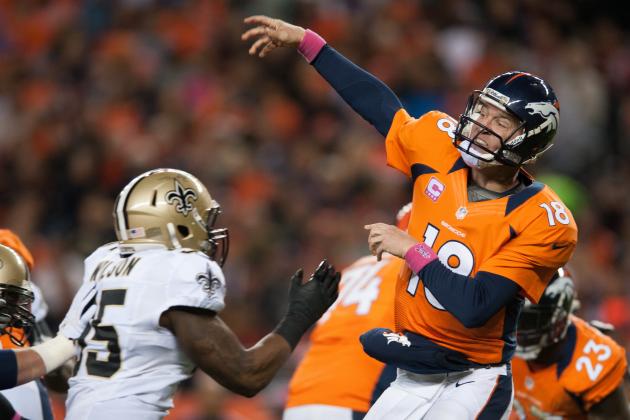 Dustin Bradford/Getty Images

OLB Martez Wilson
Wilson was drafted as a linebacker, only to be moved to defensive end in Steve Spagnuolo's 4-3 scheme a season ago. This season, he is sure to be back at his more natural outside linebacker spot. In fact, the 3-4 outside linebacker is the perfect fit for Wilson's skill set.
Most analysts agree that Wilson has the tools to dominate at the spot because of his elite burst and athleticism. He also showed fine closing speed to finish sacks in 2012. Of course it is another new position for him—a 3-4 outside linebacker's responsibilities are far different than those of a 4-3 outside linebacker.
Even as a defensive end last season, Wilson showed the ability to move in space and cover people. That ability will come in handy in the 3-4, as Rob Ryan will ask Wilson to drop in coverage from time to time.
OLB Draft Pick/Free-Agent Addition
As expounded upon by Larry Holder of The Times-Picayune on Wednesday evening, the New Orleans Saints hosted Victor Butler on Thursday. Butler was a reserve outside linebacker in Dallas under Rob Ryan. If he were to sign with New Orleans, it is a certainty that he would start the 2013 season opposite Martez Wilson.
If the Saints do not ink Butler to a deal, the team could attempt to move up in April's draft to acquire the services of an elite pass-rushing talent (most likely Barkevious Mingo).
One thing is certain, Junior Galette will not start at outside linebacker. He will play often as a rotational pass-rusher. But he will not start.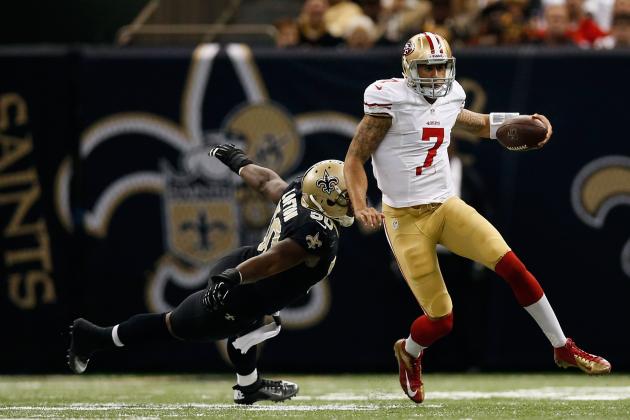 Chris Graythen/Getty Images

ILB Curtis Lofton
Curtis Lofton didn't have his finest professional season in his inaugural campaign as a member of the New Orleans Saints. Then again, almost no one on the team was any good—Cam Jordan is the only player who could say he had a great year.
Lofton, though, projects as a nice fit in Rob Ryan's 3-4 scheme as an inside linebacker. He will be the quarterback of the defense once again in 2013. As such, he will be responsible for getting his guys into the proper position on each snap and making adjustments when he notices quarterbacks making adjustments against him.
ILB David Hawthorne
Hawthorne had maybe the most disappointing season of any Saints' free-agent signee in 2012. Still, he projects to make a relatively smooth transition to the inside linebacker spot opposite Lofton.
He will need to become a more physical player who breaks down to wrap up ball-carriers with greater regularity. He did those things well in Seattle prior to joining the Saints. There is little reason to think he cannot once again be an able tackler.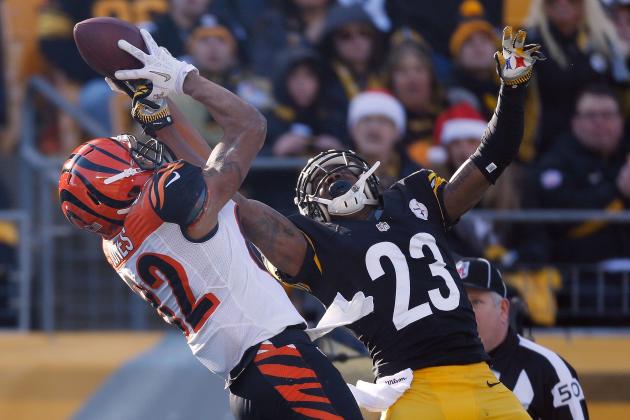 Gregory Shamus/Getty Images

CB Keenan Lewis
Unless the Saints end up signing Nnamdi Asomugha—and even then it's still possible—Keenan Lewis will open the 2013 season as the Saints' No. 1 corner. He fits Ryan's scheme perfectly.
For a more in-depth evaluation of Lewis, click here.
S Malcolm Jenkins
Jenkins had a disappointing season in 2012. Again, so did nearly every member of the 2012 team—especially on defense.
With potentially two very solid man-to-man corners mirroring opposing wide receivers, Jenkins will be free to roam and attempt to make plays. Also look for Jenkins to be used more in nickel situations in the slot and on slot blitzes.
S Roman Harper
If the Saints were going to cut Harper, they likely would have done it by now. He will be on the team in 2012 and will start opposite Jenkins. In fact, Harper will likely regain some of the statistical success he had under Gregg Williams, since he'll be used in almost the same way.
In other words, he'll be an effective player against the run and be used to blitz the quarterback quite often.
CB Patrick Robinson
P-Rob is one of the more underrated players on the Saints defense, apparently even by the team itself. As the team has flirted with Nnamdi Asomugha and brought in Keenan Lewis, it has shown it is not content with Robinson as the No. 1 corner and maybe not even as a starter.
Still, the Saints will not be able to rid themselves of Robinson that easily. Whether the team and fans like it, Robinson will not only play regularly but start once again in 2013. No matter what you have against Robinson, you must admit he is the best playmaker of the Saints' corners.
That should keep him in the lineup for a while.
Nickel Corey White
As a rookie, Corey White was fairly impressive. Sure, he was burned on occasion but not more often than anyone else in the secondary.
He showed a willingness to hit somebody and a physical mentality on the whole. It is likely that he and Lewis will hit it off this offseason and make for one of the more physically intimidating secondaries in the league.
If the team were to add Desmond Trufant from Washington to this duo (omitting Robinson), it would then have the most physical trio of corners in the league. It would scare the bejeezus out of opposing receivers.
And that would be a good thing.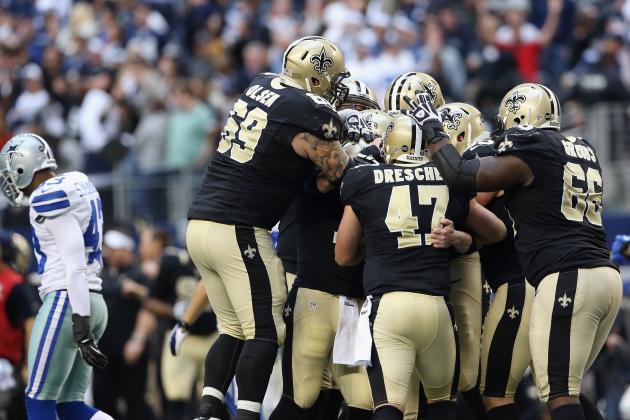 Ronald Martinez/Getty Images

So often, special teams get thrown out the window, especially by the media. Coaches generally maintain its importance, but fans fail to understand the relevance. For Saints fans, they have to look no further than to the disappointing December loss to the New York Giants to see how crucial special teams are in just one game.
Courtney Roby is the key player on this unit among players not considered specialists. He re-signed earlier this week, which should give this unit a chance to improve.
LS Justin Drescher
Drescher is as solid as any long snapper in the league. Since he took the job, I cannot remember a bad snap taking place. That's what Drescher is paid to do—simply not to make a mistake.
P Thomas Morstead
Morstead is hands down the best overall kicker in the league. It can be debated whether Andy Lee or Shane Lechler are better punters, but neither does what Morstead does in adding exceptional kickoff abilities to his punting acumen.
There's almost no reason to think Morstead will not continue to dominate in 2013.
K Garrett Hartley
Many think Hartley is living on a prayer (a kick…or four, to be exact). In some ways, it is true. His game-winner in the NFC Championship Game has forever endured him to Sean Payton and Mickey Loomis.
That he followed that kick up with three key field goals in the Super Bowl only further cemented his legend in the mind of the Saints brass. Whether deserved or not, Hartley will be the Saints kicker in 2013. And there's no question about it.