Predicting San Diego Chargers Starting Lineup Post Week 1 of Free Agency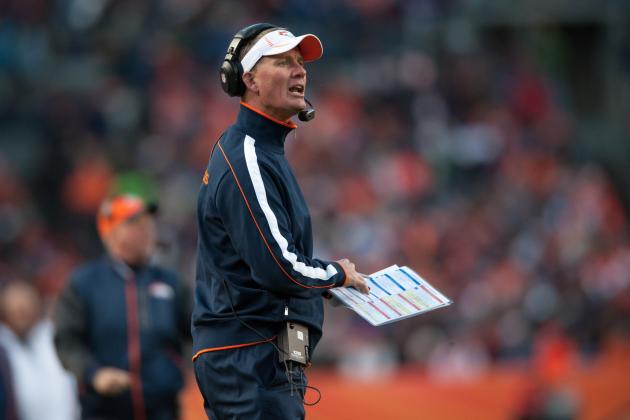 Dustin Bradford/Getty Images

It's been more than a week since free agency started and the Chargers haven't made much noise, just as predicted.
Mike McCoy and Tom Telesco want to build through the draft and start fresh with a young team, so they haven't jumped at many free agents, including their own. The starting lineup will not look that different compared to last year's, except for a few positions.
Here's how I think the starting lineup for the Chargers would look like if the season started tomorrow.
Begin Slideshow

»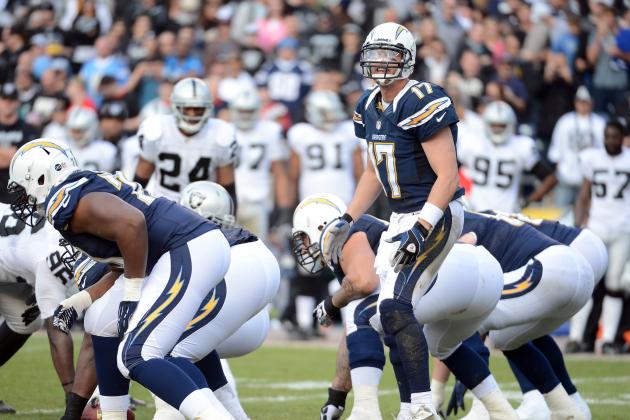 Harry How/Getty Images
Rivers should enjoy playing under Mike McCoy.
This one's a shocker, right?
Well, for all of those people who think Philip Rivers cannot be "fixed" and will continue to play as horrible as he has, you're stuck with him leading the Bolts for at least another season. Rivers has played under Norv Turner's predictable offense for many seasons now and the biggest thing he needed was a change. Mike McCoy and Ken Whisenhunt still have faith in the Pro Bowl quarterback, so should you.
This position is locked up. Unless the Chargers get a player like Tom Brady for free, No. 17 will be leading the offense once again in 2013.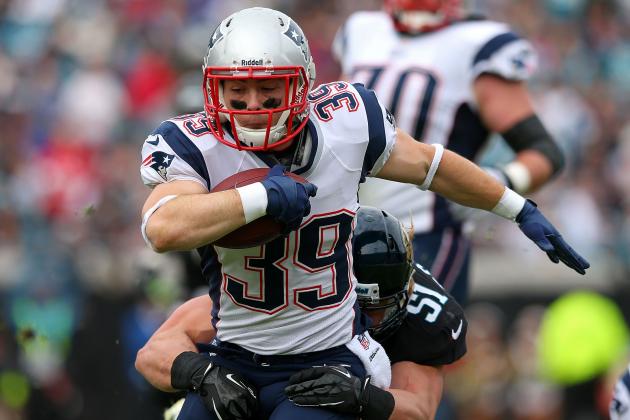 Mike Ehrmann/Getty Images

Danny Woodhead is a stud, yes, but so is Ryan Mathews. According to CBS Sports, Mike McCoy envisions Woodhead to be an every-down back for the Chargers. That isn't good news for Ryan Mathews, who has failed to stay healthy in his three-year career, but it should also motivate Mathews to get into the best shape of his life for next season.
Mathews will be the starter for the Chargers for as long as he can stay healthy. He has yet to show his full potential, but he will in 2013.
Woodhead is the perfect change-of-pace back for San Diego. Has anyone else noticed that Rivers' production has dropped off since the loss of Darren Sproles? Sproles added that element of elusiveness to spread the field. Woodhead will be Sproles 2.0.
Le'Ron McClain is an excellent run blocker and pass protector. He's one of the best fullbacks in the league and will start at the position next season.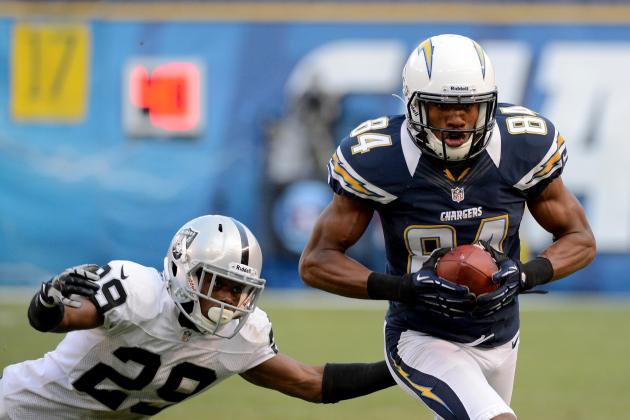 Donald Miralle/Getty Images

After placing the low tender on restricted free agent Danario Alexander, the San Diego Chargers haven't lost him. No team has made an offer to DX and it's looking like he will sign the tender soon. Because of his injury issues, teams do not want to give him a long-term contract that he desires.
Malcom Floyd is a great No. 2 receiver, but he doesn't have the ability to be a No. 1. Floyd also has injury problems, so the wide receiver position should be a competitive battle.
Vincent Brown, who missed all of last season with a foot injury will return in 2013. Watch out for him. Don't be surprised if he turns into the Chargers' best all-around receiver.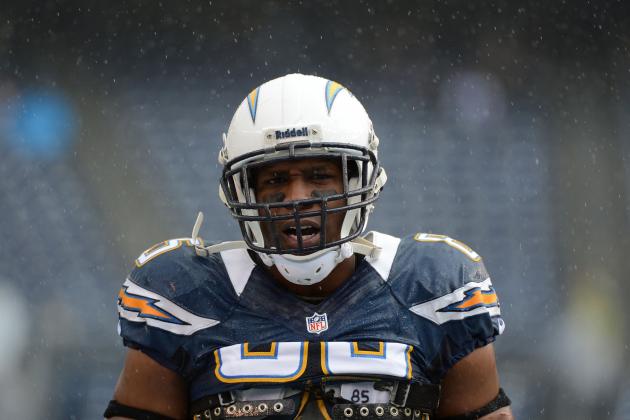 Donald Miralle/Getty Images

Another shocker.
Future Hall of Famer Antonio Gates will be 33 this summer. He'll also have his sights on the Chargers season in 2013. There's no doubt that Gates will start at the tight end position next season. He's been one of the most consistent and talented players in San Diego history. Even though some don't agree, he's the best tight end to ever play for the Chargers. Sorry, Kellen Winslow fans.
John Phillips, former Cowboys tight end, was signed recently. He is very athletic, but he will not take Gates' spot on the depth chart. He is filling the spot of Randy McMichael.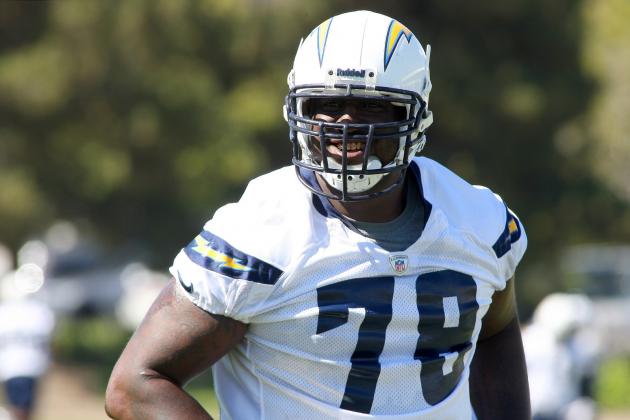 Jake Roth-USA TODAY Sports

If Jared Gaither is healthy, he's a very good player and will start at the left tackle position. Unless the Chargers decide to release him, which it doesn't look like they will, Gaither will join Ryan Mathews on trying to get in the best shape of his career.
Unlike Mathews, Gaither isn't fragile and get injuries like broken collarbones, he gets back and groin injuries. Those can be avoided by working harder in the offseason. After making $2.25 million each game he played last season, Gaither has much to prove to Chargers fans.
King Dunlap was signed earlier this free agency after playing his first five seasons with the Philadelphia Eagles. Dunlap isn't the best tackle, but he's better than Jeromey Clary. Clary has continued to disappoint everyone in San Diego, and it looks like Mike McCoy has a different plan than what Norv did.
This position should be addressed in the NFL draft.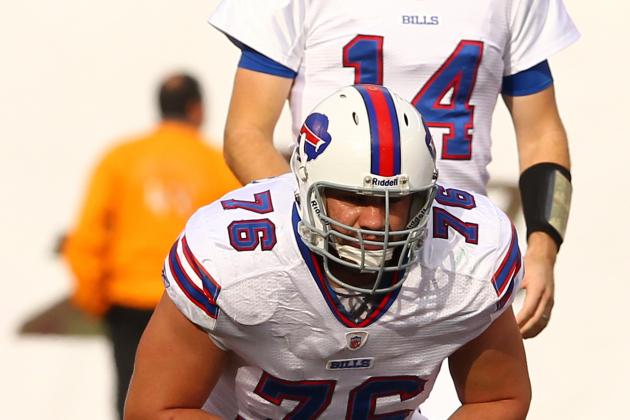 Al Bello/Getty Images

The Chargers signed Chad Rinehart, former Bills guard, to replace Louis Vasquez. Rinehart is nowhere near as good as Vasquez, but he's better than any other guard on the Chargers' roster.
Tyronne Green has not been signed, making it more likely for a return to San Diego on a small contract. He would be back in the starting lineup at left guard in 2013 if he indeed does return to the Chargers.
Let's just say this, the Chargers' offensive line has not been improved. It's actually much worse without Vasquez. Tom Telesco and Mike McCoy have work to do the rest of this offseason.
This position should be addressed in the NFL Draft.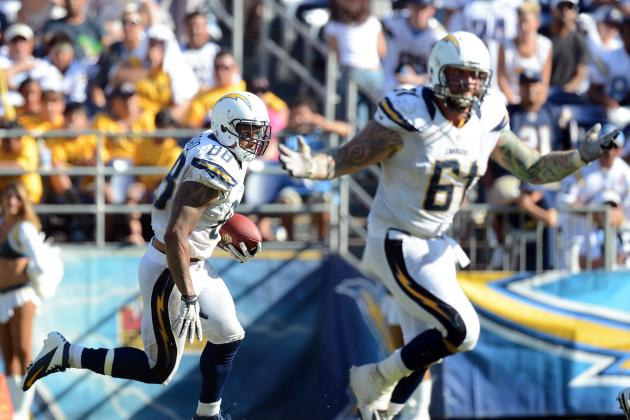 Harry How/Getty Images

Nick Hardwick has been the Chargers center since 2004. He will be the Chargers center once again in his tenth season.
Hardwick will most likely be inducted into the Chargers' Hall of Fame when his career is over. He's been one of the more consistent players in franchise history. Hardwick should be a Charger for life, and he will anchor the rocky offensive line next year.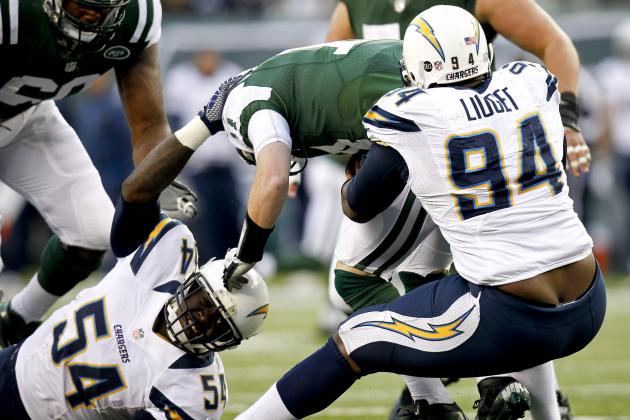 Jeff Zelevansky/Getty Images

Corey Liuget vastly improved in his second season with the Chargers. It was tough for San Diego to move on from Luis Castillo, who was one of their best defensive players for years, but Liuget is making it much easier.
Liuget started all 16 games last season and recorded seven sacks and nine pass deflections. He is showing signs of a star in the making, but fans need to stay patient.
Kendall Reyes, who many thought was a steal for the Chargers in last year's draft, had a very good rookie season. In their second-to-last game against the Jets, Reyes recorded three-and-a-half sacks to push his total to five and a half on the season.
Liuget and Reyes will start at defensive end in 2013.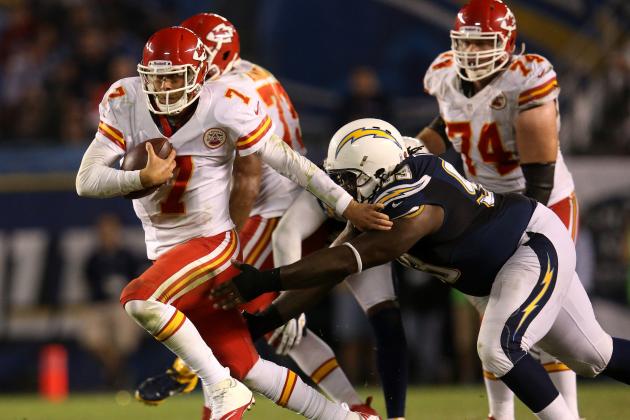 Stephen Dunn/Getty Images

Cam Thomas only started three games last season. He was the third nose tackle on the depth chart, behind Aubrayo Franklin and Antonio Garay. Good news for Thomas is that both of those players are on different teams now. Franklin signed with the Indianapolis Colts, while Garay joined the New York Jets.
Tom Telesco and Mike McCoy are starting a youth movement. Garay and Franklin were both too old, so they chose to stick with Cam Thomas for now.
This position should be addressed in the NFL draft.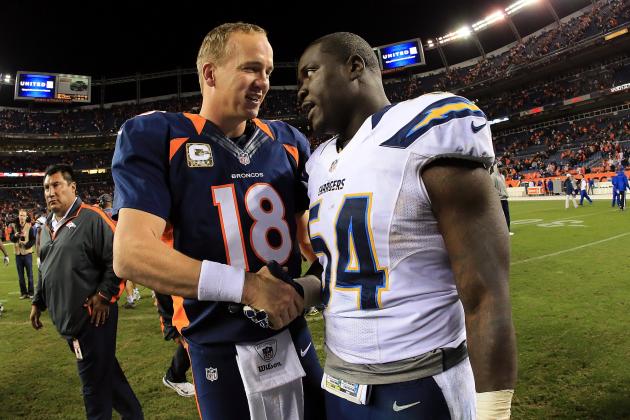 Doug Pensinger/Getty Images

San Diego has already lost Antwan Barnes to the Jets, who seem to take every Chargers free agent nowadays, and it looks like Shaun Phillips will not be re-signed either.
There is a youth movement happening in San Diego, but linebacker Jarret Johnson is not a casualty. Johnson has been kept and will start as linebacker for the Chargers in 2013.
The other side is where it gets tricky.
Phillips has been the starting outside linebacker since 2006 and Barnes led the team in sacks last season. It looks as if the Chargers will turn to Melvin Ingram, who didn't wow many in his rookie season.
This position should be addressed in the NFL draft.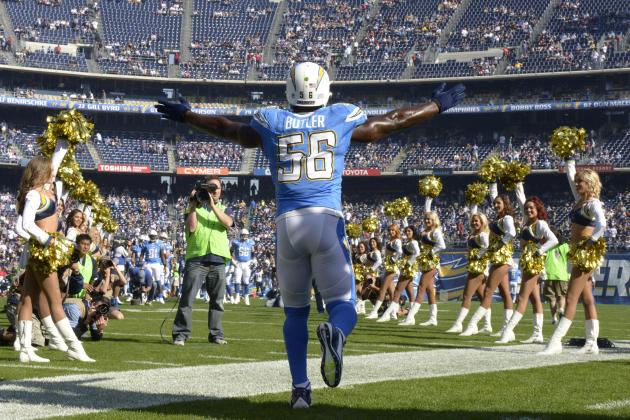 Donald Miralle/Getty Images

One player that was released based on the youth movement was Takeo Spikes. Spikes performed very well for the Chargers in his two years, but they needed room for the future.
The future is Donald Butler, and the guy can play. He finished with 77 tackles, three sacks, two forced fumbles and an interception for a touchdown in 2012. Butler has established himself as an elite linebacker, but he'll still need a good player to play alongside with.
Jonas Mouton is next in line. John Pagano will give Mouton a shot to shock everyone like Butler did and improve as a player.
This position should be addressed in the NFL draft.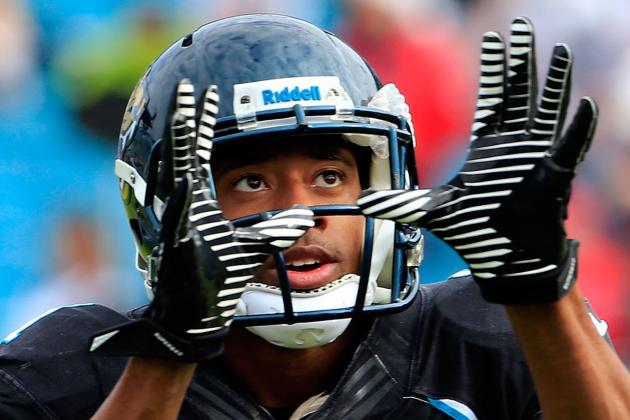 Sam Greenwood/Getty Images

The Chargers lost Antoine Cason, who signed with Arizona Cardinals, but replaced him with Derek Cox. Cox is a much better player than Cason, but has problems staying healthy. He should be San Diego's best defensive back in 2013.
Quentin Jammer has been quiet so far this offseason. He hasn't met with any teams, including the Chargers themselves. He may retire if no teams offer him. I don't see him ending up back in San Diego.
Two players have the opportunity to take over the other cornerback position: Marcus Gilchrist and Shareece Wright. Wright had an outstanding preseason last year before getting injured. Look for him to prove to coaches he's ready to start.
This position should be addressed in the NFL draft.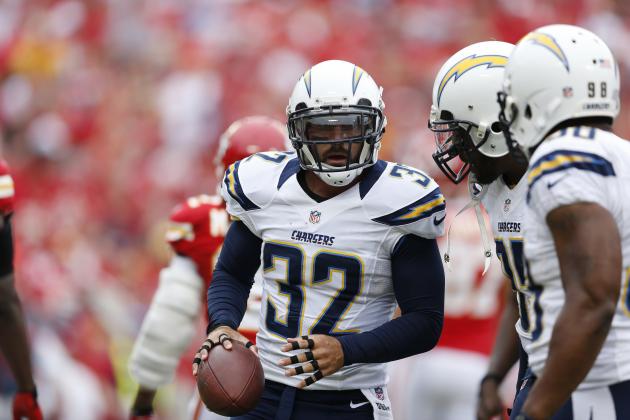 Joe Robbins/Getty Images

Steve Gregory? No. Bob Sanders? No. Steve Gregory, again? No. Atari Bigby? No.
Eric Weddle has played with so many other safeties, San Diego hasn't found its chemistry in the secondary. Coach Pagano loves Brandon Taylor, but will he be ready for the start of the season after his ACL injury?
If Taylor is ready, McCoy and Pagano should give him the opportunity. Nonetheless, another safety should be signed or drafted.
This position should be addressed in the NFL draft.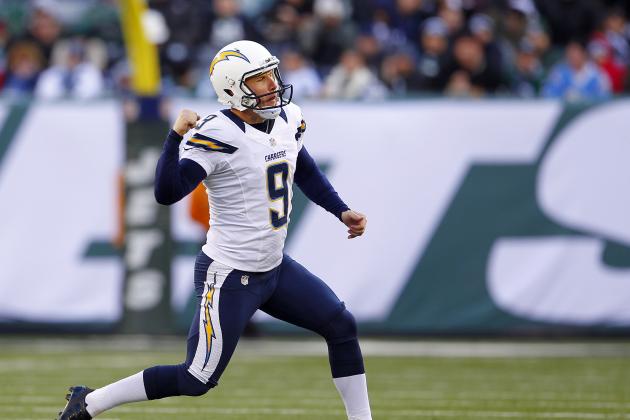 Rich Schultz/Getty Images

The Chargers have completely moved on from Nate Kaeding, with Nick Novak their franchise kicker now. He's been quite consistent the last two years, but can only get better, and he will.
Mike Scifres is a top five punter in the NFL. Arguably, he's one of the top three along with Shane Lechler and Andy Lee. Special teams coaches love Scifres, and so do Chargers fans.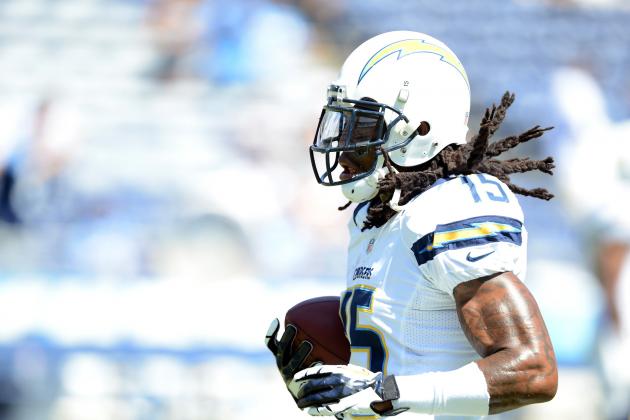 Harry How/Getty Images

Richard Goodman was retained for one reason, and one reason only: He has incredible speed. He will only be used as a kick returner. If he is ever used as a wide receiver, the Chargers are in a lot of trouble and have to. He hasn't had many breakaway returns, but he's very close on almost every run.
Eddie Royal will start at the punt return spot based on his history. He's reunited with former offensive coordinator Mike McCoy, but he should shine once again on special teams. Don't be surprised if Danny Woodhead gets in on the returns as well.