4 Reasons Fans Love Mark Hunt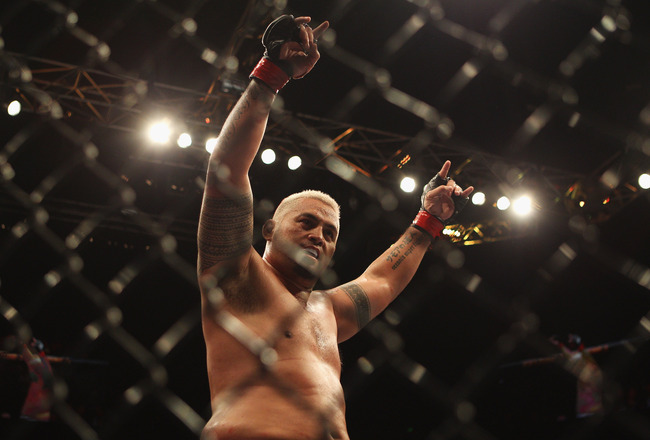 Mark Kolbe/Getty Images
If there is a fighter that has a cult following like Mark Hunt currently does, that is an impressive feat. The hard-hitting "Super Samoan" has garnered all sorts of love from fans, especially since his inclusion in the UFC.
Hunt is currently on the road to a UFC title shot, should he get by Junior dos Santos in his next outing. It is almost impossible to think that this once-forgotten man has gone from obscurity to the spotlight in the blink of an eye.
Here are four reasons fans love Mark Hunt and the work he does in the Octagon.
Veteran of Pride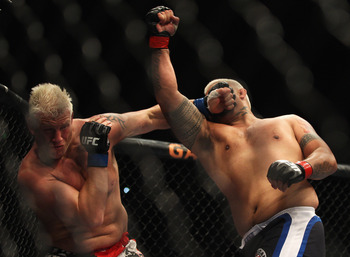 Mark Kolbe/Getty Images
Pride is close to most MMA fans' hearts. It was an organization that ran during a time when MMA was exploding. The organization brought great fights and was home to some of the best fighters in the world.
Mark Hunt was one of the fighters who used Pride as a platform to make himself known. Fans knew he had professional kickboxing experience, but stepping in the ring with Mirko Cro Cop and Wanderlei Silva gave audiences a firsthand look into the fighting style of Hunt.
Many old-school fans keep Hunt close to their hearts for this reason. He is a part of the old guard.
Cinderella Story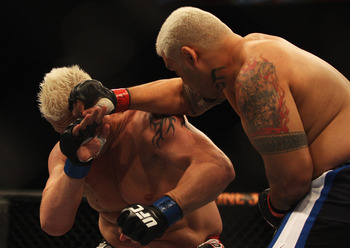 Mark Kolbe/Getty Images
I seriously hope they make a movie about the life of Mark Hunt. His current story is a feel-good tale that could probably sell some tickets.
When the UFC bought Pride, the UFC offered Hunt money to buy him out of his contract. Hunt wanted to keep fighting, though. He declined the offer.
He ended up losing his UFC debut to Sean McCorkle, but since then has gone on a serious tear in the Octagon. He has been knocking out dudes left and right, including top heavyweights Cheick Kongo and Stefan Struve.
This amazing comeback has led him to a top contender's fight against fellow slugger and former heavyweight kingpin Junior dos Santos. A win for Hunt would send him from nearly cut to a championship bout.
Common Man Look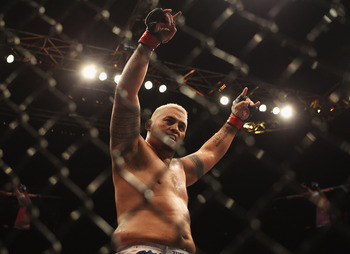 Mark Kolbe/Getty Images
In pro wrestling, "The American Dream" Dusty Rhodes was "the common man." He was the son of a plumber and looked like a water bed with limbs.
Mark Hunt has a somewhat similar shape to him as Rhodes did in his prime.
Hunt looks like that random dude at the bar that pounds brews like it's nothing. He looks like the guy that comes to your house when your cable is out to fix the problem.
What I am getting at is that Hunt does not look like an athlete.
He is chubby and looks like he lacks an ounce of athleticism. Of course, he makes up for that with the ungodly power he produces with every strike he throws.
Hunt is the reason you now must fear the common man.
Violent Knockout Artist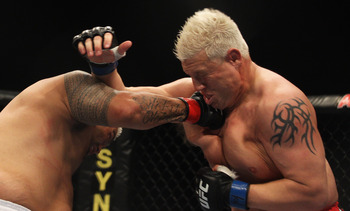 Mark Kolbe/Getty Images
It's best not to blink during a Mark Hunt fight. "The Super Samoan" may be sending someone into eternal slumber with his fist at any given time.
Hunt generates uncanny power with his fists. If he touches an opponent's chin, you can all but guarantee they will be knocked unconscious. His knockouts of Cheick Kongo and Stefan Struve proved how lethal he can be.
Plus, he has been known to nail a man with a punch and walk off knowing he has finished the bout. This was seen in his thrashings of Struve and Chris Tuchscherer.
Fans love finishes and this guy gives fans what they love.
Keep Reading