Showcasing Atlanta Falcons' Biggest Strengths and Draft Needs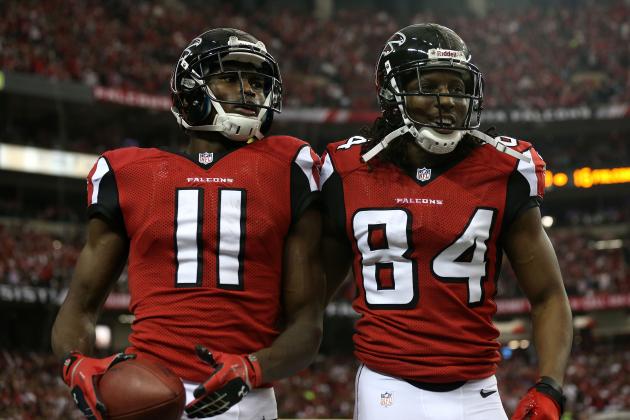 Streeter Lecka/Getty Images

The Atlanta Falcons earned a playoff berth for the fourth time in five years last season. Playoff success continues to elude them, however, as they were eliminated by the San Francisco 49ers in the conference championship game.
Atlanta is 56-24 over that five-year span, so there's clearly a strong foundation in place. It just comes down to identifying the remaining holes on the roster and peaking right before the playoffs.
As the Baltimore Ravens showed, momentum is a major factor.
The good news for the Falcons is they feature plenty of star power on offense. From Matt Ryan to Julio Jones, Roddy White and offseason acquisition of Steven Jackson, they should be able to keep pace with any offense in the league.
There are some areas of the defense that need some upgrades, though.
Let's take a closer look at those positions, any other needs the team must address before next season and where the Falcons should feel completely confident as the draft approaches.
Begin Slideshow

»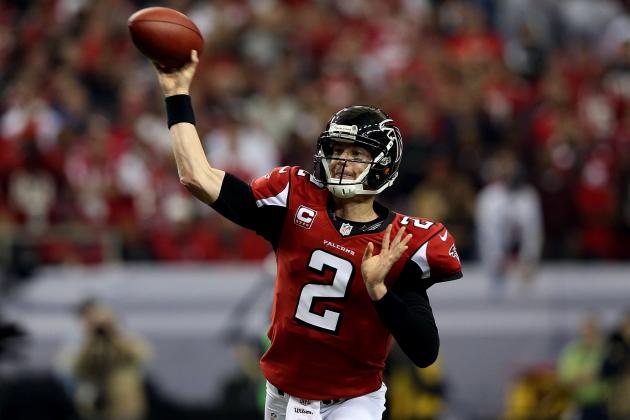 Streeter Lecka/Getty Images

Matt Ryan is a franchise quarterback.
His lack of success in the playoffs so far doesn't change that. Peyton Manning went through similar struggles in the postseason, but eventually got his championship and is one of the best QBs ever.
Ryan threw for over 4,700 yards last season to go along with 32 touchdown passes and a quarterback rating just a shade under 100. All of those numbers represented career highs and there's still room for growth as he enters his sixth season.
The Boston College product has only missed two games in his career, so the Falcons shouldn't be overly concerned about the backup spot.
Dominique Davis currently fills the slot, which would be fine, but the team could opt to add a veteran option later in the offseason to play it safe.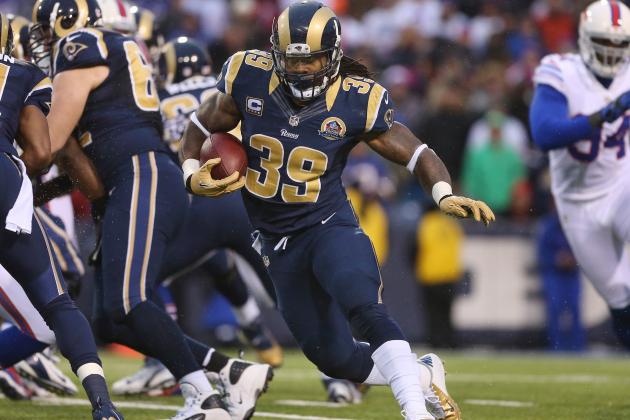 Tom Szczerbowski/Getty Images

After a lackluster season from Michael Turner, who clearly no longer lives up to the "burner" moniker, the Falcons decided to make a splash in free agency to replace him. They signed longtime St. Louis Rams back Steven Jackson to a three-year deal.
Jackson will turn 30 before the start of next season, normally a turning-point age for rushers.
He's shown no signs of slowing down, though. He's racked up at least 1,000 yards on the ground in eight straight seasons and remains a threat in the passing game.
The Falcons should also be able to keep him fresh by working in Jacquizz Rodgers. The change-of-pace back finally started to look comfortable near the end of last season. That should give Atlanta enough depth to avoid adding any more backfield options.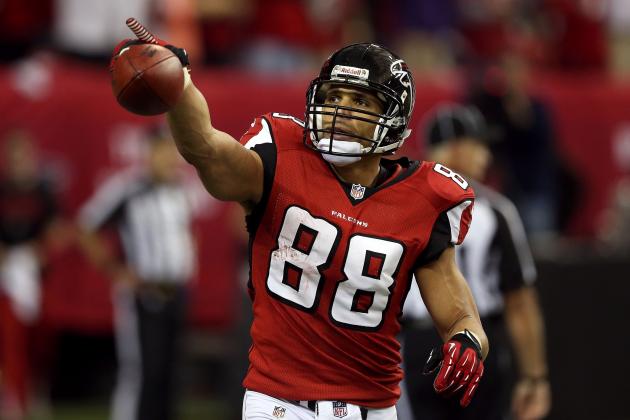 Streeter Lecka/Getty Images

The Falcons received some terrific news when Tony Gonzalez decided he wasn't ready to enter retirement. The team quickly re-signed him to a new two-year deal and filled what was starting to look like a massive void.
Bringing Gonzalez back in the fold alongside Julio Jones and Roddy White gives Atlanta one of the most dangerous receiving groups in the league.
Don't be surprised if Harry Douglas takes another step forward in his development as the slot receiver, as well.
There's no reason for the Falcons to spend any resources on another pass-catcher. Instead of having to use an early-round pick on a tight end, they can now use that selection to find another potential impact player for the defense.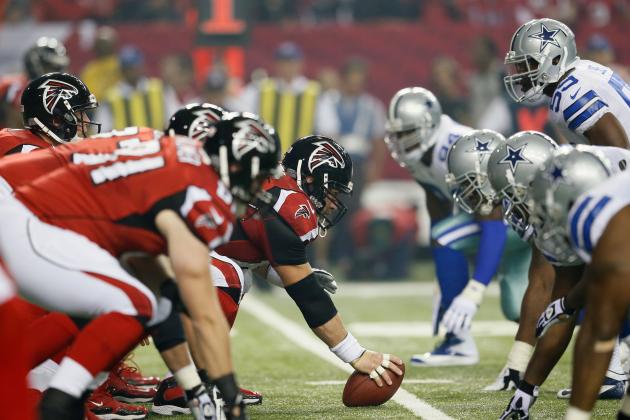 Kevin C. Cox/Getty Images

Another area where the Falcons used a re-signing to avoid a major void.
They locked up left tackle Sam Baker with a six-year contract. He's coming off a strong season and ensures Atlanta doesn't have to worry about the most important position on the line.
Overall, the team's line graded out pretty average last season. The Falcons ranked outside the top 20 in run blocking, but inside the top 10 in pass protection, according to Football Outsiders. It's a trade-off they are willing to make given their playmaking personnel.
If anything, the Falcons can use a pick in the later rounds to add some depth up front. Picking up another guard, perhaps Omoregie Uzzi from Georgia Tech or Eric Herman from Ohio, would give them another option when training camp rolls around.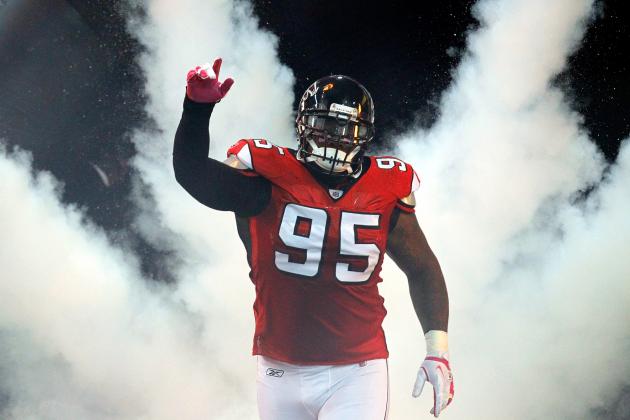 Kevin C. Cox/Getty Images

Now we get into areas where the Falcons should be focusing most of their attention. Fixing the defensive line should be the top priority.
John Abraham, the only player to record more than four sacks for Atlanta last season, is gone and hasn't been replaced.
Winning in today's NFL without a reliable pass rush is incredibly difficult. In all likelihood, the Falcons will have to use both the remaining players in free agency—veterans Osi Umenyiora and Dwight Freeney are still available—or the draft to fix the front four.
In the draft, the Falcons own the 30th pick in the first round. Some defensive end options that could be available there include Alex Okafor, a very intriguing prospect, or Sam Montgomery.
They could also use some tackle depth, but it's not a serious concern.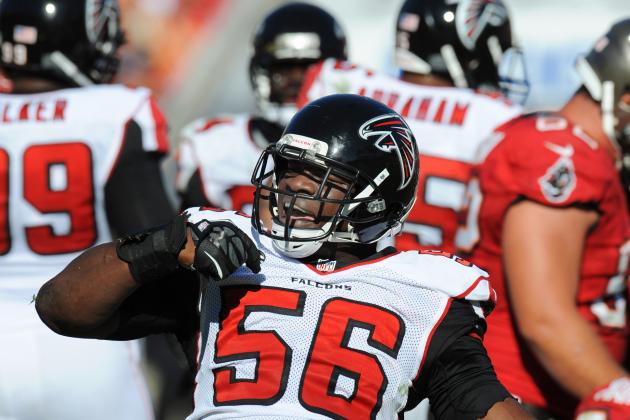 Al Messerschmidt/Getty Images

Sean Weatherspoon and Stephen Nicholas give the Falcons two solid linebackers.
The third spot is a question mark. With Mike Peterson hitting the market, the team's need will be determined by how confident the coaching staff is in Akeem Dent's ability to become an every-down player.
Dent has been more of a situational player early in his career. Should the team decide he's not ready to start, the Falcons will need to find a linebacker to play in the middle. Jon Bostic and Kiko Alonso are two names to keep in mind if they wait until the draft to address it.
Should the team decide Dent can handle an increased role, the only linebacker needs will be for depth purposes. Those type of players can be found in the later rounds.
Possibilities include Steve Beauharnais on the inside and Etienne Sabino on the outside.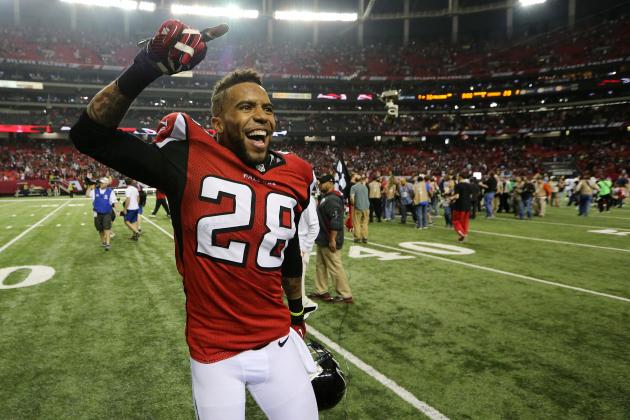 Streeter Lecka/Getty Images

The Falcons have a strong base secondary. Thomas DeCoud, who's quickly becoming one of the most exciting safeties to watch, and William Moore form a terrific duo on the back end.
Asante Samuel and Robert McClain are solid starting corners.
As it stands now, however, they would have some issues when teams spread them out. They just don't have a lot of reliable depth in the defensive backfield. It's not a surprise given the fact both Dunta Robinson and Brent Grimes are gone.
Since the corner depth on the open market has been depleted, a few mid-round picks on corners seems likely.
Blidi Wreh-Wilson, Nickell Robey (sounds like a good name for a nickel corner) and Sanders Commings are a trio of prospects to watch.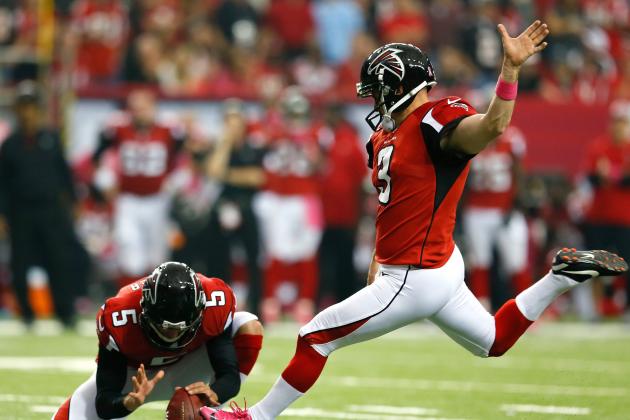 Kevin C. Cox/Getty Images

Matt Bryant connected on 86 percent of his field-goal attempts last season, including all four from 50 yards and beyond. It actually marks his lowest percentage in four years, illustrating his efficiency. He's under contract for a couple of more years and will remain the kicker.
Matt Bosher ranked 11th in the league in net punting at 42 yards per boot.
More impressively, more than a third of his punts forced opponents to start inside their own 20. Like Bryant, he's under contract for a few more seasons and should remain the team's punter.
Finally, the Falcons should also be set in the return game. Jacquizz Rodgers averaged nearly 26 yards per kick return last season while Dominique Franks handled punts. Both players can fill the roles again next season unless a draftee selected to fill another need also excels at returns.