10 Great Manchester United No. 10s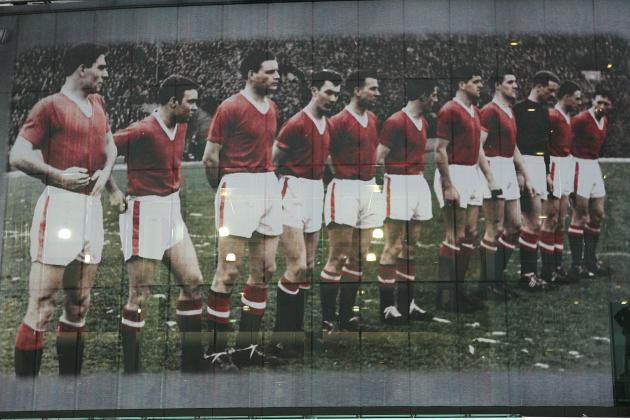 Christopher Furlong/Getty Images
Busby Babes Memorial Photo
One of the greatest No. 10s ever to wear the Manchester United shirt was Dennis Viollet, one of Sir Matt Busby's "Babes". There are very few players who have worn the shirt since the War. In this article we mention them all.
Anyone who was at, or even watched, the second leg against Real Madrid will have seen the unveiling of the Busby Babes memorial flag shown in the picture above.
While most people remember, or have heard of, Sir Bobby Charlton and Duncan Edwards, Dennis Viollet was up there as one of United's best ever goalscorers.
He was one of the first "Busby Babes" and had come through what we would now call the Academy and made his debut in 1953.
Like Charlton, he survived the Munich Air Crash and was also pivotal in holding the side together afterwards. He scored a record 32 goals in 36 games in the 1959/60 season; and went on to notch a total of 159 in 293 games before being sold to Stoke City.
Someone for whom there is even less information is Stan Pearson. He was an "inside-forward", one of two players who played a little behind the "centre-forward" and inside the wingers. They linked play from back to front, so to score many goals here was more impressive than a striker.
Stan managed 148 goals in 343 appearances, putting him in 12th place in the all-time list, only two behind Ruud van Nistelrooy.
In the days before substitutions and modern tactical systems, beginning with 4-4-2, there were 11 players, numbered by their position on the field. So No. 10 was given to whoever played "inside-left."
Because of this some of our ten selected players may surprise you. They are presented in a hierarchy where those who wore the shirt regularly rank above those for whom it was not their "famous" number.
So before you read on, see how many of these No. 10s you can name?
Begin Slideshow

»
On 24 April 1982, and before his 17th birthday, Norman Whiteside became the youngest player to debut for Manchester United since Duncan Edwards.
In some ways he was similar to Duncan. He was hugely gifted and could play equally well anywhere from "wing-back" to centre-forward.
MUTV are currently running a tribute programme to Norman. He suffered serious injury problems from the age of 15, even before he had broken into the United team. In those days a cartilage operation on the knee meant at least six months out, whereas now it is a routine "day-case" with keyhole surgery.
His injuries eventually brought an early retirement at just 26. English football fans will always remember him for his FA Cup-winning goal in 1985, by which time he was in midfield and wearing No. 4.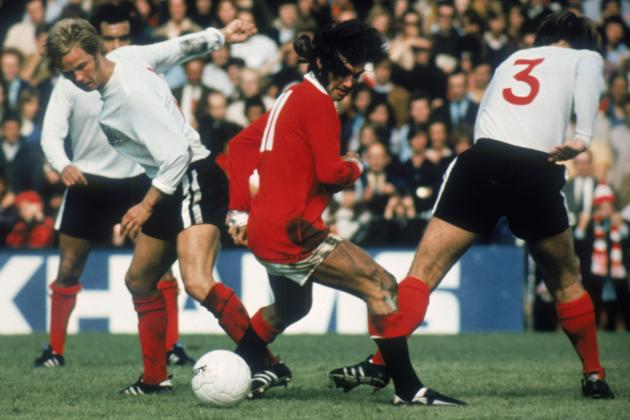 Getty Images/Getty Images
George Best
George Best is usually associated with the iconic No. 7 shirt, but in fact he wore several: Nos. 7, 8, 10, 11.
As mentioned before, this was due to the practice of the day in numbering players according to the position they played on the day.
It is a testament to his versatility that he could play in all those positions.
He was wearing No. 10 in 1972 during the time before he finally left Old Trafford at only 27 because the Manchester United Board and Sir Matt Busby could no longer tolerate his "lifestyle" problems.
The number we most closely associate with Sir Bobby Charlton is No. 9.
This is interesting because in the era of Best, Charlton and Law, Denis was surely the "out-and-out striker" and "goal-poacher", i.e. the No. 9?
For much of his career Charlton played in the "inside forward" position which carried No.8 or No. 10. It is impossible to find any footage of this because his most famous moments came either in Europe or for England.
Certainly early in his career he will have worn No. 10, making him one of only a dozen celebrated United players to carry that number in the last 60 years or so, right up to Wayne Rooney.
If you watch the video of his goals above you will see at least three instances of Best wearing No. 10.
Now here is another conundrum.
Which number do you most associate with David Beckham?
But which goal do you most remember from one of United's best wingers ever? Watch carefully and you will see that when he first came into the United side he wore No. 10.
He actually played as a right-sided midfielder when he broke into the United first team, which is where he was playing in that match against Wimbledon.
He had inherited the No. 10 shirt from Mark Hughes when he left.
Beckham soon moved onto the right wing, but who do you think took over the shirt when David was given his iconic No. 7 shirt?
Like Robin van Persie, Michael Carrick, Rio Ferdinand, Henrik Larsson, Dimitar Berbatov and Ryan Giggs, Teddy Sheringham is one of the most intelligent players who ever wore the red of Manchester United.
He didn't have great pace but, like Denis Bergkamp for Arsenal, he had great vision, an eye for the killer pass and the opportunist goal. For example the one against Bayern Munich that turned the Champions League Final United's way.
As with Van Persie, he was signed by Sir Alex late in his career at the age of 31 serving for four years and leaving at 35. His career, however, continued beyond where Giggs is now until he finally retired at 42.
Some think he should have got more games for United and England because of the intelligence and vision he brought along with his goals:
355 in 898 first class club games;
11 in 51 for England.
Yet another example of a player who wore more than one number, but Lou Macari was probably best known for the No. 10 shirt.
He became an instant hero for United fans when he turned down Liverpool to join the Red Devils from Celtic in 1973. He scored the goal which saved a point against West Ham in his first match.
Somewhat surprisingly he does not have a stellar goal-scoring record.
He had scored 57 in 105 matches in his last four seasons for Celtic but managed only 97 in 404 for United and five in 24 for his country.
He was an exuberant player with an "all-action" style, buzzing around the pitch; and a fans' favourite.
Fellow Scot Tommy Docherty had signed Macari and he stayed for 12 seasons before leaving Swindon at the age of 35.
After a managerial career he is now a resident pundit and commentator for MUTV.
Now we come to the legendary No. 10s.
Somewhat surprisingly "Sparky" Mark Hughes is the least prolific of the four. Maybe that was because he was playing for Manchester United during a much less successful era?
In total he had two spells at United, being first signed from school at the age of 14. He did not make his debut until he was 19 but was able to soon break up the striking partnership of Whiteside and Frank Stapleton. He also took over the No.10 shirt.
In all he scored 163 goals in 467 matches in his two periods at Old Trafford. He was good enough in between times to play for Barcelona and Real Madrid before returning.
While he could score some spectacular goals he was also an unselfish and intelligent creator. In many ways he played in a similar style to Wayne Rooney, being prepared to come deep as well as finishing in style.
It is a testament to his achievements and popularity that he remains a legend despite having managed Manchester City.
While he wore the No. 10 shirt, Ruud van Nistelrooy was the complete striker.
He was also as prolific as any United have ever had, scoring 150 goals in just 210 matches.
He could be a "poacher" in the six yard box or score after a mazy run, beating several defenders. He was very strong and combative, almost impossible to shove off the ball.
Interestingly almost all his goals were scored inside the penalty box.
He was not shy of confrontation as the famous "Pizzagate" Arsenal match testified.
Sir Alex actually signed Van Nistelrooy twice: once in 2000 (which was aborted due to fitness doubts and then a ruptured cruciate ligament).
The United manager kept in touch throughout the Dutchman's injury and recovery period and eventually signed him in April 2001.
The wait was worthwhile. He scored 36 in 49 matches in his first season; broke the record by scoring in eight consecutive matches; and was the Champions League top scorer that season with 10 goals.
Not surprisingly he won PFA Player of the Year.
He stayed for five seasons and it is somewhat surprising that he only won four major trophies including just one Premier League title.
He is yet another player that Sir Alex may have sold too soon, but there was friction between him and Cristiano Ronaldo and Real Madrid's €24 million offer may have been too good to refuse.
Once again Wayne Rooney is in the spotlight but this time not of his own making.
Ever since he was benched for the second leg against Real Madrid, media speculation has been rife about his imminent departure.
If there were any substance to this at all it could only be because of continuing doubts about his fitness. He doesn't want to leave and nor does Sir Alex want him to. We have summarised the position in a previous article.
Having made his peace after his expressed desire to leave in October 2010 Rooney has re-committed himself to United's purpose.
He has become utterly unselfish in the team's cause and his willingness to play wherever and do whatever Sir Alex asks epitomises the key difference from the failing Manchester City.
Rooney wears the No. 10 but he has been both an "out-and-out" striker, played "in the hole", on the wing and generally wherever needed. Indeed his main failing may be that he is sometimes too deep.
It is all too easy to forget that he is now in his 11th season for his country and his ninth for United. During that latter period he has scored 197 goals in 396 matches.
If he remains at United for the rest of career he may yet drop back into an attacking central midfield role.
Yes, he has fitness issues which both he and his manager have acknowledged, due to his body shape and metabolism. He will probably have to fight those for the whole of his life.
That does not mean that he cannot play until he is 35 or later. He has become much more settled and mature, seemingly since he became a father.
He may yet captain United and go on to eclipse our first choice No. 10.
Denis Law could have played in any era of footballing history. He was a born finisher.
He grew up in Scotland where heading or kicking a ball must have felt like trying to shift a cannonball on the grimmest days.
He scored an extraordinary 332 goals in 652 matches in his first class career for club and country. Of those, his 237 goals in 404 matches for Manchester United is second only to Sir Bobby Charlton's 249. But the latter played 758 times in 17 seasons to Law's 11.
Law was a legend in Scotland as well as at Old Trafford. He remains the only Scottish player to win European Footballer of the Year. His career was capped by being selected for a World XI to play England in 1963.
There is no knowing what records he would have set or what more he would have achieved in his career if he hadn't had "dodgy knees".
This was an era where players played through injuries, often having pain-killing injections. Sadly he missed the European Cup victory in 1968 as a result.
Once again it is a testament to the affection in which he is held by the Old Trafford faithful that he remains one of the greatest ever legends. This despite not only joining City, but also scoring the goal that sent United down to the old Second Division.
A nice man, modest and self-effacing and one of United's Official Ambassadors.