Free-Agent Contracts NFL Teams Should Already Regret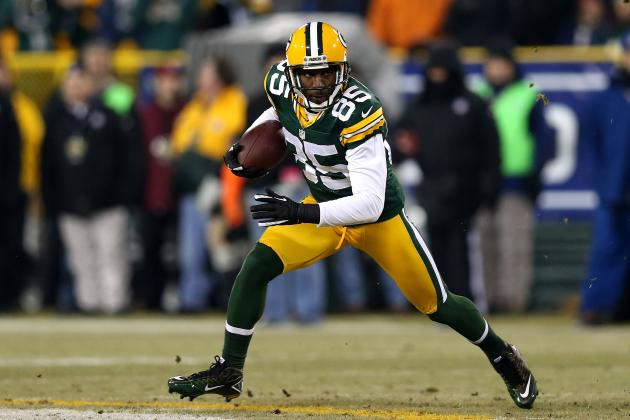 Jonathan Daniel/Getty Images

There has been no shortage of storylines, drama and spending during the first week of free agency. A direct result of this abundance in spending are some contracts that teams should already regret offering.
As fun as it might be to declare "winners" and "losers" of free agency, those titles should be handed out two or three years down the road. For example, in 2011 the Eagles were deemed the champions of free agency when they signed Nnamdi Asomugha and other "Dream Team" cast members. Yet, just two years later the acquisitions have been deemed disastrous.
Last year, when the Denver Broncos signed Peyton Manning and exiled Tim Tebow to the New York City Circus no one was certain whether the risk would pay off. We also had no idea the impact Jacoby Jones would have for the Baltimore Ravens at the time of his unpublicized signing. Projecting how a newly acquired player fits with his team isn't a perfect science.
However, what can be evaluated with a degree of accuracy is whether or not a team signs a player to an appropriate contract. This can be done by observing the market for each position and the needs and resources of each team.
It's why, despite giving Mike Wallace a gargantuan five-year, $60 million ($27 million guaranteed) contract, I can't criticize Miami. They needed an offensive weapon to protect their investment in Ryan Tannehill and Wallace was the cream of the crop for that specific need.
He's proven, and is just now entering his prime—unlike the second-best available receiver Greg Jennings—and the signing of Wallace is an apologetic gesture to Dolphins fans who are still salty that the team traded Brandon Marshall a season ago. Even if Wallace doesn't live up to his $60 million expectations, at the time of the acquisition the Dolphins had to the make the move.
Similarly, I can't criticize New England's acquisition of Danny Amendola based on their need to get younger and the market for slot receivers. Amendola, when healthy, is a better player than Wes Welker was prior to arriving in Foxborough and the Patriots organization has proven their front office pedigree enough to justify the swap.
They also adhered to the market, as New England structured the contract to where they can escape if Amendola's durability continues. If Amendola flourishes and posts Welker-esque production, the Patriots will be underpaying him. Outside of restricted free-agent Victor Cruz, whose acquisition would cost the Patriots their first-round pick, Amendola is the best non-Welker slot receiver available.
In Chicago, the Bears unloaded a sizeable five-year $35 million ($17 million guaranteed) contract to Pro Bowl tackle Jermon Bushrod, yet considering the market and the train wreck that has been Bears offensive line during the Jay Cutler era, it's impossible to be critical of the move. Likewise, Gosder Cherilus (Indianapolis), Dashon Goldson (Tampa Bay), Sam Baker (Atlanta), Jake Long (St. Louis) and Desmond Bryant (Cleveland) all qualify as expensive contracts that are validated based on team need and market value.
On the flip side, a handful of the contracts signed during the first week of free agency avoided logic such as aforementioned acquisitions and instead flirt with lunacy. Some of these regrettable contracts were made out of desperation; some in panic; and others simply were the results of a team's misappropriation of a player's market value.
It is these contracts that teams should regret now, regardless of how they cultivate in the future.
Begin Slideshow

»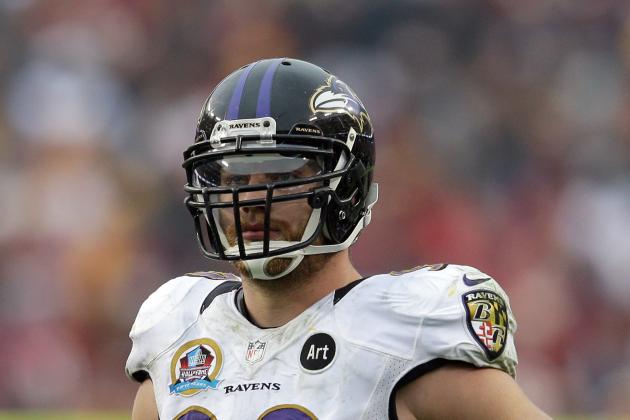 Rob Carr/Getty Images

Contract: Five Years, $40 million ($20 million Guaranteed)
The Cleveland Browns allowed desperation to cloud their evaluation of Paul Kruger.
Cleveland needed a pass-rusher to plug into their new 3-4 defensive scheme. Kruger fits that need as he is coming off a season where he posted career-high sack numbers with nine in the regular season and 4.5 in the postseason.
However, what is often lost in the praise for Kruger is his deficiency in the running game. Kruger is a force in passing situations when he can attack the quarterback without concern of a run, but struggles significantly as a third-down player. Baltimore was all too aware of this, as evident by Kruger playing only 22 downs in the Super Bowl. Of course Kruger is young enough where he can improve this problem area, but $40 million is a lot of money to pay an incomplete linebacker.
Also, the market showed us that Cleveland could have brought in a guy like Cliff Avril for a significantly lower price. Avril, who is every bit the physical pass-rusher that Kruger is, signed with Seattle for a mere two years, $15 million.
Connor Barwin, who signed with the Eagles for five years and $36 million, is similar to Kruger as they're both great pass-rushers who have experienced inconsistency in their careers. However, the Eagles only guaranteed $8 million to Barwin, which minimizes the risk significantly and makes the Browns' number with Kruger look even more foolish.
Even if Kruger develops into a third-down linebacker, the Browns drastically overspent on him and should, and quite possibly will, regret it.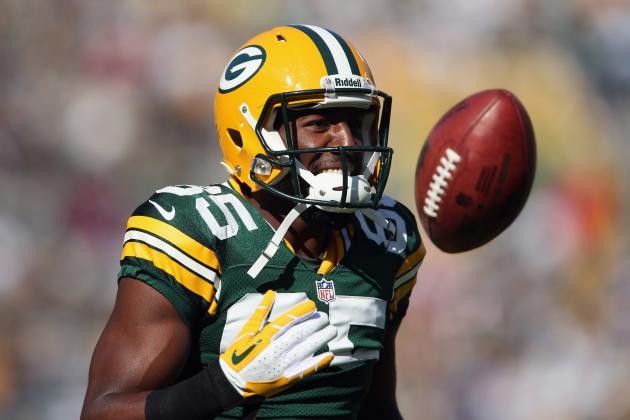 Jeff Gross/Getty Images

Contract: Five Years, $45M ($20M Guaranteed)
The Vikings have really fumbled this offseason. They traded Percy Harvin and cut their best DB Antoine Winfield with the clear intention of signing Mike Wallace, which would have been a home run for them had Wallace signed. When Wallace opted for the sunny weather and the superior quarterback of Miami, the Vikings went into panic mode and threw this whopper of a contract to Greg Jennings.
The contract itself prognosticates how the Vikings view Jennings. It is structured with heavy payouts late in the contract giving the Vikings a safety raft to release Jennings following the 2014 season. Begging the question, why sign him in the first place? With a contract structured like this a team is looking for immediate results but Jennings skill set isn't one that can turn a pedestrian passing attack into an aerial superpower. The Packers will miss Jennings, but with the ascent of Randall Cobb and James Jones the difference won't be nearly as substantive as some have argued.
Jennings, who is 29 years old, is entering the post-prime stage of his career. He has been very productive throughout his tenure in Green Bay as he is a sensational route-runner who is also reliable pass catcher. However, it is not far-fetched to assume his production in Green Bay was ballooned by the presence of exceptional quarterbacking.
The reason Wallace made sense in Minnesota was his ability to stretch the field, forcing opposing defenses to sag, which would open up the field for Adrian Peterson. Jennings doesn't possess speed that will scare defenses. He is best when running precise timing routes, which, with Christian Ponder at the helm, are not exactly part of the game plan.
I realize that Harvin was traded before Mike Wallace signed with Miami, but perhaps the greatest mishap of this debacle was Minnesota's timing. Why trade Harvin and cut Winfield first? They could have just as easily awaited news from Mike Wallace and if he signed then-traded Harvin and cut Winfield. Or, if Wallace does reject your offer, you go to Harvin and offer him an extension with similar language to the contract they offered Jennings. After all, Harvin simply wanted the Vikings to validate his ego and pay him like the young, emerging talent that he is.
Instead, the Vikings are crossing their fingers that they strike gold in the draft and that Ponder will monumentally progress this offseason.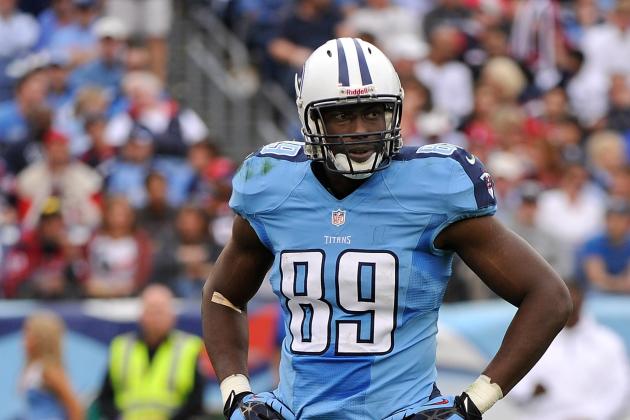 Frederick Breedon/Getty Images

Contract: Five Years, $35 million ($19 million Guaranteed)
St. Louis addressed a glaring need by signing Jared Cook. The Sam Bradford-led Rams lacked firepower offensively a season ago. With Bradford's top target Danny Amendola moving to New England, the already stagnant receiving corps in St. Louis was looking even more grim. Signing Cook improves this issue. Also, Jeff Fisher was the head coach in Tennessee when the Titans drafted Jared Cook, so a previous relationship exists between the two.
Cook, who is 26 years old, has a high ceiling as a playmaking tight end per his exceptional size and athleticism. Yet, he struggles both as a run blocker and in pass protection. Also, Cook's production—93 receptions and seven touchdowns—doesn't match the monetary commitment of the contract.
The tight end market wasn't deep this year, but does Cook's potential make him twice as good as Delanie Walker—four years and $17.5 million—and Martellus Bennett—four years and $20.4 million?
I think not.
The Rams addressed a need with Cook but they far outspent his value in relation to the market.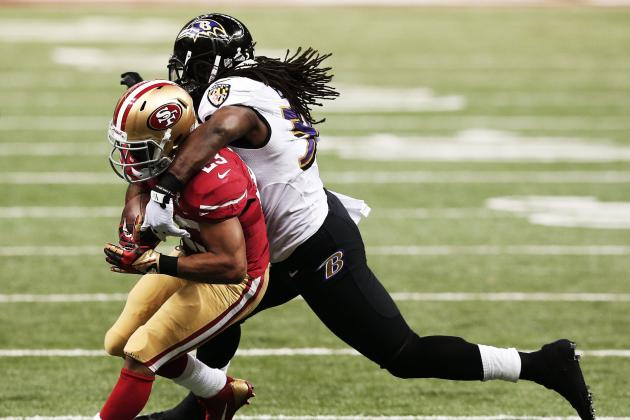 Win McNamee/Getty Images

Contract: Five Years, $35 million ($14 million Guaranteed)
Dannell Ellerbe was an integral part of the Ravens' Super Bowl season, setting career-high numbers in tackles, sacks and forced fumbles. Baltimore traded Anquan Boldin and let Paul Kruger walk with the apparent desire to re-sign Ellerbe. Yet, according to the Baltimore Sun the Ravens offer to Ellerbe wasn't even close to the amount Miami offered.
Significantly outspending the Ravens is not the only reason Miami should regret the Ellerbe contract. Before this season Ellerbe had been a rotational player; in fact, counting this season the middle linebacker has only started 14 games. $35 million is a lot of coin for a player with such limited production.
Further, the Dolphins run a 4-3 scheme and Ellerbe has been in a 3-4 throughout his career in Baltimore. It isn't as difficult as transitioning vice versa, but is still a factor.
It would hard to argue that any other middle linebacker in the free-agent class is better than Ellerbe. Yet, in order to make room for Ellerbe the Dolphins released Karlos Dansby, who was coming off a career season and was an established leader in the Miami locker room.
It will take a few years to decipher whether shuffling Ellerbe for Dansby was a good decision for the Dolphins, but considering the size of the contract the Dolphins should regret overspending on Ellerbe.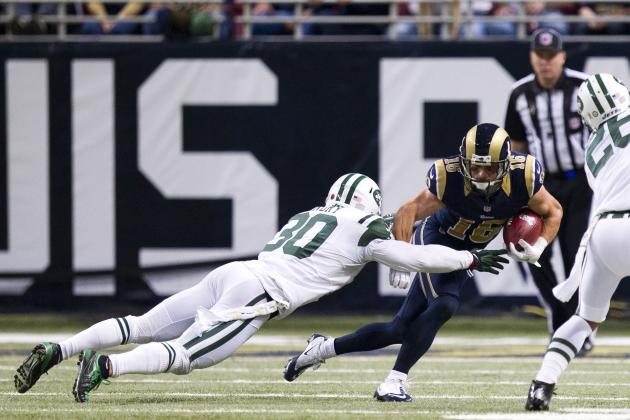 David Welker/Getty Images

Contract: Four Years, $24 million ($11 million Guaranteed)
The Colts entered free agency with a large purse and the ambition to spend it. This was a pragmatic approach considering they were a playoff team a season ago and with Andrew Luck fixed into his underpaid rookie contract. However, the Colts didn't spend wisely during the first week of free agency, never more evident than with the contract of LaRon Landry.
Landry is an athletic specimen whose combination of speed and strength rank near the peak among safeties. However, he's a major liability in coverage and his aggression in delivering big hits often results in runners getting passed him. Considering these deficiencies and the plethora of cheap veteran safeties on the market—Ed Reed, Adrian Wilson and Charles Woodson—the Colts overspent on Landry.
He addresses a need for Indianapolis, but the contract doesn't make sense. The Colts structured it where they can release Landry next season with little cap ramification. But if they're projecting him as a one-year rental why wouldn't they just sign a cheaper veteran? If you cut him next season you're still paying him the guaranteed $11 million. He is more athletic than his predecessor Tom Zbikowski, but is that athleticism worth the significantly higher contract?
Among the suspicious contracts Indianapolis wrote thus far in free agency, this one is the most regrettable.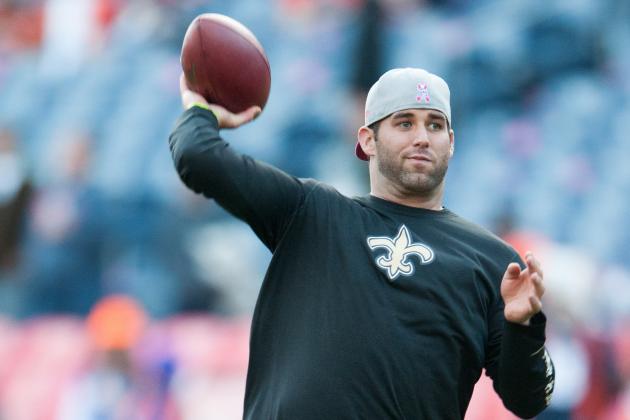 Dustin Bradford/Getty Images

Contract: Three Years, $10M ($4.8M Guaranteed)
I can understand why New Orleans liked Chase Daniel as he very similar to Drew Brees. They both are undersized, have accurate but relatively weak arms and carry tangible we-got-drafted-too-late chips on their shoulder. When you also factor in Daniel's knowledge of the Saints offense, this contract would have been excusable had New Orleans offered it to him.
But it highly illogical for the Chiefs to sign him to this contract.
Kansas City gave up a high draft pick to acquire Alex Smith, indicating they see him as their starting quarterback for the foreseeable future. Of course they needed to bring in a backup quarterback in case Smith gets injured, but to bring in Daniel, a guy who has thrown nine passes in his NFL career, seems counterproductive.
There was, and still is, a wealth of available quarterbacks with NFL experience that Kansas City could have targeted with a similar, if not cheaper, contract: Jason Campbell, Rex Grossman, Kevin Kolb, Matt Leinart and Derek Anderson just to name a few.
Not too mention, the Chiefs could have drafted a quarterback in the mid-to-late rounds and developed him as a backup for a third of the cost. Andy Reid is renowned for his work with quarterbacks, but bringing in Daniel reeks of Reid's hubris.
Daniel isn't proven enough to warrant such a contract, certainly under the circumstances in Kansas City where there is a clear starter. To this point of Daniel's NFL career, his greatest achievement was leading the Saints offseason workouts last year while Brees was negotiating an extension. That's not a good sign.