WrestleMania's Hidden Gems: The 10 Best Undercard Matches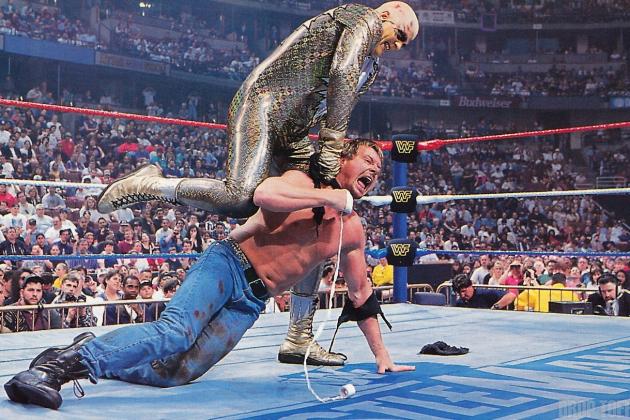 Photo: WWE.com (Roddy Piper fights Goldust at WrestleMania)
WrestleMania is usually built around a few big matches. They devote all of their extra time to hyping these feuds, and they are the matches that put people in the seats.
But that does not mean they are always the best matches on the card. Many times we have seen WrestleMania main events not live up to a match from the undercard.
You never quite know which match will end up as match of the night, and with the long list of great WrestleMania matches, there are surely enough undercard matches to make a top 10 list.
Now, what makes a match an "undercard" match?
An undercard match is anything that is not a main event or attraction match, meaning WWE and World title matches do not count. This also means some of the bigger non-title matches will not count towards the list because they are bigger than a title, so do not expect a lot of Undertaker's matches.
Matches featuring the IC, US and Tag titles all qualify as well as most matches that are not contested over a title.
Making this list was not easy. WrestleMania is filled with so many great matches that reducing it down to 10 was like choosing which things to take from your house during a fire (Wallet, poster of Richard Nixon bowling and if there's time, the kids).
Without further ado, I give you the top 10 undercard matches from WrestleMania.
Begin Slideshow

»
Goldust and Roddy PIper did not meet at WrestleMania to have a wrestling match, they met at WrestleMania to have a fight.
The first (and last) Hollywood Backlot Brawl was bloody, violent and most of all, entertaining as hell.
This match is often overlooked because it was on the same night as the legendary Ironman match between Shawn Michaels and Bret Hart, but it is one that is worth watching if you have never seen it.
Both Piper and Goldust gave it their all in this one, which even featured a car chase eerily similar to the one OJ Simpson had with the police.
Piper and Dustin Runnels are two of the most talented men to never win the WWE or WCW title, and this match helps illustrate why.
CM Punk and Randy Orton are two of the most talented Superstars in WWE, so it makes sense that they would have a great match even with no title on the line.
Orton got the better of Punk on this night, but both men came away from this encounter looking like winners in the eyes of the fans.
The match seemed like it would be a lock for CM Punk near the end, but Orton managed to hit the RKO on Punk after a failed RKO and a springboard attempt by CM Punk.
This is another match that is overlooked because of the other matches that took place that night, but anyone who watched WrestleMania 27 will remember this as a great encounter.
How can we forget the incredible match these six men had at WrestleMania 17. The Hardys, Edge and Christian and The Dudleys redefined what a ladder match was, and they took it to a whole new level.
Everyone contributed to the success of this match, which is why it is one of the most memorable matches from the night.
Even though this match is one that set the bar really high, these six men are the ones who kept raising it again and again.
We would not have the TLC PPV if it weren't for this match and that is a fact.
Bob Backlund, a man about to be given a long-overdue induction into the WWE Hall of Fame, makes the list in an I Quit match with Bret Hart.
Roddy Piper being the special guest referee was just a bonus because this match was a classic waiting to happen.
Both of these men represented their generation's best workers, and they gave it their all at WrestleMania XI.
We might remember this night for the Lawrence Taylor vs. Bam Bam Bigelow match, but Hart and Backlund's match is definitely worth a watch if you have never seen it.
Two of the greatest professional wrestlers in the history of the business faced off at WrestleMania 21 in a match with no title on the line, just pride.
Kurt Angle was not as seasoned as Michaels at this point, but he had earned a reputation as one of the most versatile workers in the company, and that made him the ideal opponent for Mr. WrestleMania.
This is a match that would be on every wrestling fan's list of WrestleMania dream matches had it not happened this night.
When Kurt Angle is eventually inducted into the Hall of Fame it is a safe bet that his video packaged will feature a few clips from this match.
Bret Hart and Steve Austin had many memorable encounters, but their match at WrestleMania 13 stands alone as the most memorable: The night Bret Hart turned heel and Steve Austin turned face at the same time.
It was a brilliantly booked angle that saw the changing of the guard. Hart had been a babyface for so long, and Austin had always been the heel.
These two mesh so well together and this is just another example of why they are two of the best wrestlers in WWE history.
If you compared Shawn Michaels and Chris Jericho side-by-side on paper, you might think you were looking at two resumes for the same person.
Both men have done literally everything they could have done in WWE, and Chris Jericho is still going strong today.
Shawn Michaels proved once again why he earned the nickname Mr. WrestleMania with this one, and Jericho's fake hug leading into a low blow certainly cemented him as a heel.
This is one of the best example of how a match does not need a title on the line to be memorable.
Shawn Michaels and Razor Ramon brought the ladder match to the forefront of WWE by putting their Intercontinental titles on the line. You read that right, I said titles, plural.
Shawn Michaels was out of action as the IC champion for over 30 days, so WWE decided to crown a new champion. Enter Razor Ramon.
The problem was that HBK still believed he was the rightful champion, and upon returning he kept using his title. Both men claimed they were the champion, so there was only one way to solve the problem.
They hung both belts above the ring and proceeded to have one of the most memorable matches in WWE history. Razor left with both titles that day, but it was Michaels who would gain the most fame from this match.
Owen and Bret Hart played the roles of successful older bother and jealous younger brother so well over the years, and their match at WrestleMania X is one of many classic encounters they had over the years.
Bret was set to face the winner of Lex Luger vs. Yokozuna for the WWE title later in the night, but before he could win his second WWF championship, he had to face his younger brother.
Owen knew that he had to prove he was better than his brother on this night, and he may have done that when he pinned him clean with a counter.
Owen did not extend his hand to his brother out of sportsmanship, but rather rubbed the win in his face, until later that evening when he watched his brother win what he felt should be his WWF championship.
This might be one of the greatest feuds in WWE history, and this match is one of the major highlights.
You knew what would be the No. 1 entry on this list the moment you read the headline, and rightfully so. This match is one of the greatest matches in WWE history, not just WrestleMania history.
Randy Savage and Ricky Steamboat put on a clinic at WrestleMania 3, and this match has since become a favorite classic of wrestling fans.
When it was all said and done, it was Ricky Steamboat who had his hand raised that night. Randy Savage lost his coveted IC title, and fans around the world cheered for The Dragon.
If you watch this entire match you will see why it has stood the test of time.
The nearly-three decades of WrestleMania history is filled with many great matches that were not main events, and there is bound to be some debate over which matches are the best.
Thanks for reading and feel free to comment and include your favorite undercard matches from WrestleMania. As a final bonus I will include a video of the Money in the bank match from WrestleMania 24.
On a final note, I hope it was clear in the first slide that I was joking. I have no kids so the Nixon poster is definitely getting saved.
Follow me on Twitter @BR_Doctor