10 NHL Draft Picks to Watch in the Hockey East Semifinals and Final (Video)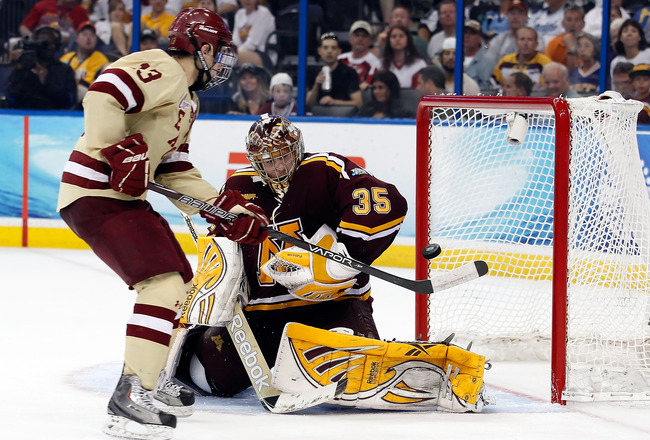 J. Meric/Getty Images
Two of the selections from the first round of the 2012 NHL entry draft will see action at TD Garden this Friday in the Hockey East semifinals. Two other participants were on the U.S. 20-and-under team that won the World Junior tournament in January.
Game 1 will pit the top-seeded UMass-Lowell against Providence College in a rematch of their regular-season finale, a game that essentially decided the final complexion of the standings. Boston College and Boston University will follow in another installment of the greatest rivalry in collegiate sports and likely the last installment with Jack Parker behind the BU Terriers bench.
In all, the four semifinalists combine for 23 players currently in an NHL team's prospects stable. The 10 draftees most likely to make ripples in the tournament, and to keep watching for beyond this weekend, are as follows.
Unless otherwise indicated, all information for this report was found via hockeyeastonline.com
Johnny Gaudreau (Calgary, Boston College)
A sophomore surge has seen Gaudreau tally five more points in 11 fewer collegiate games so far this year than he did as a freshman. His reason for missed time was spending a month with Team USA, whom he led with seven goals en route to a gold medal at the World Junior Championship.
That performance, along with goals like this one from the 2012 Frozen Four, constitutes solid evidence of Gaudreau's big-game compete level, which compensates for his size. With the right refinement and timing, he could ultimately follow Brian Gionta and Nathan Gerbe as another size-defying success story to go from The Heights to The Show.
Jon Gillies (Calgary, Providence)
The freshman Friar set a program record with four single-season shutouts in February and then tacked on another March 8. Since opening night, Gillies' save percentage has never dipped any lower than .923 and he has not missed any action outside of three games that coincided with his WJC participation.
Matt Grzelcyk (Boston, Boston University)
The local boy out of Charlestown, Mass. and prospect for the local NHL chapter is finally getting to stick around with a tournament-bound program. The freshman blueliner was cut by Team USA shortly after the World Juniors began, but has been an appreciable mainstay with the Terriers.
Connor Hellebuyck (Winnipeg, UMass-Lowell)
Within regular-season league action, Hellebucyk claimed what one might call the goaltender's Triple Crown with the best goals-against average (1.49), save percentage (.944) and winning percentage (.889). He likewise leads all netminders in each category over combined Hockey East and interleague games.
This comes after he did not play in seven straight games in the autumn and missed five more in a row in January and February. Now he is the presumptive starter for a Riverhawks team that hopes to duplicate its regular-season finish with the school's first-ever Hockey East postseason pennant.
Mark Jankowski (Calgary, Providence)
The Flames' first-round pick in the 2012 draft, Jankowski delivered the icebreaker and a game-winning assist in Sunday's do-or-die tilt with New Hampshire. That is the fourth time he has had a hand in the deciding goal over PC's last seven victories.
Sean Maguire (Pittsburgh, Boston University)
The last of three freshman netminders to be mentioned here, Maguire recently won a season-long battle for the BU starting job with fellow rookie Matt O'Connor.
After only one pair of consecutive starts through the first five months, Maguire has played virtually every minute in March. Over those six games, he and the Terriers are 5-0-1 with 10 goals against and two shutouts.
Mike Matheson (Florida, Boston College)
The HEA's other first-round choice from last June, Matheson had Panthers general manager, Dale Tallon, telling the Miami Herald at the last prospects camp: "This guy will bring speed from the back end, and that is something we needed to focus on. He was someone we really targeted."
Matheson has since proceeded to lead the Eagles' defensemen with 25 points and a plus-18 rating as a freshman. He was reassigned from the top unit to the third for the playoffs, but that did not stop him from taking nine shots on goal in a two-game sweep of Vermont.
Danny O'Regan (San Jose, Boston University)
Since being held scoreless in a home-and-home series against Lowell, O'Regan has fostered a seven-game production streak. During that time he has tallied two goals, both of them game-winners, and eight assists while the Terriers have gone 6-1-0.
Owing in part to his timely peak, O'Regan figures to finish the season with the best scoring totals among Hockey East freshman. He enters the weekend with a 14-22-36 log that also has him at the top of BU's team chart.
Patrick Wey (Washington, Boston College)
The senior is ranked No. 1 among the Capitals' defensive prospects by Hockey's Future. His scouting report on the same website concludes that "he projects as a sound, two-way defenseman who can generate offense off the rush."
Wey is the only NHL draftee among a sextet of seniors who have so far won every Beanpot and every Hockey East tournament they have played in as Eagles. His drive this weekend ought to be twofold as he tries to finish strong in college and make an impression en route to a possible amateur tryout with AHL Hershey, even if that comes in late April after the Frozen Four.
Scott Wilson (Pittsburgh, UMass-Lowell)
The sophomore has five points in his last three outings and has produced in nine of his last 11 ventures.
Last year, late in Wilson's freshman campaign, Penguins assistant GM Jason Botterill told the Pittsburgh Post-Gazette, "He's a player who can be a well-rounded player, a power-play and penalty-killing player down the road."
As it is, six of Wilson's 14 goals and 13 of his 32 points with this year's Riverhawks have come on the man advantage.
Keep Reading