5 Reasons to Believe the Red Wings Finally Have It Together After Rough Start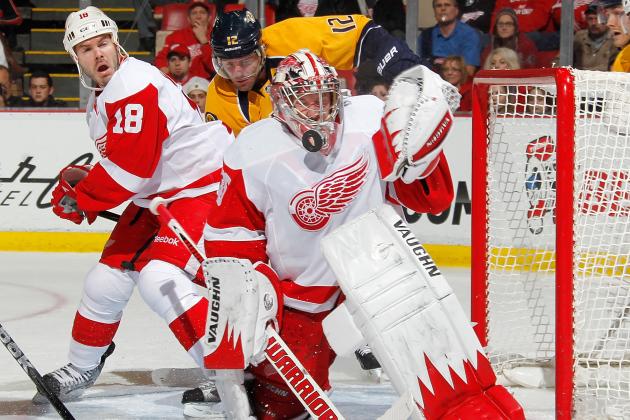 Gregory Shamus/Getty Images

For the Detroit Red Wings, this season has been far from a cake walk.
But then again, everyone who follows the NHL and the Red Wings could have predicted that the Red Wings might struggle a bit after losing future Hall of Fame defenseman Nick Lidstrom on the back end and losing net-front presence Tomas Holmstrom in the same offseason.
But after struggling mightily to find a new identity this season (while trying to fight through a slew of injuries at the same time), the Red Wings finally seem to have their act together.
Here are five reasons for Red Wings' fans to believe that Detroit finally has its act together.
Begin Slideshow

»
Someone call the cops, Jimmy Howard is a robber.
He's also a pretty decent goaltender.
Howard has a 12-7-4 record this season and has seen his GAA fall to 2.42 on the season to match a 91.7 save percentage.
Howard's past five starts have been excellent, as he has gone 4-0-1.
Over the past nine starts for Howard, he has given up just 13 goals and has a 5-2-2 record to go along with two shutouts.
When a team has a hot goalie, it is especially dangerous. Right now, Howard may let in a couple of goals a game, but he makes big saves (like the one above) to keep his team in the game.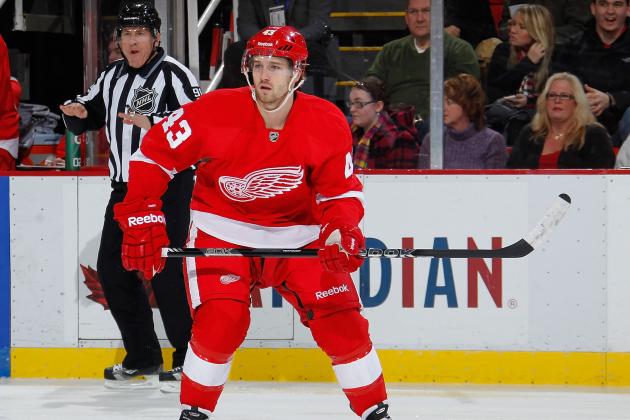 Gregory Shamus/Getty Images

When the injury bug bites a team, sometimes it leaves monster-sized bites.
Such was the case with the Red Wings earlier in the season.
Despite many Red Wings missing time due to injuries this season, there are only a few players currently out with serious injuries.
Ansar Khan of MLive.com reported that despite suffering "a minor setback," Darren Helm could be in the lineup again at some point this week. Chuck Pleiness of The Macomb Daily reported that Mikael Samuelsson said that he was "maybe a week" away from returning to action.
Other players, like Todd Bertuzzi, remain out indefinitely.
Kyle Quincey is also out, but the next slide will explain why Quincey's loss will not affect the team negatively in the short run.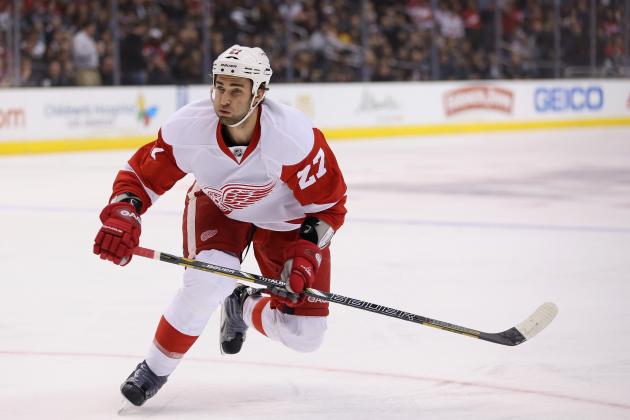 Jeff Gross/Getty Images

Kyle Quincey is the second-highest paid defenseman in the Red Wings' lineup, so it would make sense that the Red Wings are a better team when Quincey plays right?
Wrong.
I did some research on Quincey (specifically on how Detroit did without him) and came to a startling conclusion by way of the tweet at the bottom of the slide.
As the Red Wings are just 14-10-5 on the season, that means that of the games where Quincey either didn't play or didn't finish the game, the Wings are just 10-10-5.
Quincey is a liability on the ice. His play has improved since the start of the season, but not to the place where it needs to be in order to push the Red Wings into the playoffs.
Originally labelled as an "offensive defenseman" after putting up 38 points in 2008-09 with the Kings and 29 points in the following year, Quincey has just two points this season for the Red Wings.
The Red Wings are better off without Quincey, and this next month with him out with a fractured cheek bone will show that clearly.
#RedWings fans. food for thought. #Wings are 4-0 and out-score opponents 19-5 when Kyle Quincey either doesn't play or doesn't finish a game

— Isaac Smith (@isaacesmith91) March 17, 2013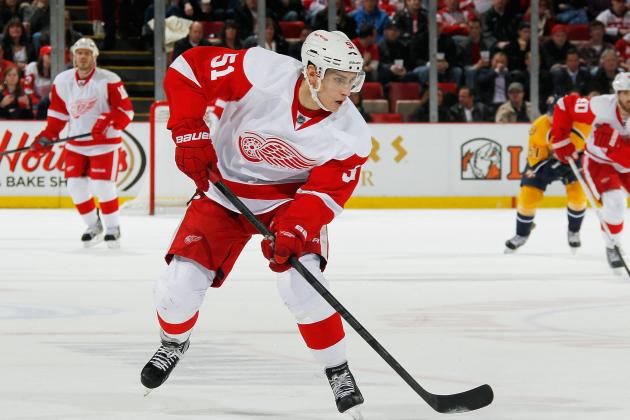 Gregory Shamus/Getty Images

Valtteri Filppula missed seven games with an injured shoulder.
The then-struggling Red Wings offense took a further dive.
Pavel Datsyuk (who had been on a line with Daniel Cleary and Justin Abdelkader) saw an 11-game goal drought develop, while Henrik Zetterberg saw his goal drought stretch to nine games.
With Filppula back, the Red Wings offense slowly started to click again.
Filppula has three points in the three games since he returned from injury. Filppula had an assist on one of Zetterberg's two goals on Saturday night against the Canucks, ending Zetterberg's goal drought.
Filppula might not end up with a point-per-game season, but even if this does not materialize, the stability that he brings to the lineup on the second line gives Detroit the scoring depth they need to challenge for a playoff spot this season.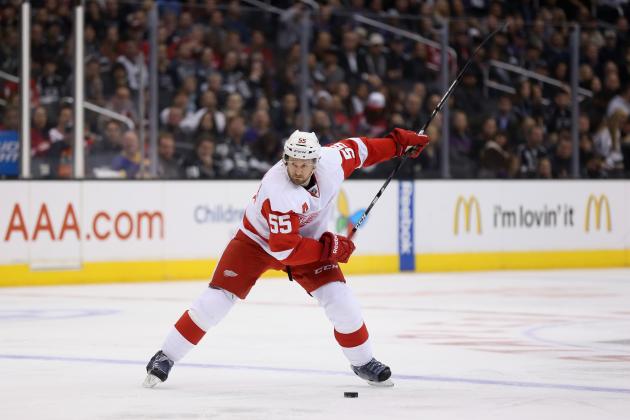 Jeff Gross/Getty Images

Admit it, Red Wings fans!
The Red Wings' power play was given up on and left for dead. It took almost two months from the start of the season to get a power-play goal on the road, but Valtteri Filppula finally ended the drought in the game last week in Calgary.
The Red Wings lost the game, but they now have road power-play goals in three straight contests!
That brings their road power-play percentage up to 6.5 percent (or 3-46).
As has been seen during the recent Western-Canada road trip, it isn't about how many power-play goals are scored, but instead the timeliness of them.
The Red Wings' second road power-play goal of the season was an own goal by Edmonton's Jeff Petry, but the Red Wings capitalized on it as it forced overtime where the Red Wings' Pavel Datsyuk ended the game on a nifty "Datsyukian" deke and shot.
On life support earlier this season, the Red Wings road power play seems back for the moment, and that has helped the Red Wings procure four of a possible six points in their Western-Canada road trip.
For more article updates, follow @isaacesmith91