MLB Spring Training 2013: Updating the Biggest Studs and Duds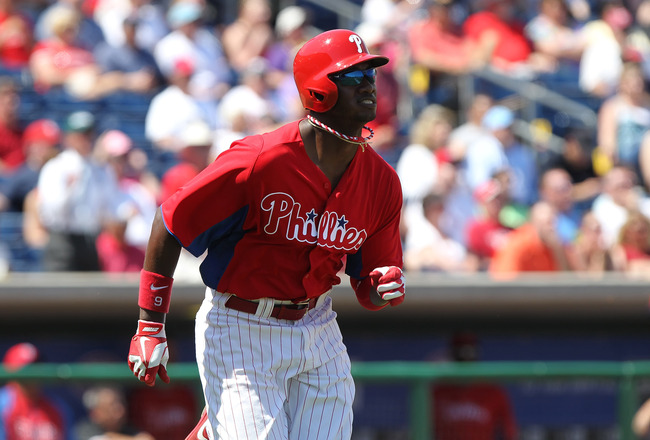 Kim Klement-USA TODAY Sports
That magical time known as Opening Day is rapidly approaching, and as spring training heads down the home stretch, a number of players have stood out from the pack.
This can mean one of two things: Either a player is putting up phenomenal numbers and looks primed for a big season, or a player has struggled to the point that his production is a genuine concern for the upcoming season.
Here is a look at the major studs and duds from spring training, including prospects, offseason acquisitions and overall performers.
Dud Prospect (Pitcher): LHP Tyler Skaggs, Arizona Diamondbacks
Christian Petersen/Getty Images
Spring Stats: 4 G, 9 IP, 11 ER, 8 BB, 5 K
The Diamondbacks pulled the trigger on moving one of the top prospects in the game in Trevor Bauer this offseason, due in large part to the fact that they also had Tyler Skaggs, arguably the top left-handed pitching prospect in the game.
Acquired from the Angels for Dan Haren back in 2010, he went 9-6 with a 2.87 ERA between Double-A and Triple-A last season as a 21-year-old.
Expected to be the front-runner for the No. 5 starter job this spring, Skaggs has struggled in all four of his outings this spring, and has consequently been sent down to Triple-A while Patrick Corbin and Randall Delgado duke it out for the final rotation spot.
Stud Prospect (Pitcher): RHP Julio Teheran, Atlanta Braves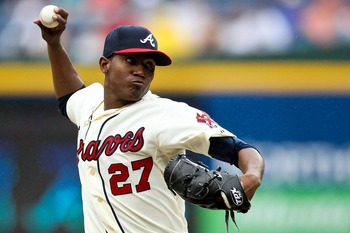 Daniel Shirey-USA TODAY Sports
Spring Stats: 5 G, 20 IP, 3 ER, 25 K, 6 BB
After going 15-3 with a 2.55 ERA in 2011, Julio Teheran entered last season as one of the top pitching prospects in the game and a front-runner to win a rotation spot.
However, he struggled in spring training and never got on track, finishing the season 7-9 with a 5.08 ERA in his second full season at Triple-A.
Looking to win a rotation spot again this spring, Teheran has been arguably the most dominant arm in the league this preseason, sporting a 1.35 ERA while fanning over a batter an inning.
Needless to say, he has made a great case for the No. 5 spot in the Atlanta rotation.
Honorable mention goes to Cardinals right-hander Michael Wacha. The 19th overall pick in last June's draft has allowed just seven hits and one walk while striking out 15 in 11.2 scoreless innings of work this spring.
Dud Prospect (Hitter): 1B/3B Mike Olt, Texas Rangers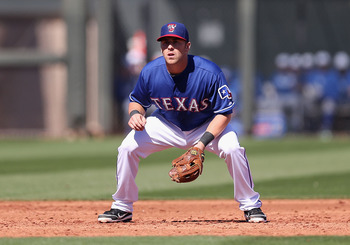 Christian Petersen/Getty Images
Spring Stats: 6-for-31, 2 HR, 5 RBI, 3 R, 12 K
After a quiet first two pro seasons, Mike Olt broke out in 2012 with a .288/.398/.579 line and 28 home runs in a full season at Double-A last year.
He earned a late-season call-up and was in line for everyday at-bats before the team signed Lance Berkman to fill the DH role.
He'll now open the season in Triple-A, where another year of seasoning should serve him well. He should be called up at some point this season, though, or potentially be used as a trade chip.
Stud Prospect (Hitter): RF Yasiel Puig, Los Angeles Dodgers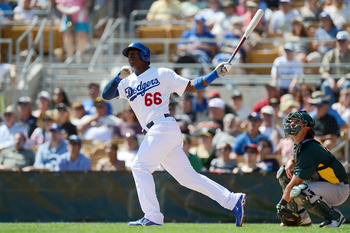 Jake Roth-USA TODAY Sports
Spring Stats: 23-for-46, 3 HR, 10 RBI, 13 R
Signed to a seven-year, $42 million deal last June after defecting from Cuba, Yasiel Puig has as much offensive upside as any prospect in the game.
While there might not be a place for Puig in a loaded Dodgers outfield, he has done everything in his power to earn a place on the 25-man roster with a phenomenal spring.
Marlins outfielder Christian Yelich (.381 BA, 5 HR, 13 RBI) and Red Sox outfielder Jackie Bradley (.439 BA, 1 HR, 5 RBI) have been fantastic as well.
Dud Offseason Acquisition (Pitcher): RHP Scott Feldman, Chicago Cubs
Jennifer Hilderbrand-USA TODAY Sports
Spring Stats: 4 G, 10.2 IP, 14 ER, 5 BB, 8 K
After watching the likes of Justin Germano, Brooks Raley, Chris Rusin and Chris Volstad struggle through their turns in the rotation last season, the Cubs set out to improve their staff this offseason.
Scott Feldman was one of several starting pitchers signed as a free agent this offseason to join Jeff Samardzija, Matt Garza and Travis Wood to form what should be an improved rotation.
After splitting time between the rotation and bullpen last season, Feldman has been nothing short of terrible this spring, carrying an inflated 11.81 ERA and 2.25 WHIP.
Nonetheless, he is locked in as the team's fourth starter.
Stud Offseason Acquisition (Pitcher): RHP Josh Johnson, Toronto Blue Jays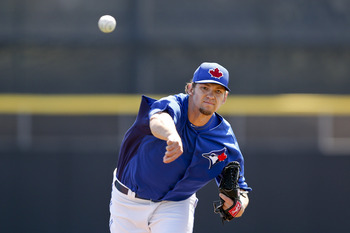 Derick Hingle-USA TODAY Sports
Spring Stats: 4 G, 10.2 IP, 2 ER, 13 K, 0 BB
Acquired from the Marlins this offseason as part of their salary-dump blockbuster, Josh Johnson has always had the stuff to be a front-line starter.
He showed what he was capable of in 2010, when he took home the National League ERA title with a 2.30 mark and finished fifth in NL Cy Young voting.
After injuries limited him to just nine starts in 2011, he went 8-14 with a 3.81 ERA last season. While his move to the AL East could be a tough one, he's been lights-out so far this spring.
Dud Offseason Acquisition (Hitter): SS Hiroyuki Nakajima, Oakland A's
Jake Roth-USA TODAY Sports
Spring Stats: 6-for-34, 1 RBI, 4 R, 10 K
Hiroyuki Nakajima was posted by his team in Japan last offseason, and the Yankees won the rights to negotiate with him with a $2 million bid. The sides failed to agree on terms, though, and he became a free agent this offseason.
He signed a two-year, $6.5 million deal with the A's to fill the hole at shortstop, and expectations were high as he had a .302/.367/.475 line in 11 seasons in Japan.
However, the 30-year-old has looked more like the next Tsuyoshi Nishioka than the next impact player at the shortstop position.
Stud Offseason Acquisition (Hitter): LF Michael Morse, Seattle Mariners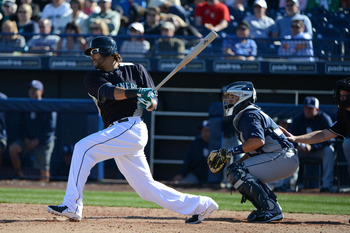 Kyle Terada-USA TODAY Sports
Spring Stats: 13-for-35, 6 HR, 11 RBI, 10 R
Michael Morse enjoyed a breakout season at the age of 29 in 2011, hitting .303 with 31 home runs and 95 RBI as he gave the Nationals a much-needed power boost.
Injuries limited him to just 102 games last season, but he still managed 18 home runs and 62 RBI, and after re-signing Adam LaRoche and trading for Denard Span, the team opted to deal Morse.
The Mariners jumped at the chance to add some offensive firepower, acquiring Morse in a three-team trade for catcher John Jaso. He's in a contract year, so he could be in for a big season.
Top Overall Dud (Pitcher): LHP John Danks, Chicago White Sox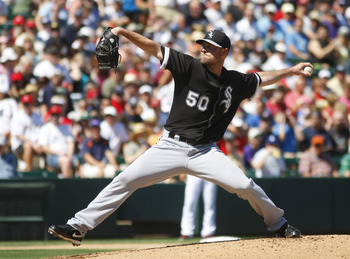 Rick Scuteri-USA TODAY Sports
Spring Stats: 4 G, 11 IP, 20 ER, 5 BB, 4 K
Last offseason, Danks signed a five-year, $65 million extension to keep him in Chicago through 2016 after quietly emerging as one of the better left-handers in the American League.
However, he made just nine starts last season before shoulder problems landed him on the disabled list and eventually ended his season.
He's been absolutely shelled so far this offseason, and he recognized after his last outing that he is running out of time to prove he is ready to open the season with a rotation spot.
The team could turn to Hector Santiago or Dylan Axelrod to replace him.
Top Overall Stud (Pitcher): LHP Jon Lester, Boston Red Sox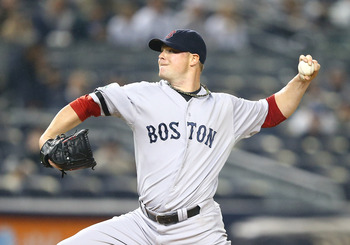 Al Bello/Getty Images
Spring Stats: 5 G, 20 IP, 2 ER, 16 K, 4 BB
Lester was one of the best left-handers in all of baseball from 2008-2011, going a combined 65-32 with a 3.33 ERA and 8.7 K/9 as the ace of the Red Sox staff.
That said, he struggled like the majority of Boston's pitchers last season, going 9-14 with a 4.82 ERA. His name came up in trade rumors as a result.
Opponents have hit just .092 against him this spring, though, and he is looking like the Lester of old.
Top Overall Dud (Hitter): 2B Dan Uggla, Atlanta Braves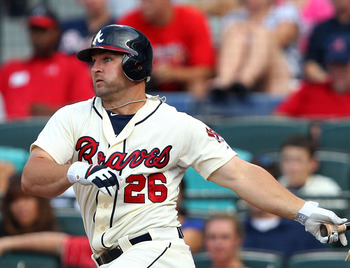 Mike Zarrilli/Getty Images
Spring Stats: 10-for-55, 1 HR, 4 RBI, 4 R, 19 K
Dan Uggla has struggled to keep his batting average at a passable level since joining the Braves, hitting just .233 and .220 in 2011 and 2013, respectively.
He's generally been able to make up for that with his power and plate discipline, but he remains as streaky a hitter as any in baseball.
That said, he has hit just .182/.250/.236 this spring for a horrible .486 OPS while leading all hitters with 19 strikeouts.
Top Overall Stud (Hitter): RF Domonic Brown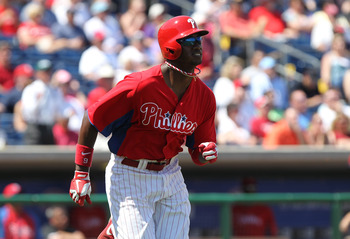 Kim Klement-USA TODAY Sports
Spring Stats: 25-for-63, 6 HR, 12 RBI, 21 R
Domonic Brown's star has faded significantly since he opened the 2011 season as the league's No. 4 prospect, according to Baseball America.
He has failed to lock down a starting job in Philadelphia each of the past two seasons, but with openings in left and right field, he entered this spring with every chance to win an everyday spot in the lineup.
The 25-year-old has done more than enough to secure that spot, as he leads all spring training players in hits (25), home runs (six), runs (21) and total bases (45).
With a prominent position in the Phillies' batting order, this could be the year he finally realizes his potential.
Keep Reading