International Friendly: Italy vs. Brazil Preview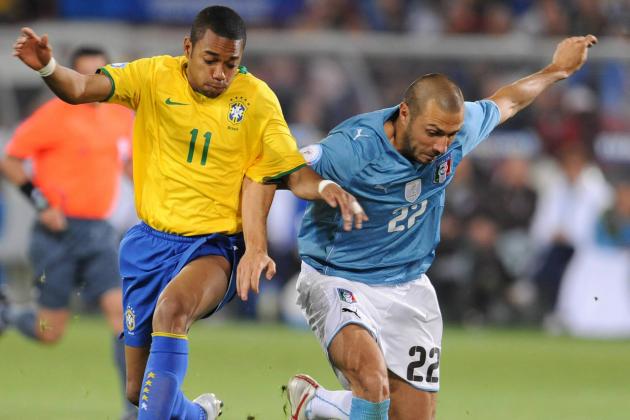 Gallo Images/Getty Images

On Thursday, two of the most storied teams in the history of international soccer will clash on neutral ground in Geneva, Switzerland.
Italy and Brazil have won more World Cup titles (four and five, respectively) than any other country on the planet and have a long history against each other, as well.
The Brazilians have historically had the edge in the matchup, but the fortunes of the teams at present could not be more different.
Italy's surprise run to the final of Euro 2012 has shot them up into the top five in the FIFA World Rankings, and they are widely regarded as a team on the rise. The Brazilians, on the other hand, have plummeted in the rankings, in part because their status as hosts of the next World Cup has limited their ability to play competitive matches and partly through sub-par play.
With the two teams scheduled to face each other on June 22 in the Confederations Cup, it's unlikely that the two sides will pull out all the stops in Switzerland. That said, there are some intriguing storylines to look at for both teams.
Let's take a closer look at this clash of the titans.
Begin Slideshow

»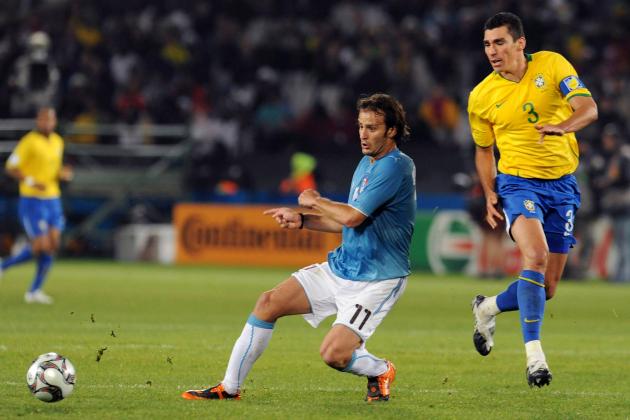 Gallo Images/Getty Images

Italy
Brazil
1910
Founded
1914
Azzurri
Nickname
Selecao
5
FIFA World Ranking
18
1/16
Best/Worst Ranking
1/18

4 (1934, 1938

1982, 2006)

World Championships

5 (1958, 1962,

1970, 1994, 2002)

1 (1968)
Continental Championships

8 (1919, 1922, 1949,

1989, 1997, 1999,

2004, 2007)

Cesare Prandelli
Coach
Luiz Felipe Scolari
Gianluigi Buffon
Captain
Thiago Silva
5
Head-to-Head Wins (2 draws)
7
Group Stage
Last World Cup
Quarterfinals
Runner-up
Last Continental Championship
Quarterfinals
WWWLD
Last 5 Matches
WWDL*L
*Second of two-legged tie, won tie in shootout.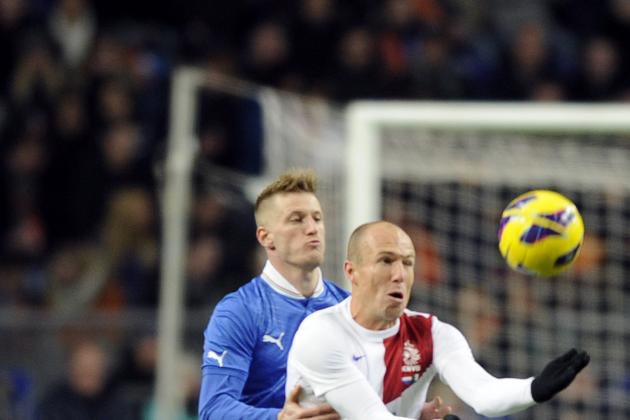 Claudio Villa/Getty Images

The Azzurri got out of Amsterdam with a draw in last month's friendly with the Netherlands, but they were thoroughly outplayed.
True to form, Cesare Prandelli used the friendly to tinker with tactics and personnel, and the new young core of the Dutch squad was able to take advantage and dominate the majority of the match.
The subject of Prandelli's tinkering was the implementation of a brand-new 4-3-3 formation, with the aim of adding it to a bag of tricks that already includes a 3-5-2 and his base 4-3-1-2.
The experiment is a worthy one—the 4-3-3 maximizes the talents of breakout forward Stephan El Shaarawy, who likes to drift in from the left-hand side. Still, there was a lack of familiarity with the formation that allowed Holland to establish early dominance.
In World Cup qualifying, the Italians have taken 10 of a possible 12 points and sit four points ahead of Bulgaria at the top of the group.
After their contest against Brazil, they will resume qualifying with a matchup against Malta.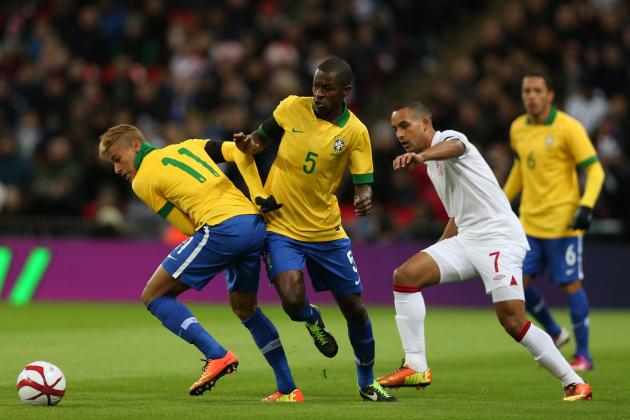 Clive Brunskill/Getty Images

These are lean times for Brazilian soccer.
Coming off a disappointing run to the quarterfinals at the World Cup in South Africa, legendary player and then-manager Dunga was replaced by Mano Menezes, but the results were less than spectacular.
The Brazilians were downed in the quarterfinals of the Copa America, after squeaking through as group winners with a mere five points. Having automatically qualified as hosts of the upcoming World Cup, the Selecao have since been relegated to friendly matches, which is part of the reason why their world ranking is at an all-time low of 18.
The other part is simply lackluster play. They've beaten teams in friendlies that they're supposed to beat, like Iraq and China. But against tougher teams they've had problems.
They struggled last autumn to a penalty-kick victory in the Superclasico de las Americas against Argentina (albeit with rosters of players based in Brazil, as per the rules of the competition). In November, they had to battle back for a draw against fellow CONMEBOL side Columbia and lost 2-1 against England at Wembley Stadium a month ago.
Menezes was sacked in November and replaced with Luiz Felipe Scolari, who had previously guided the Brazilians to their record fifth World Cup trophy at Japan/Korea 2002.
Scolari has since gone with a mixture of old and new, headlining his squads with the likes of wunderkind Neymar while bringing back old hands like Luis Fabiano, Ronaldinho and Kaka for runs to see how much they have left.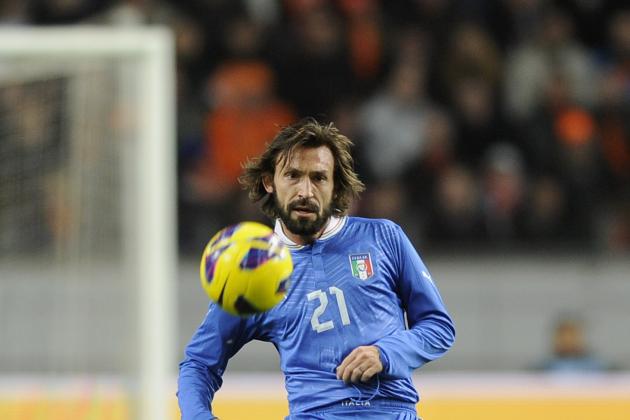 Claudio Villa/Getty Images

Andrea Pirlo
Andrea Pirlo is the metronome by which the rest of the Italian team keeps time. Sitting deep in the center of midfield, his pinpoint passes get through when it seems impossible that they'll do so, and his skill with the long ball is second to none in the world.
Pirlo's mastery has not dwindled despite his advanced (for international competition) age, and playing the position he plays, it's not impossible to see him playing at this level for both club and country for another two or three seasons yet.
Still, the general consensus is that the World Cup will be his last hurrah on the international stage, and he'll want to make it special.
Look for the Italians to keep more of possession than they did last month and give Pirlo the time on the ball he needs and the room with which to use it. If he's in-form, he can pick apart even the greatest defenses.
Mario Balotelli
Balotelli has been absolutely on fire since returning to Italy after his two-and-a-half year sojourn in England. United at last with the team he cheered for as a boy, AC Milan, Balotelli has scored seven times in six games, including a pair of braces.
For years, Italy's biggest problem has been the lack of a true cutting edge up front, and it's easy to tell how different the attack looks with an in-form Balotelli up front.
Super Mario was somewhat frustrated in last month's friendly, mostly because his teammates were barely able to hold on to possession long enough to give him any decent service. He was withdrawn midway through the second half shortly after kicking the ball into the advertising boards, but should fare better in this slate of matches.
Leonardo Bonucci
Easily one of the most improved players in the world over the last two years, Leo Bonucci has gone from scapegoat for Juventus' disastrous 2010-11 season to one of the top 15 or 20 center-backs in the game.
Bonucci is now a powerful force in defense and is easily the best ball-handling center-back in the world, and he will prove crucial for the Azzurri in the coming slate of internationals.
His Juventus teammate Giorgio Chiellini is suffering from an ankle injury he sustained against Bologna at the weekend, and yesterday the Italian Federation (FIGC) confirmed that the defensive stalwart has left the squad to recover back in Turin.
That leaves Bonucci to partner with his other club mate, Andrea Barzagli, in the center of Prandelli's defense.
Losing a player like Chiellini would be devastating to a normal team, but having those two in central defense still puts Prandelli in a position every international manager on the planet would envy.
What Bonucci now has to prove is that he's up to the task.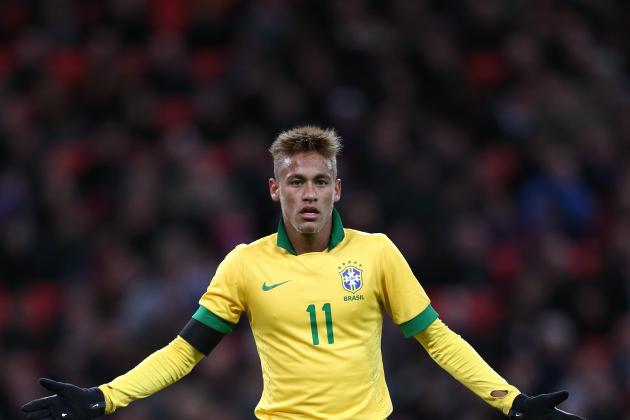 Clive Brunskill/Getty Images

Neymar
The 21-year-old wunderkind has garnered all sorts of attention from all fields and has enjoyed a strong start to the year.
Against England last month, however, he struggled, and it isn't an illegitimate question to ask if he's sufficiently developed his skills to be able to get through top-level international defenses.
I posted an article in January stating my views on Neymar's insistence on staying in Brazil for his club soccer, and his performance against England has not changed those opinions. Neymar doesn't have much experience against top-level defenses in a competitive setting, and the small sample size he does have isn't encouraging.
Apart from his lackluster performance against England, he's only faced a European-style defense once, in the 2011 Club World Cup final against Barcelona. In that match, he only had one real opportunity: a one-on-one with Victor Valdes that went in favor of the Barca keeper.
Facing two of the best center-backs in the world in this game will tell once and for all whether or not Neymar needs to move to Europe before the World Cup.
Kaka
The latest old vet to have his tires kicked by Scolari, Kaka takes the place on the roster that was occupied by Ronaldinho last time around.
Kaka has had an absolutely miserable time of it since arriving at Real Madrid from AC Milan. Out of favor with Jose Mourinho, he has rarely seen the field, playing only 79 games since 2009.
Without a regular place at club level, Kaka needs to make the most of this opportunity and impress upon Scolari that he can contribute to the squad.
With 85 caps, he's easily the most experienced player on the team. Whether he can make a mark is yet to be seen.
Hernanes
The Lazio man has been phenomenal for the capitol club this season. He's scored eight goals and notched four assists, keying Lazio's attack from the center of midfield and triggering their run towards potential Europa League glory.
Hernanes has been named a starter in advance of the game by Scolari, and his experience in the Serie A could be invaluable for the Brazilians.
Lazio held Juventus to a goalless draw early in the season and knocked them out of the Coppa Italia in the semifinals. With Juve players making up the core of the Italian team, his familiarity with them and their Italian teammates could give Brazil the keys to Italy.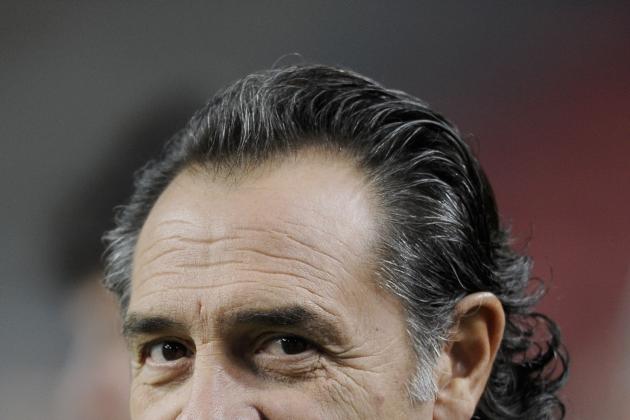 Claudio Villa/Getty Images

Cesare Prandelli's restoration project for his country's team is nearly complete, and he has a bumper crop of young talent coming up to help him complete it.
The former Fiorentina coach generally takes friendlies as an opportunity to dabble with personnel and tactics—one of the reasons the Italians are winless in their last six friendly matches, and with five losses.
He won't have as much leeway to experiment this time around, as he has a competitive match to play after this and has therefore brought his best players.
That said, the Italy boss has still brought his test tube to Geneva. Milan prodigy Mattia De Sciglio gets his second call-up and will hope to be capped for the first time. So too will the talented but mercurial Alessio Cerci. Talented Sampdoria man Andrea Poli will likely see a run-out for the second time.
It's also likely that Prandelli will give both Pablo Osvaldo and Daniele De Rossi extended minutes, as the two are both suspended for next week's matchup against Malta.
It will be interesting to see if he restores his regular 4-3-1-2 formation or continues with his experiment with the 4-3-3 that was started in Holland—although he seems to be carrying the personnel more for the former.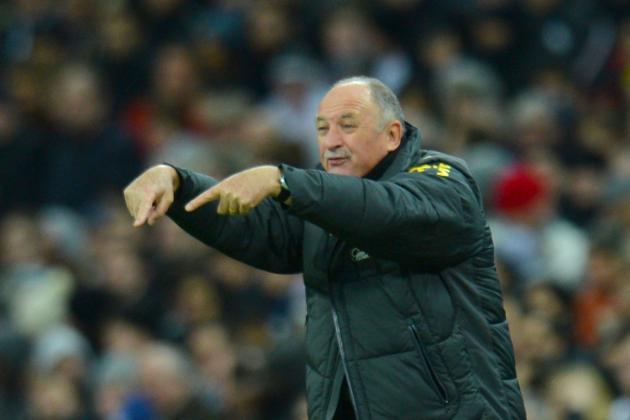 Shaun Botterill/Getty Images

Scolari's moment of glory came in 2002, when he led Brazil from being in danger of not qualifying for the tournament to winning it with a 2-0 victory over Germany in the final.
He resigned following the tournament after shepherding them through two European Championships and a World Cup, finishing as runners-up at Euro 2004 and in fourth place in Germany in 2006.
So far, Scolari has brought in a mix of old and new. Youngsters like Neymar and Oscar are mainstays, but Scolari dipped into the past last month in bringing Ronaldinho back to the national team for the first time since 2011, as well as 32-year-old Luis Fabiano.
The move was less than successful. Fabiano is not the player he used to be, and Ronaldinho is a shell of the player once hailed as the best in the world—his missed penalty against England was proof of that.
His latest blast from the past is Kaka, who will look to forge himself a regular place in the side once again.
While it's a worthy effort to see what these players have left with nothing on the line, his picking them should cause concern if they don't validate themselves. While Scolari is legendary, he's got to avoid the trap of falling in love with the players who led the team to the dance years ago.
Marcello Lippi fell into just such a trap three years ago in South Africa and left Italy in disgrace. There's nothing to say that the Brazilian will follow suit, but it bears mentioning.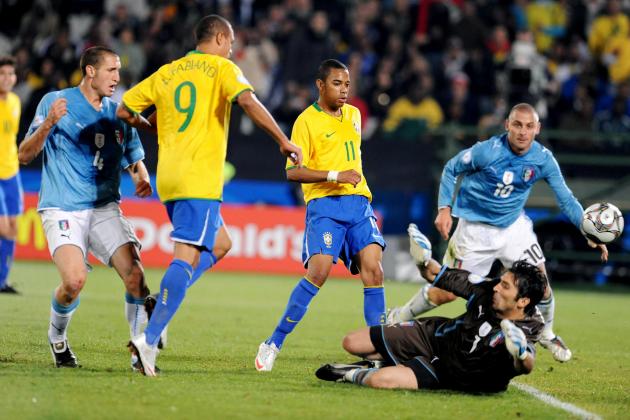 Gallo Images/Getty Images

Italy has not had an easy time with Brazil historically. Their record against the Selecao is 5-2-7 (W-L-D), and they haven't won since the quarterfinals of the 1982 World Cup, when a Paolo Rossi hat trick sent the Azzurri to what turned into their third World Cup title.
The last time they played was in the Confederations Cup four years ago, when the Brazilians romped to a 3-0 victory and knocked the Italians out of the competition en route to their second consecutive title. Before that, Italy fell 2-0 to the Brazilians in a friendly at the Emirates Stadium in London.
Overall, the Italians are 0-2-3 since that last win in Spain in '82.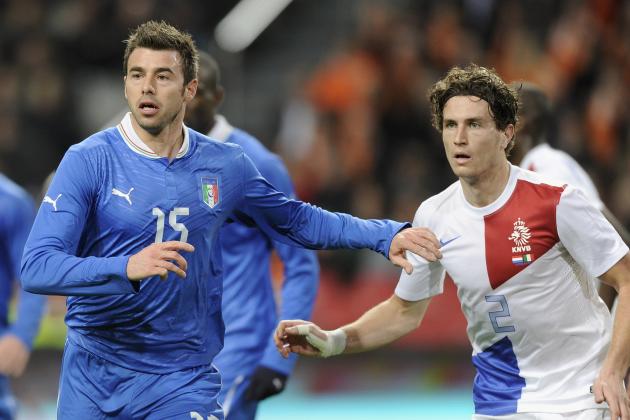 Claudio Villa/Getty Images

Andrea Barzagli vs. Neymar
If Neymar is going to prove himself against superior defenses, this is the team to do it against.
Alongside Giorgio Chiellini, the Juventus backbone of Barzagli, Leo Bonucci and Gianluigi Buffon has carried the best defense in European club soccer for the last season-and-a-half.
Barzagli in particular has been the most consistent defender in Italy since Juve bought him on the cheap, when he was struggling at Wolfsburg. He's averaging 2.1 tackles and 2.7 interceptions per match in Serie A and Champions League play this season, to go along with six clearances.
Barzagli is usually the stay-at-home defender in Juve's back three, while Bonucci and Chiellini tend to press a little bit further up to support the attack from just across the center line. He's likely to be the man Neymar runs into if his teammates are able to send him on a run through the Italian defense.
Who wins that battle will go a long way towards seeing who wins the game. If the Italian can shut the young forward down, the Azzurri may win their first game against Brazil in years. If not, we could be looking at another Brazilian runaway.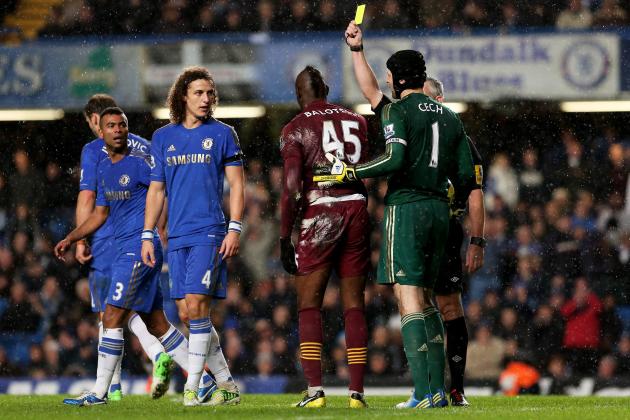 Julian Finney/Getty Images

Mario Balotelli v. David Luiz
Balotelli and Luiz are quite familiar with each other from Balotelli's time in the Premier League. Which way that familiarity will tip the scales on an international scale is yet to be seen.
It may come down to the player's chemistry with their respective partners. Balotelli has played several games with his potential strike partner Daniel Osvaldo, and the two know each other fairly well.
Luiz and Thiago Silva have played a few times together, but a muscular injury may force Silva from the lineup. His likely replacement is Dante, with whom Luiz isn't as familiar.
Given their familiarity with each other from club play, whoever has the stronger connection with their partner in attack or defense will likely have the edge in this matchup.
Paolo Bruno/Getty Images

Andrea Pirlo v Hernanes
Pirlo and Hernanes are the orchestrators in midfield for their respective club teams, and both will look to do the same for their national teams on Thursday.
Pirlo has been one of the premier central midfielders in the world for years now. Man of the Match in the 2006 World Cup final, his absence was the chief reason that the Italians were bounced from the World Cup in the group stage three years ago, and his excellent play during Euro 2012 is what propelled the Azzurri to the final.
Hernanes has become one of the most talked-about midfielders in the Serie A this season. He has propelled the Biancocelesti to the Coppa Italia final and is lining them up for a bid for the UEFA Champions League with nine games remaining in the season.
Whoever wins this battle and dictates the game will go a long way towards handing his team the victory.
Can Hernanes close Pirlo out and feed Neymar and Hulk up front? Or will Pirlo have the room to work the wizardry for which he is so well-known and keep Balotelli supplied?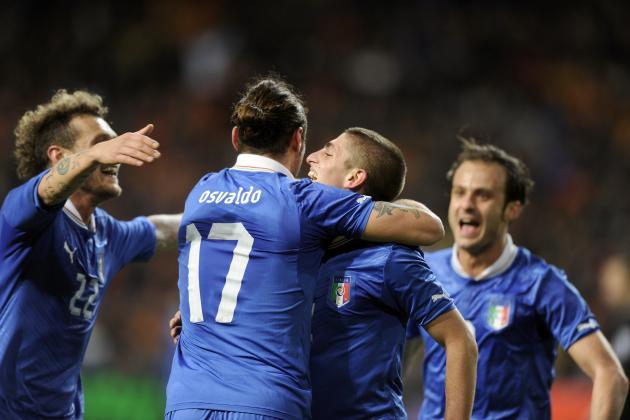 Claudio Villa/Getty Images

This game makes for a lot of speculation.
Italy will be looking to keep its key players fresh for Malta on Tuesday, and Prandelli will likely continue experimenting with his friendlies. Brazil, on the other hand, is in search of an identity and has turned in underwhelming performances of late.
Based on form alone, I'd be tempted to give Italy an outright win here, but something tells me that they'll be holding back for Tuesday. A lot depends on Thiago Silva. If he plays, it might get tough for the Italians to score. If Dante must start in his place, the path to goal may not be quite as obstructed.
In the end, I don't think either team is going to get a major foothold and dominate the game. It should be an entertaining contest, and I think in the end the teams will share the spoils.
A 1-1 draw is my prediction.