3 Moves the New Jersey Devils Need to Consider for the NHL Trade Deadline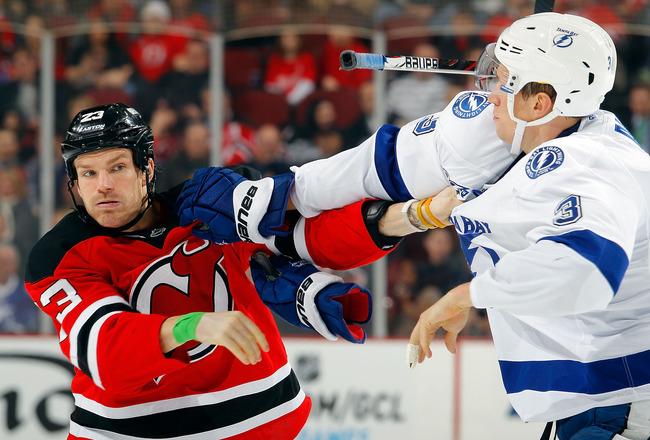 Jim McIsaac/Getty Images
After losing to the New York Rangers Tuesday night, the New Jersey Devils fell out of the playoff picture and into ninth place in the Eastern Conference.
It's not too bad; the Devils are actually tied with the teams currently occupying sixth through eighth and only trail due to tiebreakers. Even so, it's clear something needs to change if the team wants a real shot at a successful postseason.
Martin Brodeur has been activated from the IR and is expected to start Thursday against the Carolina Hurricanes, and that will give the team a boost. But the team's failures so far this season have not just been a product of some poor goaltending: There have been large weaknesses in every aspect of the Devils' game (with the possible exception of shorthanded offense). With the trade deadline just two weeks away, it's time for the Devils to start addressing team needs.
Acquire a Top-4 Defenseman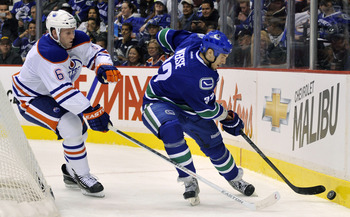 Rich Lam/Getty Images
The Devils have a lot of talented defensemen on their roster: Andy Greene, Anton Volchenkov, Marek Zidlicky, Henrik Tallinder, and Bryce Salvador have all established themselves as NHL-capable over long, moderately impressive careers. Mark Fayne, Peter Harrold, and Adam Larsson, though less experienced, have all been able to keep up with the NHL speed.
The problem is that, despite having eight guys who are good enough to make the league, none of those defenders are particularly good beyond that. Larsson is just a kid with a lot of potential, so he's excused from this conversation. But no one else excels.
Greene and Zidlicky have had games where their offensive abilities tilted the scales. Volchenkov and Salvador have shifted momentum with physical play. Harrold, Fayne and Tallinder all have the occasional night where they shine, but it's just not enough.
The Devils need to reduce their quantity and increase their quality. A few good defensemen should be available this trade deadline, but a few targets might be Edmonton's Ryan Whitney or Ladislav Smid, Tampa's Marc-Andre Bergeron, or Lubomir Visnovsky of the Islanders, all of whom are free agents after this season.
Find a First-Line Forward
Elsa/Getty Images
The Devils' inability to score is killing them. The team continues to score rarely, managing only two in their loss to the New York Rangers on Tuesday, and their 2.4 goals per game is better than just five teams in the league.
There's a lot of reasons the Devils aren't scoring, and acquiring a star doesn't fix all of them. It does, however, go a long way—especially if he can jump-start some other players' production. Corey Perry and Ryan Getzlaf are both seemingly off the table after signing eight-year extensions with the Anaheim Ducks, but big names still loom out there. Jarome Iginla and Mike Ribeiro are both dynamic forwards who have a strong chance of being moved before the deadline.
Even if it's not one of the best names out there, a player like Nathan Horton of the Bruins or Ryan Clowe on the Sharks could go a long way towards improving the Devils offense and increasing their playoff chances.
Trade David Clarkson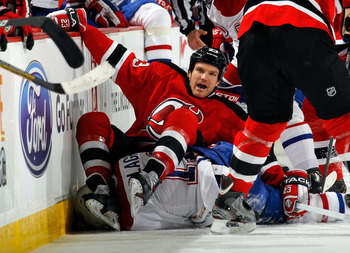 Bruce Bennett/Getty Images
David Clarkson has been one of the Devils' most productive forwards this season. Through 30 games, he leads the Devils with 11 goals, 48 penalty minutes and 106 shots. His 17 points are the third highest on the team.
Unfortunately, David Clarkson will become an unrestricted free agent at season's end. Over the past season and a half, he has developed into a very effective goal scorer. That, combined with his physicality and ability to agitate, gives him a rare skill set in the league.
As usual, any possible negotiations with Lou Lamoriello have been kept out of the press. But if there's a risk of losing Clarkson for nothing at the end of the season, it would be irresponsible to not get some sort of value back.
The Devils would need to get an appropriately attractive trade proposal, but it's not out of the question. Clarkson has impressed around the league, and he could bring a lot of ability to a Cup contender. In exchange, the Devils could avoid losing a top-three forward on the team in free agency for the second year in a row, and may even get some pieces that help them more.
Keep Reading

New Jersey Devils: Like this team?