10 Biggest Underachievers in World Football Today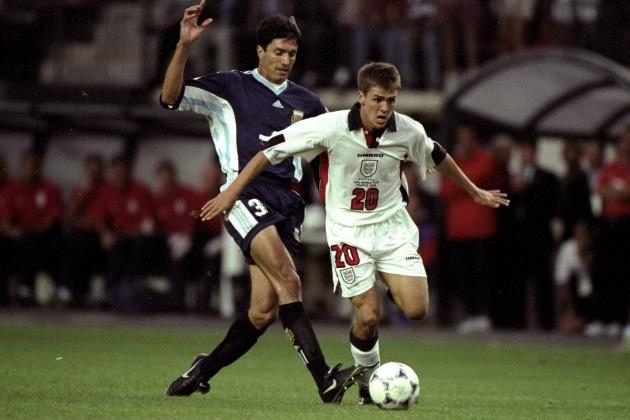 Ross Kinnaird/Getty Images

World Football is littered with Underachievers—players from whom so much was expected, but from whom so little has been received. Almost every club has one. Fans can remember their personal excitement when so-and-so was signed, often at great expense, primed to fulfill his promise and reach the destiny that had been foreseen.
As a Tottenham sympathiser, you can imagine my palpable excitement when David Bentley was signed at great cost in 2008. Subsequent mediocrity, and loan stints with Birmingham, Rostov (!?), West Ham and Blackburn suggest that my thrill was misplaced.
News today that former England striker Michael Owen has decided to call it a day has thrown the highlight on a once prodigal talent who could quite feasibly be considered an underachiever. Certainly, the spectre of injuries has loomed large, but the hope and aspiration of mesmerising occasions at Anfield, at Saint Etienne and at Wembley has been rarely replicated in recent times. The sight of Owen crumbling to the ground in anguished agony during the 2006 World Cup is one that few England fans will forget in a hurry. My emotive despair as a man almost matched my giggling glee as a boy when the same player ran like the wind through the Argentine defence in '98.
Few could have imagined that Liverpool's bright-eyed, electric-paced teenage poacher would close his career among the brutes of Stoke, taking orders from an angry man in a sports cap.
I imagine Owen, like so many others in this list, is in danger of looking back on a career laced with regrets.
Begin Slideshow

»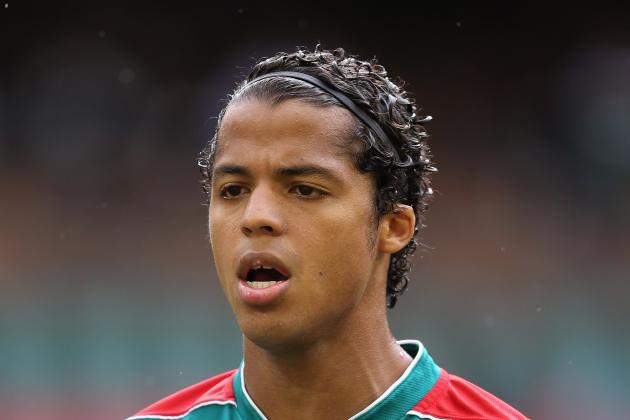 Julian Finney/Getty Images

The Promise
Thierry Henry once suggested that "The simple definition of a phenomenal footballer is to be playing for Barcelona at 18." Giovani Dos Santos fitted the bill.
The little Mexican emerged from La Masia heralded by many as 'The New Ronaldinho. Indeed, the Brazilian superstar—then the world's finest player—effectively handpicked Gio to be his successor. Rumours suggest that Ronnie even took time away from his own training schedule to mentor and keep up with the youngster's progress.
Possessing terrific speed and magnificent ball control, the prodigal young talent looked like having all of the prerequisites to make a prosperous future for himself in Catalonia.
The Reality
The fortunes of both men took a turn for the worse in 2008. Pep Guardiola decided that he wanted to take Barca in a new direction, sans his Brazilian superstar, and offloaded him to Milan, while Juande Ramos saw Giovani as part of his plans for revolution at Tottenham.
With results disappointing, and Spurs labouring in the relegation zone, Ramos was let go, and incoming boss Harry Redknapp decided that the flamboyant Dos Santos wasn't up for a relegation scrap.
Despite continuing to impress for the national side, and for Ipswich Town during a brief loan spell, Giovani never managed to convince Redknapp of his worth and was let go in the summer of 2012.
A fresh start at Mallorca looks to be exactly what the Mexican needs, although, now 23, the reality is a long way off from the promise of La Masia.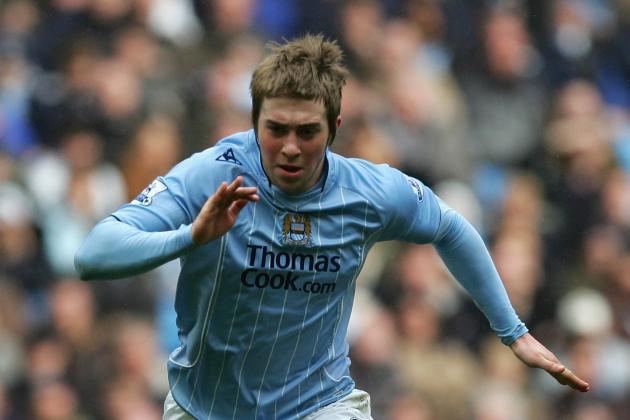 Matthew Lewis/Getty Images

The Promise
"The Future England Captain" is how then City manager Sven-Goran Eriksson christened Michael Johnson back during his spell in Manchester. The young midfielder seemingly had it all; a dynamic box-to-box midfielder, he impressed with both his dribbling and finishing ability, not to mention the maturity he seemed to possess.
Featuring fairly regularly for City following his breakthrough season in 06-07, Johnson slotted seamlessly into the Premier League. I remember one game, and a goal, the winner, against Derby County in 2007—people began to mutter, suggest that here was a special talent, a player who could go to the very top of the sport.
Steady appearances for England's youth sides added to the perception that City were gently nurturing a player with the capacity and the pedigree to become a central part of the national team's future.
The Reality
A disaster.
Released by City before Christmas, the club had apparently grown tired of Johnson's stagnation. Alcohol and gambling were cited as the reasons for his departure, while former City player Joey Barton pontificated on Twitter that Johnson's plight was indicative of players faced with too much money and pressure.
Other sentiments which accompanied his step away from the game included one from former teammate Dietmar Hamann. The German's suggestion that Johnson was "the biggest talent in English football since Steven Gerrard" only serves to magnify the loss of talent.
Recent revelations that the 24-year-old has been battling mental illness give the anecdote an element of pathos. Only time will tell whether we see the former Leicester player on the pitch again, but it's safe to say that the "Future England Captain" will never start for the Three Lions.
Alas, City have form in this department; Stephen Ireland and Shawn Wright-Phillips were both considered for this article. It seems the Citizens have an unwanted association with unfulfilled talent.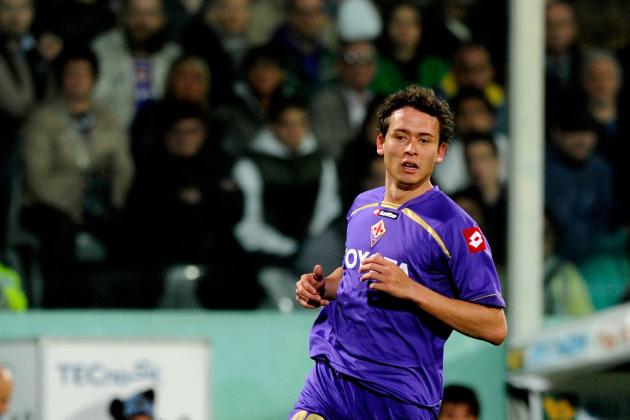 Claudio Villa/Getty Images

The Promise
Brazilians are a theme in this list, or at least, they could have been. While four have made this list, the likes of Adriano, Denilson (both of them) and Breno missed out despite failing to match their early promise.
Keirrison broke onto the scene at Coritiba, skinny, shy and short. He was an unlikely cult hero, but, heralded in some quarters as the "New Romario," many in the nation had high hopes for his career. He and the Brazilian icon shared one key trait in common, their devastating finishing ability. 33 goals in 63 apps for Coritiba alerted regional giants Palmeiras, who signed him in January 2009. The future looked bright.
The Reality
Unfortunately, Keirrison's next step might have come too soon. Six months after signing for Palmeiras, he had moved again, to Barcelona, and to a rarefied environment that doesn't necessarily suit everyone.
Only 20 at the time of his move, it has been downhill ever since. First came the fruitless loan at Benfica, then came the loan to Fiorentina—with a conspicuous 'option to buy' clause included, before the inevitable return to Brazil, with loans to Santos, Cruzeiro and currently, back to Coritiba.
Keirrison, it seems, buckled under the expectation and the demands of football in Europe, and specifically, Barcelona. Unfortunately, the player once identified as the natural successor to Brazil's no. 9 shirt looks unlikely to ever rise to the level expected of him.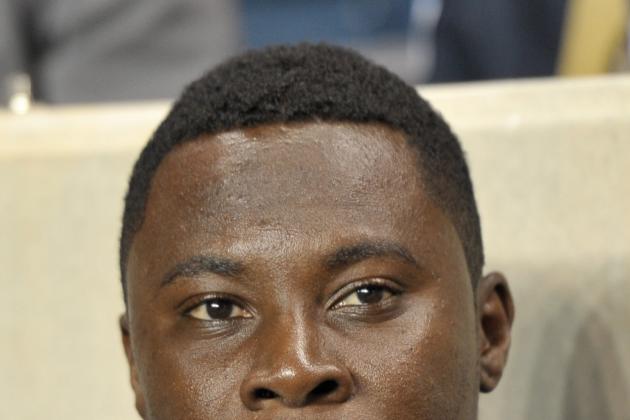 Drew Hallowell/Getty Images

The Promise
Ah, Freddy Adu—once the by-word for prodigal talent, now the forefather for anyone who emerged as a prodigally talented teenager before drifting into obscurity.
Adu was identified as the future of American soccer, if not International soccer, when he was only 14. He was to be all things to all men, but particularly it was to be he who lifted the USMNT and the MLS to the next level of their development. He was to be America's first homegrown international football star.
Comparisons to Pele were encouraged as this Ghanaian-born attacker stole the show wherever he went.
The Reality
Was pressure to blame? Did Adu make some more decisions and take some bad advice? Or was this another case of an over-hyped kid who was good … but not that good?
Since leaving DC United in 2006, Adu has turned up at many different locations without settling or starring at any. A trial at Manchester United came to nothing, Benfica perhaps proved too big a step, while loan deals with Monaco, as well as in Greece and Turkey, rarely allowed Adu to adapt and develop his game.
Currently back in the U.S. with Philadelphia Union, Adu's output is a world away from what was expected of him back nearly a decade ago. Still only 23, all is not lost, but it would take a gargantuan effort for "the new Pele" to ever come close to the expectations set for him as a boy.
Rumours that he may be about to move again, to Bahia in the Brazilian League, indicate that that wanderlust has caught him again.
Chris Brunskill/Getty Images

The Promise
Seven years ago, it was an exciting time to be Dutch. The all-conquering U21 side could call on the likes of Michel Vorm, Tim Krul, Ryan Babel, Klaus Jan Huntelaar and Hedwiges Maduro and won two consecutive U21 Football Championships thanks to this well of talent.
Royston Drenthe was possibly the most talented of the bunch.
A versatile left-sided player, Feyernoord youngster Drenthe courted interest from many major clubs before eventually signing for Real Madrid in August 2007—his speed, shooting and technical ability having attracted the hierarchy at the Bernabeu.
The Reality
Unfortunately, chances were limited in Spain, and Drenthe quickly emerged as the kind of character who was in no mood to wait around for his opportunity. Playing anywhere on the left side, he impressed in spells but struggled to get into the side regularly due to the presence of Marcelo.
After a bust up with Bernd Schuster, it became apparent that his future lay elsewhere; loan spells with Hercules and Everton allowed Drenthe to demonstrate his ability on occasion, but both were marred by disciplinary issues. David Moyes eventually lost all patience with the Dutchman, opting not to take up an option to buy him outright.
The talented star, now 25, headed for Russia, and here his fortunes might just be improving. However, he looks unlikely to add to his solitary Dutch cap any time soon.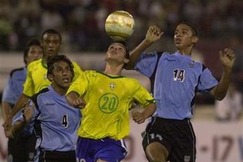 Think Football / http://thinkfootball.co.uk/wp-content/uploads/2013/02/kerlon.jpg
The Promise
Another Brazilian, another swollen reputation, another bitter disappointment: Kerlon.
Initially, the player was marveled at for his entertaining, and occasionally effective, seal dribble. This young boy had an uncanny ability to deftly loft the ball onto his head, and then run at defenders, juggling the ball as he advanced.
This approach delighted fans, but seriously riled Brazilian defenders, who took to employing the dark arts to halt the Cruzeiro star.
There was also a substance to Kerlon's talent, however, and while it's hard not to begin to dismiss him as a show pony, he also had a technique and a touch deemed spectacular for someone of his slender years. It was the package, and not merely the seal dribble, that prompted Internazionale to sign him in 2008.
The Reality
Kerlon's time in Italy was hampered by a series of knee injuries which limited his effectiveness and his development. Loan deals to the likes of Ajax and Chievo bore no fruit, and before long the attacking midfielder returned, albeit temporarily, to Brazil.
After Inter cut their losses, the promising player slunk off to the Far East to take the prospect of a fresh start in Japan.
Now 25, he turns out for Fujieda MYFC in the Japan Football League. It is a harsh reality for the Golden Ball and Golden Boot winner at the 2005 South American U17 Football Championship, who now seems destined to remain, forever, part of YouTube miscellany.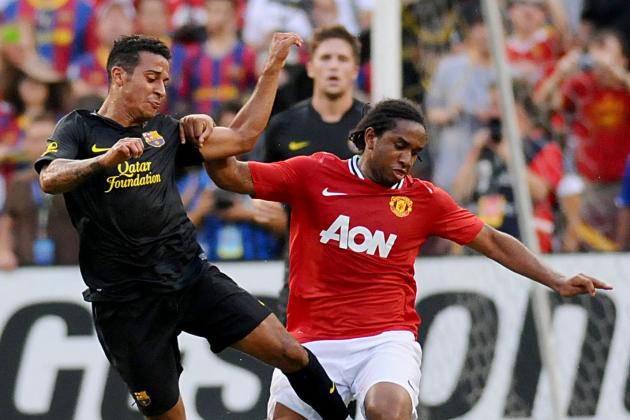 Evan Habeeb-USA TODAY Sports

The Promise
The left-footed, attacking midfielder joined Manchester United with a brilliant reputation, Sir Alex Ferguson clearly captivated by the youngster's dribbling ability and his astute passing. A fee of £10.7 million had the potential to be a bargain, if Anderson's ability matched the forecast for him.
Even though he struggled initially to assert himself in United's midfield, his performances suggested that Anderson was more of an Edgar Davids in the middle of the park than a Clarence Seedorf—marrying dynamism and energy to presence and tenacity.
The Reality
Nearly 6 years on, Anderson remains an unfulfilled talent. Seemingly lacking Davids's drive and determination, the Brazilian has struggled to keep fit and has consistently looked overweight; it often baffles me how his physique is tolerated by the club's hierarchy.
Certainly, injury has played a part in Anderson's stagnation, but even so, the return has been underwhelming for a player that promised so much.
Uncapped by Brazil since 2008, his future in that department appears to be barren, while at club level, things are little better. With only 12 league apps so far this season, the Porto Alegre-born midfielder has openly suggested that his future lies elsewhere. He looks unlikely to remain in Manchester for the entirety of the 4-and-a-half year deal he signed in 2010.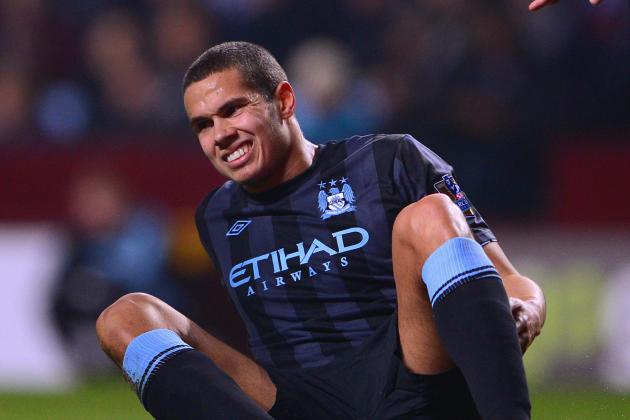 Michael Regan/Getty Images

The Promise
As last season drew to a close, Rodwell made his debut for England, part of the youthful influx of talent encouraged by Roy Hodgson, and his name began to be linked, even more intensely, to some of Europe's biggest sides.
Emerging as an imposing defensive talent, Rodwell has long had the nascent attributes to suggest that he is destined for a career at the top of the game. Like others on this list, he is a dynamic central midfielder, primarily defensive, and disciplined enough to marshal the space in front of the back line. Rodwell also has the energy, the pace and the power to carry the ball through the middle of the park, driving his team forward.
The Southport-born youngster has been a regular for England's youth sides, and has long offered versatility, although there have been suggestions that his development might suffer through being asked to 'fill in' across the pitch, rather than concentrate on nailing down.
The Reality
The "move to a big club" was inevitable for Rodwell, and despite making the switch to Manchester City last summer, things haven't gone entirely to plan.
Rodwell has struggled to find the requisite game time to allow his talent to flourish and particularly, to discover his finest position on the pitch. Particularly for defensive talents, it is crucial that players receive exposure enough to train their reactions and to begin to understand the requirements and needs of the job. For Rodwell, the exposure isn't coming enough—be it through injury, he is a player who has suffered more than most or the intense competition for places that accompany a spot in the City squad.
Perhaps the talent just isn't there to the extent that everyone hoped it would be—Jeff Livingstone over at In Bed With Maradona wrote that it was very telling that Rodwell had struggled to nail down a regular berth in David Moyes's threadbare midfield last season.
Unlike many others on this list, Rodwell's day isn't done, and his inclusion in this list is perhaps too harsh of me—it certainly infuriated my brother, an Evertonian. There is still time for Rodwell to come good, to shake off the injuries, and to become the England and Premier League star we have been waiting for. At the moment, however, things aren't going to plan.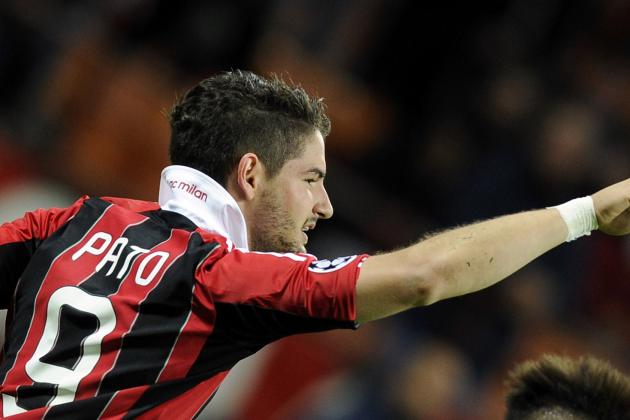 Claudio Villa/Getty Images

The Promise
Champions League holders Milan splashed the cash in 2007 to secure the talents of young forward Alex Pato from Internazional. The striker appeared to have the lot: intelligent, technically proficient, fast and with finishing ability that any forward would be proud of. The youngster looked like continuing Milan's fine stream of delightfully talented Brazilians. Altafini, Cafu, Kaka, Leonardo, Dida, Pato. Seamless.
The Reality
Injuries. That's the only word needed to unlock what is becoming to seem like Pato's terminal deterioration. It seems like every time he has arrived at some modicum of fitness, and has begun to successfully and regularly find the net, he breaks down, each strain, tear or pull worse than the last.
His fragile, fragile body has let him down, and this means that Pato has become one of the unluckiest forwards in Serie A history. The forward seems keen to overcome the frustration, and indeed, when he has performed, he has regularly shown his class.
Milan struggled to keep the faith, however, and cashed in on "The Duck" in January of this year. He had only scored once in Serie A since the end of the 2010-11 season—injuries have derailed a prospect so promising.
Still, back in Brazil, with giants Corinthians, Pato has an opportunity to get his career back on track, to return to the international fold in time for the 2014 World Cup and to begin to achieve the heights many of us hoped he would.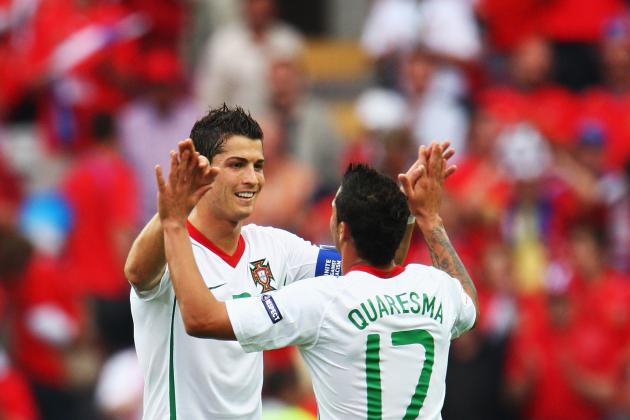 Phil Cole/Getty Images

The Promise
It's almost too easy to chart the promise and decline of Ricardo Quaresma, principally because his career has dovetailed with that of Cristiano Ronaldo so profoundly. He is almost a cliché for talent wasted before he even began.
In 2001, Sporting Lisbon possessed two wingers who looked like they could achieve anything they set their minds to. After both broke into the first team, it was Quaresma who shone the brightest, winning matches almost single-handedly, and dazzling fans with his technique and dribbling ability.
The pair were both talked about as potential successors to Luis Figo, but it was Quaresma who, at this early stage, received the higher billing.
The Reality
While Ronaldo has emerged as one of few footballers who truly transcend the sport in terms of profile and status, Quaresma has been and gone on video, having tried, and failed, to find success and stability at a number of clubs.
A move to Barcelona as a teenager may have come too soon, and a fall-out with Frank Rijkaard did little to suggest that he would ever overcome the initial teething problems he encountered in Spain.
His sojourn in Catalonia ended in 2004, as "The Mustang" was part of the deal that saw Deco going the other way and heading to the Nou Camp. The midfielder flourished in Portugal, but perhaps overconfident after finding such fame and success so young, he struggled to fit into the team ethic—frequently being criticised for being selfish and reckless in possession.
Moves to Internazionale, to Chelsea and to Besiktas each promised to be the one that would finally present Quaresma as a world-class performer, but each other brought new problems, new clashes and new frustrations. Jose Mourinho promised the world that he would forge a 'new Quaresma' at Inter Milan. The player, however, received the award for Italy's worst player in 2008. Things did not go to plan.
Released by Besiktas at the end of 2012, Quaresma now plies his trade in Dubai with Al Ahli—30 in September, this is surely not the way the supremely talented winger anticipated ending his twenties. Ronaldo's glorious progress only highlights the poignancy and hopelessness of Quaresma's decline.