World Football's Best XI Players Who Haven't Played in a World Cup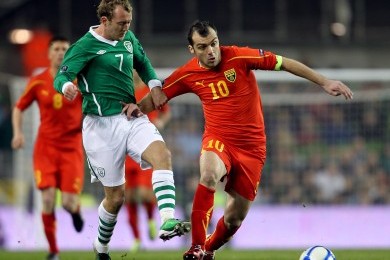 Image courtesy of thescore.ie
With the latest set of qualifying fixtures for the 2014 World Cup taking place in Europe this week, it got me thinking about some of the best players in Europe who have yet to—or will never—play on the big stage.
For a variety of reasons, some players never play at a World Cup tournament—whether it is down to personal misfortune, or the fact that their national side isn't as strong as others.
Join me as we take a look at the 11 best players in Europe who have not played at a World Cup tournament.
Each player in this list has never played on football's biggest international stage.
We'll run through the list in order from goalkeeper to attackers.
I've also set the team out in a 3-5-2 formation.
Begin Slideshow

»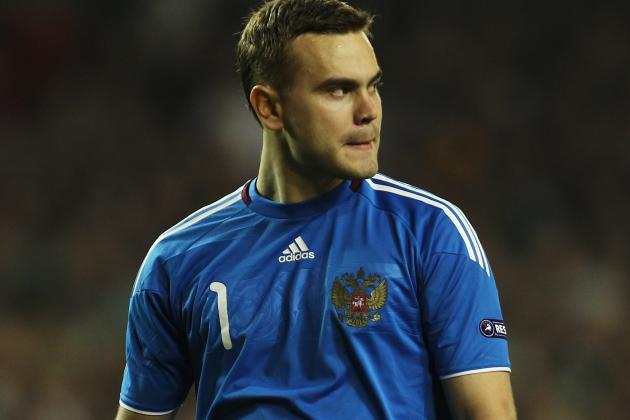 Bryn Lennon/Getty Images

Igor Akinfeev has been playing for his national side since 2004, but he's yet to play in the World Cup.
He made his debut for the national side at just 18 years old.
At any level, that's a sign of quality.
For the last decade, Akinfeev has been carving out a reputation as one of Europe's finest goalkeepers with CSKA Moscow.
The Russians have not qualified for a World Cup since 2002.
But given that they're currently top of their qualifying group with 12 points from their first four fixtures, Akinfeev may finally make his World Cup debut next year in Brazil.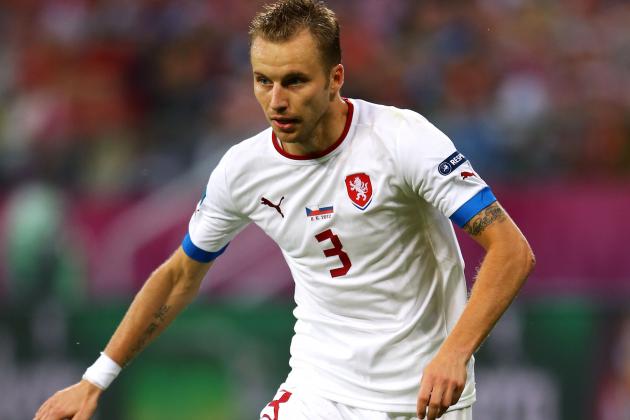 Christof Koepsel/Getty Images

Since making his debut for the Czech Republic in 2007, Michal Kadlec has become a mainstay for his national side.
At club level, he plays for Bayer Leverkusen in the Bundesliga.
The Czech's failure to qualify for the 2010 World Cup in South Africa means that Kadlec has yet to play on the big stage.
His record for the Czech Republic isn't bad, especially for a defender.
He's made 43 appearances and scored eight goals.
Always a threat going forward, Kadlec will hope that the Czechs can escape from their qualifying group ahead of Bulgaria to test himself against the world's best players next summer in Brazil.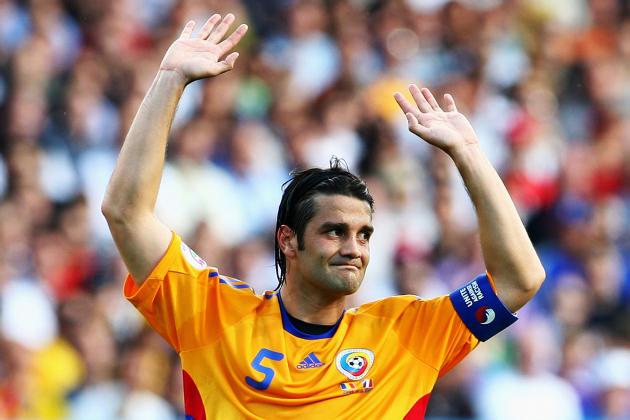 Phil Cole/Getty Images

Cristian Chivu is a player who first came to my attention as a youngster when he played for Romania at Euro 2000.
At club level, he's represented some of Europe's finest teams, including Ajax, Roma and currently Inter Milan.
Although he's represented his country at European Championships, including in 2008 when he captained the side, Chivu never played at a World Cup.
Now retired from international football, one of his regrets will surely be that he never managed to play on world football's biggest stage.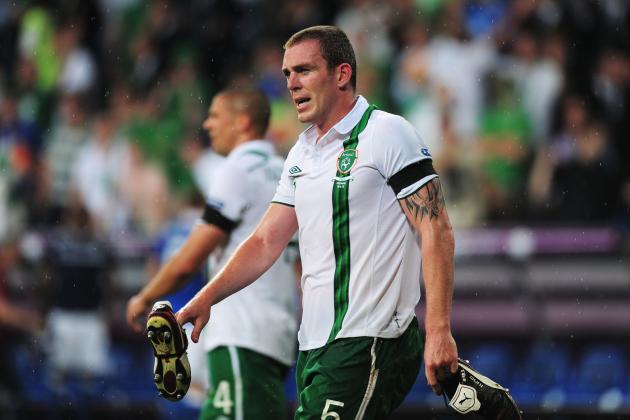 Jamie McDonald/Getty Images

Richard Dunne has spent his entire career putting in powerful, solid defensive displays in the English Premier League for teams like Everton, Manchester City and Aston Villa.
He might be the holder of the most unenviable record in the EPL—he's scored the most own goals ever—but Dunne is solid as a rock.
Dunne was a part of the Irish squad that travelled to the 2002 World Cup in South Korea and Japan, but he didn't make an appearance.
The failure of the Irish to qualify for any World Cup since means that, at the age of 33, Dunne is likely never to play at a World Cup.
Dean Mouhtaropoulos/Getty Images

Darren Fletcher often doesn't get the credit he deserves.
He may be out of the game right now, but Fletcher is someone that Sir Alex Ferguson often turns to at Manchester United when he needs a big player for a big game.
Whether it is a Premier League match, an FA Cup clash or a Champions League tie, Fletcher is one of Sir Alex's most trusted players.
The problem is that Fletcher's club form has never really transferred to his performances for Scotland.
In my opinion, that's because he's asked to play a more attacking role for Scotland, and I don't think Fletcher is as natural in that kind of position.
He's someone who can protect his defenders and pull the strings in midfield.
That's what he does best.
It would be a shame if Fletcher was never to appear at a World Cup.
Sadly, with the Scots' dismal qualifying record in recent years—they have not appeared at any major tournament since the 1998 World Cup—that may become a reality.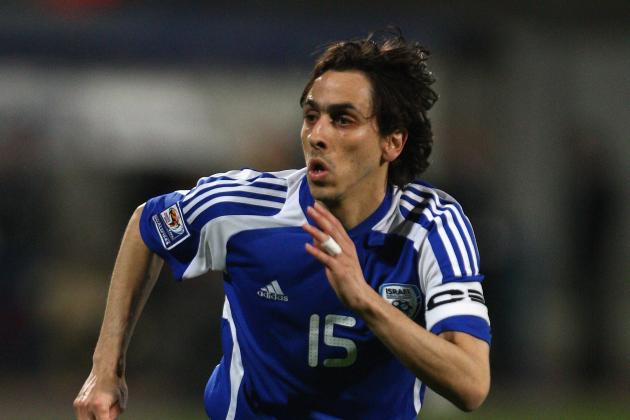 Laurence Griffiths/Getty Images

While he might not be an obvious choice, Yossi Benayoun is another man who makes this list.
When he's a regular for his club side and he's full of confidence, the little Israeli is majestic at times.
His impressive form for West Ham United earned him a move to Liverpool in 2007, but since he left Anfield, Benayoun hasn't been the same player.
He hasn't had a run of games for Chelsea, with injury hampering his progress, and his loan spells at Arsenal and West Ham were uneventful at best.
Benayoun is the one bit of quality in the Israeli national side.
However, much like Darren Fletcher in the slide before, the Israelis have a dismal record of qualifying for major tournaments.
They have only qualified for one World Cup, and that was way back in 1970.
With the Israelis in a qualifying group that includes Russia and Portugal this time around, Benayoun is never likely to fulfill what must surely be the ambition of any footballer.
To play at a World Cup for his country.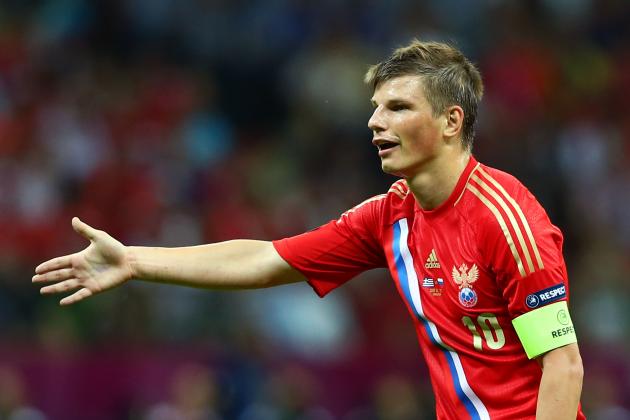 Shaun Botterill/Getty Images

Andrei Arshavin is one of the most frustrating footballers on the planet.
For someone with so much talent, his recent form for club and country has been awful, and at times, he looks as if he just can't be bothered trying.
Arshavin made his debut for Russia just before the 2002 World Cup, but he didn't make the final squad.
Since then, the Russians have failed to qualify for any World Cup.
However, they're top of their qualifying group just now, and if they can hold off the inconsistent Portuguese, Russia will qualify as winners of their group.
If that happens, Arshavin will be 33, and for the first time, he could play a part at the 2014 World Cup.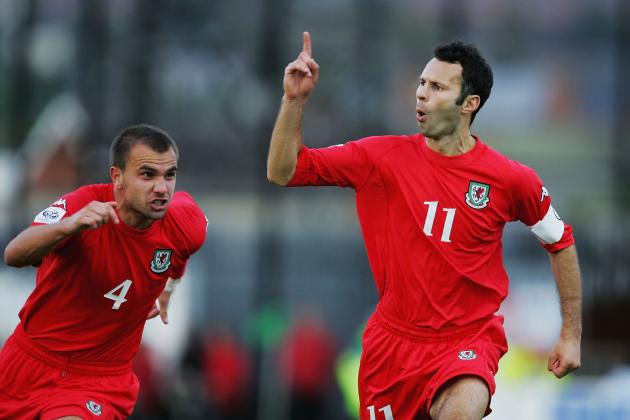 Christopher Lee/Getty Images

Yes, yes, I know.
Ryan Giggs has retired from international football.
But this list is about players who haven't played at a World Cup, and Giggs falls into that category.
Simply put, Giggs has to go down as one of the best players the game has ever seen.
He recently played in his 1,000th game as a professional, which is just astonishing.
Despite all the success he's had at Manchester United, Giggs would probably give some of it up to have appeared at a World Cup for Wales.
It is nothing short of a tragedy that a player of Ryan Giggs' class has never played at a World Cup.
But the bottom line is that Wales, as a team, was never good enough to have made that happen.
Image courtesy of thescore.ie
For the last 12 years, Macedonia's Goran Pandev has been plying his trade in Italy for teams like Inter Milan, Lazio and Napoli.
It's that footballing education which has made Pandev stand out as one of the most important players in Serie A.
He's also become a key player for Macedonia.
Despite being just 29 years old, Pandev has earned 69 caps and scored 26 goals.
Already, he is his country's all-time leading goalscorer.
However, the lack of overall quality and players of a similar calibre to Pandev in the Macedonian squad means that Pandev is yet another talented player who will never play at a World Cup.
Valerio Pennicino/Getty Images

Over the last decade, Dimitar Berbatov has shown football fans in Germany and England just how good he can be.
At times, the Bulgarian is unplayable.
His close control and touch are frighteningly good, and he can score some spectacular goals.
However, Berbatov's languid demeanour doesn't endear him to his fans sometimes, and it must be frustrating, especially when your team is struggling.
Having said that, Berbatov was a key player for Bulgaria during his international career, and like Goran Pandev in the last slide, he is his country's all-time leading goalscorer with 48 goals in 77 appearances.
He may have retired from international football now, but a player of Berbatov's quality should have had the opportunity to play at a World Cup.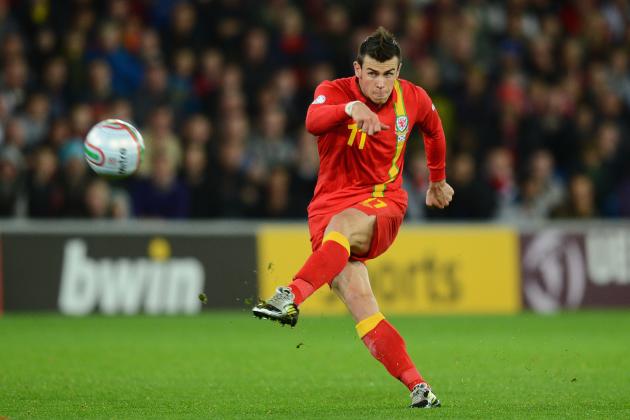 Mike Hewitt/Getty Images

Gareth Bale is one of the hottest properties in world football right now.
He has everything that you want in a modern-day footballer.
Pace, power, strength and an eye for goal.
OK, so sometimes he might go to ground a little too easy, but the good things outweigh the bad in Bale's game.
Sadly, I fear that Bale will go down the same route as Ryan Giggs.
He'll carve out a reputation as one of the best players in the world, but he'll never have the chance to showcase his talents on the biggest stage of them all.