Final Predictions for Every SF Giants Spring Training Position Battle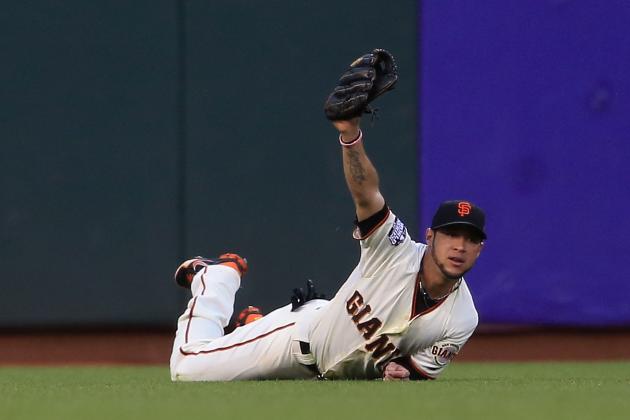 Doug Pensinger/Getty Images
Gregor Blanco makes a difference with his defense.
The San Francisco Giants have had a relatively quiet, uneventful spring training. This is the type of spring that manager Bruce Bochy hoped for.
The Giants are dealing with a a few injury issues, which they hope will not be a lingering concern. Pablo Sandoval has a sore throwing arm, but should be able to return to action soon.
Relief pitcher Jose Mijares is on the shelf due to a sore elbow and he is likely to open the season on the DL.
Hector Sanchez is the biggest concern for the Giants at this stage of the spring. He came to camp overweight and in poor condition. Then, Sanchez developed calf and shoulder problems.
Sanchez has not played in several days and if he cannot get fully healthy soon, he will not be ready to open the season. Sanchez will need to get into shape and prove to manager Bruce Bochy that he's healthy and in shape.
Outside of these three issues, the Giants seem ready to open the season. The team is doing some fine tuning as April 1 is rapidly approaching.
Let's take a closer look at who is winning the Giants' spring battles. Stats are courtesy of baseball-reference.com
Begin Slideshow

»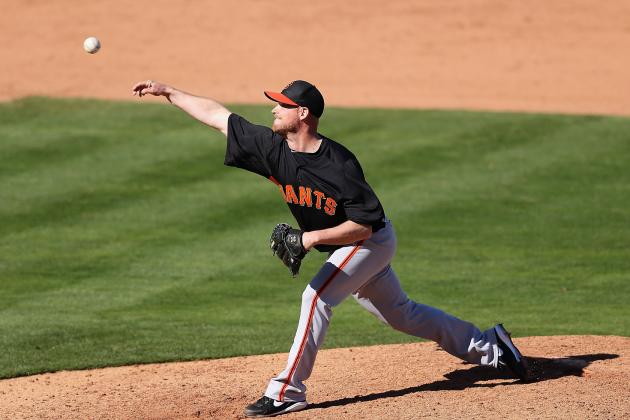 Christian Petersen/Getty Images
Chad Gaudin has thrown the ball well in the spring.
Chad Gaudin is a true journeyman as he hopes to enter the 2013 season with his 11th major league team. He broke into the majors in 2003 with Tampa Bay and has played for the Rays, Blue Jays, A's, Cubs, Padres, Yankees, A's again, Yankees again, Nationals and Marlins.
Gaudin will be 30 years of age when the 2013 season opens and has experience as a starter and in relief. He has had a good spring, having appeared in seven games and working 12.1 innings.
Gaudin has allowed 13 hits and walked three, while striking out nine. Gaudin has allowed only three earned runs, for an ERA of 2.19. His WHIP is a solid 1.30.
At the start of spring training, the Giants had several candidates for the final bullpen job, including Heath Hembree, Jean Machi, Ramon Ramirez, Brett Bochy, Steve Edlefsen, Dan Otero, Shane Loux, Scott Procter and Yusmeiro Petit.
Gaudin has out-pitched the competition and has earned the job.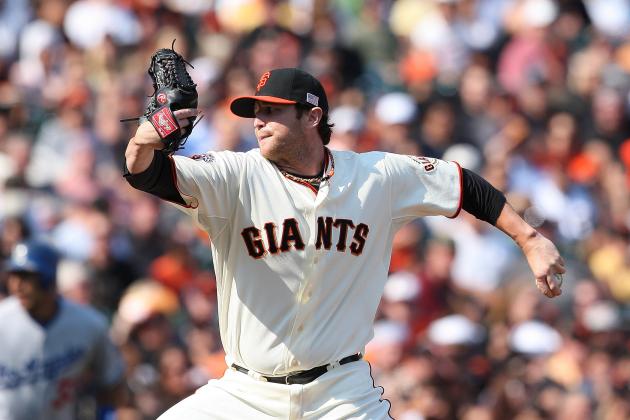 Tony Medina/Getty Images
Dan Runzler will take over for Jose Mijares.
The injury to Jose Mijares has given Dan Runzler a clear path to win a relief job. Heading into the spring, the Giants planned to open the season with three left-handed relievers, Jeremy Affeldt, Javier Lopez and Jose Mijares.
However, Mijares has not been able to pitch for the past few weeks due to a sore elbow. Runzler has a great arm, but his lack of consistency and injury history have always held him back.
Runzler and the Giants hope that inconsistency and injuries are a thing of the past. If it is, Runzler may never relinquish his job to Mijares or anyone else.
This spring, Runzler has thrown seven innings, allowed only four hits, while walking two and striking out six. His ERA is an impressive 1.29 and his WHIP is an excellent 0.86.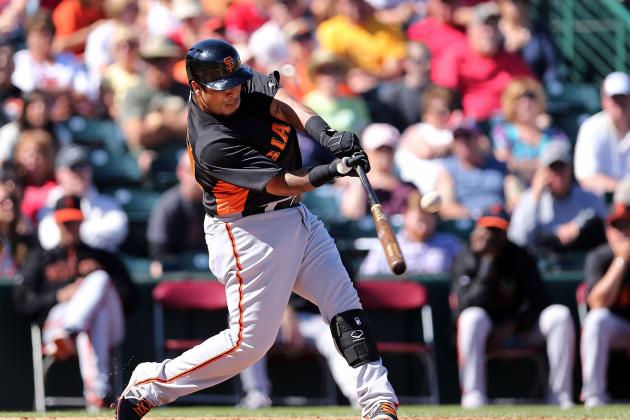 Christian Petersen/Getty Images
Hector Sanchez may open the season on the DL.
Oh, what a difference a year makes. Hector Sanchez burst onto the scene last spring and won the backup catcher's job. In the spring last year, Sanchez hit .383 with four home runs and ten RBI.
This year, he has played sparingly as he came to camp overweight and out of shape. Then Sanchez proceeded to injure his calf and shoulder. Sanchez has only a few short days to get back in the lineup and get into shape.
This spring, Sanchez is currently hitting only .211 and has not looked good behind the plate. He has not played in several days.
Coming into camp out of shape, then suffering the injuries likely means conditioning will be an issue for Sanchez at least for the first couple of months of the season.
Not only is Sanchez not likely to be ready to play when the season opens, but manager Bruce Bochy may decide to send a message to his hefty catcher. If Sanchez opens the season on the DL, then is sent to the minors for more conditioning, hopefully, it will teach him a much needed lesson.
Guillermo Quiroz may inherit the backup catcher role, until Sanchez is ready to return. Quiroz is 31 years of age and has played parts of eight seasons in the majors. He has 257 career at-bats, and a career average of .206. Quiroz is a solid defensive catcher, but will not provide much offensively.
Johnny Monell will be 27 years old and is a career minor leaguer. He has had a great spring and could make the jump to San Francisco. The key is whether manager Bruce Bochy feels Monell can handle the job defensively.
Monell is hitting 9-18, with a .500 average, with one home runs and five RBI. His OPS is a gaudy 1.328. Last year playing for the Giants' Double-A affiliate in Richmond, Monell hit .257 with 11 home runs and 50 RBI.
The Giants have a history of going with the veteran and that gives Quiroz the inside track. Expect Monell to open the season at Triple-A Fresno.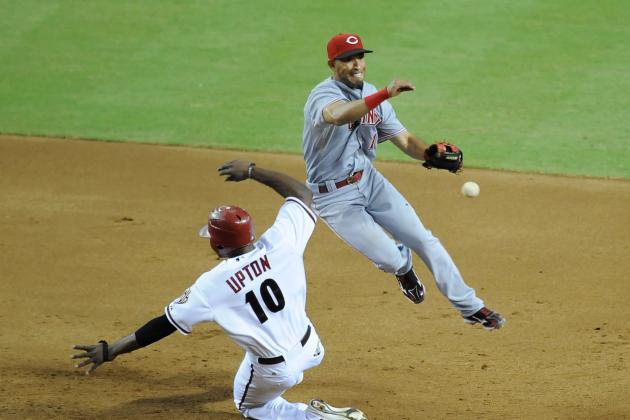 Norm Hall/Getty Images
Wilson Valdez is a veteran utility-man.
Ryan Theriot and Joaquin Arias held the two reserve infield jobs for the world championship team in 2012. Arias returns, but Theriot has not signed, instead hoping to find a job where he will get more of a chance to play.
The Giants came to camp with several candidates for the final utility infield job. These included Nick Noonan, Brock Bond, Kensuke Tanaka, Wilson Valdez and Tony Abreu.
GM Brian Sabean and manager Bruce Bochy had hoped Tanaka, a Japanese import, would have seized the job. Instead, he has struggled, especially on defense.
Noonan has not hit and Abreu has been injured, so that narrows the field to Valdez or Bond.
Valdez will be 35 years old in May and has seven seasons in the big leagues. Valdez can play shortstop, as well as second or third base. He has a career batting average of .236, without a lot of power. Valdez is solid defensively and as a veteran, is accustomed to a utility role.
Bond has actually played better than Valdez this spring. He is hitting .409, compared with Valdez at .259. Bond also has two home runs with five RBI and runs scored.
Bond has spent the past three seasons at Triple-A Fresno, and at age 27, now is his time to shine. Earlier this spring, it seemed Valdez had the inside track, but it appears that Bond may have passed him by.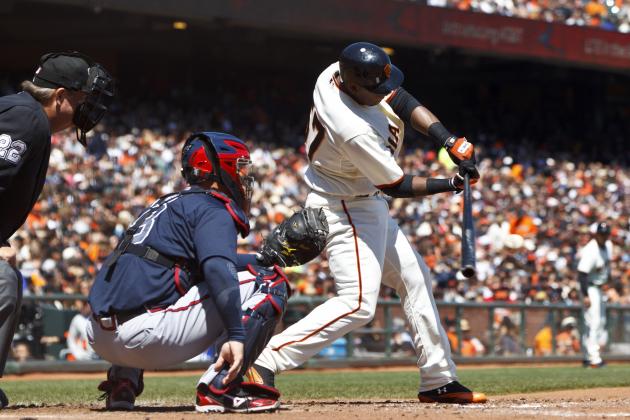 Jason O. Watson/Getty Images
Francisco Peguero has matured as a player.
A week ago, the fifth outfielder job was coming down to Francisco Peguero, Brett Pill and Cole Gillespie. The field narrowed when it was learned that Pill needed surgery on his knee, due to a torn meniscus. Pill is expected to be out for about a month or so.
Gillespie has some big league experience, having played in 45 games for the Diamondbacks in 2011. He also got into five games for Arizona this past year.
Gillespie has had a decent, though not outstanding spring. He is currently hitting .256 with one home run, seven RBI and five runs scored. Gillespie has had problems putting the ball in play at times, having struck out 13 times in 43 at-bats.
Pegeuro has had the best spring of the three players and looks like a good shot to make the opening day roster. He is currently hitting .364, with no home runs, five RBI and seven runs scored.
Peguero and Gillespie are both good defensive players, far better than Pill. Peguero is a notorious free-swinger and will often get himself out by swinging at bad pitches. He will need to become a little more selective in order to maximize his potential.
Peguero has had the best spring and deserves to make the team.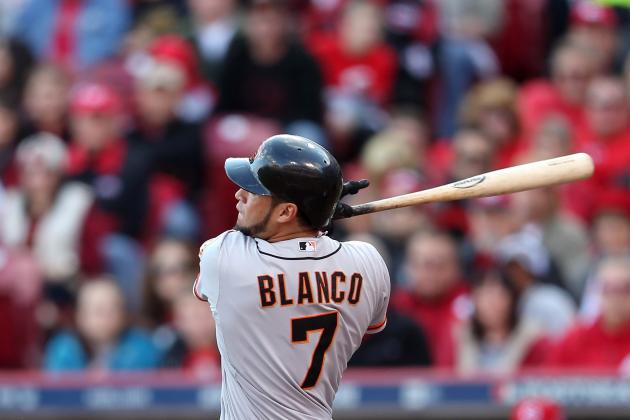 Andy Lyons/Getty Images
Gregor Blanco will start against right-handed pitchers
Manager Bruce Bochy will go with a platoon in left field. Gregor Blanco gets the starting assignment and will start against right-handed pitchers.
Blanco emerged into a solid Major League contributor last season. He was playing well in a part-time role, when the Melky Cabrera suspension occured. The Giants gave Blanco the starting job following Cabrera's departure.
In 2012, Blanco hit .244, with five home runs, 34 RBI, 56 runs scored and 26 stolen bases. Blanco was an outstanding defensive player throughout the season. He saved Matt Cain's perfect game and also made several excellent plays in the postseason.
Expect Blanco to get around 400 at-bats this year with Andres Torres getting between 200-250. Both Blanco and Torres can play multiple positions, so they can also fill in for Angel Pagan or Hunter Pence.
Torres is the other half of the left field platoon and will play mostly against left-handed pitching.
After helping the Giants win the 2010 World Series, Torres had a down year in 2011. He was then traded to the New York Mets, along with pitcher Ramon Ramirez, for Angel Pagan. Pagan was a key contributor to the Giants' 2012 world championship.
Torres is a fan favorite and has been welcomed back with open arms. He will get opportunities, but for now, Blanco is the primary starter.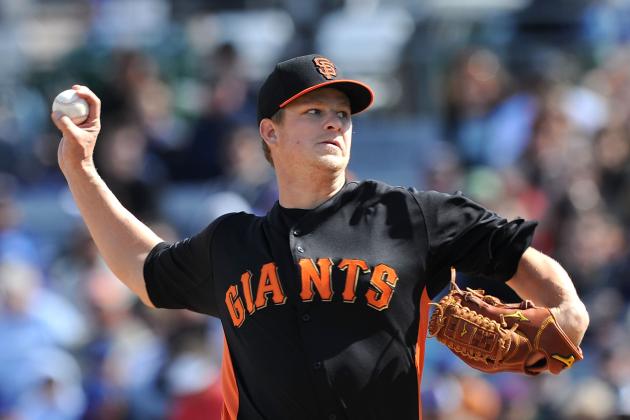 Norm Hall/Getty Images
Matt Cain will be the Giants' Opening Day starter.
As the San Francisco Giants get set to open the 2013 season, they have one goal in mind. The Giants want to defend their 2012 World Series crown.
The Giants have all of the main components of their 2012 team back and it all starts with pitching. The Giants' starting rotation of Cain, Bumgarner, Lincecum, Vogelsong and Zito is one of the best in all of baseball.
Durability has been a major asset for this group. Every one of these pitchers started over 30 games for the Giants last year. Continued good health from this group will go a long way to determining the Giants' fate in 2013.
The Giants' bullpen will again be without Brian Wilson, but they won it all without him last year. Sergio Romo will be the closer, and he can expect plenty of help from Jeremy Affeldt, Santiago Casilla, Javier Lopez and George Kontos.
Throughout the post season, in every series, the Giants showed the value of good defense. Once again, this is a squad that should be excellent defensively.
The offense will be led by Buster Posey and Pablo Sandoval. The top of the order is productive with Angel Pagan and Marco Scutaro. Nobody can expect the same production from Scutaro that he displayed for the Giants in 2012, but he's still a very solid offensive player.
The Giants are expecting bigger offensive contributions from Hunter Pence, Brandon Belt and Brandon Crawford. If they can deliver, this will be a strong lineup from top to bottom.
Guiding the ship will be manager Bruce Bochy. His calm demeanor enabled the Giants to weather the storm of injuries and suspensions last year. Bochy is now regarded as one of the best managers in baseball, and deservedly so.
GM Brian Sabean has also played a huge role in the Giants' success. His midseason acquisitions of Hunter Pence and Marco Scutaro energized the team for their second-half and postseason run.
The NL West will be very tough this year, as the Los Angeles Dodgers have the money to buy whatever they need and the Arizona Diamondbacks are a young and improving team.
The Giants are poised for another outstanding season, the key will be staying healthy and continuing to get the quality pitching the Giants are known for. If they accomplish these two things, there's no reason the Giants cannot have another parade down Market Street in San Francisco.