NC A&T vs. Liberty: Score, Twitter Reaction, Postgame Recap and Analysis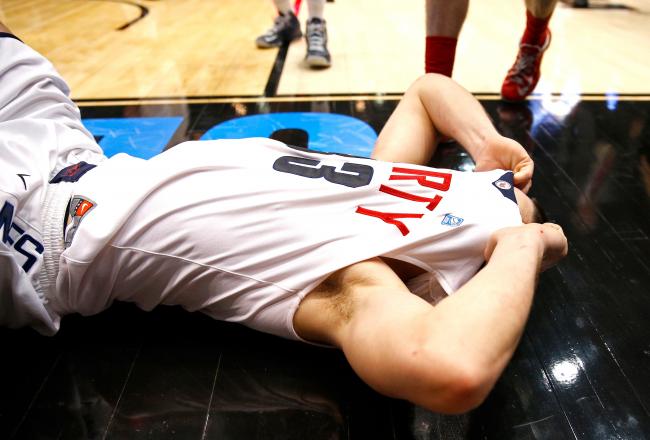 No. 16 North Carolina A&T kicked off the 2013 NCAA tournament with a thrilling 73-72 victory over No. 16 Liberty, and the Aggies will move on to play top overall seed Louisville Thursday in the round of 64.
The story in the first half was both teams showing no hesitation to put up shots from behind the three-point line. This was expected from Liberty, whose 36.7 percent shooting from long distance this season (per KenPom.com) ranks a respectable 55th in the nation.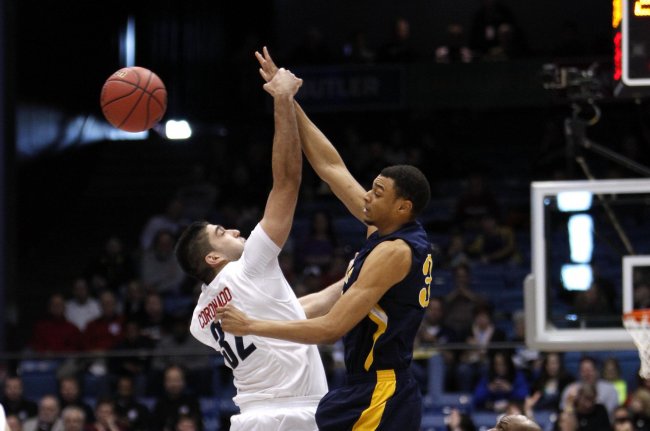 Frank Victores-USA TODAY Sports
But it was a complete surprise to see North Carolina A&T have such success, as its 30.2 percent shooting from beyond the arc places the Aggies 315th among Division I teams. Still, they hit five three-pointers in the opening 20 minutes, and even six treys from the Flames could not stop them from taking a 40-33 lead at the half.
In the second half, Liberty wasted no time in cutting down the lead, and just over six minutes after play resumed, the Flames only trailed by one point. But the Aggies remained hot coming out of the locker room and continued to score to create an exciting start to the second stanza.
Bruce Beckford provided the frontcourt presence on offense for North Carolina A&T and contributed 16 points, while Lamont Middleton put up points on the perimeter and finished the game with 14 points. Jeremy Underwood also delivered an important performance off the bench, posting 19 points.
Davon Marshall and John Caleb Sanders' three-point barrage allowed for a Liberty surge. Marshall went 6-of-15 from downtown and had 22 points, while Sanders made four of his six long-range attempts to finish with 21 points.
But it wasn't quite enough to lift the Flames over the Aggies. A furious Liberty comeback fell one point short, and North Carolina A&T will now play David while Louisville takes the role of Goliath.
Twitter Reaction
Tipoff for this game marked a celebratory occasion, as CBS Sports' Jeff Borzello noted:
And the 2013 NCAA tournament has started.

— Jeff Borzello (@jeffborzello) March 19, 2013
Liberty likely did not imagine itself in the NCAA tournament when it started the season on an eight-game losing streak, but as ESPN Stats & Info points out, the numbers show that the Flames' struggles earlier in the year actually benefited them in this contest:
Liberty (15-20) vs NC A&T tonight. Since adding Opening Round games in 2001 (later called 1st Rd), teams with losing W-L are 5-1 in 1st game

— ESPN Stats & Info (@ESPNStatsInfo) March 19, 2013
Another advantage Liberty had in this contest was junior guard Davon Marshall, who went 6-of-15 from three-point range and broke a school record set by another player who will factor into how the Midwest region plays out, as the Liberty Flames feed noted:
Davon Marshall needs 1 more 3-pointer to break Seth Curry's school-record. #GOFlames #MarchMadness

— Liberty Flames (@libertyflames) March 19, 2013
And with that 3-pointer Marshall is now Liberty's all-time for 3-pointers made in a season with 103! #GOFlames

— Liberty Flames (@libertyflames) March 19, 2013
But Marshall wasn't the only one hitting threes, as North Carolina A&T broke a season-long slump from distance at the perfect time, causing the NCAA March Madness Twitter to be impressed with the shooting in this game:
Holy 3-pointers in Dayton! #MarchMadness

— NCAA March Madness (@marchmadness) March 19, 2013
The Charlotte Observer's Jonathan Jones provided some statistics on the entertaining scoring onslaught that started the second half:
20 points were scored by both teams in the past 2:09. This game got fun quickly

— Jonathan Jones (@jjones9) March 20, 2013
But the incredible shooting from both teams at the start of the second half was unsustainable, and Borzello notes that Liberty blinked first:
9-0 run by A&T to push its lead back to 10. Liberty has missed seven in a row since starting hot in the second half.

— Jeff Borzello (@jeffborzello) March 20, 2013
March Madness TV gave credit to North Carolina A&T for its historic win and noted the exciting nature of the victory:
FINAL: @ncatsuaggies survives a thriller against @libertymbb, 73-72, for the school's first ever NCAA Tournament win #MarchMadness

— March Madness TV (@MarchMadnessTV) March 20, 2013
Link to Printable PDF
This article is
What is the duplicate article?
Why is this article offensive?
Where is this article plagiarized from?
Why is this article poorly edited?