Where LeBron-Kyrie Combo Would Rank Among NBA's Elite Duos of Last Decade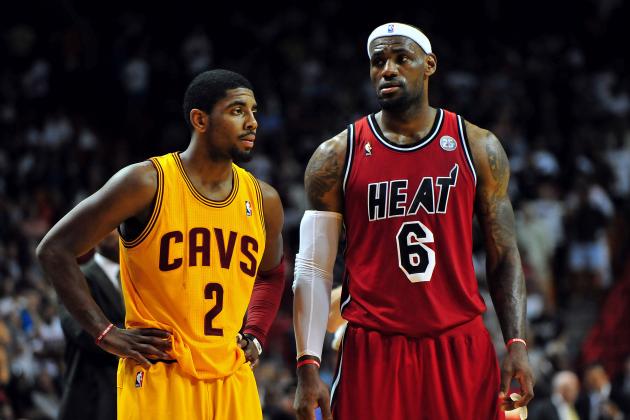 USA TODAY Sports
Cleveland Cavaliers' Kyrie Irving, Miami Heat's LeBron James
The hypothetical pairing of LeBron James and Kyrie Irving in 2014 would form one of the elite NBA duos of the last decade.
In an attempt to determine where the LeBron-Kyrie tandem would rank specifically, this list includes a collection of leading duos dating back to the 2003-04 season.
This last decade comes on the heels of the Los Angeles Lakers dynasty to begin the 2000s and features Shaquille O'Neal as a member of the Miami Heat.
It also includes a combination from Phoenix who never won an NBA championship despite a prolific display of offense while featuring another duo from San Antonio who has since won three rings.
Begin Slideshow

»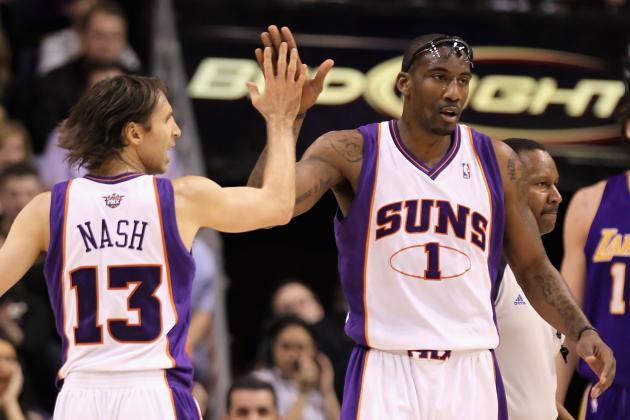 Christian Petersen/Getty Images
Steve Nash and Amar'e Stoudemire
Teammates: 2004-2010
Playing together as members of the Phoenix Suns, Steve Nash would eventually help Amar'e Stoudemire earn a max contract with the New York Knicks in the summer of 2010.
The duo combined in Phoenix to become a potent weapon in the pick-and-roll, specifically thriving in Mike D'Antoni's free-wheeling offensive system from 2004-08.
During that four-year run under D'Antoni, Nash and Stoudemire would help their team to an average of 58 regular-season wins.
Nash was named the NBA's MVP in back-to-back seasons from 2004-06, while Stoudemire averaged 24 points in the 240 games he was healthy enough to play.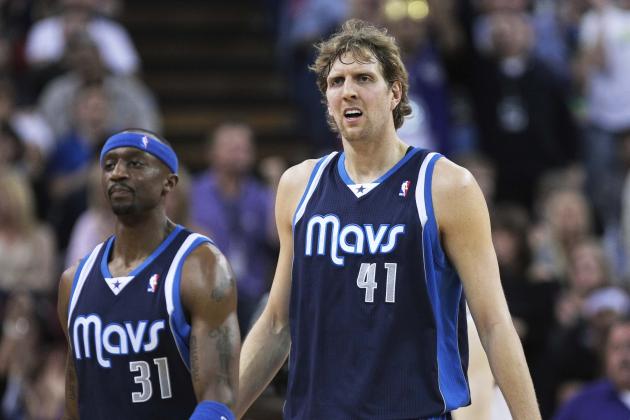 Kelley L Cox-USA TODAY Sports
Dallas Mavericks Jason Terry, Dirk Nowitzki
Teammates: 2004-2012
Before Jason Terry's basketball-playing spirt was murdered by LeBron James on Monday night, he was a proud member of the Dallas Mavericks for eight seasons.
While assuming the Robin role to Dirk Nowitzki's Batman, Terry and Nowitzki would eventually help lead Mark Cuban's Mavericks to an NBA championship in 2011.
As a 15.8 points per game scorer for his career, Terry finished with more than 16 four times during this stretch. Meanwhile, Nowitzki topped the 21-point-plateau each year while also collecting at least 6.7 rebounds.
In addition to the championship this duo inevitably won, they also helped Dallas advance to the NBA Finals in 2006 before losing to Shaquille O'Neal, Dwyane Wade and the Miami Heat.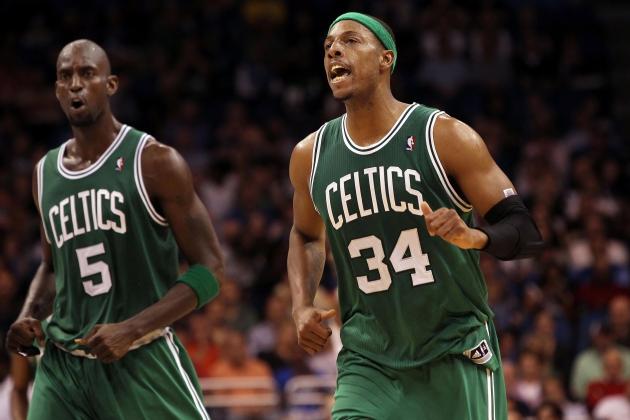 Kim Klement-USA TODAY Sports
Boston Celtics' Kevin Garnett, Paul Pierce
Teammates: 2007-Present
If not for the impact that Ray Allen made playing alongside this duo, Paul Pierce and Kevin Garnett could be ranked higher on this list.
As the two leading scorers for the Boston Celtics during their championship run in 2007-08, Pierce and Garnett combined to average 38.8 points and 14.3 rebounds.
During the '08 playoffs, this duo went on to improve that mark to 40.1 points and 15.5 boards.
Teammates ever since, Pierce and Garnett have continued to keep the Celtics in the playoff picture on an annual basis.
Despite the loss of point guard Rajon Rondo to injury in 2012-13—along with the departure of Allen—they currently have their team positioned with the No. 7 seed in the Eastern Conference at the combined age of 71 years old.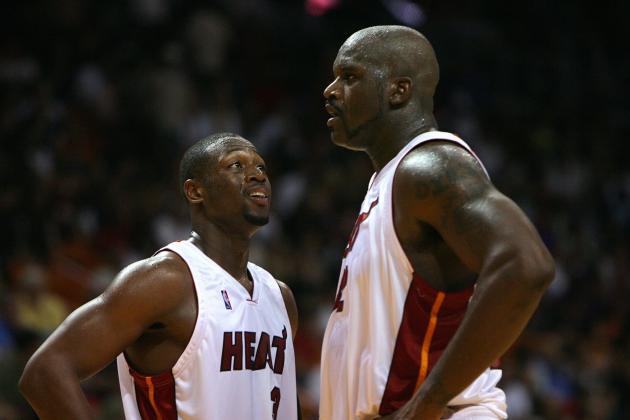 Doug Benc/Getty Images
Miami Heat's Dwyane Wade, Shaquille O'Neal
Teammates: 2004-2008
After arriving on the shores of South Beach the previous season, Shaquille O'Neal would help introduce Dwyane Wade's superstardom to the NBA universe.
During the 2005-06 campaign specifically, O'Neal and Wade combined to form an inside-outside tandem that led their Miami Heat team to an NBA championship.
Though he wasn't the player he was with the Los Angeles Lakers by then, O'Neal still managed 18.4 points and 9.8 rebounds during a 23-game march through the postseason.
As an encore to the 27.2 points he scored during his third regular season, Wade played off the attention O'Neal received inside to improve his scoring mark to 28.4 in the playoffs.
O'Neal would eventually be traded to the Phoenix Suns in 2008, but not before winning his fourth NBA title ring and helping Wade secure his first.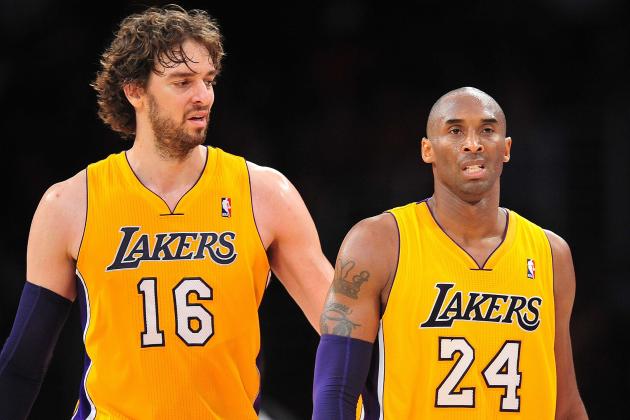 Gary A. Vasquez-USA TODAY Sports
Los Angeles Lakers Pau Gasol, Kobe Bryant
Teammates: 2007-Present
Soon after Pau Gasol arrived in Los Angeles midway through the 2007-08 campaign, he would help Kobe Bryant win two more championships for the Lakers.
During that back-to-back title run from 2008-10, Gasol averaged 18.9 points and 10.9 rebounds during a total of 46 playoff games. Meanwhile, Bryant posted 29.7 postseason points during that same stretch.
More than simply scoring and rebounding, however, Gasol was also able to fill that on-court role alongside Bryant vacated by Shaquille O'Neal's departure.
His ability to both handle and pass the basketball allowed Gasol to thrive in the triangle offense under Phil Jackson. He created the space necessary to help Bryant do what he did at an elite level, while forming a traditionally underrated duo despite their accomplishments.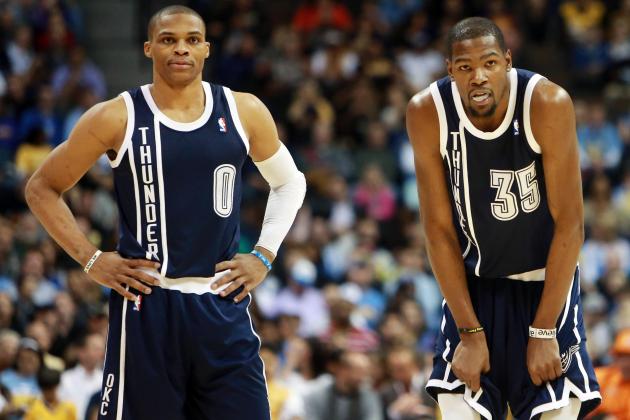 Chris Humphreys-USA TODAY Sports
Oklahoma City Thunder's Russell Westbrook and Kevin Durant
Teammates: 2008-Present
Kevin Durant and Russell Westbrook are a unique duo in that they started from the bottom together.
While many of the elite partnerships we see are formed via trade or free agency, both Durant and Westbrook were each drafted by the same rebuilding franchise during a time when winning was foreign.
After leading the Oklahoma City Thunder to the NBA Finals in 2012, they are currently the highest scoring duo in the NBA at 51.7 points per night.
This, after a 2011-12 campaign that saw Durant and Westbrook combine for 51.6 as a follow-up to the 49.6 they scored the year before that.
They represent one of the best pure scoring tandems in history already, with many chapters in their NBA legacy still unwritten.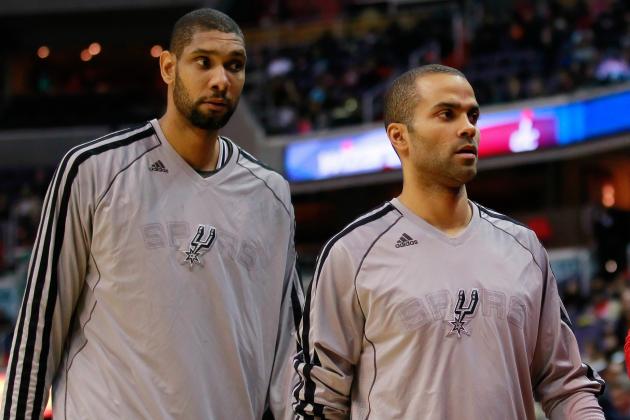 Geoff Burke-USA TODAY Sports
San Antonio Spurs' Tim Duncan and Tony Parker
Teammates: 2001-Present
Despite his recent injury, Tony Parker is still forming an elite duo with Tim Duncan during the 2012-13 campaign.
As teammates with the San Antonio Spurs since Parker broke into the league in 2001, however, they didn't necessarily become the duo we've known over the last decade until David Robinson retired.
It was at that point, however—following the Spurs 2003 NBA championship—that Duncan transitioned from a Twin Towers tandem with Robinson to the inside-outside threat he's since become with Parker.
Highlighted by two more title runs in '05 and '07, Parker's ability to get into the paint, causing defenses to converge, has left Duncan open for a countless number of fundamentally sound shots around the basket.
Their relationship off the court has led to a culture of winning in San Antonio as well, resulting in the Western Conference's best record through Tuesday.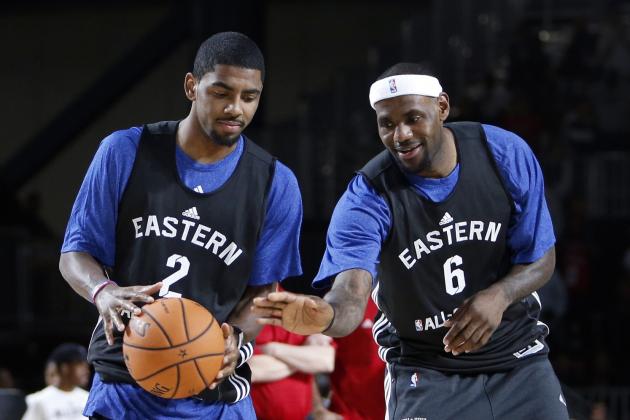 Brett Davis-USA TODAY Sports
Eastern Conference All-Stars Kyrie Irving, LeBron James
Kyrie Irving is the Chris Paul-caliber point guard that LeBron James wanted more than anything during his time with the Cleveland Cavaliers.
In a hypothetical situation where they team up in 2014, Irving and James would form an extremely lethal combination.
Irving would allow James to run the floor alongside an elite point guard for the first time in his professional career.
They would still be able to take turns attacking the basket like James and Wade currently do in Miami while also adding the three-point dimension and traditional point guard skills that Irving provides.
Kyrie's ability to knock down shots from the perimeter—combined with LeBron's propensity to create for his teammates—would make this tandem nearly impossible to defend when James attacked the basket.
The only thing keeping this combination off the top line at the moment is that it's hard to imagine James will still be this good in two seasons.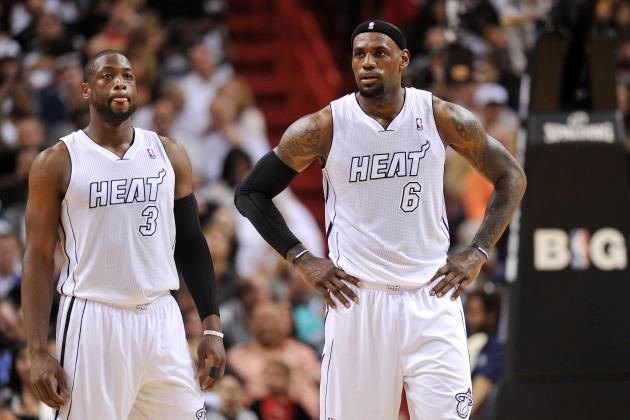 Steve Mitchell-USA TODAY Sports
Miami Heat's Dwyane Wade and LeBron James
Teammates: 2010-Present
LeBron James and Dwyane Wade currently rank first and fourth in terms of player efficiency rating.
Since joining forces with the Miami Heat, they've finished first and third respectively in each of the two previous seasons.
For those interested in creating new statistics, that would equate to a combined PER Duo-Ranking of 2.2 over the last three seasons if such metrics existed.
Meaning—in more traditional terms—they are extremely effective together.
Following a feeling-out process during 2010-11, they have since developed an on-court understanding of how to maximize each other's abilities.
As a result, both James and Wade are each averaging a career high in field-goal percentage at 55.5 percent and 52.3 percent respectively while riding a 23-game winning streak.
On any given night, it might be possible to slow one member of this duo down enough to earn an victory, but it is nearly impossible to stop both of them.