NCAA Brackets 2013: Mid-Major Stars That Could Bust Your Bracket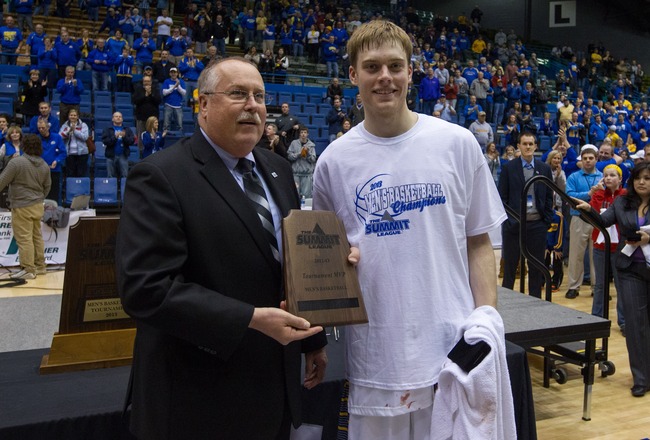 Brace Hemmelgarn-USA TODAY Sports
With the 2013 NCAA Tournament field set, the process of filling out brackets has begun. While the favorites are known, everyone is wondering which teams will face upsets.
For that answer, we must acknowledge which mid-major players could bust your bracket.
Some have become stars on a national level due to their NBA draft stock. Others have reached their status on this list due to the fact that they have a history of taking down giants.
Regardless of why they're here, the following mid-major stars could ruin your bracket.
Ian Clark, Belmont Bruins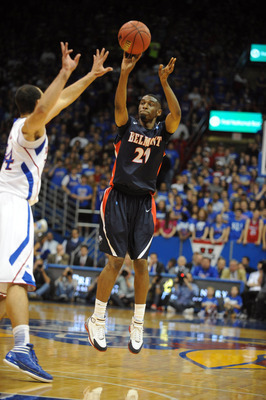 USA TODAY Sports
Position: Guard
Class: Senior
2012-13 Season Averages: 18.1 PPG, 3.3 RPG, 2.5 APG, 1.6 SPG
Ian Clark is an extraordinary shooter, a respected leader and a genuinely clutch performer. Such will be on full display as Clark leads Belmont against two high quality opponents during the opening rounds.
That includes the potential of facing Arizona, New Mexico and Ohio State.
As a team, Belmont has proven to be one of the best shooting squads in the NCAA. At the forefront of their success is Clark.
He's currently averaging 18.1 points on a slash line of .541/.463/.840. That's what you call efficient dominance.
That's what it takes to be a star that upsets an early power.
Anthony Bennett, UNLV Rebels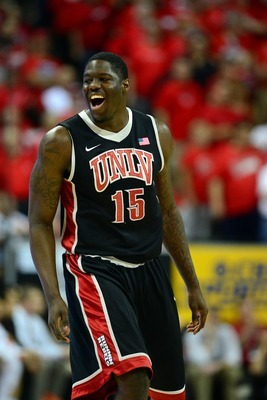 Ron Chenoy-USA TODAY Sports
Position: Power Forward
Class: Freshman
2012-13 Season Averages: 16.1 PPG, 8.1 RPG, 1.3 BPG, 37.9% 3PT
Anthony Bennett is one of the most exhilarating players in the NCAA. Not only is he an elite athlete, but he's one of the most powerful players in the nation at 6'8" and 240 pounds.
Unfortunately, Bennett has failed to step up during games that matter most—that inconsistency could make or break your bracket.
On one hand, Bennett is leading an outstandingly athletic UNLV squad that could down any caliber opponent. On the other hand, the Rebels could lose during the round of 64.
UNLV could upset Syracuse in the round of 32 or dip out early. It all hinges upon Bennett's production.
A true bracket buster.
Doug McDermott, Creighton Bluejays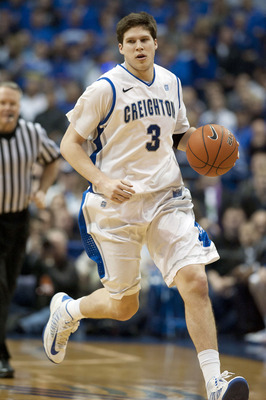 Paul Halfacre-USA TODAY Sports
Position: Small Forward
Class: Junior
2012-13 Season Averages: 23.1 PPG, 7.5 RPG, 1.6 APG, 56.1% FG, 49.7% 3PT
Doug McDermott is one of the greatest offensive players that college basketball has ever seen. He's scored over 2,000 points with an awe-inspiring slash line.
In 2012-13, McDermott is averaging 23.1 points on shooting percentages of .561/.497/.860.
With all of this being noted, McDermott is far more than just a shooter. He crashes the boards, handles the ball well and has a superb basketball IQ.
As a coach's son, that comes as expected.
During the round of 64, McDermott will lead Creighton against the Cincinnati Bearcats. Should the Bluejays win, that won't come as a surprise to many.
During the round of 32, however, McDermott could lead Creighton to an upset of the Duke Blue Devils.
Mike Muscala, Bucknell Bison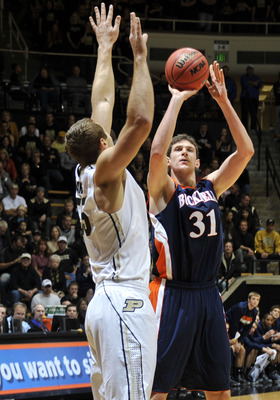 Sandra Dukes-USA TODAY Sports
Position: Center
Class: Senior
2012-13 Season Averages: 19.0 PPG, 11.2 RPG, 2.3 APG, 2.4 BPG
Mike Muscala is a legitimate first-round draft choice. He's excellent with his back to the basket, can face up for a jump shot and will decimate an opponent on the offensive glass.
Against an undersized Butler squad, Muscala should have a field day.
Muscala stands at 6'11" and 239 pounds. Against a Butler team with just one player over 6'9", Muscala should be able to work his way into the paint and lead the Bison to the brink of victory.
How well he overcomes Andrew Smith and an underrated rebounding team could determine whether or not they actually win. If I was a betting man, however, I'd trust Muscala.
Just don't underestimate Butler head coach Brad Stevens.
Nate Wolters, South Dakota State Jackrabbits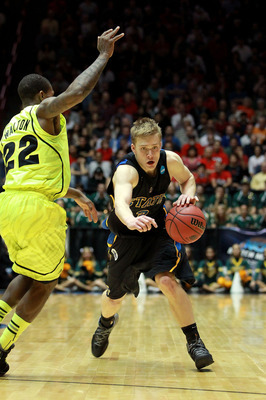 Ronald Martinez/Getty Images
Position: Point Guard
Class: Senior
2012-13 Season Averages: 22.7 PPG, 5.8 APG, 5.6 RPG, 1.8 SPG
If there's anything you need to know about South Dakota State, it's that point guard Nate Wolters lives for big games. Well, how much bigger can you get than a showdown with Big Ten Player of the Year Trey Burke?
Mr. Wolters could bust your bracket in the most drastic way possible.
Michigan is one of the most polarizing teams in the tournament due to the quality of their team and draw of their bracket. While many have them pegged to struggle with VCU in the round of 32, they may not make it out of the round of 64.
Wolters is a major reason why.
Wolters is averaging 22.7 points, 5.8 assists, 5.6 rebounds and 1.8 steals per game. He's doing so on a slash line of .493/.390/.810.
Michigan—and all teams beyond—could be in trouble if Wolters has it his way.
Keep Reading