Michael Owen: 10 Simple Steps to Becoming the Next Michael Owen
Ian Walton/Getty Images

Michael Owen has announced his decision to retire from football at the end of the 2012/13 season. Although this news may have been expected due to his lack of playing time and history of injuries, it is certainly a blow for all the Owen-ites out there.
Having played for great clubs such as Liverpool, Real Madrid and Manchester United as well as OK clubs such as Newcastle United and Stoke City, the 33-year-old Owen has been a part of our lives for the last 17 years.
Some of you may now be looking at the bench—sorry, football pitch—and thinking "there seems to be a gap in the market here." But it's not an easy route to becoming the next Michael Owen.
Despite the odd "splinters" joke—OK, the numerous "splinters" jokes—that have followed him around, he is still best known as that little chap who scored some stupendous goals for both club and country.
But how did he manage to go from Mold Alexandra to Match of the Day? And how could you do the same?
Here are 10 simple steps to replicate Michael Owen's career.
Pen and paper at the ready.
Begin Slideshow

»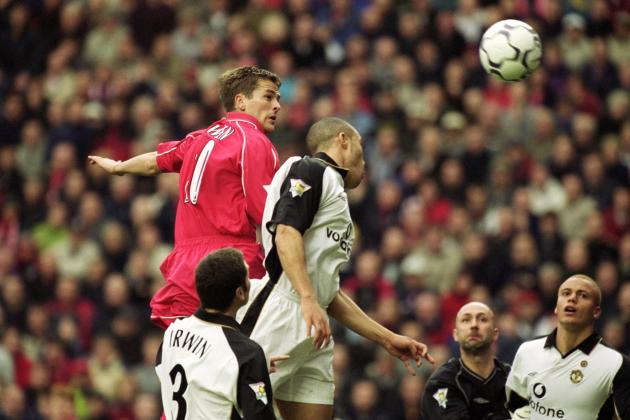 Ross Kinnaird/Getty Images

Liverpool don't really like Manchester United, and Michael Owen had a habit of netting against them.
It wasn't an easy start for the young lad; he did score against United in 1998. But then got himself sent off.
He scored against them again in 1999 and managed to stay on the pitch. But unfortunately for Liverpool, so did Andy Cole and Ole Gunnar Solksjaer, who both scored two minutes from time to snatch victory.
However in 2001 he managed to rid himself of that United curse by netting what turned out to be the winner in the Charity Shield, as well as a brace in the 3-1 league victory that same year. And he continued in that vein of form against the Red Devils for the remaining years of his career on Merseyside.
To notch multiple times against your closest rival will make you a Liverpool legend. So the first step is fairly simple really: score against Manchester United and the Kop will love you.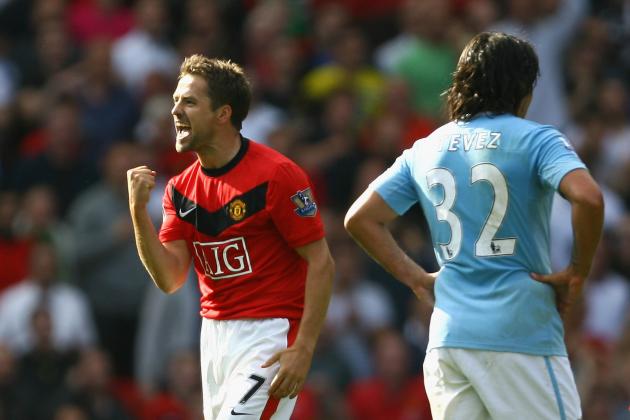 Alex Livesey/Getty Images

Well, that is until you move to those exact archrivals of course.
Michael Owen announced himself onto the Old Trafford stage in 2009 in one of the most exciting games in recent years.
Picture the scene. It's Manchester United against Manchester City, Howard Webb is nowhere to be seen, it's 3-3 and Craig Bellamy has just equalized for City.
Up goes the added time board, the four minutes tick away, but Fergie Time kicks in and Owen coolly slots home the winner roughly three hours after the game was due to finish.
And what a goal it was.
So get practicing those finishing touches, even if you are called in for your dinner, as football never stops on Fergie's watch. And even if the Kop have fallen out of love with you, the Stretford End is not a bad rebound.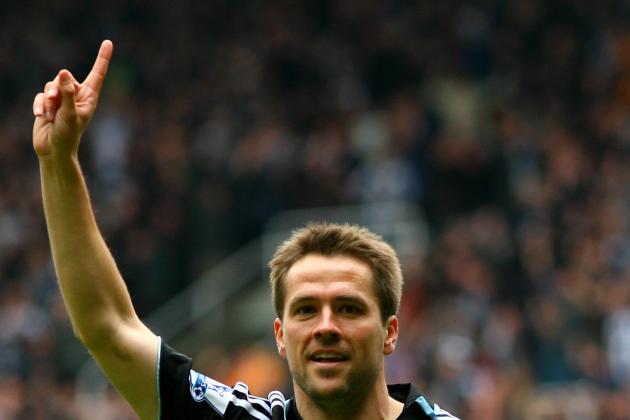 Stu Forster/Getty Images

Michael Owen is proof that good goalscorers don't need good goal celebrations.
The striker never quite mastered his own distinct victory dance. He tried the fist pump, the double fist pump, the ear cup, the rubbing of hands, the finger point, the arms out to his side with an overly excited look on his face and even the Alan Shearer arm in the air. But none really seemed to suit him.
At least he didn't try the Nani somersault; otherwise he could have been injured for even longer periods of his career.
This however gives us all hope. Knowing that so long as you can score goals, you don't need to be able to move like Peter Crouch, dance like Roger Milla or raise your arm like Alan Shearer when the ball hits the back of the net.
When Michael Owen broke onto the international stage with this wonder goal against Argentina at just 18, England knew that had something special on their hands.
When Michael Owen scored a hat-trick against Germany at Wembley in the 5-1 thrashing in 2001, he was inaugurated into English football folklore forever.
However his proudest moment came a year later, when he was included in the lyrics of the England World Cup anthem, "On the Ball," by British TV hosts Ant and Dec:
It's Neville to Campbell,
Campbell to Rio,
Rio to Scholesy,
Scholesy Gerrard,
Gerrard to Beckham,
Beckham to Heskey,
Heskey to Owen to nod.
To be fair, so did Emile Heskey, but let's ignore that.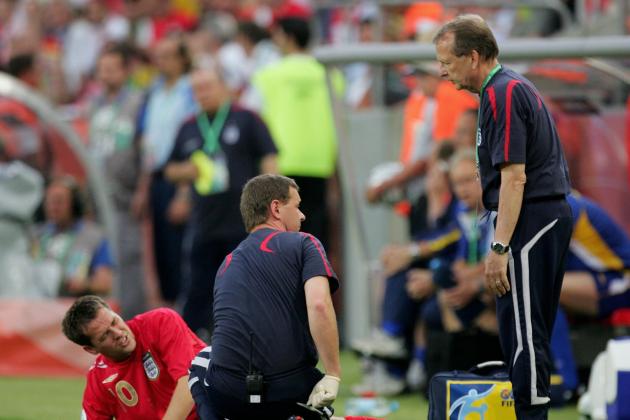 Laurence Griffiths/Getty Images

Everybody knows you should be nice to people on your way up because you may meet them on your way down. And Michael Owen can testify to that.
The manager, the cook, the kitman and of course the physio all need to be greeted with the same affectionate smile as you would greet David Beckham. And in Michael's case, the physio is the most important of them all.
If injuries were postnominal letters after a footballer's name, Owen would have the entire alphabet. And an injury curse doesn't pick and choose who it strikes down or indeed when.
So heed Michael's warning. And be nice to the men in gloves.
Michael Owen is becoming a regular pundit on various shows, and it all started with a children's TV program called "Hero to Zero."
It's a beautiful tale of a young footballer played by Huw Procter who is struggling with football, family and friends. And his hero Michael Owen comes to life from a poster on the kid's bedroom wall to help him through the tough times.
It only lasted six episodes though, so the BBC obviously didn't enjoy it as much as I did.
But for Michael, those six episodes were entirely worthwhile as they gave him something to do when injured in 2000. And it also resulted in Owen quoting the understatement of the century regarding his 10-year-old co-star: "I did most of my scenes with Huw Procter. He was a much better actor than me."
But despite his less-than-award-winning performance on screen, this foray into acting did lead Michael to great things in the media world such as having a crisp named after him and sitting in a cupboard for Domino's Pizza.
Tweeted by @themichaelowen
Michael Owen is the sort of guy who likes to take care of himself. When not sat in warm-up jackets, he is usually spotted in a shirt and jumper, or a suit. And his hair is so pristine he feels completely comfortable insulting Wayne Rooney's barnet:
By the way @waynerooney, how old are you in that photo? Your face looks like a 12 year olds but your hair looks like a 60 year old!

— michael owen (@themichaelowen) May 7, 2011
However when he tweeted this picture of himself, the world was shocked that the usually groomed Owen was actually a dead ringer for Hulk Hogan's walrus.
It was of course for the incredibly good cause Movember; however be warned, future stars. If you can't grow a mustache—let alone one as horrific as Michael's—you might as well give up the footballing dream right now.
So while David Beckham and Ronaldinho were larking about for Pepsi, and Zinedine Zidane was playing street football with Frank Lampard, Michael Ballack and oddly Jermaine Defoe for adidas, Michael Owen was kicking a melon through Asda with a checkout guy.
How the other half lives.
But it just shows, even if you did make it to the level of Michael Owen, it doesn't all have to be caviar and champagne; it can be takeaway curry from a High Street store.
Just make sure it's Asda, not Tesco. Otherwise you won't be getting commercials like this.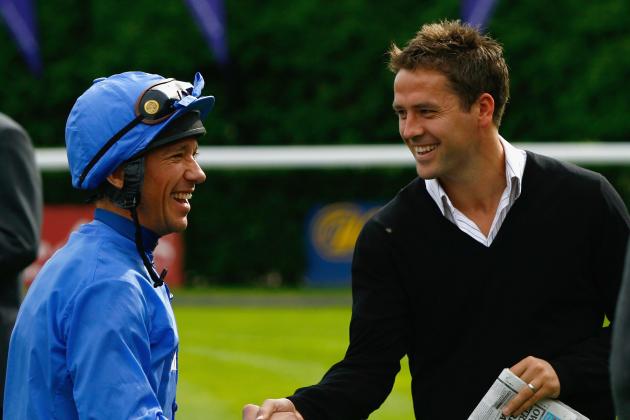 Clive Rose/Getty Images

And speaking of Tesco, that leads us nicely on to horses.
Instead of spending all of his salary on women, cars or alcohol, Owen spent his on horses. And not just guessing which of them will come first after jumping over some fences.
Michael Owen owns Manor House Stables, where over 100 horses eat, sleep, live and train. And he stated on his official website:
My main passions in life have always been my family and football, but I suppose a close third, as a hobby, is horse racing.
So there you have your priorities laid out for you if you are to follow in Owen's footsteps: family, football and horses. But how will you have time to pursue equestrianism? Let's see how Michael manages it:
I have owned horses for many years and although the majority of my time is spent training at Stoke City, whenever I have time off... I pop down to the stables to see the horses.
So it seems he is able to "pop down" a fair bit.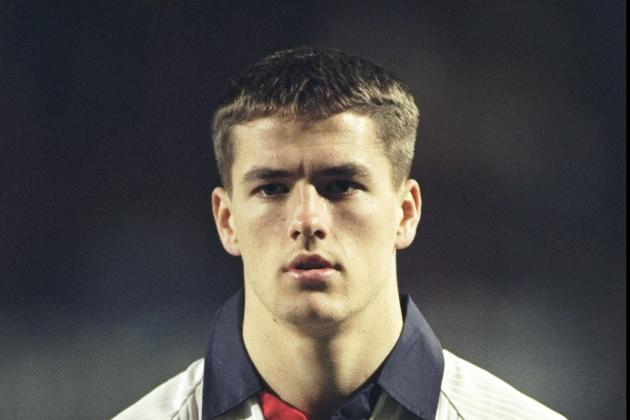 Shaun Botterill/Getty Images

If you have already reached or passed your teenage years, then I am sorry to say you are too late to be the next Michael Owen. And reading this article has just wasted your time.
Michael Owen was a real boy wonder.
He signed for Liverpool at just 12.
He played for the first team at just 17.
He played for England at just 18.
And more to the point, he played for England when Umbro deemed this an acceptable shirt collar design.
But hey, anyone can give football a go—just look at that kid in "Hero to Zero."
Just don't expect to be the next Michael Owen unless you follow all of the previous steps and haven't yet hit puberty. Actually, don't necessarily expect to be the next Michael Owen full stop.
He was quite simply special.