Dominican Republic vs. Puerto Rico: World Baseball Classic Live Score, Analysis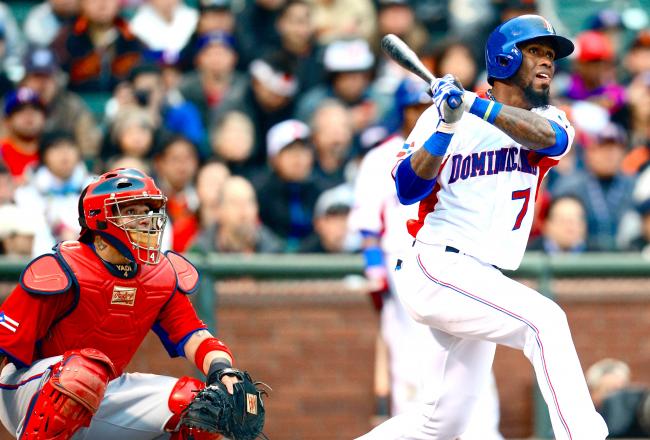 SCORE UPDATE:
Dominican Republic 3 Puerto Rico 0
W: Deduno
L: Alvarado
S: Rodney
Dominican Republic WINS the 2013 WBC.
On a 2-2 pitch, Figueroa swings through strike 3 AND THE DOMINICAN REPUBLIC WINS THE 2013 WORLD BASEBALL CLASSIC!
They mob each other on the mound with hugs and flags!
Both teams shake hands and exchange hugs.
A wild pitch moves Aviles to second.
Rodney gets Rivera looking on a changeup on the outside corner. Two out for Luis Figueroa.
Rios pops out to Cano by the bag at second and there is one out.
Horns blaring all over the place.
Mike Aviles starts the ninth by bouncing a ball off Tejada at third.
It struck his shin and bounced into left for an E-5.
Why is Tejada still out there?
If this does end right here, PR fans will look at Giancarlo Alvarado's bad first inning.
He looked nervous and pitched like it. In the end, that is the difference.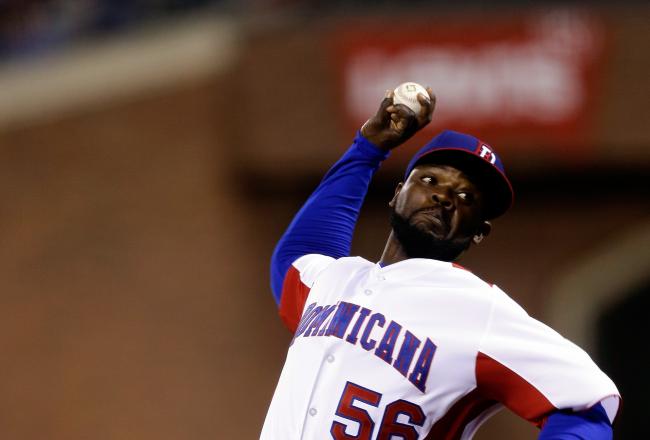 After Tejada flies out to right, Nelson Cruz flies out to center.
Another quick inning.
As Fernando Rodney warms up, you can hear the party cranking up in Santo Domingo.
Fernando Cabrera now pitching for Puerto Rico.
The pen tonight has only allowed one run in seven innings. Frankly, you could not have asked them to do a better job facing such a tough lineup.
Encarnacion grounds out to second for the first out.
Santiago Casilla of #sfgiants pitches scoreless 8th. DR bullpen now with 24 2/3 straight scoreless innings. They need one more. #WBC

— Ron Kroichick (@rkroichick) March 20, 2013
Molina grounds out right to Casilla and the inning is over.
Puerto Rico will now have to get this big rally off of Fernando Rodney.
The finish line is in sight.
Casilla gets Falu looking on the inside corner for the first out.
The strike zone tonight has been generous, but equal.
Beltran flies out to left on the first pitch and PR is down to four outs.
Pagan draws a walk to start the inning.
Falu up as it rains slightly harder.
The home town crowd is happy as Giants reliever Santiago Casilla comes on for the DR.
Angel Pagan leads off for Puerto Rico. This will be the last time the heart of the order is due up.
Aslate John McKay told me long ago, if other team doesn't score worst you'll get is a 0-0 tie. Puerto Rico 21 scoreless inns against DR

— Art Spander (@artspander) March 20, 2013
Cano tries to hit a seeing-eye grounder up the middle, but Falu races over to make the play.
Cedeno works around that Reyes triple and the score remains 3-0.
Big second outas Falu pops out to second on the cut of the grass.
Cano up, they are going to pitch to him.
Don't expect anything to hit.
#WBC announced attendance of 35,703 seems a bit generous. Still a pretty good turnout, given rain and absence of U.S. & Japan teams.

— Ron Kroichick (@rkroichick) March 20, 2013
Two changes for PR as we start the bottom of the seventh.
Xavier Cedeno takes over for De La Torre on the hill and Luis Figueroa takes over at third.
Cedeno gets De Aza swinging for the first out.
Reyes, however, hits one into triples alley for a triple.
One out and a big fourth run standing on third.
Feliciano hits one sky high to foul ground on the third base side.
Tejada steps on the bullpen plate section, catches the ball and slips.
Tejada does not look comfortable, but the inning is over.
PR strands two at the seventh-inning stretch.
Strop makes Valdes look awful with a changeup swung at in the dirt.
Two quick out via the K.
Strop gets Rivera looking on a pitch hugging the inside corner. Good fastball with movement.
If there is a comeback in the offing, it has to happen right now.
Pedro Valdes is pinch hitting for Andy Gonzalez.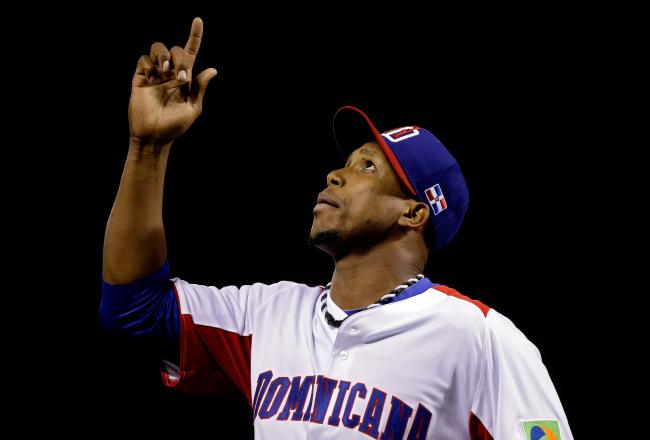 Alex Rios draws a walk and all of a sudden, the tying run is at the plate.
Tony Pena takes out Dotel and Pedro Strop will be the new pitcher.
Carlos Rivera will be his first batter.
Mike Aviles singles over second to start the seventh as Dotel remains on the mound.
MLB Network aired a clip shot between innings of home plate umpire Ted Barrett and the grounds crew talking weather. It looks like the rain will get lighter and lighter.
We should have a full game as the field is holding up well.
De La Torre gets Sierra to go down on a check-swing trike out.
The DR strands two to keep this a three run game.
While a three-run deficit is not normally that huge, the Puerto Ricans have one big mountain to climb to break through against this pen.
Samuel Deduno, Kenta Maeda & the entire DR bullpen are the WBC pitching stars, but boy was I impressed by Andrelton Simmons. Wow. #Braves

— Bleacher Report (@BR_MLB) March 20, 2013
This article is
What is the duplicate article?
Why is this article offensive?
Where is this article plagiarized from?
Why is this article poorly edited?