10 NHL Players Who Make the Most Money for Doing the Least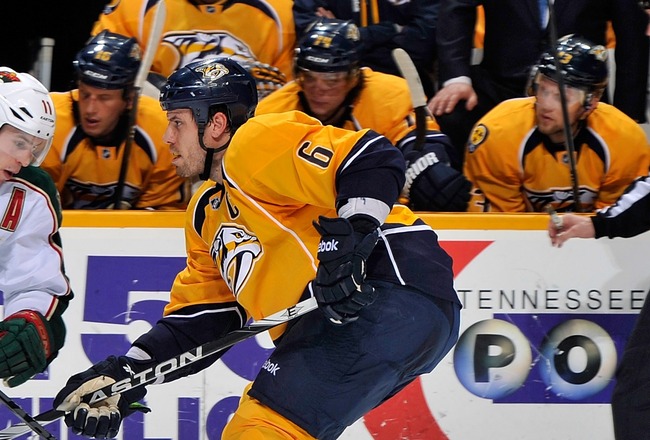 The Predators paid huge money to keep Shea Weber in Nashville this season.
Frederick Breedon/Getty Images
The NHL may be facing a dramatic salary reduction for its players next season when the salary cap of $64.3 million takes hold (per SI.com).
However, big-money contracts will still be offered to top players. The Anaheim Ducks recently signed Ryan Getzlaf and Corey Perry (per ESPN.com) to new contracts that will keep them anchored to the team for years.
When teams sign players to multi-year, multi-million dollar contracts, there are no guarantees. Some will hit and some will miss.
Here's a look at 10 players who receive the most money while doing the least. We're not saying that all of the following are bad players, they are just overpaid for their current level of production.
All salary figures are courtesy of CapGeek.com.
D Tyler Myers, Buffalo Sabres
Let's not pull any punches here.
Tyler Myers is not merely a big-name player who is being overpaid.
Myers is a poor player who has been able to parlay his size (6'8" and 227 pounds), strength and potential into a huge contact.
Myers is earning $12 million this season. He has scored three goals and one assist. He has a minus-seven rating.
Former Sabres head coach Lindy Ruff was fired this season because players like Myers are not producing.
Myers is the most overpaid player in the league and his contract is a disaster for the Sabres.
F Alex Ovechkin, Washington Capitals
A few years ago, Alex Ovechkin had a legitimate competition with Sidney Crosby for the unofficial title of the best player in the NHL.
That contest is over.
While Crosby has returned from two concussion-torn seasons and is once again at the top of the heap in the NHL, Ovechkin has been a major disappointment.
After scoring 50 goals in 2009-10, Ovechkin followed with 32 goals in 2010-11 and 38 goals last year.
In the truncated 2013 season, he has 11 goals. He is being paid $9 million for his efforts.
He's not worth it. He seems to whine and sulk more than he should and NBC Sports analyst Mike Milbury took Ovechkin to task (video above) for his inconsistent play.
This former superstar is dragging his franchise down.
D Christian Ehrhoff, Buffalo Sabres
The Buffalo Sabres have done a lot of gambling and a lot of losing.
Not only did they sign Tyler Myers to an overpriced contract, they did the same when they signed former Vancouver Canuck Christian Ehrhoff prior to the 2011-12 season.
Ehrhoff is earning $8 million this season. For that kind of money, the Sabres should be getting an All-Star. Ehrhoff has scored two goals and 10 assists. He is merely ordinary.
This is a move that general manager Darcy Regier must regret.
D James Wisniewski, Columbus Blue Jackets
James Wisniewski signed a six-year, $33 million contract following the 2010-11 season. He scored 10 goals and added 41 assists that year while playing for the New York Islanders and the Montreal Canadiens.
At the end of the season, the Habs traded Wisniewski to the Columbus Blue Jackets, who signed him to an extension.
Wisniewski never had a good season prior to 2010-11 and he has been ordinary since then. He has scored three goals and six assists this season.
Wisniewski is earning $7 million this season and is not worth the money that he is being paid.
F Brad Richards, New York Rangers
Brad Richards was the free-agent prize in the summer prior to the 2011-12 season for the New York Rangers.
He signed a nine-year, $60 million deal with New York and that deal pays him $12 million in the 2013 season (prorated).
While Richards scored 25 goals and 41 assists last year, he is struggling to produce this season. Richards has scored four goals and 11 assists in 2013.
Instead of contending for the top seed in the Eastern Conference, the Rangers are fighting for eighth.
That's not good enough and Richards is not giving the Rangers enough for what they are paying him.
F Mike Cammalleri, Calgary Flames
Mike Cammalleri is often a dynamic-looking player who can fly around the ice.
He is creative and has the ability to accelerate into the prime scoring areas.
Cammalleri is being paid $7 million by the Calgary Flames this season. He has scored nine goals and 13 assists this season. He is also minus-seven with his underperforming team.
Cammalleri is not a bad player, but he is not worth the money he is being paid.
D Shea Weber, Nashville Predators
The Nashville Predators were left in a difficult position last summer when the Philadelphia Flyers signed Shea Weber to a 14-year, $110-million offer sheet.
They had already lost defenseman Ryan Suter to the Minnesota Wild through free agency and the thought of losing both All-Star defensemen in the same offseason was too much for general manager David Poile and head coach Barry Trotz to take, so they matched the offer.
Weber is a solid player who may have the best slap shot in the league. However, his play this year has not been worthy of the money he is receiving.
Weber is being paid $14 million (prorated) this season. He has scored five goals and 11 assists and has a plus-six rating. Those numbers are decent, but he should be providing more production for the amount he is being paid.
F Ilya Kovalchuk, New Jersey Devils
Ilya Kovalchuk is a dynamic offensive force. He has one of the hardest shots in the league and has been a consistent scorer for the Atlanta Thrashers and New Jersey Devils throughout his career.
However, Kovalchuk is earning $11 million (prorated) this season.
He is not worth the money the Devils are paying him. Kovalchuk is a streaky scorer. When he is hot, he can carry a team. He can go on a cold streak just as frequently.
Kovalchuk has scored 10 goals and 15 assists this year. Those figures are not bad, but he is not giving general manager Lou Lamoriello a good return for his money.
D Ryan Suter, Minnesota Wild
Ryan Suter made a huge impact last summer when he signed a 13-year, $98 million contract with the Minnesota Wild.
Suter's take for the 2013 season is $12 million this season.
Suter got off to a sluggish start with the Wild, but he is playing solid hockey as the season has passed the midway point.
Suter has two goals and 21 assists, but he is overpaid compared to the money he is making.
If Suter continues to improve and the Wild make the playoffs, he will soon be off this list.
F Vincent Lecavalier, Tampa Bay Lightning
Vincent Lecavalier scored 52 goals in 2006-07 and followed that up with 40 goals the following year.
Prior to the 2009-10 season, Lecavalier signed an 11-year, $85 million with the Tampa Bay Lightning. The thought was that Lecavalier was one of the elite players in the league and he deserved to be paid like one.
Lecavalier does everything the Lightning want in terms of providing leadership as the team's captain and giving everything he has in every game he plays.
However, Lecavalier has not kept up his level of productivity. After his 40-goal season in 2007-08, Lecavalier has not scored 30 goals in any season.
Lecavalier is earning $10 million this season. He scored seven goals and 15 assists in 26 games this year before breaking his foot (per FoxSports.com). He could miss another three weeks.
Keep Reading