Predicting Every NBA Playoff Matchup 1 Month Before Start of the Postseason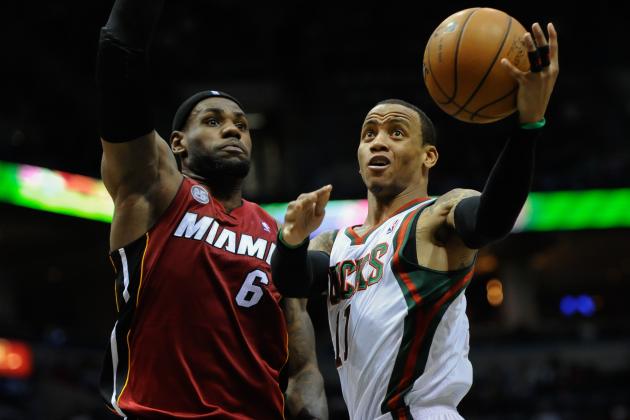 Benny Sieu-USA TODAY Sports

Between the Miami Heat and Denver Nuggets' win streaks, the constant highlights produced by so many players and the thrilling games we witness on a nightly basis, it's hard to think about the playoffs right now.
We're entering the most crucial stretch of the regular season, though, so it's time to look forward to the postseason. After all, it's the only part of the season that truly matters when it's all said and done.
With only one month left, it's getting easier to actually pinpoint which teams will face each other in the postseason. On top of that, we can start to guess at who will actually win the matchups.
Is this the year LeBron James gets his second ring, or will someone else take over the throne?
Begin Slideshow

»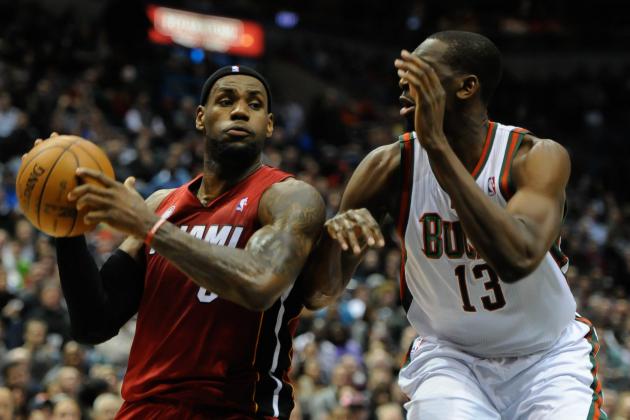 Benny Sieu-USA TODAY Sports

Previous Meetings
Nov. 21: Miami Heat 113, Milwaukee Bucks 106 (OT)
Dec. 29: Milwaukee Bucks 104, Miami Heat 85
Mar. 15: Miami Heat 107, Milwaukee Bucks 94
The Milwaukee Bucks are playing better now that Monta Ellis and Brandon Jennings have taken it upon themselves to fill roles more conducive to the team's success. That won't help against the Miami Heat.
A chippy game and turnover problems kept Miami from winning the second of three games in the season series, but it's hard to imagine Milwaukee stealing another one from the streaking Heat. When they meet up again in the regular season, Miami could be going for 34 wins in a row, needing only a victory to break the all-time mark.
Note the "could," though, as that's far from a guarantee.
Things will be even more heated in the postseason, and Milwaukee just doesn't have the manpower necessary to match up with a motivated version of Miami. No one on the Bucks can convincingly guard LeBron James, and it's hard to imagine the Ellis-Jennings backcourt slowing down a resurgent Dwyane Wade.
Series Prediction: Miami 4, Milwaukee 0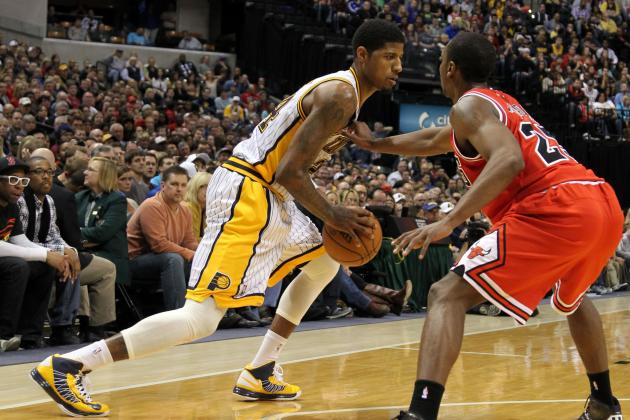 Brian Spurlock-USA TODAY Sports

Previous Meetings
Dec. 4: Indiana Pacers 80, Chicago Bulls 76
Feb. 10: Indiana Pacers 111, Chicago Bulls 101
Mar. 3: Indiana Pacers 97, Chicago Bulls 92
The Chicago Bulls are trending in the wrong direction, and unless Derrick Rose returns in the near future, it's hard to imagine a drastic shift.
Meanwhile, the Indiana Pacers are going to hold onto the No. 2 seed in the Eastern Conference, holding off the New York Knicks and the rest of the contenders in the conference. While the Brooklyn Nets could make up the gap, it's hard to imagine any of the other squads supplanting the Pacers in the race for second.
Indiana has swept this series against the Bulls thus far, even if most of the individual wins haven't been in convincing fashion. Still, if a 3-0 mark isn't convincing, it's hard to imagine what is.
The Bulls just don't match up all that well with the Pacers, who are among the league's most sturdy defensive teams. If Chicago has trouble scoring regardless of the defense it is tasked with facing, it's going to be rather difficult to put up points in bunches against this gritty team.
Indiana's offense isn't anything to write home about, but it won't need to be if it can keep Chicago's offense even further in check than normal.
Series Prediction: Indiana 4, Chicago 1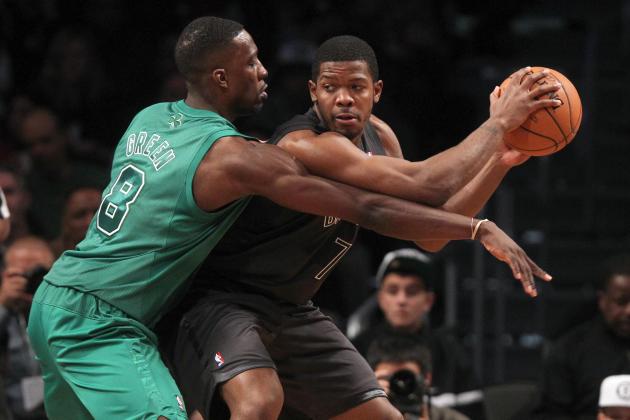 USA TODAY Sports

Previous Meetings
Nov. 15: Brooklyn Nets 102, Boston Celtics 97
Nov. 28: Brooklyn Nets 95, Boston Celtics 83
Dec. 25: Boston Celtics 93, Brooklyn Nets 76
The Boston Celtics' second-half success seems to fly in the face of logic when you fail to see Rajon Rondo on the court, but digging below the surface shows that it isn't fluky.
Avery Bradley isn't the passer that Rondo is, but he's one hell of a defender. More so than any other player in the league, the Texas product treats all 94 feet of the court exactly the same. His constant intensity insures that any lapses in concentration will be punished.
His steps forward lead me to believe that the C's will jump the Chicago Bulls in the standings, allowing them a first-round matchup with the Brooklyn Nets, who similarly experience a jump. Theirs is over the New York Knicks, a team currently ravaged by injuries.
While each squad can breathe a sigh of relief that it won't be facing the Miami Heat in the second round of the postseason, they do have to get by each other first.
Expect this matchup to be hard fought and close from start to finish, but the Nets just have superior talent without Rondo in the lineup. As well as Bradley has played, playoff Rondo was always better than regular-season Rondo.
Deron Williams is finally getting healthy, and you can see the results in both his vastly improved jumper and his confidence. He's crossing people over at (D-)will and thriving in P.J. Carlesimo's offensive system.
It takes a lot to overwhelm the swarming defense employed by a certain green-clad team, but Williams, Joe Johnson and Brook Lopez qualify as "a lot."
Of course, this is all virtually irrelevant if Jeff Green continues to think that he's the best player in the world.
Series Prediction: Brooklyn 4, Boston 2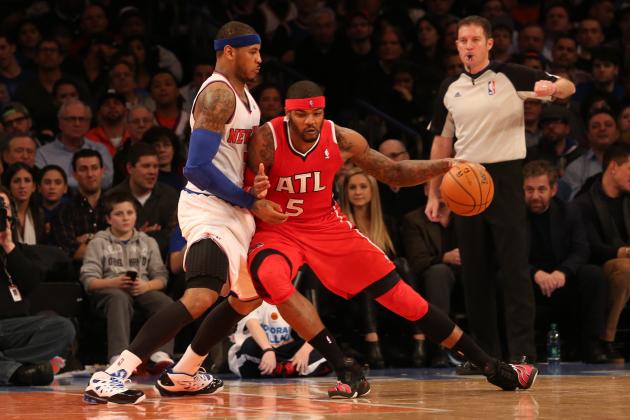 Anthony Gruppuso-USA TODAY Sports

Previous Meetings
Jan. 27: New York Knicks 106, Atlanta Hawks 104
Assuming that the Atlanta Hawks stay put at No. 5 in the Eastern Conference while the New York Knicks slip down a spot to No. 4, thereby allowing the Brooklyn Nets a higher seed and an opportunity to avoid the Miami Heat for one extra round, this would be the most competitive matchup of the opening round.
Given the Knicks' current medical bill, that's not an assumption I hesitate to make. In fact, it's more likely that New York drops below the Hawks and loosens its grasp on home-court advantage than remains atop its city-sharing counterpart in the standings.
Regardless of whether a seventh game would be played at Philips Arena or Madison Square Garden, this series belongs to Atlanta.
Not too much information can be gleaned from the one and only meeting between these two teams thus far, but during a game in which Carmelo Anthony hit nine three-pointers and dropped 42 points at home, New York still only escaped with a two-point win.
During the 2012 postseason, the Knicks managed to get their first playoff victory since George Washington was in charge of the country. That's an exaggeration, but only slightly.
They'll experience a much shorter gap between playoff wins this time around, but Atlanta is still going to be the team advancing to the next round.
Series Prediction: Atlanta 4, New York 3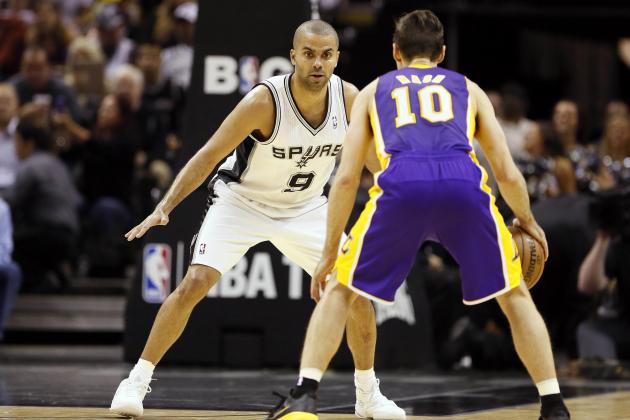 USA TODAY Sports

Previous Meetings
Nov. 13: San Antonio Spurs 84, Los Angeles Lakers 82
Jan. 9: San Antonio Spurs 108, Los Angeles Lakers 105
The Los Angeles Lakers are starting to look a bit scary when both Kobe Bryant and Dwight Howard are on the court. While the 2012-13 season certainly isn't going as originally planned, it looks like purple and gold will definitely be represented in the postseason.
Unfortunately for their supporters, it'll be a short stay.
Kobe and Co. are good enough to strike fear into the hearts of the San Antonio Spurs, but this team never skips a beat in the playoffs. Gregg Popovich will have his squad in tip-top shape when the regular season draws to a close.
You can basically set your calendars by the Spurs' late-season and early-playoff surge. It seems to happen every year, and they're the last group of players and coaches that you'd expect to be caught napping against a No. 8 seed.
The Lakers may have a bunch of future Hall of Famers on the roster, but the Spurs do as well. Plus, their system actually works.
Series Prediction: San Antonio 4, Los Angeles 1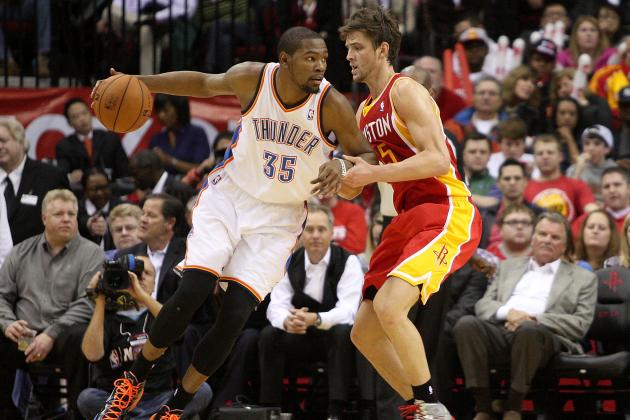 Troy Taormina-USA TODAY Sports

Previous Meetings
Nov. 28: Oklahoma City Thunder 120, Houston Rockets 98
Dec. 29: Oklahoma City Thunder 124, Houston Rockets 94
Feb. 20: Houston Rockets 122, Oklahoma City Thunder 119
There's no mathematically certainty here, but it seems like the Houston Rockets and Oklahoma City Thunder are pretty much locked into the No. 7 and No. 2 seeds, respectively.
For the Thunder, that's terrific news, even if a few members of the team might shed a tear after knocking their beloved former teammate after the postseason. James Harden will be the one with a legitimate reason to feel sad, though.
The bearded shooting guard is offensively talented enough to explode in one of the postseason matches, but he can't do that on a consistent basis against a team all too familiar with the moves in his arsenal. Houston was only able to win a game in the regular-season series when Harden bearded out for a career-high 46 points on just 19 shots.
That's not going to happen too often.
More problematic for Houston is defense. Even in their lone victory against the reigning Western Conference championships, the Rockets' porous efense—I don't feel right including the "d"—allowed 119 points.
Until they figured out how to slow down Kevin Durant and Russell Westbrook with more frequency, it's hard to imagine the Rockets avoiding a broom.
Series Prediction: Oklahoma City 4, Houston 0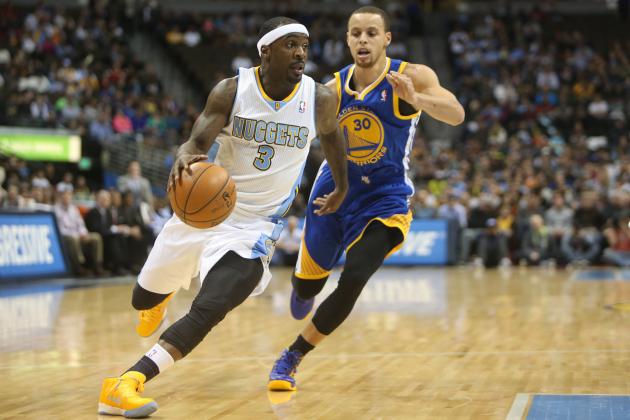 USA TODAY Sports

Previous Meetings
Nov. 10: Denver Nuggets 107, Golden State Warriors 101 (OT)
Nov. 23: Denver Nuggets 102, Golden State Warriors 91
Nov. 29: Golden State Warriors 106, Denver Nuggets 105
Jan. 13: Denver Nuggets 116, Golden State Warriors 105
While the Golden State Warriors built themselves a nice cushion in the Western Conference standings, they haven't been playing too well lately.
Remember when the Dubs were sitting pretty at 30-17? I know, it's hard to think back that far. Especially since they've gone just 9-13 since then.
Meanwhile, the Denver Nuggets have trended in the opposite direction. During their win streak, one that's being overshadowed by the Miami Heat's pursuit of history, they've looked like a potential No. 1 seed. Although they're a bit too far back to realistically have a shot at catching the San Antonio Spurs, they're going to end up earning the No. 3 spot in the conference.
It seems as though every single member of the Nuggets has suddenly started to play high-quality basketball. And that's a problem for the Dubs.
Ty Lawson is one of a handful of point guards capable of outshining Stephen Curry on a consistent basis, and the same can be said about Kenneth Faried and David Lee. Both Warriors would rank higher in respective lists for their positions, but their counterparts on Denver aren't far behind.
That's where the advantages end for the Warriors, unless Andrew Bogut begins to play like he did before injuries derailed his career.
Series Prediction: Denver 4, Golden State 2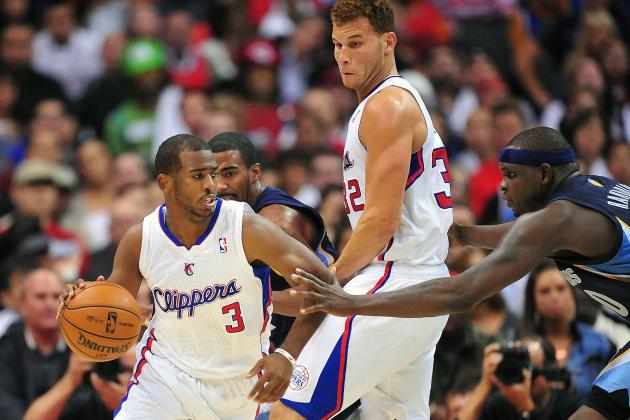 Gary A. Vasquez-USA TODAY Sports

Previous Meetings
Oct. 31: Los Angeles Clippers 101, Memphis Grizzlies 92
Jan. 14: Los Angeles Clippers 99, Memphis Grizzlies 73
Mar. 13: Memphis Grizzlies 96, Los Angeles Clippers 85
Let's all cross our fingers and hope that we get to witness this first-round matchup. It was epic enough during the 2012 postseason, providing us with an insane amount of memorable moments, and both teams have gotten better.
That's unfortunate for the Memphis Grizzlies, because the Clippers already beat them last year.
This matchup gives us a classic battle between the unstoppable force and the immovable object. By definition, an unstoppable force can't be stopped and an immovable object can't be moved. So what happens when they're pitted against each other?
Something has to give.
In this case, it'll be the stellar defense of the Grizzlies, no matter how steady a presence Marc Gasol may be in the post. Chris Paul, Blake Griffin and the ridiculously deep Clippers are too potent on offense, particularly when they get out and run.
Whoever controls the pace of this series is going to advance to the next round, and it's tough to bet against the best point guard in basketball when it comes to putting his stamp on a set of games.
Series Prediction: Los Angeles 4, Memphis 3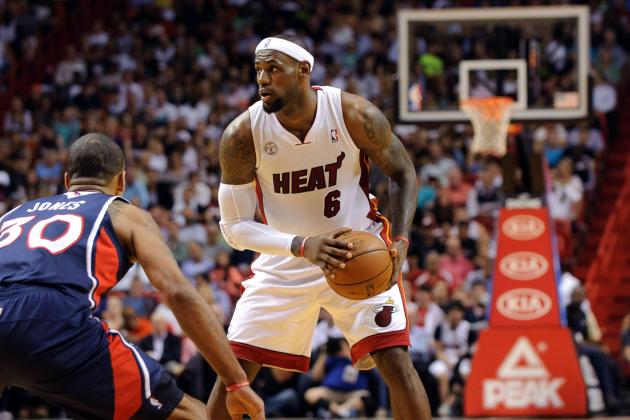 Steve Mitchell-USA TODAY Sports

Previous Meetings
Nov. 9: Miami Heat 95, Atlanta Hawks 89
Dec. 10: Miami Heat 101, Atlanta Hawks 92
Feb. 20: Miami Heat 103, Atlanta Hawks 90
Mar. 12: Miami Heat 98, Atlanta Hawks 81
Josh Smith is one of the few players in the league who might have a chance at significantly slowing down LeBron James over the course of a series, but the Atlanta Hawks are extremely outmatched here.
The Miami Heat swept the season series, and although none of the games were blowouts of epic proportions, none of them seemed like they were in doubt. Trust me, I'm a Hawks fan. I watched them all and can't seem to forget the disappointment that lingered after each contest.
Miami just consistently elevated its performance in the fourth quarter and clipped the Hawks' wings.
Don't expect that to change in the postseason.
Series Prediction: Miami 4, Atlanta 0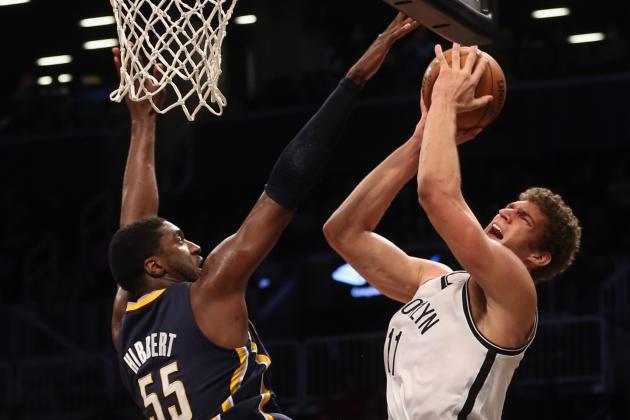 Bruce Bennett/Getty Images

Previous Meetings
Jan. 13: Brooklyn Nets 96, Indiana Pacers 87
Feb. 11: Brooklyn Nets 89, Indiana Pacers 84 (OT)
The Brooklyn Nets have won a game at home and an overtime contest in a hostile environment during the first half of the season series against the Indiana Pacers.
However, the Pacers are a better team now, and they'll only be more potent if Danny Granger can return to both health and form. The offense has finally been able to score points occasionally and is no longer the completely stagnant unit it once was.
As should be the case at this stage, these Eastern Conference semifinals would be quite competitive.
Indiana having the home-court advantage is going to make the difference, though.
Series Prediction: Indiana 4, Brooklyn 3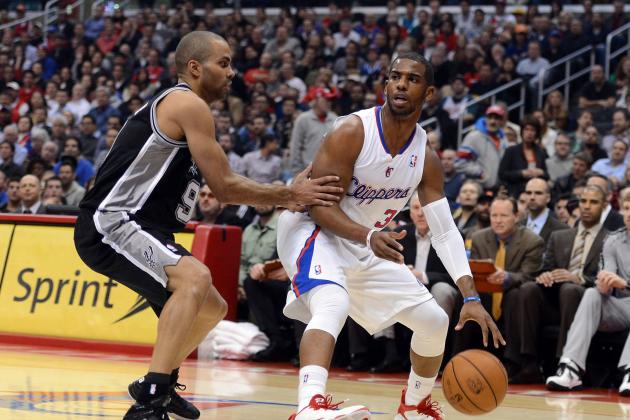 Harry How/Getty Images

Previous Meetings
Nov. 7: Los Angeles Clippers 106, San Antonio Spurs 84
Nov. 19: Los Angeles Clippers: 92, San Antonio Spurs 87
Feb. 21: San Antonio Spurs 116, Los Angeles Clippers 90
Even though I'd love to see Chris Paul finally advance well into the playoffs, the Los Angeles Clippers aren't going to be getting past the San Antonio Spurs.
It won't be a sweep, as it was during the 2012 postseason when the Spurs just rolled over an inferior version of this L.A. team, but it won't be all that close either.
The coaching matchup is going to come into play in this series, and Gregg Popovich won't be beat by Vinny Del Negro. If the Clippers end up in half-court sets, they're going to struggle to generate points. And when you're playing the modern Spurs, you have to score in bunches.
There's no sweep in 2013, but, again, it won't be too competitive.
Series Prediction: San Antonio 4, Los Angeles 1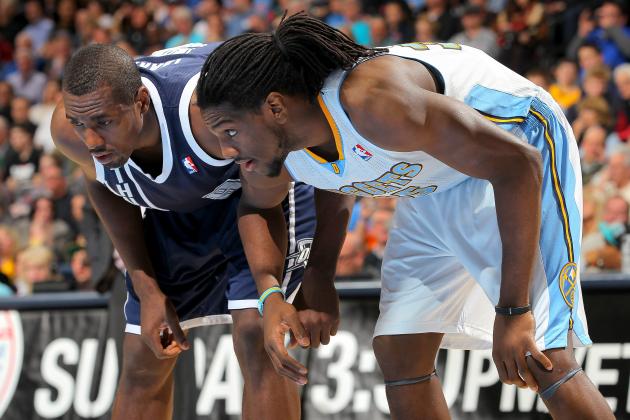 Doug Pensinger/Getty Images

Previous Meetings
Jan. 16: Oklahoma City Thunder 117, Denver Nuggets 97
Jan. 20: Denver Nuggets 121, Oklahoma City Thunder 118 (OT)
Mar. 1: Denver Nuggets 105, Oklahoma City Thunder 103
Mar. 19: Denver Nuggets 114, Oklahoma City Thunder 104
The Denver Nuggets are nearly impossible to beat on their home court, but they're significantly more vulnerable when the elevation isn't quite as high.
Denver lost its first matchup of the regular-season series while playing in the Oklahoma City Thunder's backyard, but redeemed itself in the most recent matchup, maintaining a steady lead throughout the second half despite the futile efforts of its opponent's home crowd.
However, things get ramped up a bit more when the postseason rolls around. OKC is an awfully tough place to win.
This would be one of the most competitive series in recent memories, and it would be filled with plenty of entertaining moments. Highlights and points would abound in this series.
The Nuggets and Thunder are so evenly matched that a few calls or bounces of the ball could swing the entire series. For that reason, I'm betting on the team with home-court advantage who's been past this stage in the not-so-distant past.
Series Prediction: Oklahoma City 4, Denver 3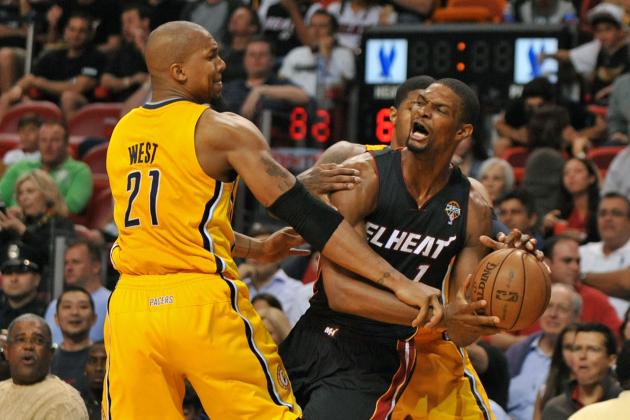 Steve Mitchell-USA TODAY Sports

Previous Meetings
Jan. 8: Indiana Pacers 87, Miami Heat 77
Feb. 1: Indiana Pacers 102, Miami Heat 89
Mar. 10: Miami Heat 105, Indiana Pacers 91
Up until this point, I've predicted sweeps for the Miami Heat in each round.
While there's a chance they could advance through the Eastern Conference without dropping a single game, the Indiana Pacers are a tough out. Given the way the Heat are currently playing, it's hard to imagine any team beating them.
But at the same time, it's even tougher to imagine someone sweeping three straight rounds in an NBA that's as deep as it is during the 2012-13 season.
Indiana matches up with the Heat quite well, using a suffocating defense and interior toughness advantageously. Its 2-1 record against Miami in the regular season shows that. However, that was the regular season.
The playoffs are a different beast, and the Heat did take the last game rather convincingly.
Series Prediction: Miami 4, Indiana 2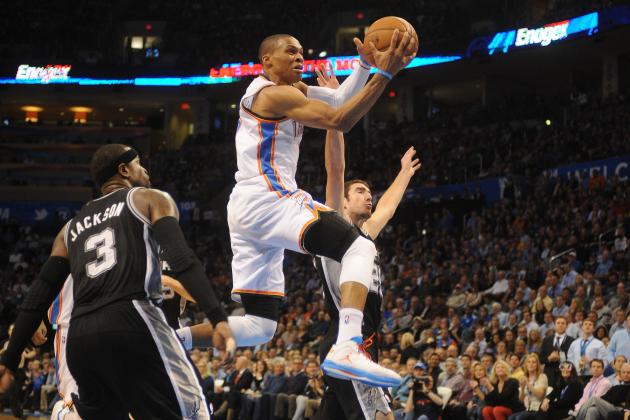 USA TODAY Sports

Previous Meetings
Nov. 1: San Antonio Spurs 86, Oklahoma City Thunder 84
Dec. 17: Oklahoma City Thunder 107, San Antonio Spurs 93
Mar. 11: San Antonio Spurs 105, Oklahoma City Thunder 93
The Oklahoma City Thunder ended the San Antonio Spurs late-season reign of terror during the 2012 postseason, and we'll see a similar story unfold just one year later.
While the Spurs are getting younger—Tim Duncan, Manu Ginobili and Tony Parker not included—they still don't have the athleticism and explosiveness to match up with this devastating Thunder squad. Russell Westbrook and Kevin Durant can exploit many matchups throughout the Association, and the Spurs are no exception.
Home-court advantage will help the Spurs here, but it won't be enough to prevent OKC from returning to the final series of the season.
Series Prediction: Oklahoma City 4, San Antonio 2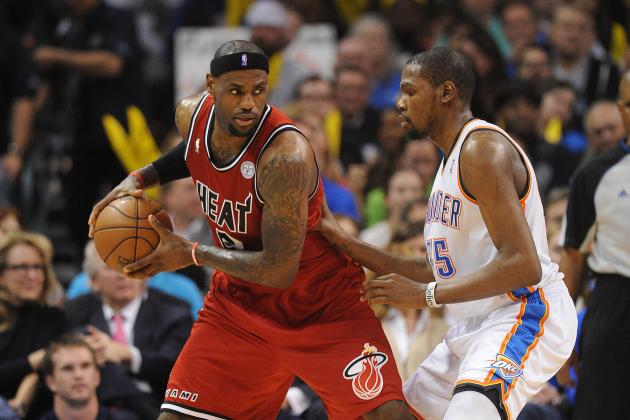 USA TODAY Sports

Previous Meetings
Dec. 25: Miami Heat 103, Oklahoma City Thunder 97
Feb. 14: Miami Heat 110, Oklahoma City Thunder 100
Not only are the Miami Heat a more talented team than the Oklahoma City Thunder, but the Western Conference representatives will have to overcome a few mental hurdles as well.
First, there's the fact that OKC has yet to win a title. Miami has, and breaking the seal can be tough.
Secondly, Miami seems to have the Thunder's number at the moment. Kevin Durant, Russell Westbrook, Serge Ibaka and the rest of the roster have to convince themselves that they can beat Miami, then they actually have to do it.
After winning four games in a row to earn the Larry O'Brien Trophy, Miami took down Oklahoma City twice in two meetings during the ensuing regular season.
Until the Thunder prove that they can beat the Heat, it's tough to pick them.
Series Prediction: Miami 4, Oklahoma City 1