Ranking Top NHL Free Agents in 2013 Class After Corey Perry's New Contract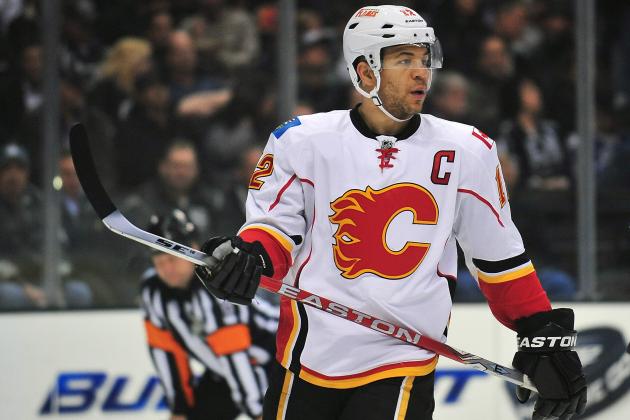 Gary A. Vasquez-USA TODAY Sports

Corey Perry's decision to re-sign with the Anaheim Ducks has made the 2013 NHL free agent class substantially weaker, but there are still several quality players for teams with salary cap space to pursue in the summer.
It will be interesting to see how much money these players make as UFAs, because teams will have less money to spend on free agent additions with the salary cap dropping to $64.3 million for the 2013-14 season.
This could result in an offseason in which only a few teams have a lot of room under the cap ceiling to sign marquee players, and one of those teams could be the Toronto Maple Leafs, who are the richest club in the league (via Forbes) and currently have $24.5 million in cap space for next season (per Capgeek).
Let's take an updated look at the five best players eligible for unrestricted free agency this summer following Perry's choice to remain in Anaheim for the next eight years.
Begin Slideshow

»
Bruce Bennett/Getty Images

Current Team: Boston Bruins
Position: RW
Age: 27
2013 Salary Cap Hit: $4 million
Nathan Horton is one of the best power forwards available in the 2013 class and as a top-line winger capable of scoring 25-30 goals in a normal 82-game season, he will definitely be a coveted player if he tests free agency in the summer.
The Bruins winger does have a history of concussions, but he has been fully healthy since the end of last season and is still able to play the physical style of hockey that makes him an effective two-way player.
Prior to last season when a concussion forced him to play in only 46 games, Horton had scored 20-plus goals in six consecutive seasons.
He has scored eight goals with eight assists in 26 games for Boston this season, but he is a bit inconsistent for someone who spends most of his time as a first line player. Over his last 13 games, Horton has scored just two goals and has not made much of an impact offensively.
However, as a 27-year-old goal scorer who has proven that he can perform at a high level in the playoffs, Horton will have a lot of value on the free agent market if he continues to stay healthy in 2013.
Kim Klement-USA TODAY Sports

Current Team: Washington Capitals
Position: Center
Age: 33
2013 Salary Cap Hit: $5 million
Playmaking centers who also score goals are not easy to find, which will help Mike Ribeiro make a lot of money as a free agent if he tests the market in the offseason.
Ribeiro has 31 (10 goals, 21 assists) points in 28 games this season, which ranks T-8th among all players.
Teams looking to add a reliable offensive player with impressive playmaking skills and powerplay ability will likely pursue Ribeiro in the summer if he becomes a UFA. He came into this season with eight straight seasons of 50-plus points, and it's quite possible he could extend this streak in 2013 despite the fact that this is a 48-game shortened season.
Of all the top-six centers expected to hit the free agent market, very few of them are as talented and have as much playoff experience as Ribeiro. He would be a great addition to a playoff contender who is one or two pieces away from making a championship run.
The only problem with Ribeiro is the fact that he's 33-years-old and nearing the end of his prime, so it will be interesting to see if any teams offer him long-term contracts in the summer as a UFA.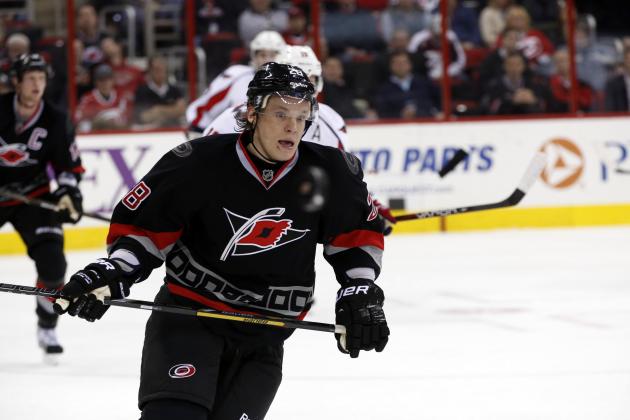 James Guillory-USA TODAY Sports

Current Team: Carolina Hurricanes
Position: LW
Age: 29
2013 Salary Cap Hit: $7 million
Alexander Semin went to the Carolina Hurricanes last summer with the hope that a change of scenery would make him a better player and a more desirable free agent than he was in 2012.
To his credit, he has played well this season and is a major reason why the Hurricanes have a fantastic chance to win the Southeast Division title and end their three-year playoff drought.
Semin has scored eight goals with 22 assists thus far, including points in 18 of Carolina's 28 games. He is best known as a goal scorer, but his playmaking skills have been the most impressive part of Semin's performance this season.
He's using his speed, vision and passing skills to create quality scoring chances for teammates each game, and his addition to the Hurricanes' first line alongside Eric Staal and Jiri Tlusty has made this trio one of the toughest for opposing teams to defend.
When Semin plays with maximum effort and is motivated, he's capable of performing like an elite player on a consistent basis.
If his impressive play in Carolina continues, Semin could be one of the most coveted forwards in free agency as a top-line forward with more offensive talent than most of the players in the NHL.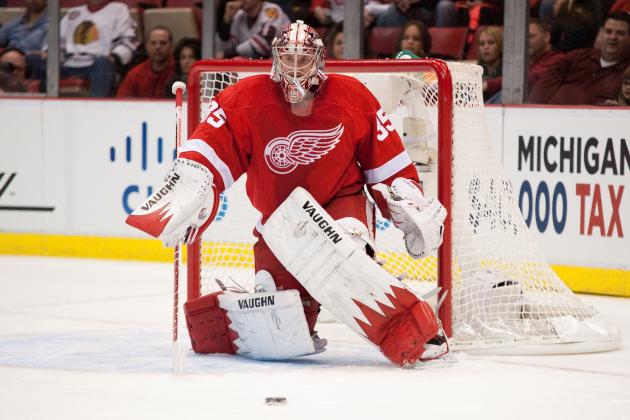 Tim Fuller-USA TODAY Sports

Current Team: Detroit Red Wings
Position: Goaltender
Age: 28
2013 Salary Cap Hit: $2.25 million
Through the first half of the season, Jimmy Howard has proven that he's a top-tier goaltender and not someone whose success was a result of the impressive group of defensemen that played in front of him during the first three seasons of his NHL career.
After losing veteran defensemen Nicklas Lidstrom and Brad Stuart last summer, many fans expected Detroit to be a much weaker team defensively in 2013, but the Red Wings currently rank 10th in goals against, and Howard's consistently strong play is the biggest reason for this success.
The Red Wings goalie is 12-7-4 with a 2.42 GAA and a .917 save percentage this season, and has won 35 or more games in each of the last three years. In his last nine starts, Howard is 6-1-2 with a 1.44 GAA.
Howard is the only franchise goaltender in the 2013 class, but unfortunately for teams that will be looking to upgrade their goaltending during free agency, the chances of the Red Wings allowing their No. 1 goalie to hit the market are slim.
He's an important part of Detroit's future and the team has a lot of salary cap space to use for next season, so it would be very surprising if the two sides were unable to agree on an extension before the end of the 2013 NHL playoffs.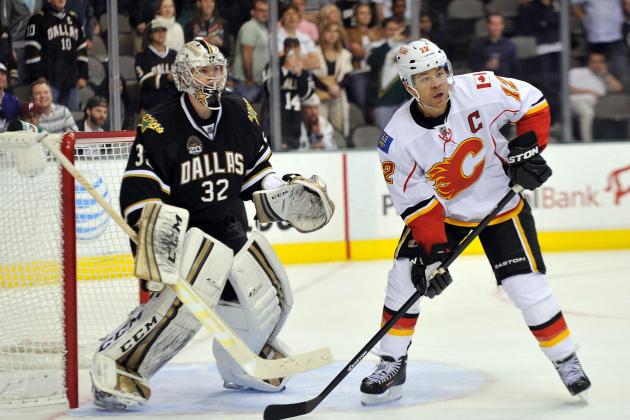 USA TODAY Sports

Current Team: Calgary Flames
Position: Right Wing
Age: 35
2013 Salary Cap Hit: $7 million
Jarome Iginla's five-year, $35 million contract that began in the 2008-09 season will expire at the end of the year, and his future with the Calgary Flames has yet to be determined.
Iginla has been very loyal to the Flames since he joined the organization for the 1996-97 season as part of the trade that sent Joe Nieuwendyk to the Dallas Stars, but he won't win the first Stanley Cup of his career if he remains in Calgary until retirement.
The Flames are in 14th place in the Western Conference and their hopes of making the playoffs are getting slimmer with each loss.
Even though Iginla has been involved in so many trade rumors over the last few seasons, the expiration of his contract makes it more likely that he could be traded to a Stanley Cup contender before the April 3 deadline. Calgary cannot afford to take the risk of losing him in the summer for nothing as a UFA if a contender offers him a huge contract and the chance to win a championship.
If Iginla does become a free agent at the end of the season, it wouldn't be surprising if many teams expressed interest in signing him because he's still capable of scoring 20-plus goals in a normal 82-game season and his leadership skills would make him a valuable addition to any locker room.
Iginla hasn't scored less than 63 points in a single season since 1998-99, and he has already tallied 20 points (seven goals, 13 assists) through 27 games in 2013.
As a power forward who scores goals, plays well defensively, excels in any style of play, has plenty of experience as a leader and is well respected throughout the league, Iginla will be the top player in the 2013 UFA class if he reaches free agency.
Nicholas Goss is an NHL Lead Writer at Bleacher Report. Follow him on Twitter. He was a credentialed reporter at the 2011 Stanley Cup Final and 2012 NHL playoffs. All salary information courtesy of Capgeek.