How Shabazz Muhammad Can Lead UCLA Deep into the NCAA Tournament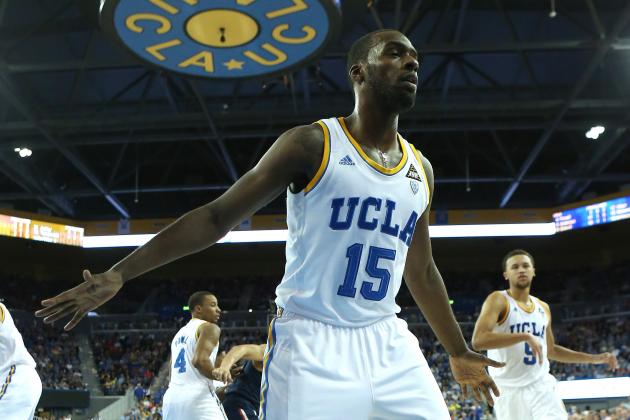 Stephen Dunn/Getty Images

UCLA has a good basketball team. With Jordan Adams playing, they were becoming very good. But Adams is gone and the Tournament is here. That is the hard reality.
Shabazz Muhammad is a special player; he is special for his size, for his skill, but most of all, for his competitive determination. The top block of John Wooden's Pyramid of Success was the unbreakable stone of "Competitive Greatness."
That means being at your best when the moment can be conquered with nothing less. For UCLA and Muhammad, that moment has arrived grinningly at the door.
What follows are the four elements Muhammad must harness in his sail—clippering his team behind the luckiest of early spring trade winds—to carry UCLA to Atlanta and the promised land of March.
Begin Slideshow

»
Bazz has been a beast all season at the offensive end. It is fun just to watch him work—his motor, the sheer energy he has for scoring the basketball and the skill and knack he has for doing it are impressive to see.
Muhammad has improved steadily as a defensive player under Coach Ben Howland. To learn to play a professional quality defensive game is the primary reason he picked UCLA over Arizona, Kentucky, Kansas and Duke.
The NCAA Tournament is the moment to put on display all of the individual fundamental principles—the low stance, the smart, quick feet, the active hands and strong body position—as well as the panache for making smart, momentum-seizing plays while doing his job within the team concept.
Without Jordan Adams, UCLA will score fewer points, and there will be less room for Muhammad to work as the floor contracts. It follows, therefore, that the Bruins will have to manufacture more defensive stops to win. Muhammad can be an integral, even standout piece for a team that will need everything he has.
If Bazz attacks his opponents when they have the ball like he attacks the rim when he has it—imposing his will like a strong fighter without any serious weaknesses—UCLA stands a battler's chance of finding themselves within striking distance as each tournament game ticks toward its crisis.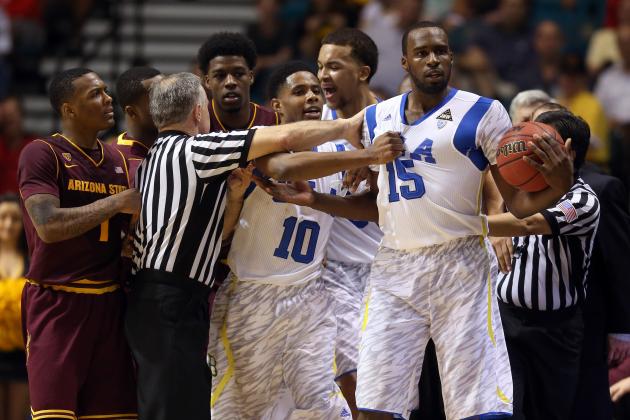 Jeff Gross/Getty Images

Shabazz Muhammad pulls in 5.3 rebound per game on average, and exactly half of them are at the offensive end. That is a testament to the type of luxury, high-caliber scoring machine he is, but it also exposes his tendency to leave the defensive half court early in the interests of offense.
As a powerfully built 6'6''-player who covers both small forwards and wings, Muhammad will find himself regularly at an advantageous spot on the floor to help his teammates clear the defensive window.
UCLA has been at times almost like the undersized fleet attacking an Armada with swift offense and abandoning the big freighter work of rebounding in favor of their other strengths. They cannot do that in the NCAA Tournament, and Muhammad will have to do his part in minimizing the damage.
If the Bruins get in a game where a team is pounding the window—and it may happen in the opening round against the University of Minnesota—their season will end if they cannot stop it. UCLA must rebound opponent's misses and put an exclamation point on defensive stops.
Muhammad must also rebound more defensively than he does offensively, assisting UCLA's mostly finesse, and in places physically weak, front line at the difficult, desperate task of recovering the basketball so that their offense can run them out to a lead when the final horn sounds.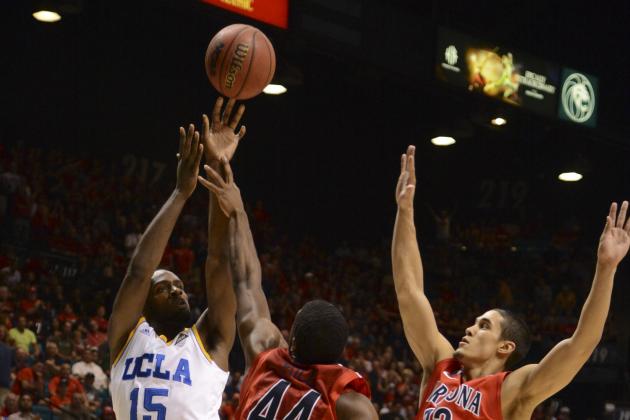 Kyle Terada-USA TODAY Sports

Shabazz Muhammad is an offensive power plant. He took the floor for UCLA after an offseason of nagging injuries and an eligibility issue that kept him from the floor for the team's first three games. He began scoring 18 points a game on average with remarkable consistency.
He is simply a force on that end, either in the open floor when he can get ahead on a run out, or in the half court where he makes a reliable circuit in search of points.
Muhammad begins off of the ball, coming hard in that big cross court loop around multiple screens, seeking the catch and shoot basket; then, backing into the post, settling down for position, calling for the ball on the block, working to shoot that hybrid hook over either shoulder and pushing toward the baseline or back toward the middle. Then, finally, he uses that good instinct and big body to haul in almost three offensive rebounds.

This is what makes Muhammad's outlay in the NCAA Tournament difficult, for he must commit energy and endurance to defense for UCLA to win, but he also must continue to do what he has always done offensively.
With Jordan Adams—the Bruins second leading scorer and around 20 percent of their offense finished for the season with a broken foot—other players will have to replace what has been lost. But Muhammad's production must not slip if UCLA is going to avoid the brutal finality of the bell tolling in the tournament with your team on the wrong end of the scoreboard.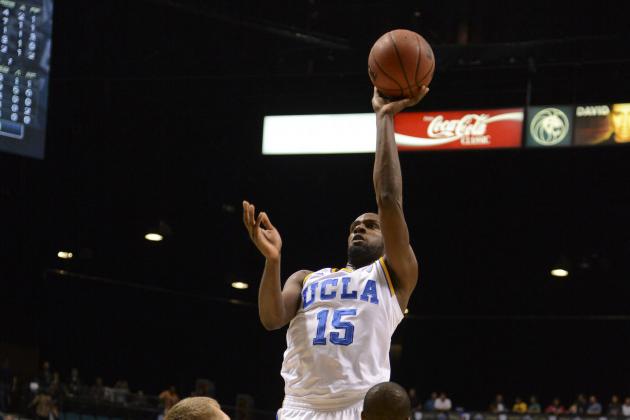 Kyle Terada-USA TODAY Sports

March is that magic month for college basketball. It is a time for titanic performances that stand like fiery, aspirational monuments for all of the generations that follow.
Shabazz Muhammad must don the super hero's cape on all six nights for UCLA to have any real chance at a championship.
If he does, Muhammad can take his place in the Pantheon, abreast freshmen like "Never Nervous" Pervis Ellison from Louisville and Carmello Anthony at Syracuse, who led their teams as freshmen to national championships. Standing, as young men, at center stage in an arena stacked with 70,000 people as the ticker tape streams down from the high beams and the sound of "One Shining Moment" floats ecstatically over the assembly.
Muhammad can make that indelible mark, the one and done hero, the legend who arrived and in a single season willed his team out far into the ether and, once there, carried them all the way to a title.
UCLA has a good team; they have smart, skilled players who can score the basketball—and, when they're hard-headed and as physical as they can be—capable of halting an opponent's offensive. The team will have to be good, they will have to be very good alongside Muhammad if anything is going to come from this tournament for UCLA.
But it will be Bazz, the power plant—the at times unstoppable fury—leading this team with a steady skill and an absolute determination against being vanquished, if these Bruins are going to make March memories for themselves first of all, and then for the fans who follow them.