Breaking Down How NFL Free Agency Has Shaken Up Draft's Top 10
Jeff Zelevansky/Getty Images
Free agency is the hot topic in the NFL with players being snatched up left and right. With roughly a month left until the draft, teams in the top 10 are making moves that will affect who goes where in April.
As certain needs are filled and with players rising and dropping up the mocks with pro days going on, it is tough to keep track of what is going on in such a chaotic NFL.
Mock drafts pop up everywhere and are constantly being updated on a whim. Anticipation builds with each coming day heading into the draft, especially with what will happen at the top.
1. Kansas City Chiefs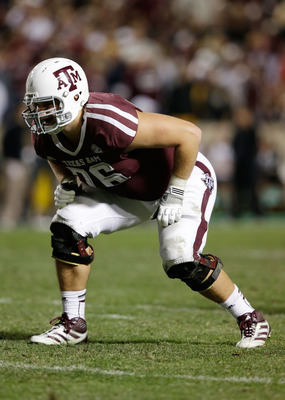 Scott Halleran/Getty Images
Luke Joeckel - OT, Texas A&M
It is rare to draft a right tackle first overall, but this draft is relatively weak at the top and it is a good year to select the player that fills the most important need.
The Chiefs have completed their trade with the 49ers for Alex Smith, alleviating their need for a quarterback and eliminating any chance of them taking Geno Smith.
Joeckel is a franchise player at tackle and would be a very stable pick for a franchise that has a surprising amount of talent on its roster. Fortifying the trenches is exactly what they need.
Dwayne Bowe has been retained on a five-year deal, fellow offensive lineman Brandon Albert was franchise tagged, and with Smith in town, the cards are aligned for Joeckel to come to town as the top pick in April's draft.
2. Jacksonville Jaguars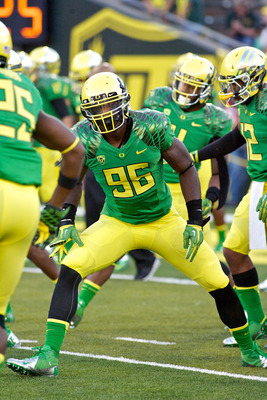 Craig Mitchelldyer/Getty Images
Dion Jordan - DE, Oregon
Jacksonville is in an interesting position at No. 2 overall. They have a ton of needs and could look to trade down and collect more picks. With Arizona and Buffalo at seven and eight respectively, a trade could be in the works as those two desperately need a quarterback.
Jordan impressed at the combine and solidified himself as an elite-level pass-rusher. The Jaguars have not been very active at all in free agency as they wait for the market to die down a bit. However, they could look to play right into someone else's needs and help themselves tremendously by trading down.
This team is in dire need of a couple big playmakers on defense, and there are many big-time pass-rushing threats in this draft that they could look at. If they decide to look elsewhere, OT Eric Fisher from Central Michigan could be an option if the Jags make a last-ditch effort to get something out of their Blaine Gabbert investment.
3. Oakland Raiders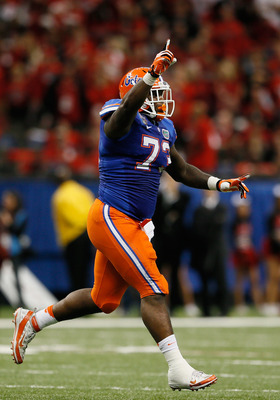 Kevin C. Cox/Getty Images
Sharrif Floyd - DT, Florida
With Richard Seymour gone and Tommy Kelly right behind him on his way out the door, Oakland needs help in the middle of their defense. Desmond Bryant has also left, further signifying how badly this team needs a defensive tackle.
Floyd has shot up the draft boards after an impressive combine, coupled with Utah DT Star Lotulelei's heart condition knocking him down the board.
Oakland has not made a sound in free agency as they continue to pay the price for past mistakes. They are simply short on cash and will have to make small signings and hit big on their draft picks. Oakland is also a team that could look to trade down with Geno Smith being so highly coveted and so far ahead of all the other quarterbacks in this draft.
The Raiders have a lot of needs and are a prime candidate to move down and collect more assets to speed up their rebuilding process.
4. Philadelphia Eagles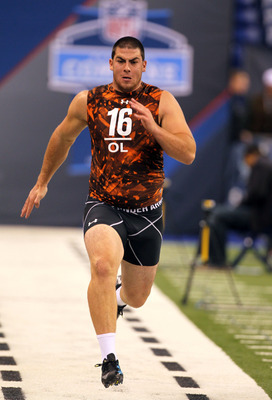 Brian Spurlock-USA TODAY Sports
Eric Fisher - OT, Central Michigan
If this team does not draft an offensive lineman, Michael Vick and Nick Foles should go on strike. It's that simple.
Left tackle Jason Peters' status is up in the air. Demetress Bell has also been cut. King Dunlap signed with the Chargers. Simply put, Eric Fisher is a no-brainer at this point.
Philly has left holes in their secondary after cutting ties with Dream Team members Nnamdi Asomugha and Dominique Rodgers-Cromartie. Therefore, Alabama corner Dee Milliner could be an option, but left tackle is simply too big of a hole to leave open.
New coach Chip Kelly has seemingly put his faith into Vick for next season, so protecting his blind side and getting Fisher to help the oft-injured quarterback would be the best thing the Eagles could do.
5. Detroit Lions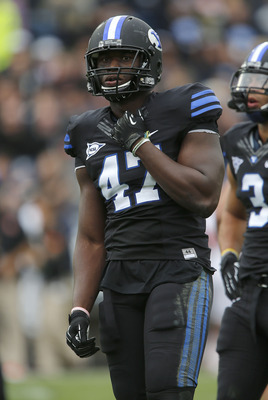 George Frey/Getty Images
Ezekiel Ansah - DE, BYU
The Lions recently lost pass-rusher Cliff Avril to Seattle, opening up a big hole in their front seven. Avril benefited from Ndamukong Suh and Nick Fairley collapsing the pocket up the middle and left something to be desired when he departed.
Ansah is a big imposing presence from the DE/LB position. Along with Avril went 9.5 sacks that someone will have to make up for. After a huge combine, Ansah has silenced his doubters and solidified his worth as a top 10 pick.
While the secondary could be addressed, Detroit has already retained Chris Houston and Louis Delmas for the back end of their defense. Going with another defensive lineman in the first round would be a tough sell, but this team needs another impact player on defense and Ansah is exactly that.
6. Cleveland Browns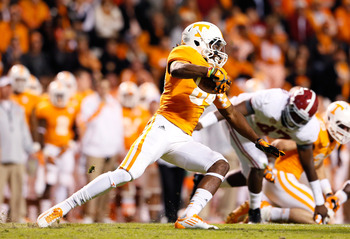 Kevin C. Cox/Getty Images
Cordarrelle Patterson - WR, Tennessee
Cleveland is not too far away from being a threat in the AFC North. Baltimore and Pittsburgh have clearly taken steps back and the Browns have a solid core of young talent to build upon.
The one area where they lack is wide receiver. Josh Cribbs is all but certain to leave via free agency to Arizona (via Mary Kay Cabot of the Cleveland Plain-Dealer, h/t SB Nation) and having Josh Gordon and Greg Little as your top two receivers just isn't going to cut it.
Patterson is a filthy athlete with true game-changing ability. He blew apart SEC defenses all season long and can step in right away and become this team's No. 1 wideout as well as a dominant kick returner. Brandon Weeden needs a reliable target to take the top off the defense and stud running back Trent Richardson needs someone to help prevent defenses from stacking the box against him.
The Browns' pass rush was an issue, but the signing of Paul Kruger away from the defending champs was a huge addition. The offensive line and secondaries are not big issues. A bona fide playmaker at receiver would be exactly what this team needs.
7. Arizona Cardinals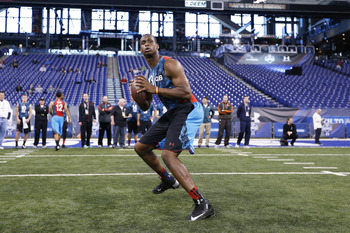 Joe Robbins/Getty Images
Geno Smith - QB, West Virginia
Free agency has seen the Cardinals cut many familiar faces in a salary purge. Adrian Wilson, Kevin Kolb, Beanie Wells, Kerry Rhodes and Greg Toler have all jumped town.
With a new regime comes a new quarterback. In this draft there is Geno Smith, and then there is everyone else.
After a jaw-dropping pro day, Smith has scouts jumping for joy. The Cardinals very well may have to trade up to snag their man. If they don't, prepare for another dismal season of John Skelton and Ryan Lindley. When Kolb was healthy, this team succeeded last year, hence the 4-0 start. There is talent on this roster, and Smith could step right in and make the rebuilding process an easy one.
8. Buffalo Bills
Harry How/Getty Images
Matt Barkley - QB, USC
Ryan Fitzpatrick was cut and subsequently signed by the Titans today (via ESPN.com), following high-profile guard Andy Levitre to Tennessee.
Buffalo has little choice but to select a quarterback in the draft. They have few weaknesses elsewhere, although they could look to fill the hole left by Levitre. At No. 8, taking a guard is unlikely.
Barkley has question marks after a bad senior season and a shoulder injury. He was unable to alleviate any concerns because of the injury as he could not participate in the combine. Buffalo will hope he can rekindle the fire that made him the undoubted No. 1 pick before this past season.
9. New York Jets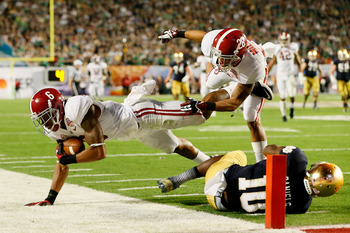 Kevin C. Cox/Getty Images
Dee Milliner - CB, Alabama
The best corner in the draft slides slightly farther than we may have anticipated, and going to the Jets at No. 9 is not going to be the common theme in most mocks.
Obviously, this selection hinges on the fate of Darrelle Revis and whether or not the Jets deal their superstar corner.
Milliner destroyed the combine and solidified his draft stock. There is no way he slips out of the top 10, but he's unlikely to be selected in the top five simply because he's a corner. The Jets luck out and see him falling to them because the other teams in the top 10 have far bigger needs than cornerback.
New York has been very silent in free agency, bringing in nobody worth noting. LaRon Landry, Shonn Greene, Mike DeVito and Dustin Keller have all signed elsewhere, leaving the Jets in a possible best-player-available scenario. If that were to be the case, Milliner would be the logical pick.
10. Tennessee Titans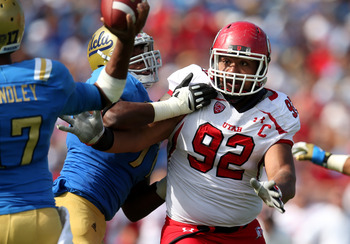 Stephen Dunn/Getty Images
Star Lotulelei - DT, Utah
The Titans could go a number of different ways with this pick. With the signing of Levitre, drafting a guard is still an option but far less likely.
They have done some serious work in free agency, picking up Delanie Walker to fill the void left by Jared Cook, as well as picking up Shonn Greene to back up Chris Johnson. They could go with a corner, but with Milliner off the board there are no other corners worth selecting this high.
Lotulelei's heart condition will not knock him down too far, as he still has crazy potential and should be a dominant force in the middle of the defensive line for years. With Kamerion Wimbley, Derrick Morgan, Zach Brown and Akeem Ayers, the Titans are young and supremely athletic on the edges, but could use some help and size in the middle of their line.
The Titans have struggled up the middle since the departure of Albert Haynesworth. The Sammie Hill signing will help, but a franchise talent like Lotulelei doesn't come around very often.
Keep Reading