LeBron James' legendary career has been defined by many, many factors—his actions on and off the court, his critics, his supporters and every armchair NBA fan around the world.
More than anything else though, LeBron's career has been defined by the 58 times he's gone up against the Boston Celtics.
With his most recent 105-103 win over the Celtics, LeBron moved to 18-15—missing only three regular-season games against Boston.
In the playoffs, it's not really a different story, with LeBron holding a slight 13-12 advantage over Beantown.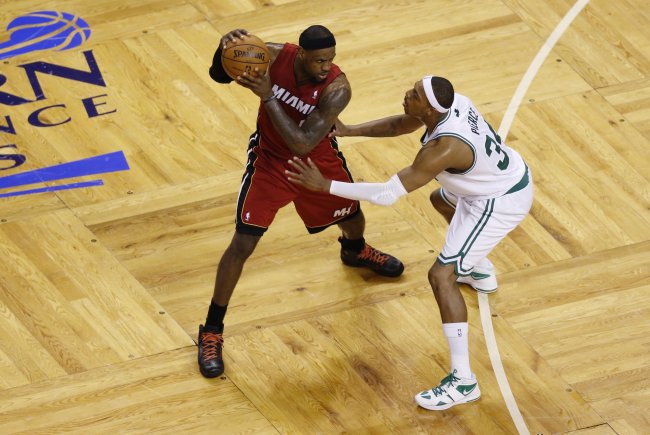 Greg M. Cooper-USA TODAY Sports
While his career record, 31-27, against Boston isn't that impressive, the Celtics have given him the platform he's needed to take his career from the realm of greatness to the upper echelon of becoming truly legendary.
LeBron's battles with Boston began on Nov. 3, 2003, when he scored just 10 points on 25 percent shooting during just the ninth game of his NBA career.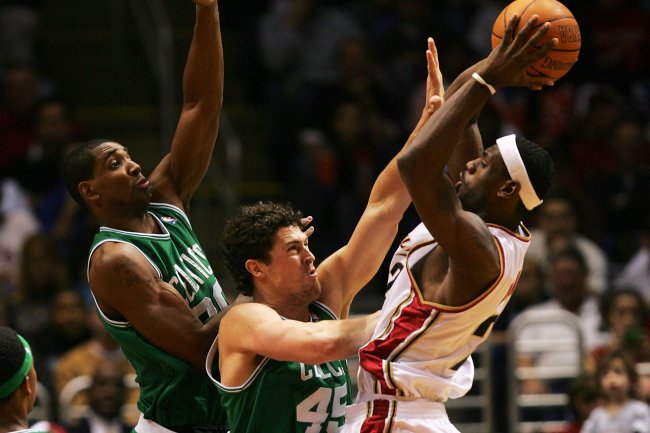 Matthew Stockman/Getty Images
A rivalry wasn't born though until Kevin Garnett and Ray Allen decided to take their talents to Beantown before the start of the 2007-08 season.
During that season, LeBron led the Cleveland Cavaliers to a 2-1 regular-season record while averaging 32.3 points, 9.7 assists and seven rebounds.
It wasn't until the playoffs, though, when the LeBron vs. Celtics rivalry would take it's true form.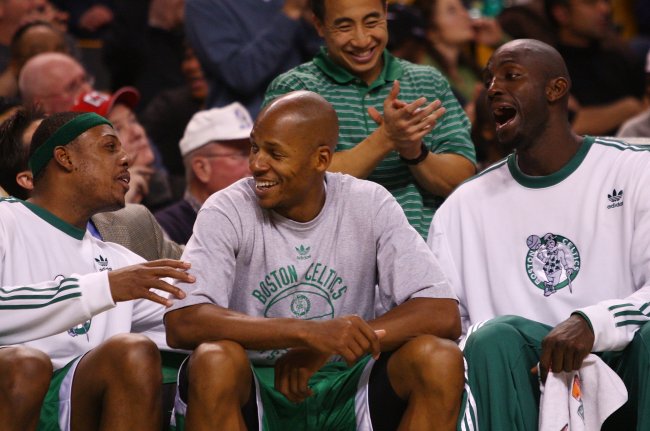 Elsa/Getty Images
Years before LeBron became a part of his own Big Three, he was tasked with taking down the original Big Three, or the Boston Three Party, as ESPN liked to call them—Paul Pierce, Ray Allen and Kevin Garnett.
LeBron was on the "hero" side of this Big Three battle, and he took the Celtics to the limit. He forced a Game 7 in Boston during the Eastern Conference Semifinals, but the only problem was he couldn't win in Boston.
During Game 3 of that series, LeBron gave fans one of the most memorable dunks of his career when he drove on Paul Pierce and threw down a one-handed monster on Kevin Garnett.
It could only be defined by the following words: "with no regard for human life."
Five measly points was all that separated LeBron from the 2008 Eastern Conference Finals and a career-defining road win against one of the most celebrated franchises in NBA history.
Instead, a rivalry was truly born.
During this series, the Celtics helped the entire world see that the Cavaliers weren't able to give LeBron the kind of help he needed to get his team consistently in to the NBA Finals. He didn't have a Paul Pierce or a Ray Allen like Kevin Garnett did, and that was evident in this series.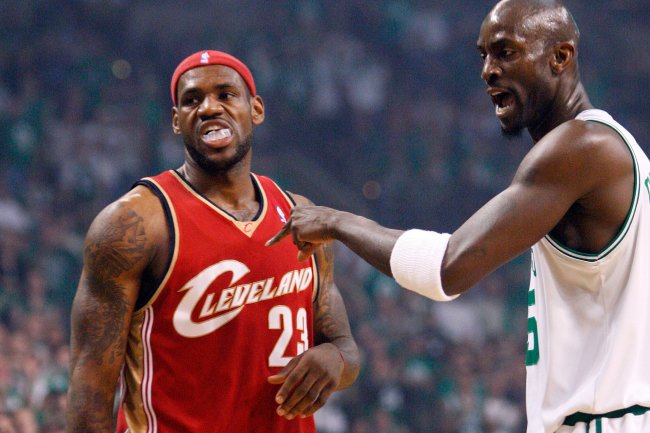 Jim Rogash/Getty Images
Two seasons later, LeBron would once again meet up with the Celtics. This time the stakes were even bigger.
Not only was an NBA Finals appearance on the line, LeBron was also entering free agency at the end of the season.
While Cavs owner Dan Gilbert would go on to say that he believed LeBron "gave up" on the Cavs in Games 2, 4, 5 and 6, it was clear that LeBron wasn't himself during Game 5 of the series.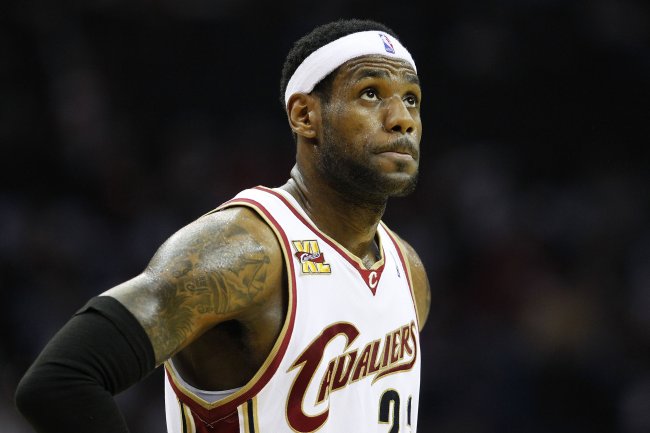 Gregory Shamus/Getty Images
He shot just 3-of-14 from the field and tallied 15 points, seven assists and six rebounds in a 120-88 loss to his rival. The loss wasn't the bad part; the ugly piece was that LeBron didn't show up.
Speculation began that not only did LeBron want to leave Cleveland, but also that Kevin Garnett and company were the insurmountable hurdle standing between him and that elusive first ring.
We all know that LeBron decided to take his talents to South Beach after that atrocious Eastern Conference Finals. And so, the post-Cavaliers rivalry with the Celtics was born.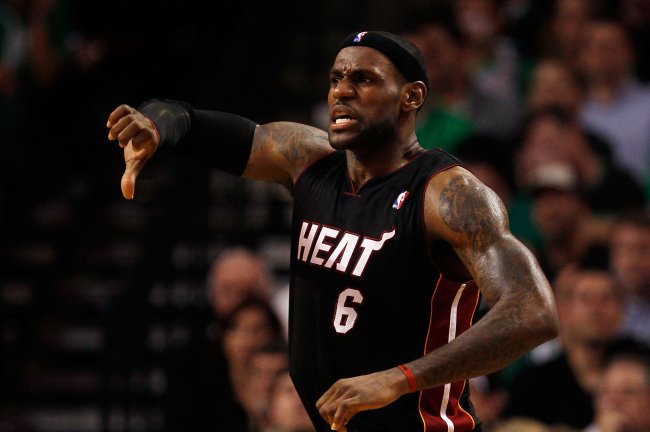 Jim Rogash/Getty Images
While this is pure conjecture, I imagine the LeBron vs. Celtics rivalry took a whole different form once LeBron joined Miami, mainly because the Celtics had to have felt more than threatened by the talent in Miami.
The Celtics absolutely owned LeBron during the regular season, winning the four-game regular-season series three games to one.
Based on LeBron's inability to overcome the Celtics, his critics became more and more confident, pronouncing that Boston was officially the King's kryptonite.
All of that changed when LeBron dominated the Eastern Conference Quarterfinals matchup with Boston, averaging 31.3 points, 8.5 rebounds and 3.5 assists en route to a 4-1 series victory over the Celtics.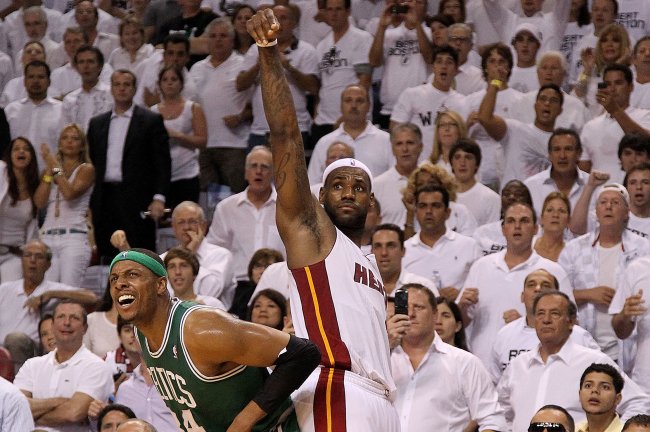 Mike Ehrmann/Getty Images
All of that was overshadowed by LeBron's rapid demise in the NBA Finals.
Up until that point, the Celtics defined LeBron's career by successfully holding him back from the one thing that kept him from being considered one of the greatest of all time—an NBA title.
The very next season, LeBron's career changed on June 7, 2012, thanks in part to the platform created by yet another epic clash with the Celtics.
With the Heat down 3-2 in the Eastern Conference Finals, LeBron took his career back from the hands of the Celtics and gave fans one of the greatest playoff performances in NBA history.
LeBron dropped 45 points, grabbed 15 rebounds and dished out five assists, while shooting 73.1 percent from the field, leading the Heat to a 19-point dismantling of the same Celtics team that held him back so many times before.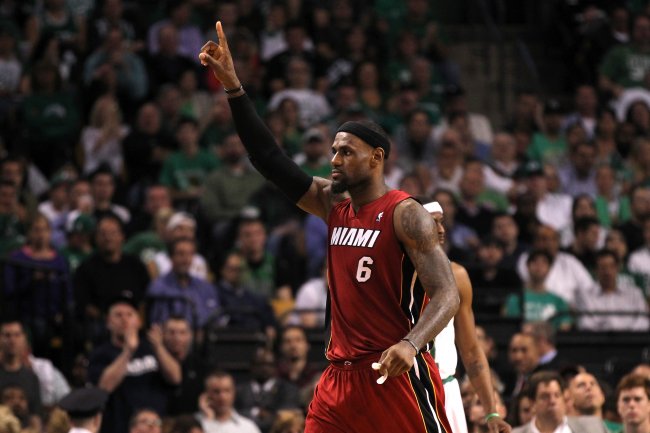 Jim Rogash/Getty Images
That moment in history inspired LeBron to start the "I Promise" campaign that has helped thousands upon thousands of children realize their dreams across the country. It also catapulted LeBron to his first NBA title and NBA Finals MVP.
That performance against Kevin Garnett and company took LeBron's legacy and turned it 180 degrees, from being the villain who couldn't achieve ultimate success to being the foundation of his team's NBA championship run.
LeBron proved that his dominant 2012 playoff performance against the Celtics wasn't a fluke and that the Celtics were no longer a hindrance with his winning-streak-saving performance against Boston on March 18, 2013.
It wasn't just LeBron's vicious dunk on Jason Terry and his 2011 NBA championship trophy tattoo; it was the fact that he once again put a star-studded Heat team on his back when it needed him.
Down 13 with 8:15 remaining, LeBron scored 13 of the Heat's final 22 points, and more importantly, he sunk the game winner.
This wouldn't have meant as much if it was in Miami, or if the Heat were ahead or close for the majority of the game.
LeBron's 21-footer in Boston meant so much because it displayed his transformation from being an immature player who "gave up" on his team against Boston to now being the fearless leader of the best team in the NBA.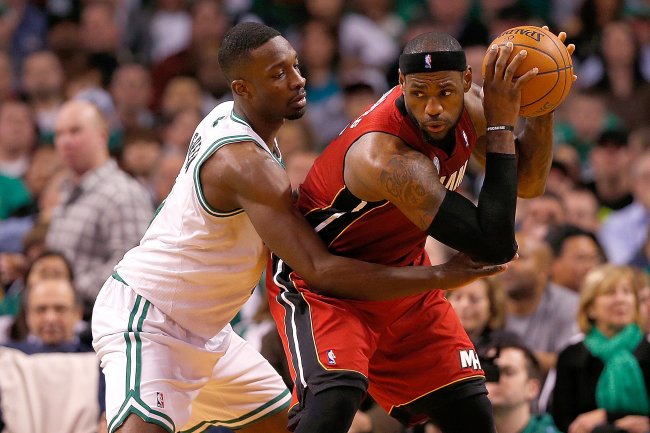 Jim Rogash/Getty Images
Sure, he kept the Heat's now 23-game winning streak alive. But more importantly, he added another legendary page to his legacy, and he did it against the team that was the thorn in his side for such a long time.
The rivalry between LeBron and the Celtics is far from over, but the tides have shifted in favor of LeBron, and that process has been enlightening to see.