David Villa: Arguments for and Against Him Staying at Barcelona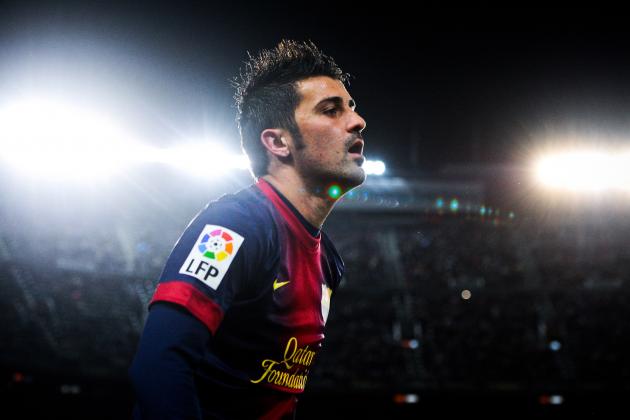 David Ramos/Getty Images

David Villa has been a perfect fit at Barcelona since joining the Catalan club in 2010. But after suffering a broken leg in Japan last season, his time at Barca has come into question.
There are arguments for and against the Spanish striker remaining at his current club. But with his contract set to expire in 2014, his future must be decided in the next few months.
In this article, we will look at both the arguments for and against David Villa remaining in the Blaugrana jersey next season. The reasons will be based on the club's needs but also what is best for the player.
Begin Slideshow

»
Laurence Griffiths/Getty Images

El Guaje is the all-time leading goalscorer for the Spanish national team. With such a title to uphold, it is no secret that the striker wants to continue to contribute to the famous squad he is a part of.
If Villa remains at Barcelona, it would be his best chance to continue with the national team.
Thom Drake of the Daily Mail has argued that staying in Spain may be best for Villa to compete for a place in the national team squad. Barcelona and Real Madrid are notorious for monopolizing the Spanish lineup and Villa could use that to his advantage.
The striker will certainly need first-team football if he wants to continue with La Roja. Despite his difficult start to the season, El Guaje has started five straight games for Barcelona and is stamping his name in Vicente Del Bosque's team sheet.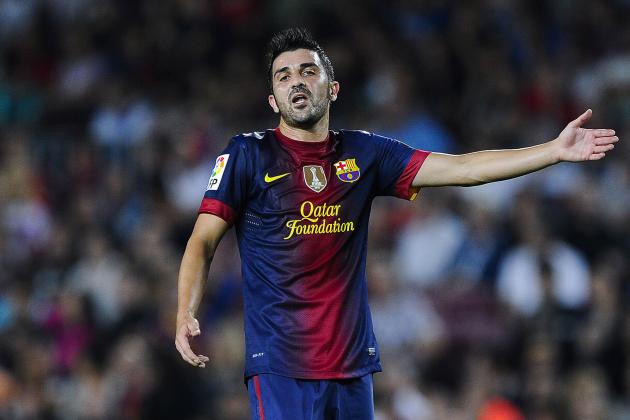 David Ramos/Getty Images

One argument against Barcelona retaining the services of David Villa would definitely be his age. The striker is currently 31 years old, and if history tells us anything, his production will only decease with time.
If the Catalan club decides to sell Villa this summer, it could be their last chance to cash in on the star. Once his age increases further, his price will severely drop, leaving Barca with little to gain.
But his age plays more of a part than just affecting his production and price value.
This season has seen El Guaje suffer more than his fair share of minor injuries. Barcelona will have to understand that if they keep Villa around, the possibility of him missing significant time is very likely.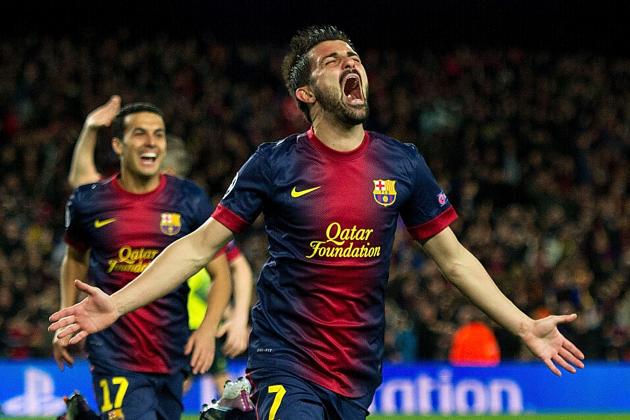 Gonzalo Arroyo Moreno/Getty Images

In the last few weeks, David Villa has shown the form that made him famous. Barcelona has definitely noticed, and that could be his biggest argument for remaining at the club.
Based his current form, the Spaniard has solidified a starting spot in the Catalan lineup.
After scoring a very crucial goal against AC Milan, as well as a goal and two assists during the weekend, it is clear that Villa is very vital to Barcelona's success.
The Catalan club would not be wise to let such an important player leave Barcelona. Tito Vilanova would be hard-pressed to replace the striker, but, more importantly, would simply miss his contribution to the team.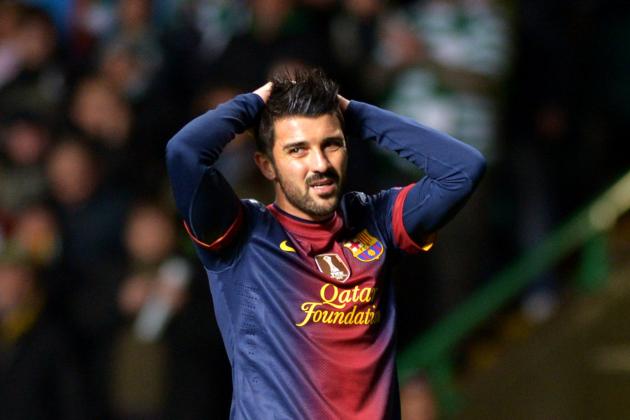 Jeff J Mitchell/Getty Images

Earlier in the season, the world of football was shocked to see a clash between David Villa and Lionel Messi on the pitch. Though Messi denied any problem between the two, the media did not seem to buy it (via Metro).
The results of the dispute began to lead to many speculations about Villa's feelings toward the club, including a report from The Daily Mail which claimed that he wanted to leave.
Arsenal was a major player in January who was trying to pry Villa away from Barcelona, but the move never materialized (via Metro).
Things change and players have changes of heart, but no one really knows how Villa feels at this point. El Guaje could still want out of Barcelona, and if that is the case, the club must let him go.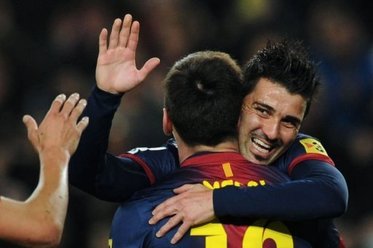 Though Villa has spent the better part of the season unhappy, his recent rise to form has also seemed to bring about a new joy.
El Guaje was seen in very high spirits in recent games and had a big smile on his face. If David Villa is looking to make the best decision for himself, the striker may look to remain at Barcelona based solely on his personal happiness.
The Spaniard knows that he stands the best chance of winning trophies at Barcelona, but that is not always a deciding factor for players.
If Villa truly is happy again at Barcelona, he will most likely choose to remain there to win at a club where he is loved and can win major trophies.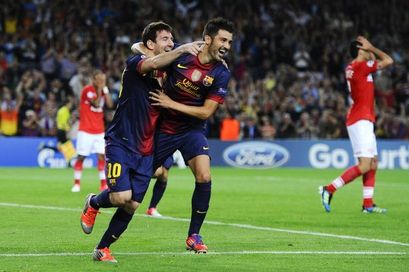 When David Villa was brought to Barcelona in 2010, fans immediately fell in love with his immediate impact on the club. El Guaje has fit Barcelona like a glove, and the club would find it near impossible to replace such a performer.
The Spaniard plays a perfect supporting role to Lionel Messi.
Villa is able to interchange positions with the Argentine, but, more importantly, he creates space for his partner. The 31-year-old is also very understanding of the Tiki-Taka style which is difficult for any new player to adapt to.
La Blaugrana may opt to retain their striker based on the pure importance that he plays.
Without many options to take Villa's place, Vilanova must attempt to keep the striker by all means. His role at Barcelona cannot be understated, which means fans should expect an extended stay for El Guaje.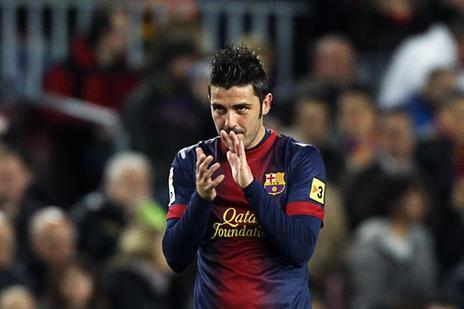 Despite the countless arguments for each side of Villa's future, the real question remains whether or not he will leave. Had this been just a few weeks ago, everyone would have expected the striker to leave. But looking at recent news, it appears as though David Villa will remain in Barcelona.
The Daily Mail has recently reported that Barcelona has offered David Villa a new contract.
It appears as though the Catalan club sees the importance of keeping El Guaje in the squad. Barcelona is aware that they must extend Villa's contract now or else sell him this summer.
The final decision will ultimately lie with David Villa.
The 31-year-old will be offered a contract, but he is only one can that choose to sign or not. If Villa does not sign, it will be clear that he wants to leave the club. But if El Guaje puts pen to paper, his future will be decided.
It may be some time before a decision is made. But based on recent form and the appearance of happiness with La Blaugrana, fans should expect David Villa to remain at the Catalan club.
Should Barcelona keep David Villa? Will El Guaje ultimately decide to stay or leave? Don't forget to leave your thoughts and comments below.
Tre' Atkinson. Follow me on Twitter for more discussions on David Villa, Barcelona and La Liga.