USC Football: Which Quarterback Does Marqise Lee Want to Start?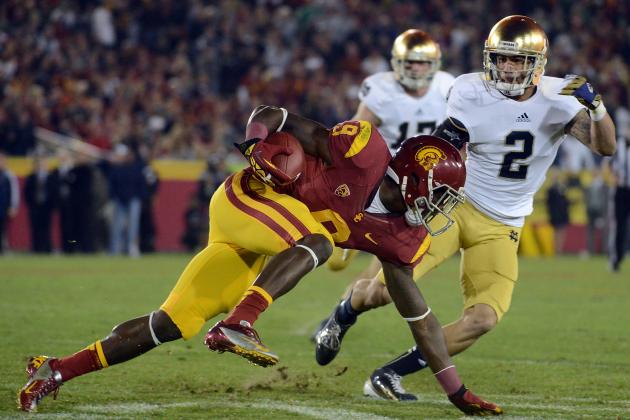 Harry How/Getty Images

As USC enters what should be a very interesting 2013 college football season, the Trojans face an abundance of questions as they try to return to the elite status they enjoyed not so long ago.
From breaking in a new quarterback and defensive secondary to seeking improvement from an offensive line that so much depends on, head coach Lane Kiffin and his staff will have their hands full in their effort to bounce back from a disappointing 7-6 record in 2012.
One question that won't need to answered is who will start at wide receiver, at least on one side of the field.
Marqise Lee, the 2012 Biletnikoff Award winner and unanimous All-American selection, will enter the upcoming season as one of the finest at his craft in the nation and a certain Heisman candidate.
After hauling in 118 passes for 1721 yards to go along with 14 touchdowns—with many of those yards coming after the catch—Lee is as exciting a player as will grace the field in 2013.
All well and good, but there remains a nagging question.
Who is going to get him the ball?
Presumptuous to be sure, this slide will look at who the Trojan quarterback will be from Lee's perspective.
Though I won't have Lee to verify this, look at it as a vicarious effort on the author's part to voice his own opinion from the prism of young Marqise himself.
So Mr. Lee, who do you want to start at quarterback for your 2013 USC Trojans?
This is how he might answer...
Note: Rankings are based on a variety of factors including talent, experience and leadership abilities among others.
Begin Slideshow

»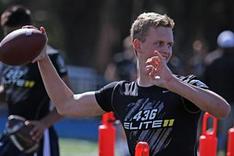 photo from 247sports.com
Regardless of whatever success the Trojans attain this year, there will likely be three words that accompany it at seasons end:
"Lee turns pro."
Marqise Lee has little to prove in the college game and if he turns in another season like the last two, the NFL will beckon him with riches that will prove too tempting for him to turn down.
As such, the last thing Lee needs in 2013 is to break in a true freshman quarterback.
Make no mistake about it, Max Browne is the future at quarterback for the Trojans, but that future doesn't begin in 2013.
Look for Browne to redshirt this year, and Lee to snag passes from one of the two experienced guys this year.
But which one?
The next slide reveals just that...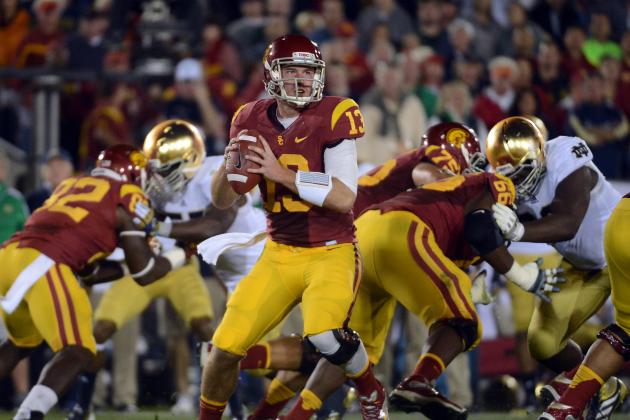 Harry How/Getty Images

In a recent article I wrote about Cody Kessler, a whopping 58 percent of over 1000 people polled said that Kessler should be the Trojans starting quarterback in 2013.
How many voted for Max Wittek, last year's starter for the final two games?
How does a paltry 11% grab you?
Well, neither Marqise Lee nor I am so sure about that.
Despite Wittek's mighty struggles in the debacle known as the 2012 Sun Bowl, he still possesses NFL size and an arm that neither Kessler nor Browne is blessed with.
Given the fact that Wittek is a young, maturing quarterback who only has a two game resume, it seems unwise that so many people are writing him off so soon.
You can be sure that won't be the case with his coach, Lane Kiffin, who will give him every opportunity to win the job when he comes back from a minor knee injury later in spring practice.
Stephen Dunn/Getty Images

Bowing to the will of the people, Marqise and I reluctantly choose Cody Kessler to start the 2013 season as the quarterback for the men of Troy.
But just barely.
While Kessler has—according to his head coach—that unquantifiable quality of being a "gamer," he still has a lot to prove in just that...games.
Untested at the college level, Kessler could be any kind of player once the clock starts.
However, it is generally agreed that young Cody does have some special qualities, and while strength of arm may not be one of them, his mobility and uncanny knack of making things happen certainly offset his lack of a cannon hanging from his right shoulder.
Will that translate into a 100-plus catches for Lee this year?
Probably not, but it could result in more wins and at the end of the day and that is really all that matters.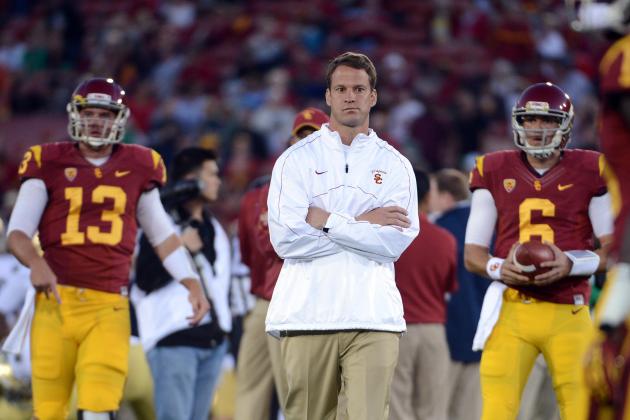 Harry How/Getty Images

Desires of the fans and authors of whimsical slide shows aside, the identity of USC's quarterback in 2013 is far from having been decided.
In fact, if the decision had to be made today—regardless of Wittek's balky knee—chances are he would be named the starter by his head coach, Lane Kiffin.
And despite the outcry from some fans, this would be a reasonable decision.
Wittek has everything one looks for in a quarterback including size, strength of arm, command of the huddle, etc.
Of course, Kessler brings his own attributes to the table and His ability to simply get the job done shouldn't be discounted either.
Ultimately, it won't matter to either Lee or the fans if whomever the eventual Trojan quarterback can deliver the one thing all concerned craves.
A return to glory for the cardinal and gold in 2013.