10 Coaches on the Hot Seat Entering 2013 NCAA Tournament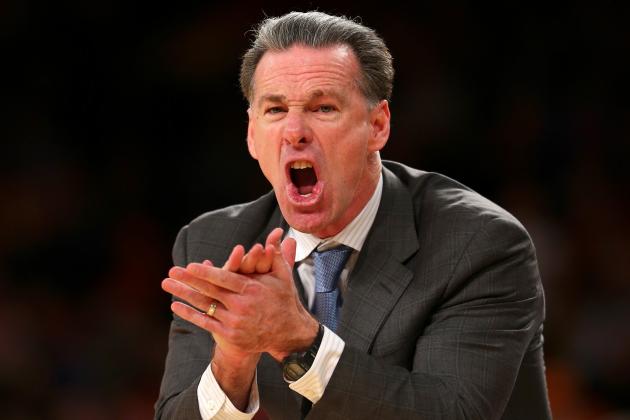 Elsa/Getty Images

Many of the coaches in the 2013 NCAA tournament are thrilled just to be in the field of 68, but some face higher expectations from their programs. In the what-have-you-done-for-me-lately world of college hoops, even highly respected coaches start feeling the pressure if they go too long without some March Madness success.
Jamie Dixon has built Pitt into one of the country's top regular-season teams, but his Panthers have underachieved routinely in the Big Dance. He'd love to turn that record around by succeeding as a relative underdog (seeded eighth) in this year's field.
Here's a closer look at Dixon and nine more coaches who need good showings this March to make fans forget some unpleasant postseasons of the past.
Begin Slideshow

»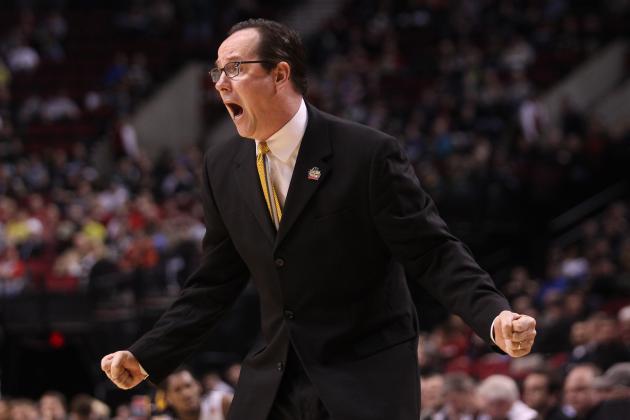 Jed Jacobsohn/Getty Images

Gregg Marshall came to the Shockers job after nine seasons at Winthrop. His Eagles made seven NCAA tournament appearances (admittedly as major underdogs), but only won a single game in that time.
Last March was Marshall's first Big Dance with Wichita State, and it ended in his seventh opening-game defeat in eight tries.
This year, facing a dangerous Pitt team in the first round, the ninth-seeded Shockers could easily continue that discouraging trend for their head coach.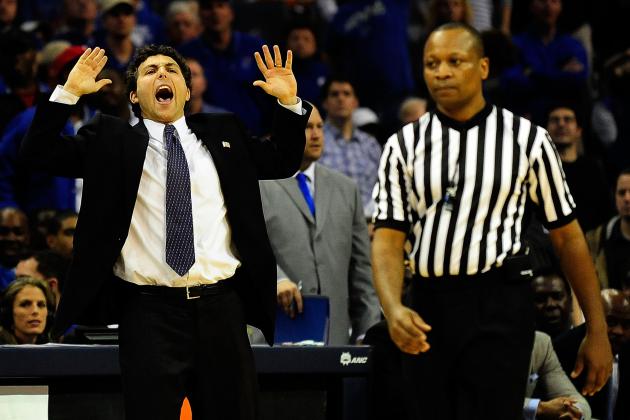 Stacy Revere/Getty Images

In Josh Pastner's defense, he's only in his fourth season as a head coach, and no matter what happens this year, he's accomplished a lot at the start of his Memphis career.
However, he's also brought two very good teams to the Big Dance and come away winless to date.
This year's squad has Pastner's most favorable seed yet, coming in as a No. 6 against the winner of the First Four battle between Middle Tennessee and St. Mary's.
Of course, those are two extremely dangerous underdogs, and whichever of them faces the Tigers has a very real chance to hand the Memphis coach his third consecutive opening-game exit.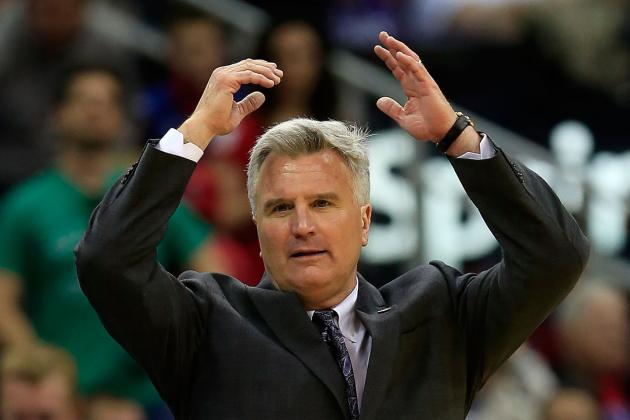 Jamie Squire/Getty Images

For all Bruce Weber's recruiting success, he's never been as effective as an X's-and-O's coach under the bright lights of March.
In the years since his Deron Williams-led Illinois squad made the 2005 national title game, those troubles have come back to bite him.
Weber has won just one NCAA tournament game in that time, losing his last three openers in a row.
Another second-round exit appears unlikely—fourth-seeded Kansas State gets the winner of the Boise State/La Salle First Four game—but would certainly set an awful precedent for his prospects at his new program.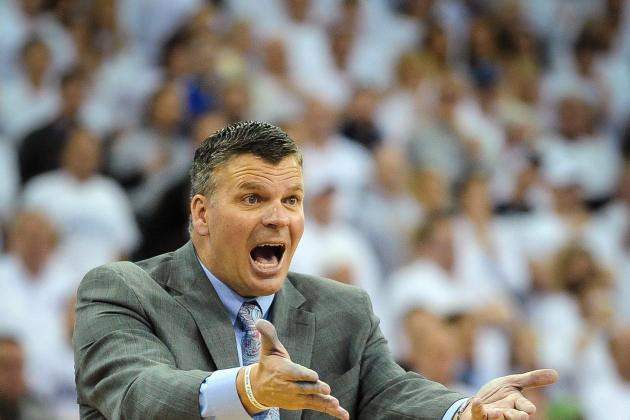 Eric Francis/Getty Images

Greg McDermott has been coaching at the Division I level since 2001-02, in which time he's made four trips to the Big Dance (including three with Northern Iowa).
Last year's one-point win over Alabama is the only NCAA tournament victory he has to show for those seasons.
This year's Blue Jays have both a better seed and a more favorable matchup than last year's edition, so another trip to the Round of 32 is likely.
What McDermott could really use—in what may well be his last season with superstar son Doug on his roster—is a deeper run, but a presumptive third-round date with Duke makes that prospect a vastly improbable one.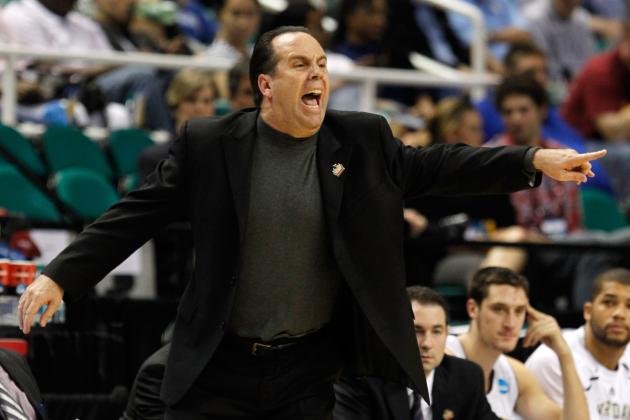 Streeter Lecka/Getty Images

Credit where credit's due to Mike Brey, who's up to seven seasons in a row (and counting) of 20 wins or more at Notre Dame. Still, Big East teams aren't supposed to be satisfied with just making the tournament field, and Brey's Irish have done little else.
Brey's ND teams have one Sweet 16 in seven Big Dances, and he's only won a single tournament opener in the last four years.
Even as a No. 7 seed, this season's squad could be in for another second-round loss, (against Iowa State) unless Jack Cooley regains his scoring form.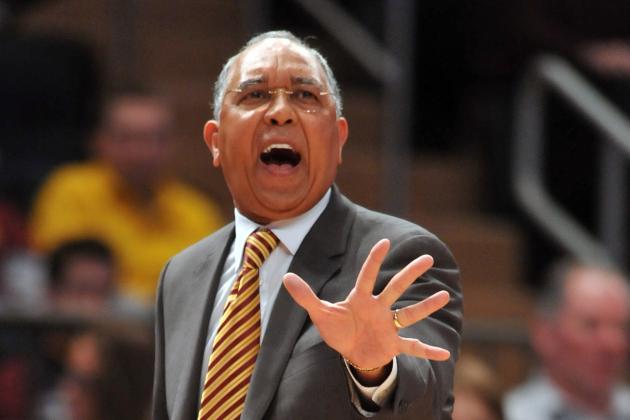 Jason Szenes/Getty Images

Fifteen years removed from his national title at Kentucky, Tubby Smith has fallen on much harder days in the Twin Cities. Now in his sixth season as the Golden Gophers' head coach, Smith is still in search of his first NCAA tournament win with the team.
This year's squad is the most talented he's ever had at Minnesota, but it still enters the tourney as a No. 11 seed.
Still, encouraging matchups against banged-up UCLA (and struggling Florida in the third round) mean that a much-needed Sweet 16 spot isn't out of reach for Smith's charges.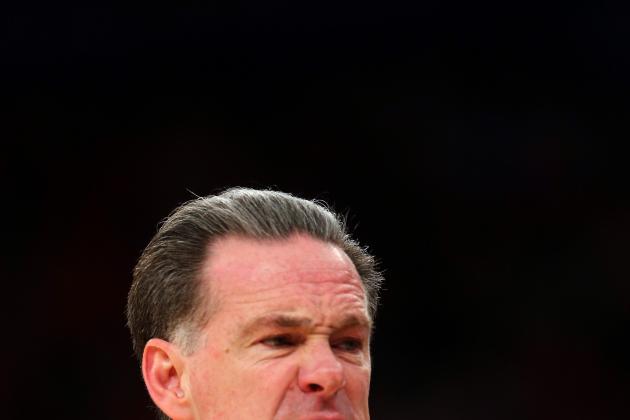 Elsa/Getty Images

Six times in Jamie Dixon's nine-year career, the Pitt Panthers have been seeded fourth or better in the NCAA tournament, including a pair of No. 1 seeds.
Pitt hasn't made a single Final Four in that time, a record that includes losing to teams seeded seven (Butler 2011) and eight (Bradley 2006) spots below them.
Dixon's record will look even worse if he can't win as an underdog, either. His No. 9 seeded team lost the opener in 2005, and now he faces a tough matchup with Wichita State as a No. 8 seed.
Even a win over the Shockers might wind up becoming a missed opportunity. It would give Pitt a shot at Gonzaga, the tourney's most vulnerable top seed, where a loss could be taken as yet more evidence of Dixon's postseason woes.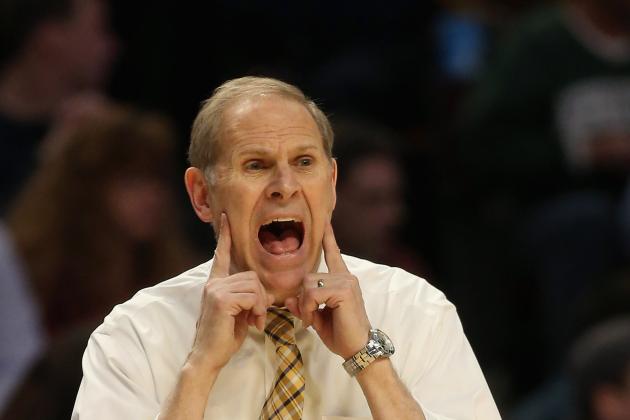 Jonathan Daniel/Getty Images

Brought to Michigan to restore the Wolverines to their former glory, John Beilein is off to a slow start. Since arriving in 2007-08, he's missed the Big Dance twice and won just one game in three March Madness appearances.
Coming off last year's wince-inducing upset by Ohio, the last thing Beilein needs is another early trip home.
Unfortunately, he'll be lucky even to get to the Sweet 16 this year as his fourth-seeded team stands to face two exceedingly talented opponents in Nate Wolters-led South Dakota State and giant-killing VCU.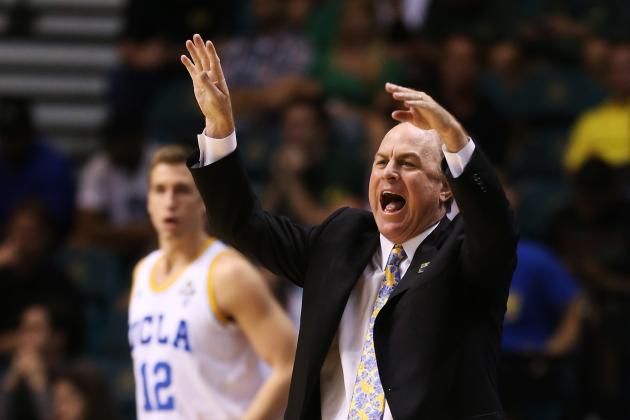 Jeff Gross/Getty Images

Few coaches in history can match Ben Howland's three consecutive Final Four appearances as the Bruins' head coach, but Howland's reputation has taken some lumps in the last couple of years.
2011-12's woeful 19-14 campaign—combined with allegations of his star players turning him into a doormat—had some fans grumbling that he'd outstayed his welcome in Westwood.
It doesn't help matters that since the end of his Final Four hat trick in 2008, Howland's teams have won just a single NCAA tournament game.
This year's squad won't have an easy time adding to that meager total as it faces talent-rich Minnesota without injured SG Jordan Adams (done for the year with a broken foot).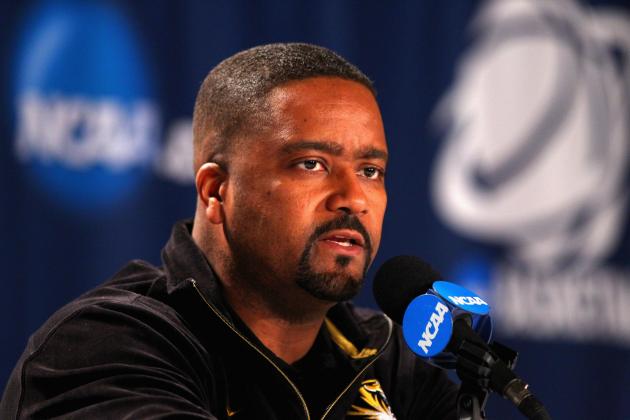 Doug Pensinger/Getty Images

Frank Haith must really wish it were still 2012.
Since the turn of the new year, he's been entangled in the NCAA investigation of his former program at Miami (though he's avoided any major blame) and seen his 10-2 would-be SEC contenders lose eight conference games away from Mizzou Arena to fall to a No. 9 seed.
Haith doesn't exactly get to take much solace in the NCAA tournament trip, either, considering that he's coming off last year's humiliating loss to 15th-seeded Norfolk State and has just one other March Madness appearance in his career.
After years of being relegated to the NIT with the Hurricanes, he could easily fall to 1-3 in the NCAA tournament as his slumping Tigers face a physical Colorado State squad in the second round.