NCAA Tournament 2013: Odds and Predictions Heading into Tournament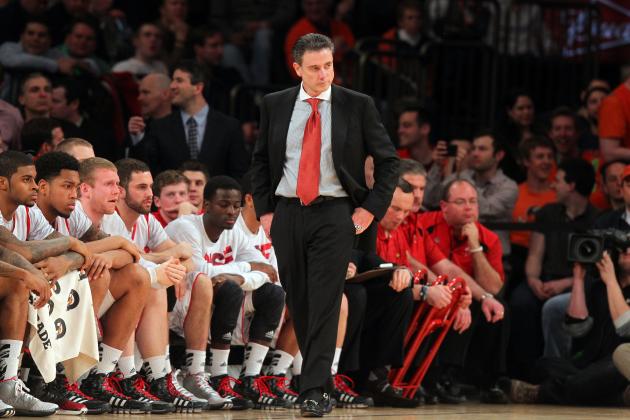 USA TODAY Sports

Earlier this season, it looked like the NCAA tournament would resemble 2011.
That year, no No. 1 seed made the Final Four for the first time in history. In 2013, it seemed like parity reigned.
However, over the course of the season, the best teams have separated themselves from the pack. That doesn't mean a team can't come out of nowhere to make a Final Four run, but it seems like the eventual national champion will come from a few select teams.
Here are some odds and predictions heading into the 2013 NCAA tournament.
Begin Slideshow

»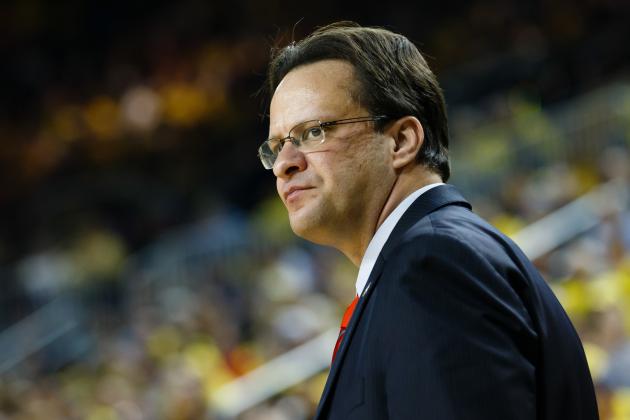 Rick Osentoski-USA TODAY Sports

Louisville (4:1): The Cardinals are the No. 1 overall seed and are the favorites to cut down the nets in Atlanta.
Indiana (17:3): Tom Crean has done an excellent job rebuilding the program, and the Hoosiers are in a position where anything less than a national title would be a little disappointing.
Kansas (22:3): After getting blown out at Baylor to close the regular season, Kansas breezed through the Big 12 tournament with three double-digit wins.
Gonzaga (9:1): The Zags earned their first No. 1 seed in program history and have a decent path to Atlanta.
Miami (9:1): Winning the ACC tournament in the state of North Carolina is no small feat. Miami will need to get big man Reggie Johnson going to win it all.
Duke (23:2): After seeing Duke lose to Maryland in the ACC tournament, everyone in the field now knows it is possible to beat the Blue Devils with Ryan Kelly in the lineup.
Florida (37:3): The advanced stats love the Gators, but they have not won a game by single digits all year.
Ohio State (37:3): There aren't many teams in the field hotter than the Buckeyes. Ohio State has won eight in a row.
Michigan State (24:1): Tom Izzo's club is balanced with threats on the interior and on the perimeter. He'll need point guard Keith Appling to up his game to win his second national title in East Lansing.
Georgetown (24:1): Georgetown has been a No. 2 or 3 seed in three of the last five tournaments, but the Hoyas have not advanced past the first weekend since 2007.
Field (49:1): Plenty of teams outside this group could make a Final Four run, but it's tough to envision anyone outside of those 10 prevailing at the end of the Madness.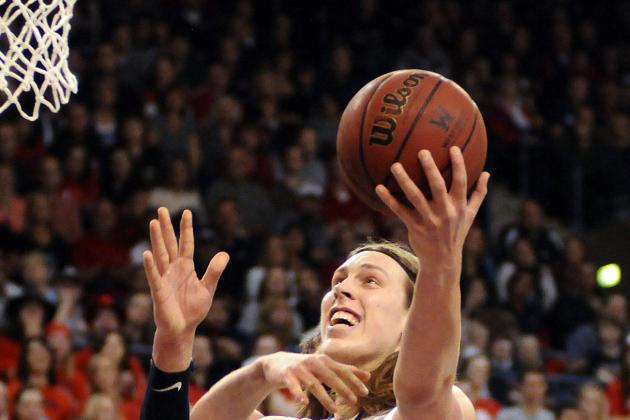 James Snook-USA TODAY Sports

1. Gonzaga (2:1): This is by far the best chance the Zags have had to make their first Final Four in program history. They need to take advantage.
2. Ohio State (2:1): Even though they are the No. 2 seed, the Buckeyes feel like the favorites in the West Region.
3. New Mexico (8:1): Steve Alford has had some good teams at New Mexico, but he has yet to reach the second weekend of the NCAA tournament. Anything less than a Sweet 16 berth will be a letdown.
4. Kansas State (17:1): Bruce Weber has done a fantastic job in his first season at Kansas State, and the Wildcats are in position to make some noise in March Madness.
5. Wisconsin (8:1): Wisconsin made it to the Big Ten title game, and the Badgers will surely be a tough out at every stage of the NCAA tournament.
Field (17:1): When looking for a dark horse in the West Region, look no further than No. 8 Pittsburgh. The Panthers have a seasoned coach and a tested squad coming from the Big East.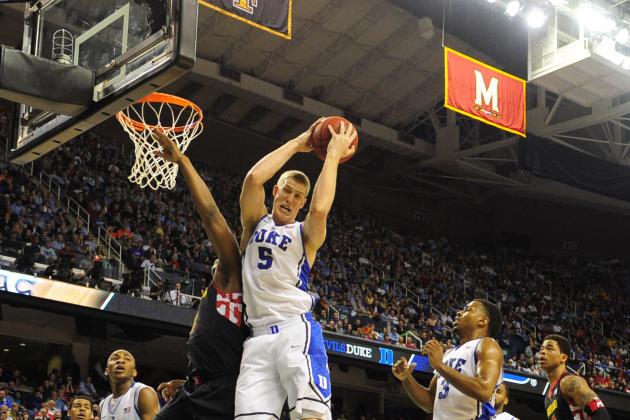 Bob Donnan-USA TODAY Sports

1. Louisville (1:1): From coaching to experience to inside/outside balance, Louisville has it all. The Cardinals are an overwhelming favorite to reach Atlanta, which is saying something considering how tough the region is.
2. Duke (4:1): Duke beat Louisville earlier this season, but the Cardinals were without big man Gorgui Dieng. If the Blue Devils were in any other region, they would be a favorite to make the Final Four.
3. Michigan State (17:3): Tom Izzo has been to six Final Fours since 1999, with the last trip coming in 2010.
4. Saint Louis (47:3): Saint Louis is just a tough team. The Billikens are a legit threat to make a deep run over the next few weeks.
5. Oklahoma State (19:1): Marcus Smart could carry Oklahoma State to the Final Four. There is a reason he is in the conversation for the top pick in this year's NBA draft.
Field (24:1): If No. 9 Missouri can execute down the stretch of close games, the Tigers could make a Final Four run. They are that talented.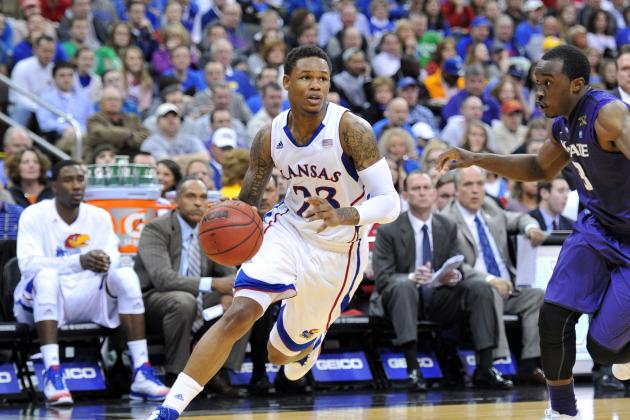 Peter G. Aiken-USA TODAY Sports

1. Kansas (7:3): Kansas is once again a top seed in March, and the Jayhawks have the talent and experience to win it all.
2. Georgetown (4:1): In their last four NCAA tournament appearances, the Hoyas have lost to No. 10 Davidson in 2008, No. 14 Ohio in 2010, No. 11 VCU in 2011 and No. 11 N.C. State last year. Can the Hoyas avoid another upset this year?
3. Florida (3:1): Florida has to figure out its go-to guy in crucial situations if it is going to make it to Atlanta.
4. Michigan (17:3): Trey Burke can carry the Wolverines to Atlanta, but they will have to play better defense to get there.
5. VCU (19:1): If VCU can get by Burke and Michigan in Detroit on opening weekend, the Rams will be a good bet to make the Final Four.
Field (19:1): No. 8 North Carolina has played well since inserting P.J. Hairston into the starting lineup. The Tar Heels made the Final Four as an eight-seed back in 2000.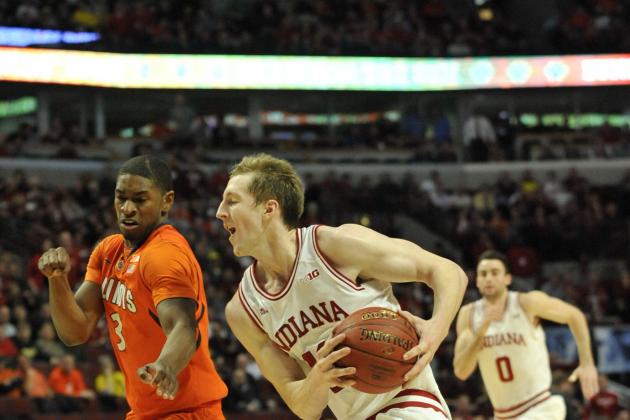 David Banks-USA TODAY Sports

1. Indiana (3:2): The Hoosiers would have preferred their path to the Final Four went through Indianapolis, but they can still easily end up in Atlanta coming out of the East Region.
2. Miami (7:3): Jim Larranaga took George Mason to the Final Four in 2006. The city where the Patriots cut down the nets that year? Washington, D.C.
3. Marquette (9:1): Marquette's only win away from home against an NCAA tournament team came over Pittsburgh.
4. Syracuse (9:1): The Orange will need to consistently hit shots if they want to make it to the Final Four for the first time since winning the national title in 2003.
5. UNLV (19:1): Talent is certainly not the issue for UNLV, but the Rebels have not been able to consistently put it together to this point.
Field 19:1: No. 6 Butler is back in the NCAA tournament for the first time since 2011 when the Bulldogs made the national title game for the second year in a row. It's tough to count out Brad Stevens.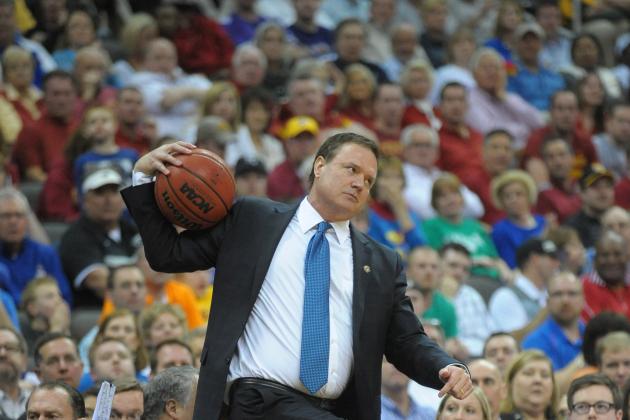 Denny Medley-USA TODAY Sports

Gonzaga (3:2): Either Pittsburgh or Wichita State will give Gonzaga all it can handle in the round of 32. After that, a potential matchup with No. 5 Wisconsin in the Sweet 16 looms. The Badgers will make life difficult for any opponent.
Kansas (7:3): The selection committee certainly has a sense of humor putting No. 8 North Carolina in the South Region. After that, the Jayhawks could face the toughest Sweet 16 matchup of any top seed against either Michigan or VCU.
Indiana (4:1): The Hoosiers could have the toughest round of 32 game if No. 8 N.C. State gets past Temple. The Wolfpack are extremely talented, and if they are locked in defensively, they can beat anyone in the country.
Louisville (9:1): Either No. 8 Colorado State or No. 9 Missouri could pose problems in the round of 32. The same can be said of No. 4 Saint Louis and No. 5 Oklahoma State in the Sweet 16. Still, it's tough to envision anyone beating Louisville given how it's playing. Of course, many were saying the same thing about Kansas in 2010 before the Jayhawks were upset by Northern Iowa. Anything can happen in March.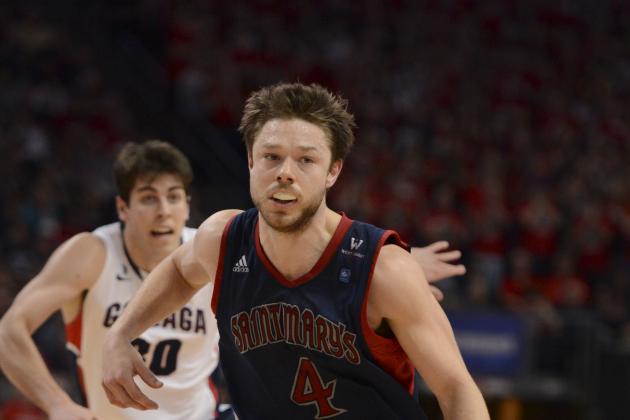 Kyle Terada-USA TODAY Sports

Midwest: No. 11 Saint Mary's over No. 6 Memphis. Memphis has not been tested lately in Conference USA, and Saint Mary's has a fantastic floor general in Matthew Dellavedova.
West: No. 11 Belmont over No. 6 Arizona. Belmont can put up points, and Arizona has had trouble guarding the perimeter, allowing opponents to shoot 36 percent from three.
East: No. 12 California over No. 5 UNLV. Cal already lost at home to UNLV earlier this season, but the Golden Bears get essentially another home game in San Jose against the Rebels on Thursday.
South: No. 10 Oklahoma over No. 7 San Diego State. Both teams have struggled down the stretch, but San Diego State has issues putting the ball in the basket, shooting just 32.4 percent from three and 68.4 percent from the free-throw line.
Bob Donnan-USA TODAY Sports

Midwest: Louisville. The Cardinals drew the toughest region with Duke and Michigan State as possible opponents in the Elite Eight. However, Louisville is just playing on another level right now.
West: Ohio State. The Buckeyes are playing their best basketball of the season. They have experience and played in a Final Four last year.
East: Miami. No one on Miami's has significant experience in an NCAA tournament. However, the Hurricanes have great leadership on the sidelines in Jim Larranaga and at point guard in Shane Larkin.
South: Kansas. The Jayhawks made it all the way to the title game last year before losing to Kentucky. This year, if Kansas gets quality play out of its guards, Bill Self could win his second national title.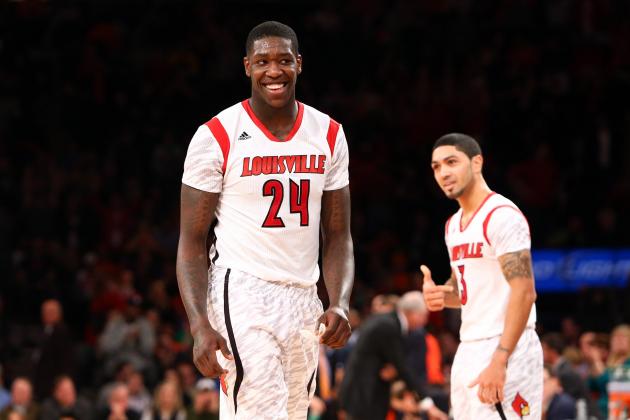 USA TODAY Sports

Louisville over Miami, 65-62. Since losing three in a row in January, Louisville has won 13 of its last 14 games. The Cardinals seem to be hitting on all cylinders and will look to take the next step after their Final Four run last season.
Miami doesn't have much NCAA tournament experience, but the Hurricanes have everything a team needs to make a run to the national title game. Shane Larkin should have a national coming-out party over the next couple weeks, but the Hurricanes will come up short against Louisville.