5 Reasons South Carolina Should Run a 2-QB Offense This Year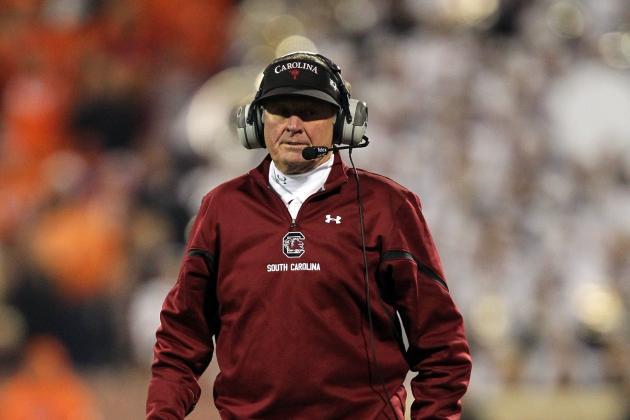 Streeter Lecka/Getty Images
Head coach Steve Spurrier has two very impressive quarterbacks to utilize on his 2013 South Carolina roster.
The two-quarterback offense is a touchy subject for offenses in college football.
Many teams struggle to find continuity and passing chemistry when switching between quarterbacks, but some can achieve greatness.
Platooning quarterbacks has not had renowned success other than the 2006 Florida Gators with Chris Leak and Tim Tebow, but even then, the Gators did not use a full 2-QB offense.
I am typically against the 2-QB sets, because I like to see more consistency at the game's highest pressure position. The change of rhythm can be hazardous to a team, and there is a football saying that says if you have two quarterbacks, then you don't have one.
So why should Spurrier consider the 2-QB offense?
South Carolina is a true special case scenario in 2013.
The Gamecocks are the counterexample to the old saying.
They truly have two quarterbacks.
The Gamecocks are a team that has too much talent at the quarterback position.
Connor Shaw and Dylan Thompson are extremely talented and bring a unique combination of great skill sets and on-field experience.
South Carolina used both Shaw and Thompson at various parts of the season due to injuries to Shaw. In the Outback Bowl win over the Michigan Wolverines, Spurrier played both quarterbacks and had great success with a 2-QB offense.
Here are five reasons why Spurrier and the Gamecocks should platoon their quarterbacks and run the 2-QB offense.
Begin Slideshow

»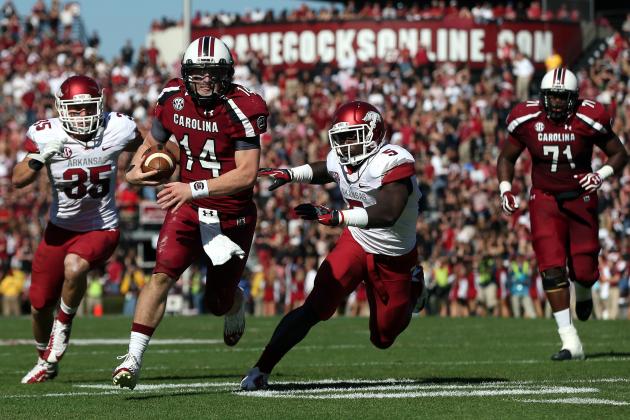 Streeter Lecka/Getty Images
Connor Shaw is an agile quarterback who can effectively run the read-option offense.
Connor Shaw is coming off a foot injury this past season and will miss spring practice this year, but when he recovers, he will still be a very gifted runner.
Shaw makes good decisions with the reads and runs with effectiveness as a scrambling quarterback. His average yards per carry last season is a little deceiving at 3.3, but when he is healthy, Shaw can put up great rushing stats. Shaw ran for 96 yards against the Wolverines on just 10 carries, one being a 64-yarder.
Michigan was no slouch of a defense for Shaw to showcase his rushing talents against. Keep in mind that Shaw also hobbled for much of the season on his injured foot. With adequate rehab time and practice, Shaw will be back in form to have an impact in the running game which features a variety of running backs.
The teaming of Shaw with Mike Davis, Brandon Wilds and the rest of the South Carolina corps of running backs can become a deadly approach to the offense.
Shaw is smart with his running, has the speed to make plays and will hopefully start the year healthy. His rushing ability will be utilized by Spurrier this season and is one reason for a 2-QB offense.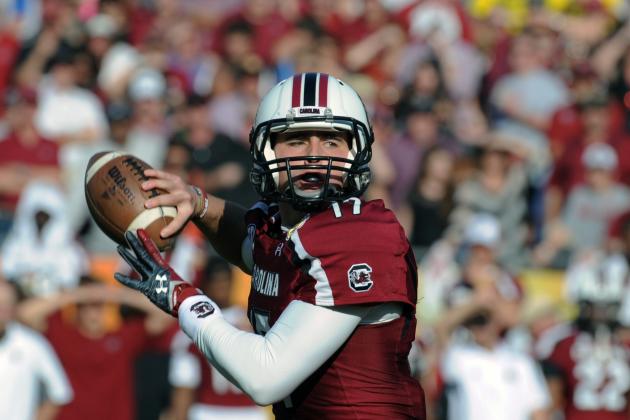 Al Messerschmidt/Getty Images
Dylan Thompson has an NFL-ready arm and deserves the opportunity to show it off.
Dylan Thompson has a cannon of an arm.
For those who have seen him throw the pigskin around, he has a rocket arm.
So, let's give the kid more playing time to torch defenses with his arm.
Shaw had a solid year with a 67.5 completion percentage, but even with a statistic like that, Thompson deserves a share of the offense.
Thompson's arm is stronger than Shaw's, and with a lot of spring practice and time with his receivers during this offseason, Thompson will improve his accuracy and show why he should be a part of the offense every Saturday this fall.
According to Travis Haney of ESPN Insider, Spurrier is well aware of his quarterback's powerful throwing arm: "Spurrier has said he thinks Thompson has an NFL arm, causing some to believe he'll platoon the pair."
Thompson has an NFL arm and Spurrier recognizes it. The Gamecocks should use Thompson as well as Shaw for this reason. With that much throwing talent, Thompson needs to be on the field and contributing to the team rather than waiting in reserve behind Shaw.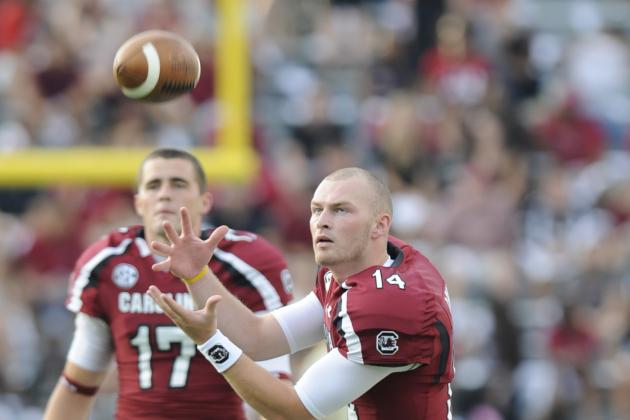 Mary Ann Chastain/Getty Images
The South Carolina offense can be even more versatile with two quarterbacks having integral roles in the offense.
One quarterback can scramble and the other one has a great arm.
Yet, there is more than meets the eye for both of these quarterbacks.
Shaw is fairly accurate and is the more capable scrambler.
Thompson has the bigger arm, but is more than sufficient at extending plays by rolling out of the pocket and making some plays with his feet.
So why risk it with two-quarterbacks?
The offense will have even more versatility.
Whether Shaw or Thompson are on the field, the offense will be able to move the ball effectively via passing or running.
Spurrier has matchup options with using both quarterbacks as opposed to just one. Either of these quarterbacks can get hot at any given time.
The play calling can be mysterious, and opposing teams will have extreme difficulty in defensive preparations. Dealing with one of these quarterbacks would be tough, but having to prep a defense to contain both of these talented quarterbacks is a brutal task.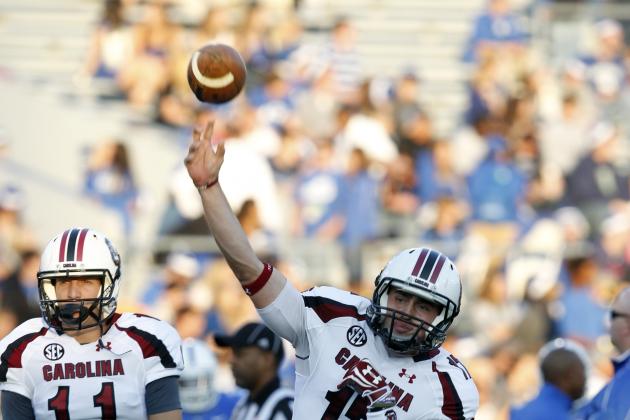 John Sommers II/Getty Images
There are no issues about experience with Shaw and Thompson.
This two-quarterback situation is unlike any in the past.
Teams tend to use these sets to groom a younger quarterback to take over for the upperclassman the following season.
With Shaw entering his senior year and Thompson going into his junior year, experience is not an issue.
Both of these players have confidence and are proven winners on the field. They have the on-field intelligence and command of their fellow teammates with their leadership.
According to Travis Haney of ESPN Insider, "Shaw and Thompson are both older, confident QBs, so no one's expecting them to be rattled if that's the direction Spurrier goes."
Spurrier has one of the best pairs of quarterbacks in the country, if not the best, and does not have to worry about raw, inexperienced talent as a potential downside. Shaw and Thompson have talent and experience, which is a deadly combination.
Spurrier is a lucky coach to have two experienced, talented and confident quarterbacks to choose between playing, and he has the potential to play both.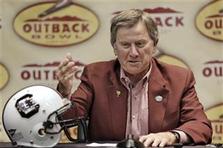 Steve Spurrier is one of the best coaches in college football and is willing to take the risk and use two quarterbacks. (via the Associated Press)
In order to run an effective 2-QB offense, there needs to be a great mind behind the players who puts together a complex offense.
Steve Spurrier is that type of mind.
Spurrier is one of the best coaches in college football and is not afraid to take risks, especially when they can lead to high rewards.
South Carolina has the quarterbacks and the right coach who is ready for the challenge.
According to Travis Haney of ESPN Insider, Spurrier is willing to platoon his quarterbacks, "And Spurrier does love his QB tandems."
There has never been a more perfect time for a quarterback tandem.
Spurrier can orchestrate the system, and Shaw and Thompson will produce. In fact, Spurrier has already shown what he can create with a two-quarterback offense.
The Gamecocks' platooning quarterback system lit up the Wolverines in the Outback Bowl, so Spurrier can clearly run the system.
With a full offseason to work out the kinks and time for Shaw to get healthy, Spurrier can have an amazing offense that breaks the infamy that surrounds platooning quarterbacks.
I will go against a 2-QB offense nine times out of 10, but this is the exception to the rule.
South Carolina should run the 2-QB offense, because they have the versatility with Shaw's rushing ability and Thompson's arm, experience amongst both quarterbacks and a great coach in Spurrier who can put it all together.