UFC 158: 5 Fights for Jordan Mein to Take Next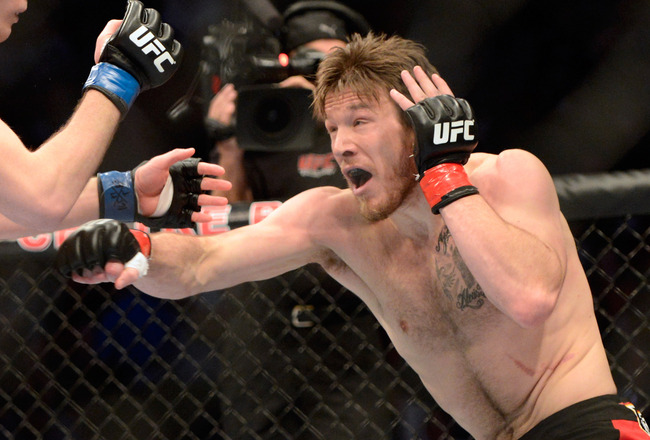 Eric Bolte-USA TODAY Sports
Jordan Mein has been fighting since 2006 and has 35 fights in his career. That's remarkable considering he's only 23.
On Saturday night, at UFC 158, he had the best night of his life.
In his UFC debut, Mein KO'd the previously unstoppable Dan Miller in the first round. It was an announcement of his bad intentions in the welterweight division, and while he has some rank-climbing to do before he's allowed to avenge the loss to Rory MacDonald in his first-ever fight, there are five other fights that he could take next.
Martin Kampmann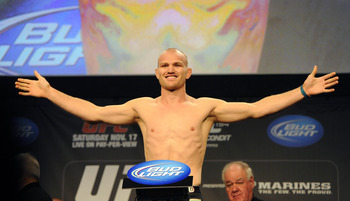 Eric Bolte-USA TODAY Sports
It's true that Martin Kampmann is coming off of a KO loss to Jake Ellenberger, but it's also true that the Danish fighter is ranked seventh in the UFC's official rankings.
Up until that loss to Ellenberger, he'd been on a three-fight tear through some of the toughest welterweights in the division. Kampmann was considered a serious contender only a year ago and would be an important scalp for Mein.
Robbie Lawler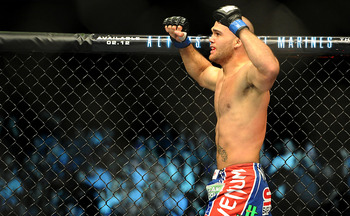 Jayne Kamin-Oncea-USA TODAY Sports
Like Mein, Robbie Lawler is a welterweight who made a triumphant entry into the UFC in the past three weeks, winning a first-round KO over Josh Koscheck.
That was a significant victory and one that spearheaded the Strikeforce charge into the promotion over the past couple of months. Lawler has a deep history in MMA but managed to avoid Mein when the pair fought in their previous promotion. But Lawler has a history with the UFC, and his one win has got him ranked at No. 9 in the division. That in itself makes him a significant fight for Mein.
Tarec Saffiedine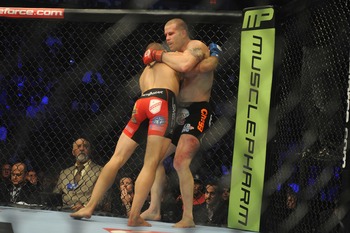 USA TODAY Sports
Tarec Saffiedine came into the UFC on the back of winning Strikeforce's most recent welterweight title against Nate Marquardt. He's yet to fight for the promotion; however, his former title and his rank at No. 8 in the UFC's list already makes him a target for many aspiring athletes in the division.
Martin Kampmann, for example, is one man calling him out, but Mein could also do well with a shot at the Belgian. A win against Saffiedine is a win against a former champion, and that will automatically make Mein among the best of Strikeforce's imports if he were to win.
Mike Pierce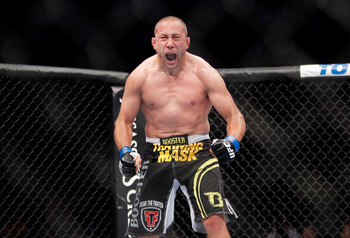 Bruce Kluckhohn-USA TODAY Sports
While not highly ranked, Mike Pierce is still a UFC welterweight with an enviable three-fight winning streak. That's saying a lot for such a stacked division, and those wins include the dangerous Seth Baczynski in his previous match.
If Mein were to stop Pierce's momentum, that could go a long way in proving his own credentials.
Dong Hyun Kim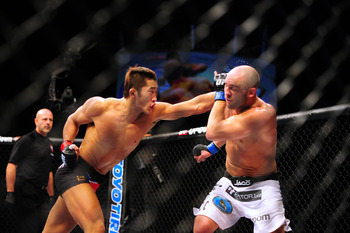 Mark J. Rebilas-USA TODAY Sports
Another fighter with some momentum behind him is Korean mixed martial artist Dong Hyun Kim, who is coming off of a recent decision win over power-hitter Siyar Bahadurzada.
That was an impressive and dominant display of grappling, giving us a hint at what could have happened had Kim not been injured in the opening seconds of his fight against Demian Maia.
While Kim isn't currently ranked very high, he's been in the UFC since 2008 and has wins over Matt Brown, Amir Sadollah and Paulo Thiago to his credit.
That makes him a reasonable fight for Mein to consolidate his position in the UFC and move forward toward the top 10.
Keep Reading