NHL Trade Speculation: 8 Unrestricted Free Agents That Will Move by the Deadline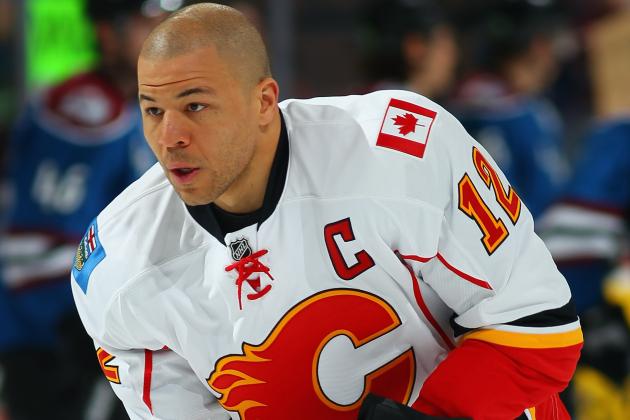 Doug Pensinger/Getty Images

Due to the shortened NHL schedule, teams need to make tough trade deadline decisions this season.
A team on the verge of losing an important player to free agency needs to weigh the likelihood that it can make the playoffs, and whether or not it needs the player in order to make a run at a championship.
Sellers don't want to give away a season by trading a key component of the squad, but it is a waste to keep him on the roster and lose him to free agency with no return.
Big names and important role-playing veterans could be on the market at this deadline. Here are eight players who seem to be on the verge of switching sweaters.
Begin Slideshow

»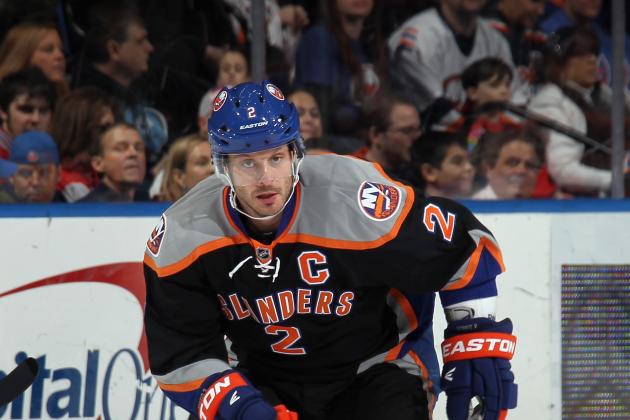 Bruce Bennett/Getty Images

The New York Islanders could well make the playoffs this year, and if they are in contention at the deadline, they would likely hang onto their captain and best defenseman, Mark Streit.
However, the Isles are a squad on the rise, and they can build their roster by turning Streit into draft picks and young talent to go along with John Tavares, Matt Moulson and other offensive weapons in the system.
Streit is a talented offensive defenseman who is steady in his own zone, but he has largely flown under the radar playing on the Island. He is ideally suited to be a rental player for a team with concerns on the blue line.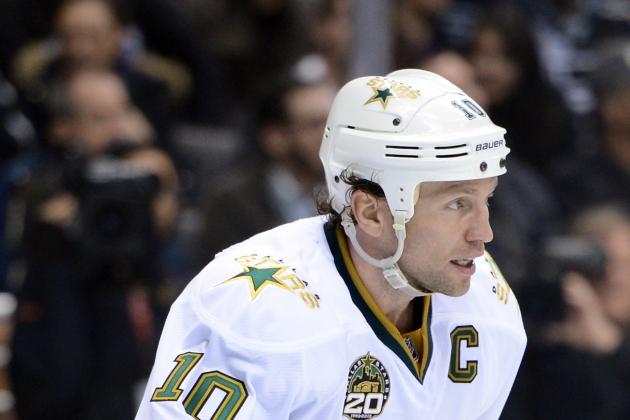 Harry How/Getty Images

Dallas's captain has been the heart and soul of the squad for a long time, but with Jamie Benn and Kari Lehtonen becoming the face of the franchise, the Stars would serve themselves well by parting ways with Brenden Morrow.
Morrow is an excellent leader and a very capable two-way player, the sort of roster addition that could draw a big return in a trade, as these sorts of traits are coveted by teams with Stanley Cup dreams. At 34 years old, Morrow could serve as a rental for a contender, but he could also be a long-term investment on the right squad.
The hockey blog The Fourth Period claims that Dallas GM Joe Nieuwendyk is open to trading Morrow, and even if Nieuwendyk isn't actively shopping the captain, it stands to reasons that he would at least listen to offers.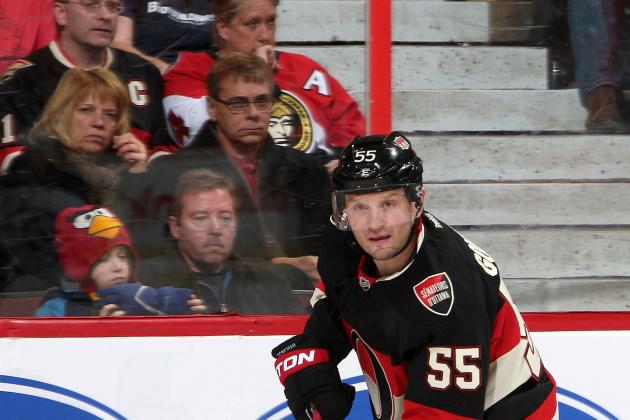 Francois Laplante/FreestylePhoto/Getty Images

At 38 years old, Sergei Gonchar has been a mainstay of the NHL for a very long time, and he remains an impact player on the blue line.
It is possible that Ottawa hangs onto Gonchar, as the Sens remain in the playoff hunt through injuries to the likes of Craig Anderson, Jason Spezza and Erik Karlsson. However, if the Senators choose to invest in the coming years rather than build the roster for a playoff run this year, then Gonchar is good trade bait.
Gonchar brings two talents that playoff teams can't get enough of: defensive toughness and a booming shot from the point. He would immediately fit into any power-play system in the league.
As we approach the deadline, the state of the Senators will be a huge determining factor in whether or not another Stanley Cup hopeful will be able to add Gonchar's defensive talents to its roster.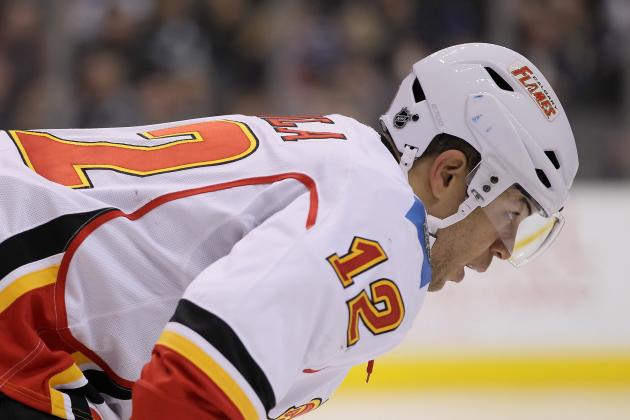 Jeff Gross/Getty Images

The Jarome Iginla trade talk is more than a year old at this point, and as difficult as it is to picture Calgary's captain wearing a new uniform, it's even harder to believe there isn't fire behind all of this smoke.
Iginla is 35 years old and his most productive days are certainly behind him, but he can be a valuable addition in a lot of ways. Playing alongside dynamic scorers, Iginla's offensive production would increase. He will also drop the gloves and go into tough areas of the ice, freeing up space for his linemates.
Calgary would be able to get a very constructive haul in exchange for Iginla's services, especially if it can find a suitor who would want to give Iggy an extension. Until the deal is made, Iginla remains a Flame, but until the deal is made, the rumors will persist.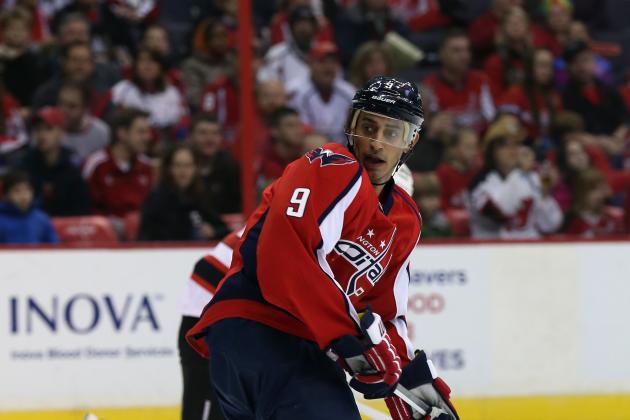 Bruce Bennett/Getty Images

Mike Ribeiro has had an excellent season for the Washington Capitals, with 21 assists and 31 points in his first 28 games with the team. The Caps may try to sign him long term, but if they can't reach a deal with Ribeiro, the struggling Capitals don't want to lose him for nothing.
Ribeiro would be an excellent addition for a team that is defensively sound but lacking the scoring touch to compete for the Cup. Teams like Minnesota, San Jose or even Ottawa or Toronto could be interested in acquiring Ribeiro.
Ribeiro could be an attractive target because he has the longevity to stay with the team that lands him if he re-signs, so it isn't exclusively teams seeking a rental player who will try to pry him from the Capitals.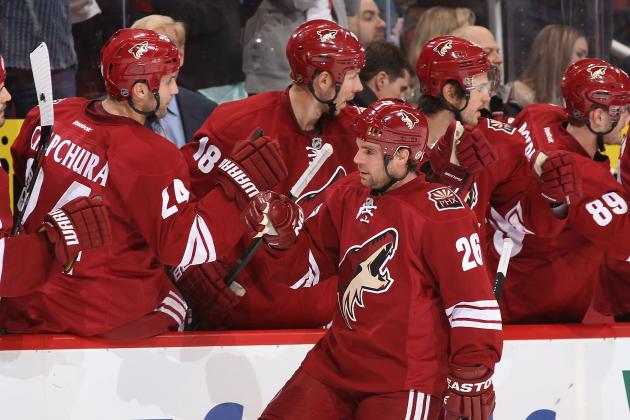 Christian Petersen/Getty Images

The Phoenix Coyotes find themselves in the midst of a very tight playoff race in the Western Conference, but if the financially-uncertain 'Yotes begin to fade, they might find themselves to be sellers at the deadline.
Steve Sullivan seems not to be a factor in the long-term future of hockey in Phoenix, but he could be incredibly valuable for a team seeking a wild card in its lineup during a playoff push.
Sullivan has a knack for agitation, and as emotions run high in the postseason, he is more than capable of getting under the skin of opponents and altering the face of the game. Any team with a little bit of cap space and the need for an emotional role player would be interested in making a deal with the Coyotes.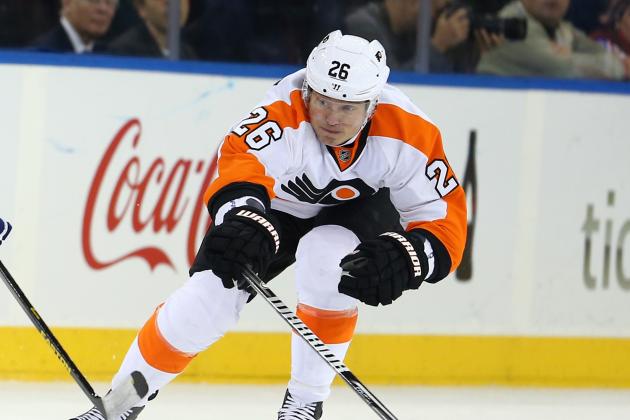 Elsa/Getty Images

At the trade deadline, Stanley Cup contenders will be looking to round out their lines enough to hide any weaknesses during a grueling playoff run that will require rotating all four lines. Depth players like Ruslan Fedotenko can get other teams to part with a draft pick or two.
Fedotenko's impact is largely understated; he scored 12 goals en route to a Stanley Cup victory with the Tampa Bay Lightning in 2004 and also won a second Cup with the Penguins in 2009.
Fedotenko can take faceoffs, kill penalties and play a very productive game in the bottom six of any team's roster.
It seems unlikely that Philadelphia is looking to build around Fedotenko, so don't be surprised if it exchanges his services for some extra picks in the 2013 NHL Entry draft.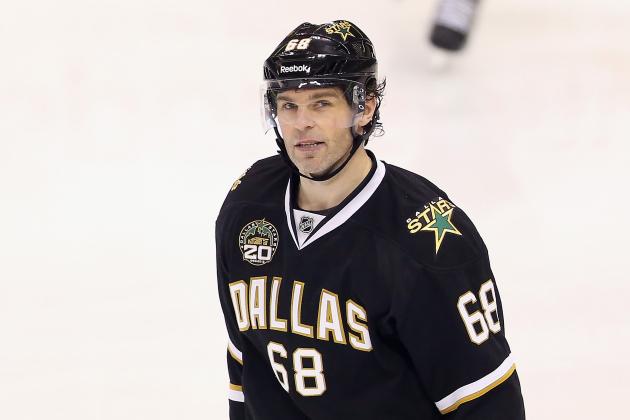 Ronald Martinez/Getty Images

Jaromir Jagr isn't the player he was while winning five Art Ross Trophies with the Pittsburgh Penguins, but Jagr is still a workhorse with a knack for finding the net.
Jagr has 10 goals with the Stars this season entering Monday night's games, and while his $4.5 million price tag is a little high, any team with the cap space could make Jagr a useful rental for a playoff run.
No team would invest in Jagr as part of a long-term plan, but putting him on a power-play unit and giving him a role on the second or third line could give a contender the edge required to compete at the highest level.
Unless Dallas makes a big run themselves, it would be smart to turn Jagr into a prospect or a couple draft picks and build the team around younger talent.